►
◄
latest
habitat tv
blog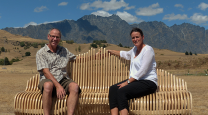 10 unique ways to enliven your floors with paint
When it comes to floors, we often forget that a paintbrush is a great option for giving them a colourful refresh. Much like your walls, your 'sixth wall' – the floor – is the perfect canvas for everything from bright and punchy to subtle and sophisticated colours. And the real beauty lies in knowing that, whichever hue you choose, it can easily be changed when your tastes or style shifts. In fact, a painted floor can also be the ideal stopgap measure while you save up for a whole new floor.
As with any paint project, prep is the most important part of the process. Ensure your floor is thoroughly washed and dried before you begin, then apply the appropriate primer or sealer. Without this you'll be bemoaning flaky paint within a couple of weeks. Also remember, painting your floor isn't an afternoon job, you'll want to set aside at least three days to get it done where it won't be walked on or disturbed by people or pets. If you've already painted your floor before and it is in good condition, it may just need a quick clean before topcoating.
From stunning solid Resene paint colours to striking geometric designs and elegant wood stains, we've rounded up 10 unique ideas that will help you transform your floors for the better.
Stencils
If you're artistically challenged, or simply don't trust your hand to remain steady when armed with a paintbrush, using a stencil is a great way to make a big impact with very little effort. Unlike masking tape, stencils often produce more informal shapes with softer edges.
Stencils are a great substitute for tiles, allowing you to achieve the same look for less. What's important to remember when using them is to have your measurements and layout straight. Figure out what will work best as your base colour and which should be your topcoat colour (or two or three, depending on how detailed you want to get) and then try to work around the room in logical sections.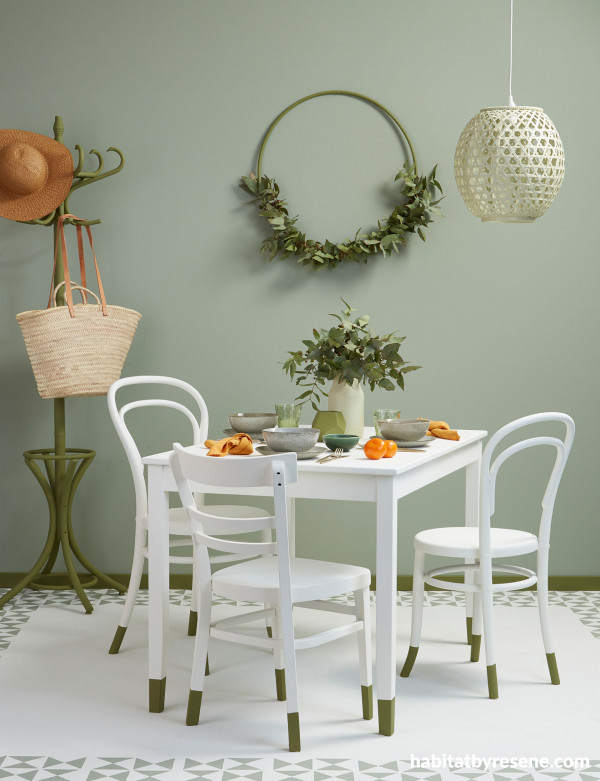 In a large room, bringing some visual interest in through painted patterns on the floor is a great way to break up the space and delineate zones. Wall in Resene Peace, floor in Resene Elderflower with tiles stencilled in Resene Peace, dining table and chairs in Resene Elderflower with dipped legs in Resene New Leaf, coat rack, wreath hoop and geometric vase in Resene New Leaf and tall vase and pendant lamp in Resene Smoothie.
In this space, the dining area is given prominence within its open plan layout by creating an interesting, tile-inspired floor pattern using stencils. By choosing to stencil the border of the floor area with a small triangular pattern, it leaves the white negative space beneath the table to work in a similar way as a rug would; to encapsulate the dining area – but without the hassle and stress of soaking up spills when they occur.
The triangle stencil is painted using the same colour as the wall – Resene Peace – with the darker hue of Resene New Leaf on the skirting board to break the pattern up before it reaches the block colour of the wall.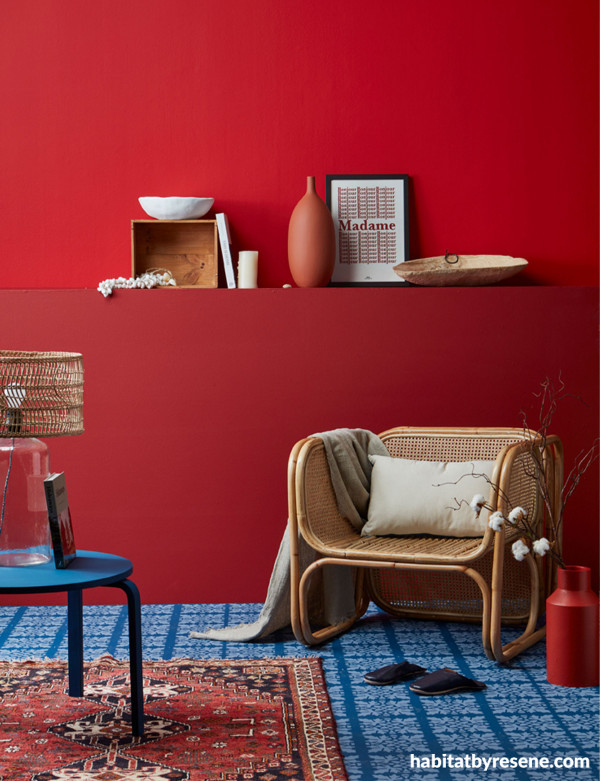 The floor in this room is brought to life with a background in bold Resene Wishing Well with Resene Time After Time stencilled on top. Resene Poppy makes a bold statement on the upper wall, especially when it's matched with slightly dustier Resene Dynamite on the shelf wall below. Resene Wishing Well also features on the side table and Resene Moccasin is on the tall rounded vase on the shelf with Resene Poppy on the vase on the floor. The wooden box is stained in Resene Colorwood Natural timber stain and has a bowl in Resene Elderflower perched on top.
The use of an overlaid stencilled floor pattern in Resene Time After Time atop Resene Wishing Well is a clever way to add texture and interest to this space, cooling down the reds, while still enhancing their impact. If red and blue is a bit too bold for your tastes, this floor pattern would also look stunning with fresh white walls in Resene Alabaster over Resene Truffle, with a Grecian-like take on the styling through soft linen curtains, jute rugs and earthy ceramics.
Top tip: Place rugs in key traffic zones to minimise the amount of scuffing on your nicely painted floor.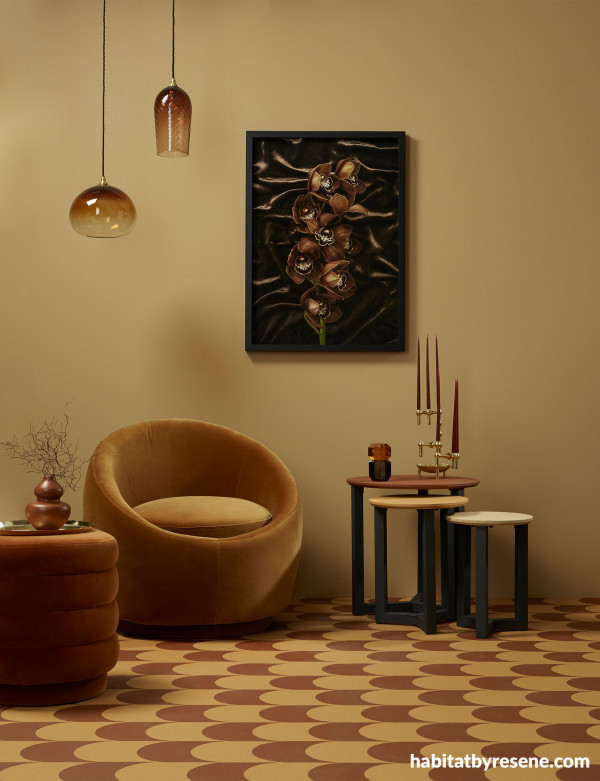 In this luxe 70s inspired lounge, a scalloped stencil on the floor in Resene Pendragon and Resene Hairy Heath adds all the flair. The wall is in Resene Gold Coast, the hall table in Resene Noir, nesting tables in Resene Hairy Heath (large), Resene Pendragon (medium) and Resene Gold Coast (small) with legs in Resene Noir and vase in Resene Hairy Heath.
Stencils are an often underutilised tool for creating pattern and texture in a room. If you've found a tile or floor design you absolutely love but cannot afford it or can't find in the right colourway, simply create the same look with paint and a stencil.
This bold, scalloped floor was created using a stencil, evoking the look of a parquet or tiled floor by alternating shapes painted in Resene Pendragon and Resene Hairy Heath. Thanks to the curve of the design, it brings plenty of movement and creates an expansive effect on the overall room. When paired with brass accents and velvet furniture, it helps the space give off a luxe, elegant vibe. But thanks to the tonal colour scheme and minimalist approach, the flooring pattern doesn't overwhelm the other elements in the room.
Painted patterns
If your grand vision for the floor is too big to be created with a stencil, your next best option is to get the painter's masking tape out – or, if you're feeling more confident, take to free-hand painting.
The trick to painting with masking tape is to choose a top quality brand and ensure the tape is well and truly stuck to the surface, with no air bubbles on the sides. Allow the paint to dry to the touch before carefully pulling the masking tape off and ensure all surfaces are completely dry before placing subsequent masking tape down (if your design calls for multiple colours of paint).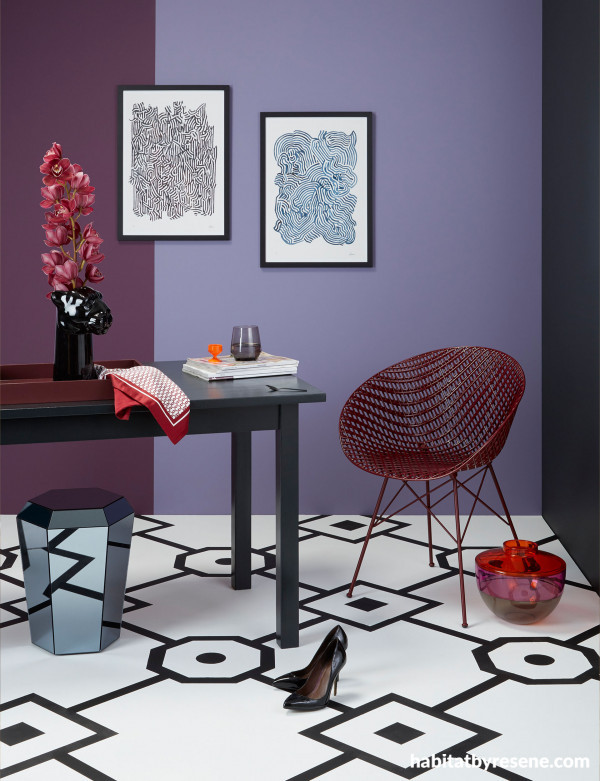 Bring some 'Gatsby' glam to your home with a graphic hand-painted floor pattern. Back wall in Resene RSVP (left) and Resene Memory Lane (right), left wall in Resene Noir, floor in Resene Elderflower with geometric pattern in Resene Black.
This floor pattern has the hallmarks of fabulous Art Deco floor tiles – a style that's experiencing a huge resurgence in popularity. Sharp angles and graphic forms are staples in elegant Art Deco design and this floor is the perfect finishing touch to a room that oozes glamour. It is created with a base layer of Resene Elderflower with the octagon and diamond shapes carefully marked out, taped and then painted with Resene Black.
Top tip: Place sticky felt floor pads on the feet of your furniture to prevent chairs and tables scratching your lovely new painted floor.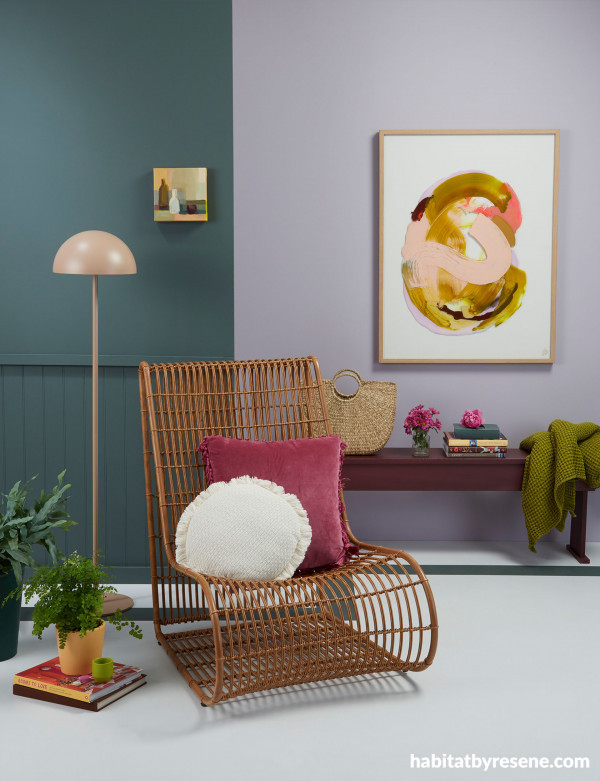 When your floor needs a little something extra, look to create a simple linear stripe around the border of the room. The main wall in Resene Lola and the return wall with tongue-and groove-panelling in Resene Jurassic are punctuated by pops of bright fluoro including the plant pot in Resene Porsche and the small vase in Resene Citron. These highlights play off of the colours within the two original artworks, which were also created using Resene paints; White Bottle by Georgina Hoby Scutt (left) and Begin Again by Jen Sievers (right) from Endemic World. Other colours picked up in the artworks include Resene Cab Sav on the bench and accessories such as the tall lamp from Citta in a similar colour to Resene Coyote. The floor in Resene Concrete creates a soft balance for all the colours to sit on and the stripe in Resene Jurassic adds a playful touch.
Painting your floor doesn't necessarily have to mean bright colours and bold patterns. Sometimes simplicity is key, as in this room where a single stripe of Resene Jurassic follows the shapes of the floor painted in Resene Concrete. It takes the colour of the back wall into the room and the straight line contrasts with the flowing curves of the chair, lampshade and large painting. This linear stripe also helps to move the eye around the room and, with the help of Resene Concrete on the floor, balances the darker shade of Resene Jurassic on the wall panelling to keep the space from feeling too heavy.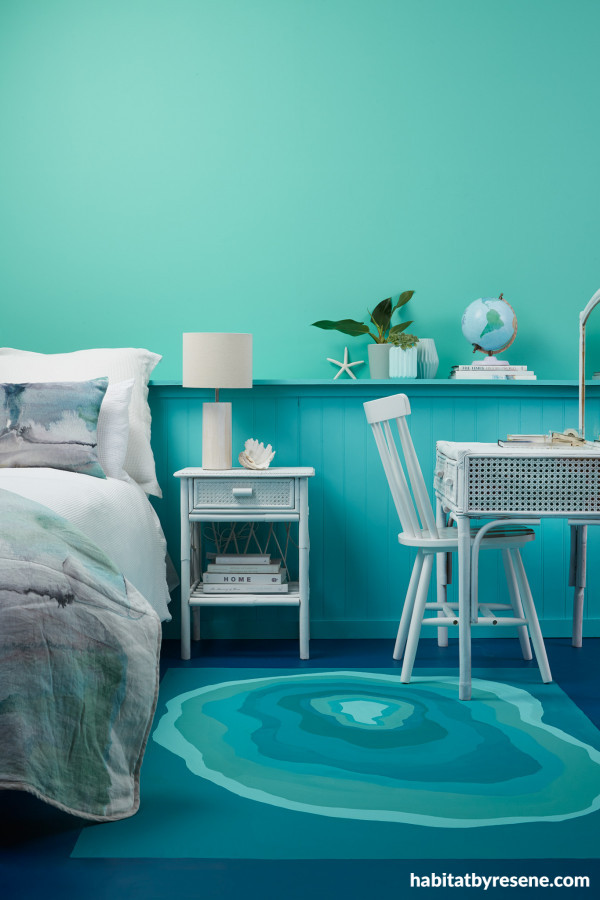 Walls in Resene Freelance, tongue-and-groove panelling in Resene Yes Please. The painted rug feature on the floor is created with Resene Wishing Well, Resene Deep Teal, Resene Maestro, Resene Hullabaloo, Resene Blue Chill, Resene Yes Please and Resene Freelance. Cane bedside table and desk are painted in Resene Poured Milk. The wooden lamp base is Resene Colorwood Whitewash, short vase in Resene Kandinsky and the small plant pot in Resene Meditation.
Using paint as a substitute for flooring products doesn't just stop at tile-inspired looks. Can't find the perfect rug? Paint your design on the floor instead. In this room, the statement painted rug feature is inspired by agate and adds plenty of interest to the tonal aqua space. With its natural, asymmetric forms, this design is actually very easy to replicate. It's created with layers of Resene Deep Teal, Resene Maestro, Resene Hullabaloo, Resene Blue Chill, Resene Yes Please and Resene Freelance. Simply start with your base colour, allow to completely dry before adding the next layer of the agate. Repeat until all your layers are complete. This idea can also be achieved with a graphic design or a playful (and on trend) rainbow.
Wood stains
A classic wooden floor is always a winner in the interior game. It can often be difficult to work with when they are too orange or too dark for your interior style. Enter, wood stains. Sitting between solid paint finishes and varnishes, stains allow the natural grain of the wood to show through, so they are the perfect way to add colour to a new or previously stained timber without losing its natural beauty.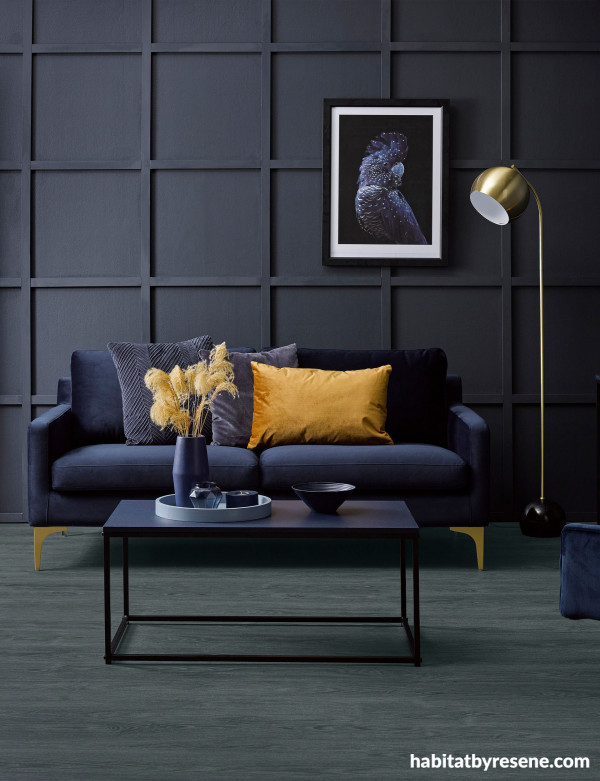 To prevent a dark tonal room from looking too cavernous, bring in some texture with wooden floors stained in Resene Colorwood Mid Greywash over Resene Crowshead. Walls in Resene Twilight Zone, coffee table and sideboard tops in Resene Indian Ink, vase, tealight holder and bowl in Resene King Tide and tray in Resene Excalibur.
Because stains are transparent, the final finish colour will be dependent on the nature of the timber being stained. For example, stains applied to light woods will appear much stronger and brighter in colour than stains applied to dark woods.
In a dark tonal room, texture is key to creating contrast and visual appeal. The wooden flooring in this room above, which is stained in Resene Colorwood Mid Greywash over Resene Colorwood Crowshead, adds subtle, elegant texture and prevents the space from looking too flat.
A clear gloss polyurethane, such as Resene Qristal Clear Poly-Gloss, will make the colour appear more vibrant than a clear flat polyurethane. The gloss level also makes them more durable. If you want a waxy finish, use a flat polyurethane, such as Resene Qristal Clear Poly-Flat. Or choose Resene Qristal ClearFloor 1K for a satin finish for a little extra sheen without being too glossy.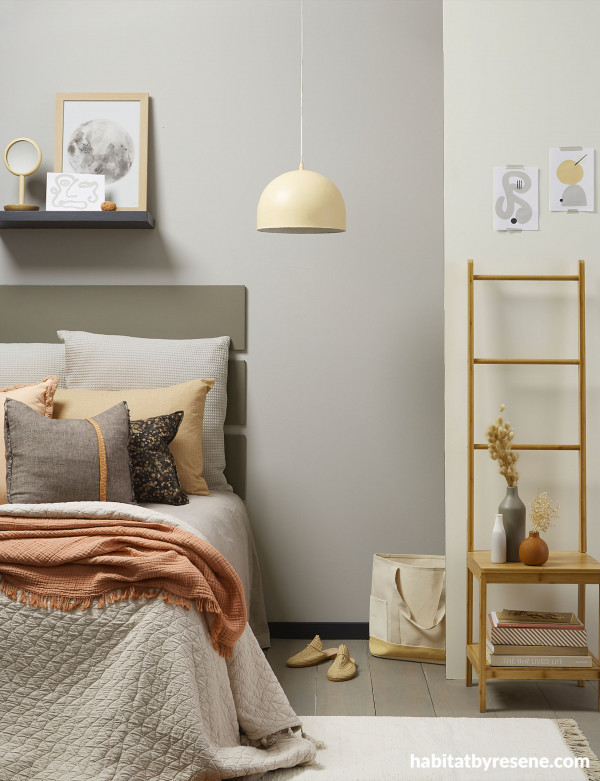 Similarly, in a tonal room of character neutrals, a darker floor stained in Resene Colorwood Mid Greywash helps to anchor this space. Main wall in Resene Eighth Stonehenge, return wall (at right) in Resene Half Gin Fizz, slatted headboard in Resene Double Stonehenge, skirting board and shelf in Resene Ebony Clay, lamp, mirror and cork tea light holder in Resene Corvette, tote bag in Resene Corvette (bottom) and Resene Half Barely There (side pockets), vases on chair in Resene Double Stonehenge (tall), Resene Half Barely There and Resene Rakaia (medium) and Resene Cinnamon (small) and DIY artworks in Resene Corvette and Resene Rakaia.
It's also important to note that higher-density woods and hardwoods do not absorb liquids as readily as softer woods or less dense woods, so you may need to select a darker stain or apply two coats to get your desired colour.
Grain orientation is also important. Woods with parallel surface orientation are relatively smooth and therefore tend to be the least absorbent. Alternatively, cross-grain surfaces are very porous and will absorb almost all of the stain colour.
Top tip: Resene Colorwood standard colours are inter-mixable so you can make whatever colour you like if a pre-mixed colour isn't quite right for your scheme. Choose a colour that is close to what you want. Carefully add the colour that is lacking until you achieve just the right hue. Make sure you intermix enough to complete your project and write down the mix you used just in case you decide you want more of it later. Talk to staff at your nearest Resene ColorShop if you need more advice.
Solid colour
If pattern and texture is simply not your style, don't despair as a solid-colour painted floor can have just as much impact as a patterned one (and is much quicker to complete).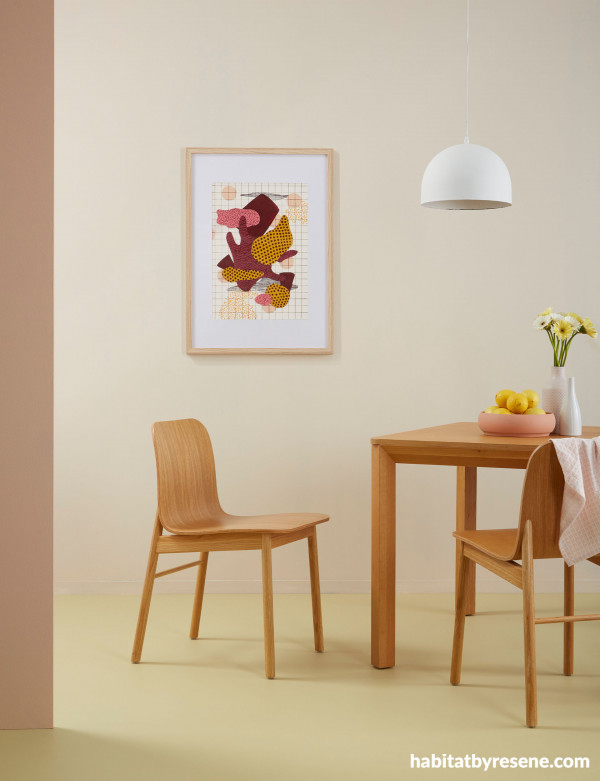 In this pretty pastel dining room, a floor painted in Resene Yuma provides the perfect colour base for other soft hues to sit. Back wall (behind artwork) in Resene Despacito, left wall in Resene Soulful, bowl with lemons in Resene Just Dance, round wooden tray in Resene Helix, tall vase with flowers in Resene Ethereal, pendant lamp and skinny vase with flowers in Resene Alabaster and artwork created using testpots of Resene Cleopatra, Resene Smoulder, Resene Love Me Do, Resene BFF and Resene Soulful.
Soft, neutral colours are your go-to if you want a gentle, minimalist look. From pretty yellow pastels like Resene Yuma to fresh whites like Resene Alabaster, a floor in a neutral hue allows other elements in the room to shine, while subtly adding its own flair.
Top tip: If your paint needs a refresh but is still mostly sound, a quick clean down with Resene Interior Paintwork Cleaner plus a fresh lick of paint will do the trick. If you want a colour change, apply two coats of Resene Walk-on and finish with Resene Concrete Wax.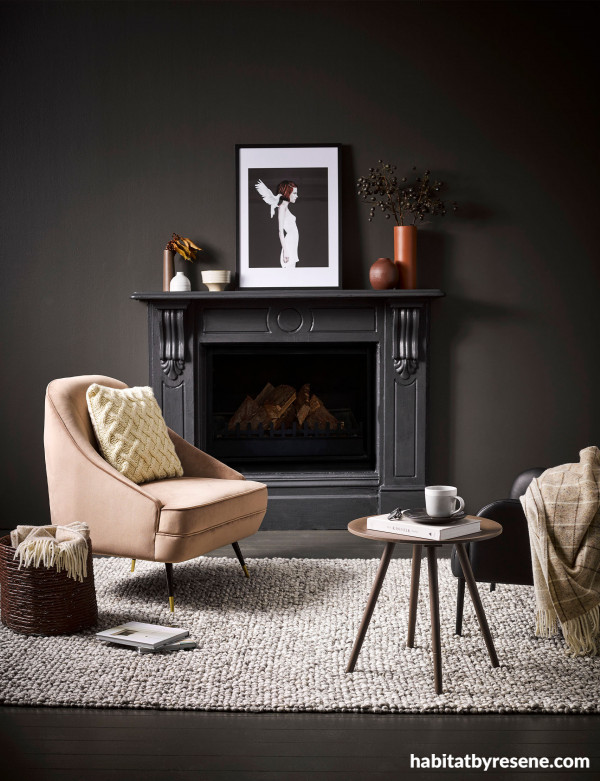 For a room look that screams cosy closeness, paint the floor the same colour as the walls. In this room, the wall and floor are painted in Resene Suits. Fireplace in Resene Noir, side table Resene Thunder Road, basket in Resene Rebel and vases in Resene Route 66, Resene Poured Milk, Resene Barnstorm and Resene Moccasin.
On the other hand, darker spaces are made more luxurious and cosier with the floor painted in the same dark, alluring shade as the walls, such as Resene Suits. When you are going all dark from wall to floor, ensure you have plenty of texture to break up the solid blocks of colour and bring in brighter elements through the furniture and accessories.
Top tip: Avoid going for true black for solid painted floors as it will likely show footprints and dust more than you'll want it to. Instead, opt for a medium grey, brown or blue such as Resene Felix, Resene Gull Grey or Resene Blue Bayoux. If your home is full of kids and pets you may want to avoid a white floor too. A light to mid-range colour can help to hide wear and tear and require less cleaning than an all-white floor.
images Bryce Carleton, Wendy Fenwick, Melanie Jenkins
styling Gem Adams, Kate Alexander, Megan Harrison-Turner, Laura Lynn Johnston, Vanessa Nouwens, Melle Van Sambeek
Published: 29 Jul 2020
Do you have a home full of wonderful Resene paint and colour? Send us some snaps by emailing [email protected].