►
◄
latest
habitat tv
blog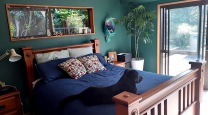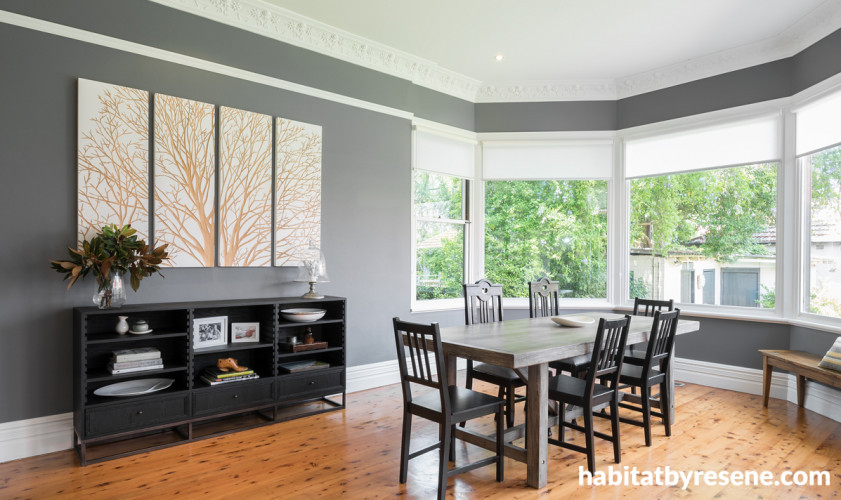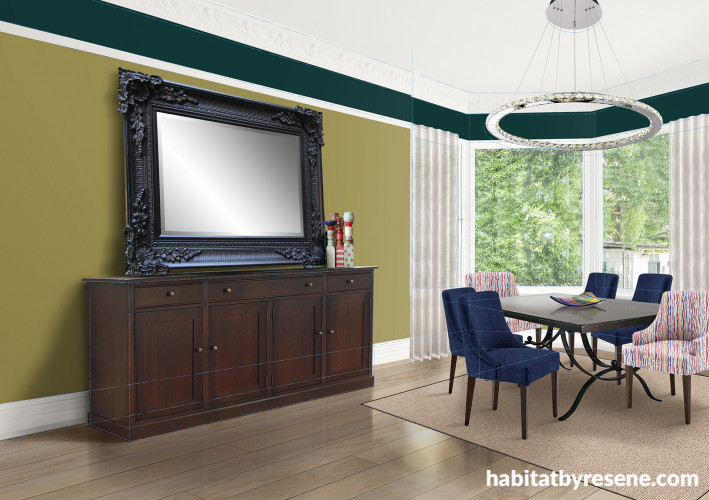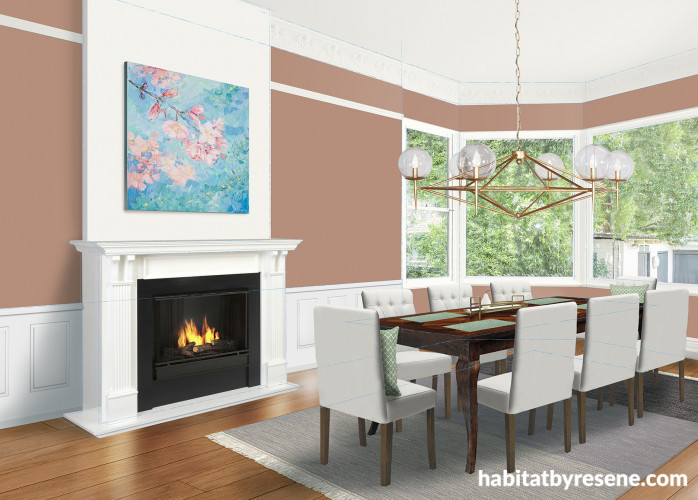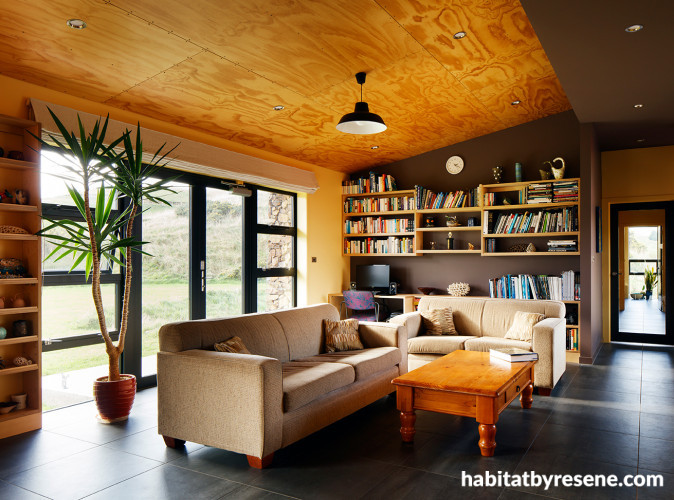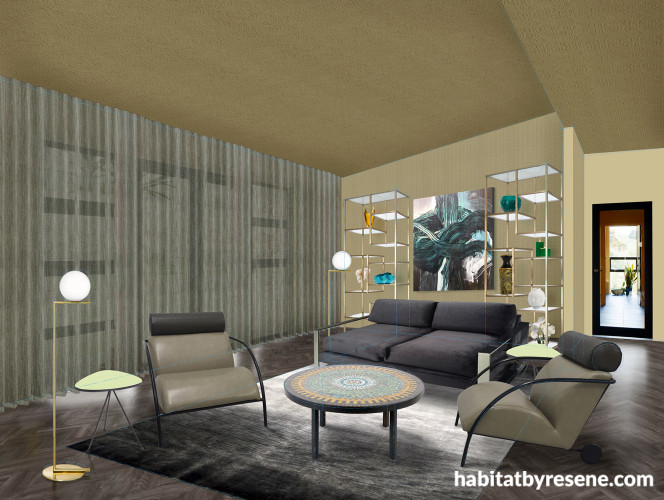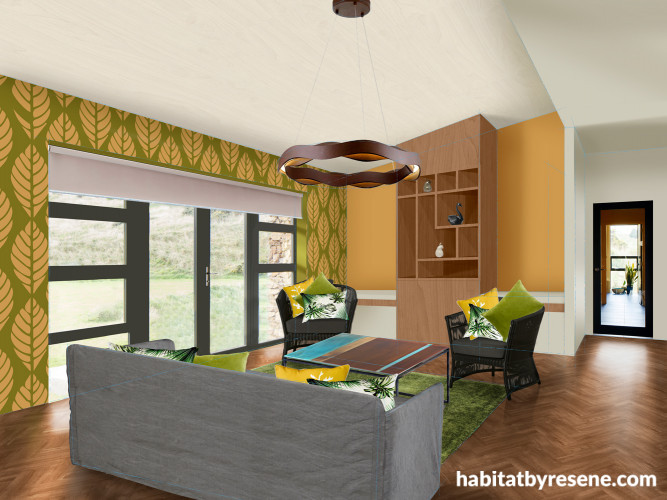 2 rooms, 4 designer looks
Ever looked at a room in your home, and wondered what it would look like with a completely new colour scheme and furnishings? In every issue of habitat, we ask designers to create an alternative solution to one of the rooms in our featured homes, using Resene paint as well as furniture to suit the new look.
In the latest issue, we took two very different rooms – an eco and bold living room, and modern and neutral dining room – and asked designers to come up with different looks for each of them. Here are their suggested schemes.
Get the latest issue of habitat at Resene ColorShops, or read it online here.
Published: 17 Aug 2017
Do you have a home full of wonderful Resene paint and colour? Send us some snaps by emailing [email protected].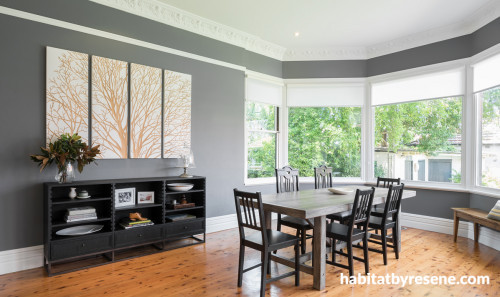 With plenty of natural light and open plan layout, this dining room has been painted in Resene Quarter Fuscous Grey by its owners. The colour is a bold and charismatic grey that works really well here. As a crisp counterpoint, Resene Black White was painted on the ceiling, picture rails and trims.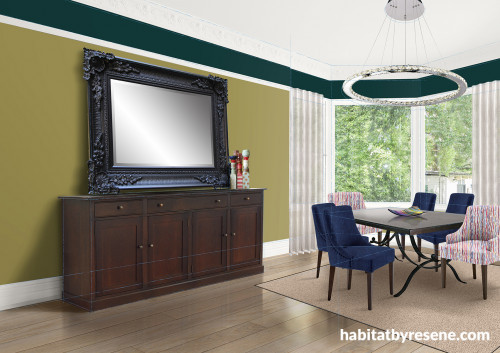 Designer Terry Lobb suggests this nature inspired colour scheme, to bring the outside in with the colours of the mature trees that surround the traditional renovated home.
She's chosen Resene Native for the main wall colour, a warm, mid-tone green, and teamed it with Resene Atlas above the picture rails. The ceiling is painted in Resene Black White.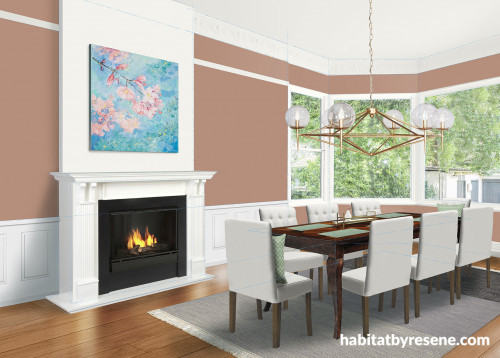 Karla Scanlan of Design For The Inside wanted to retain the charm and ornate finishes of this room, but accentuate them with striking colour and additional detailing.
Karla has blended modern with traditional, using opulent Resene Rascal for the walls and a mantelpiece painted in crisp white Resene Double Alabaster.
She's also added oak timber flooring finished in Resene Colorwood Natural wood stain, as well as placing a Maison Living dining table in the bay window to take advantage of the view.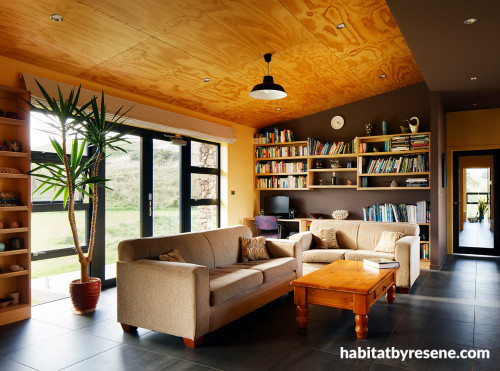 This low energy house is filled with beautiful, bold Resene colours and interesting features, such as this living room painted in Resene Golden Glow.
A central bulkhead at the ceiling pitch conceals a ventilation system, painted in Resene Rough N Tumble, and the colour continues behind the built-in plywood book shelving.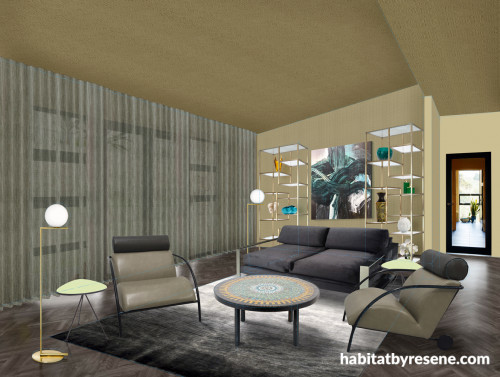 Jodi Newnham from Mid Century Swag approached this design like she would her artwork canvases... looking at composition, colour, and layering textures and materials.
The colour palette incorporates Resene Clay Creek, painted on Anaglypta RD124 on the walls and ceiling, and Resene Thistle on the feature wall, using Anaglypta RD177 wallpaper. Both wallpapers are available from Resene ColorShops.
The two differently patterned wallpapers create interest in a cohesive way, while midnight blue velvet sofas from Mid Century Swag challenge the adage that 'blue and green must never be seen together'.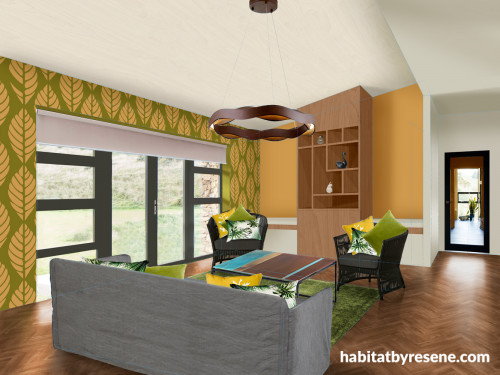 Designer Sarah Burrows wanted to retain the relaxed feel of this room, with a related colour scheme of shades of green – using muted ash green, Resene Half Linen, and the stronger rustic tones of Resene Grass Hopper to bring the feeling of nature inside.
The warmer tones of Resene Good As Gold on the rear wall, stencilled in a leaf pattern, brings another dimension to the room, while the floor rug echoes the deep green walls.
The ceiling is finished in Resene Colorwood Whitewash, and the floor in Resene Colorwood Natural wood stain, adding drama to the space.
Resene Quarter Fuscous Grey
the look
If you're stuck on what
colour to use or need colour
advice, try out the Resene
Ask a Colour Expert service.