►
◄
latest
habitat tv
blog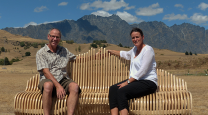 3 easy-peasy ideas for kids' rooms
When it comes to decorating kids' rooms, it's a really fun time to let your imagination loose and get creative with colour schemes and ideas. These ideas can stem from anywhere – from all the great colours in the Resene KidzColour range to your child's hobbies, favourite action heroes and even nature.
The great news is that giving a kid's bedroom the wow factor doesn't necessarily mean spending lots of dollars or time. Here are three projects that only require Resene testpots and a weekend to complete.
Did you know… that we have a whole range of DIY projects online that you can complete easily in a weekend – and some in an afternoon? Visit www.habitatbyresene.com/habitattv.
Published: 14 Jun 2018
Do you have a home full of wonderful Resene paint and colour? Send us some snaps by emailing [email protected].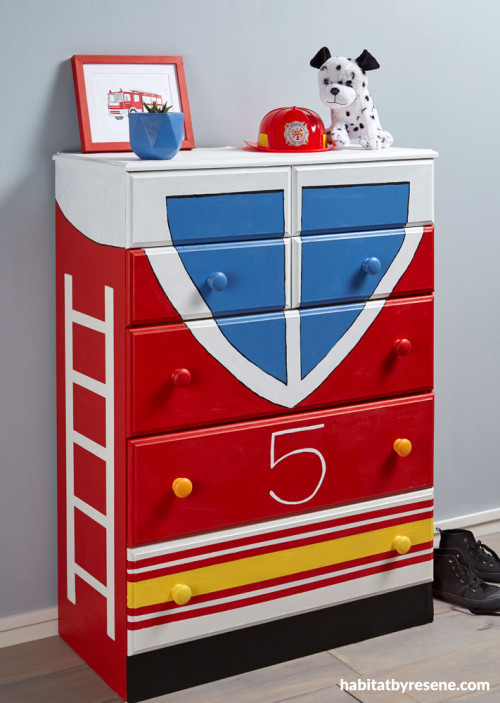 Ever looked at a plain set of drawers and seen its potential as a fun canvas? We did, transforming second-hand drawers into this eye-catching firetruck. Picking colours from the Resene KidzColour range, the base was painted in Resene Cotton Wool, then given a firetruck look with Resene Rocket (red), Resene Blue Jeans, Resene Bright Spark (yellow) and Resene Hi Jinx (orange). The outlines are in Resene Black and the ladder, stripes and trim are in Resene Ragamuffin. The wall is painted in Resene Gull Grey and the floor is Resene Colorwood Greywash. You can adapt this look to other types of cars – what about an old school Volkswagen Kombi or a racing car?
Need more ideas? Check out Resene's great range of kid's stencils for inspiration – you can download them here.
pictures
Bryce Carleton, styling by Leigh Stockton.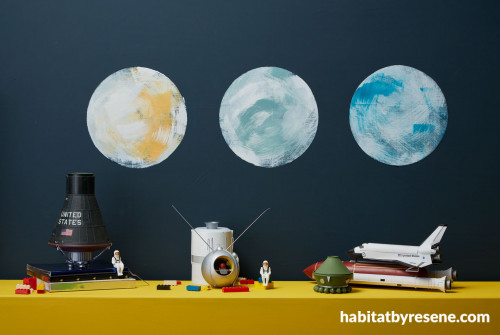 Got a kid who's reaching for the stars? Encourage your junior astronaut with this planet feature wall. We used a circle stencil and roughly painted Resene Alabaster to create a crater moon effect. To add more texture and colour, we used Resene testpots (from left) in Resene Sunshade, Resene Juniper and Resene Blue Lagoon. The wall is painted in Resene Blue Bark and the shelf is Resene Galliano.
pictures
Bryce Carleton, styling by Leigh Stockton.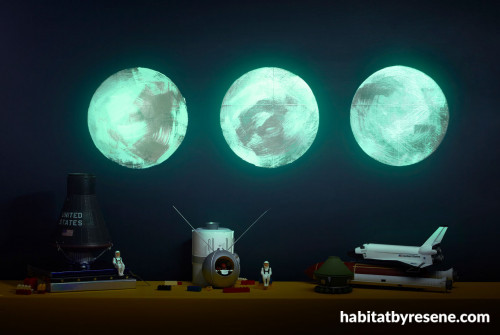 Take the planet wall up a notch with Resene FX Nightlight – it's a waterborne glow-in-the-dark paint designed to shine after the lights go out. During the day it's a very pale yellow. Simply paint two to three coats over the moons.
For it to shine, the planets need to have a white background, which is why ours are painted in Resene Alabaster. Any colour on the planets will appear grey, giving it a great textural effect – we added light swishes of Resene Sunshade, Resene Juniper and Resene Blue Lagoon to the planets. See how to create this look from start to finish with our handy DIY instructions here.
pictures
Bryce Carleton, styling by Leigh Stockton.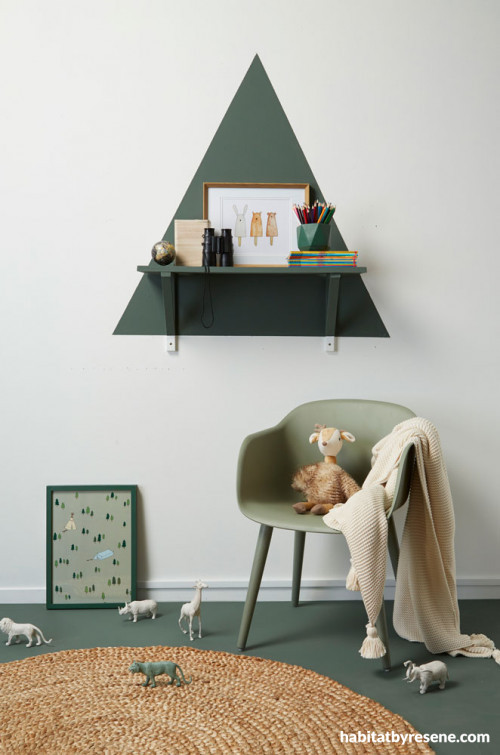 Shelving and storage are part and parcel of a kid's room – the more, the better. An easy way to make shelving look like it belongs is with this cute triangle feature, painted using a Resene testpot. Use a Resene colour that ties in with the palette of the room. This room is filled with gender-neutral greens, from Resene Middle Earth on the shelf and triangle, Resene Yucca painted on the floor and accessories painted in Resene Permanent Green. The wall is painted in Resene Black White. Don't feel like you're restricted to triangles. Have fun with other shapes, from squares to circles – whatever fits in with the theme of the bedroom.
Top tip: When painting a pattern on your wall, use low-tack masking tape from your Resene ColorShop so that existing paint isn't damaged.
Accessories: Deer Soft Toy and Casbah from Adairs; Muuto Fiber Chair from Bauhaus; Madras Floor Rug from Freedom Furniture; Binoculars from $2 & More; Wooden Box and Timber Frame from Kmart; Globe from Father Rabbit; Art Prints from One Hundred Percent Heart.
pictures
Bryce Carleton, styling by Vanessa Nouwens.