►
◄
latest
habitat tv
blog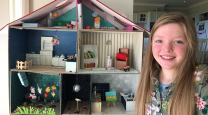 A 1930s Californian bungalow in Nelson bursts at the seams with colour and character
Guests at Mark and John's Nelson California bungalow never have any trouble finding their address, all they need to do is look out for the bright red letterbox. Resene Havoc packs a punch and hints at the warmth and life to be found inside the couple's colourful home. The California-style bungalow was built in 1932 for the oldest son of a local brewer. Mark and John not only live in their home but have run it as a boutique B&B for the last 12 years, updating both its interior and exterior with fresh tones including Resene Kandinsky and Resene Kumutoto that enhance its heritage features.
Mark and John describe their interior style as a union of two families. "Both John and I inherited old pieces from our families, as well as having our own style, so the goal was to bring these together in one home."
The home is filled with the couple's treasures. Resene Miso peeps out from the spaces between the couple's painted landscapes, photographs and collection of mirrors in the hallway providing the perfect backdrop for their treasures.
"The hall is the centre of the home, so we added a sun tube [sky light]. Resene Lustacryl tinted to Resene Miso was the perfect choice to give us not only colour but also light and reflection. We love the way it picks up the heritage rimu panelling and the gilded gold from our various artworks," says Mark.
"All our guests ask lots of questions about the rooms and the pieces in them. They love taking photos and never know where to look next. None of them offer to help dust though, which we always laugh with them about."
The couple are big fans of colour and don't shy away from it, but say they thought carefully about the functionality of their rooms before deciding on their Resene colours. "The house really did decide the colours for us though. She's a grand old girl and we wanted to honour that, so all the colour choices we have made have been with the house and the room function in mind." They were keen to enhance the 90-year-old home's original rimu features, which appear on fireplaces, floors, doors and hall panelling.
Keeping guests happy and appealing to a wide audience was the goal for Mark and John, which they accomplished with a welcoming tone set by Resene paint in guest rooms. Cheerful minty Resene Kandinsky greets guests in the garden apartment, and calming Resene Ashanti in the garden rooms. "The feedback has been wonderful, with guests always asking us about the colours on the walls. We liked Resene Kandinsky in the garden apartment so much that when it came to upgrading the ensuite and room last year we picked the same colour again. It's such a cheerful, relaxing colour." Colourful Axminster woven carpets line the bedroom floors and complement the cooler wall tones.
The B&B sees a huge variety of people walk through its doors (greeted eagerly by Lakeland Terrier Bella at the door), so durability is also key. The couple has used Resene SpaceCote and Resene Lustacryl throughout the home.
Inspired by the 30s and with a shared passion for blue tones, Mark and John chose Resene Kumutoto for the office. "It's become our favourite, it's bright, fun, and inspiring – perfect for cooking up breakfast ideas and dealing with guests."
A lockdown project brought the pair's sense of fun and colour outside, painting their picket fence in Resene New Denim Blue. Both the home's exterior in Resene White and the greenery of their garden pop against it. Their post box got a makeover too, rebuilt by John and livened up with a lick of Resene Havoc. "We really like colour so having such a wide range of Resene colours is brilliant."
Their biggest piece of advice? Don't be afraid of colour and listen to your home – you can't go wrong.
Top tip: Project heritage features such as native timber trims with Resene Aquaclear. To rejuvenate and enhance native timber floors, use Resene Colorwood wood stain in your chosen colour and protect with Resene Qristal ClearFloor – a clear coating that's designed to take foot traffic.
For more www.Ahhouse.co.nz
images Mark Alderson
Do you have a home full of wonderful Resene paint and colour? Send us some snaps by emailing [email protected].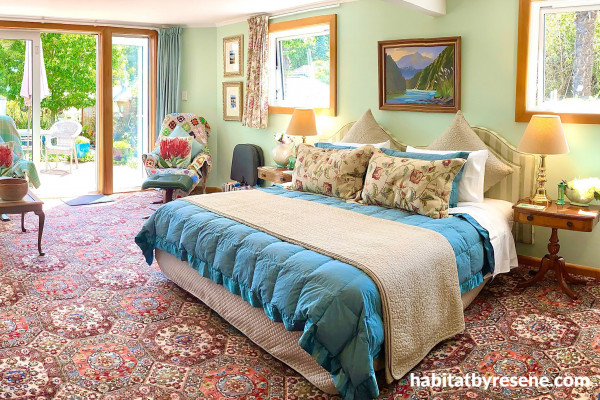 The garden apartment is a cosy and friendly space for guests and glows with Resene Kandinsky on the walls. The ceiling is Resene White.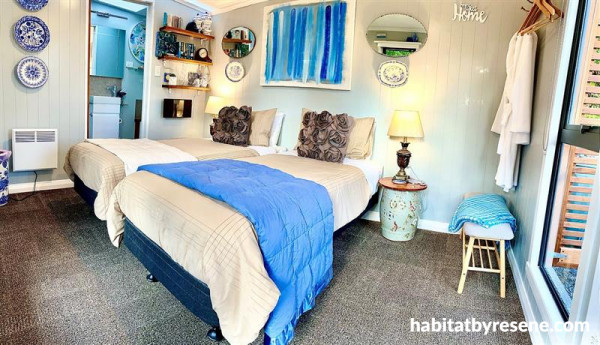 Walls in Resene Ashanti and trims in Resene White creates a relaxed beachy vibe in this garden room.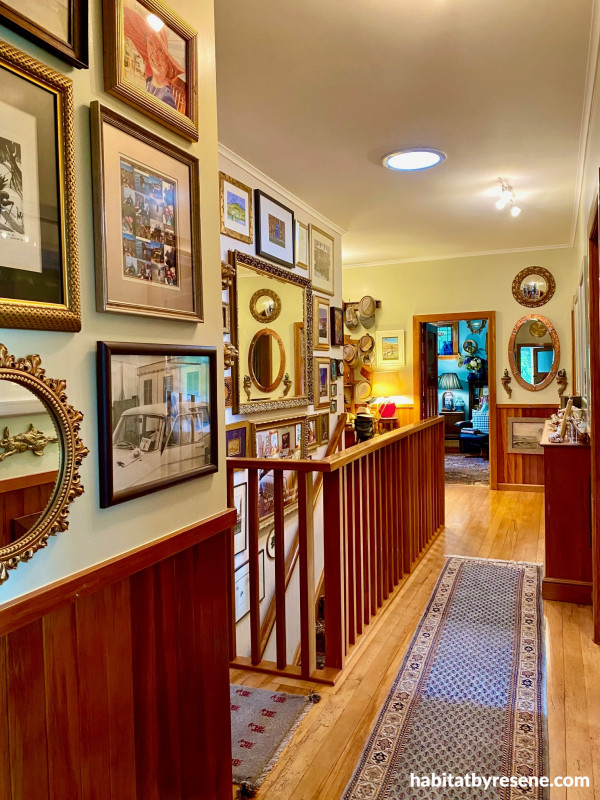 Resene Lustacryl semi-gloss tinted to Resene Miso offers plenty of lightness in the hallway. Guests are big fans of Mark and John's decorated wall and often stop to look at the art and take photos. The ceiling is Resene White. Protect native timber in Resene Aquaclear on panelling and Resene Qristal ClearFloor on timber flooring.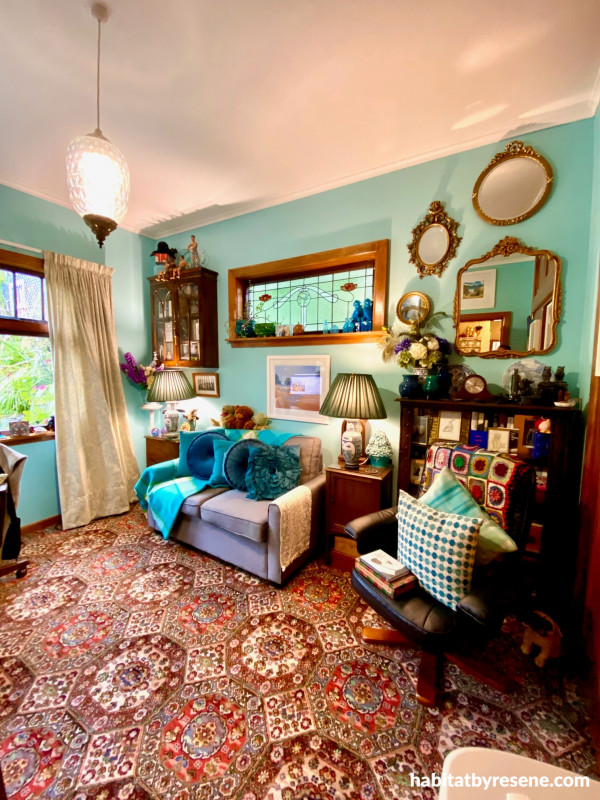 Resene Kumutoto has become the couple's favourite colour for its brightness and versatility. They found it to be equally as inviting in both their office and kitchen. The ceiling is Resene White.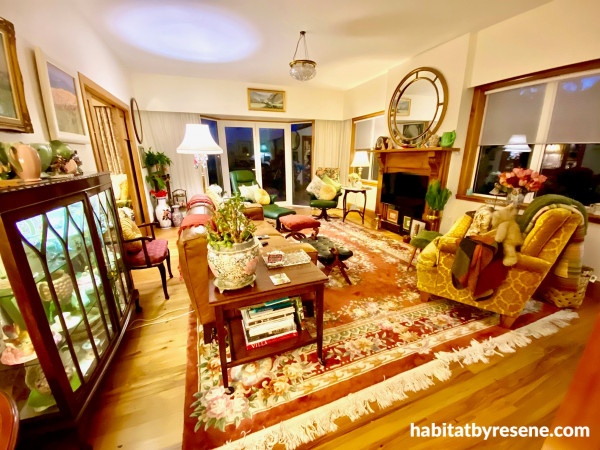 Mark and John's home is north facing so they can enjoy all-day sun. Mark's favourite room in the house is the sitting room: "I love the light that comes into the room. We painted the walls in Resene China Ivory and had curtains made in the same tone to best show off the pieces in the room. Your eyes are drawn to these and the wall colour does a great job of complementing this." The ceiling is Resene White.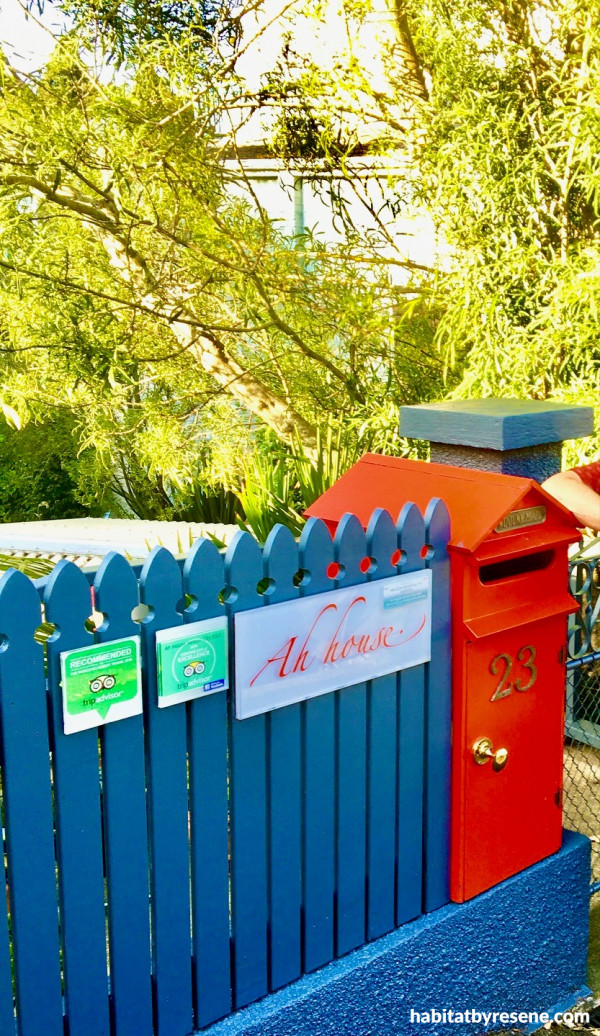 Mark and John's home and B&B Ah House has become the envy of the street with its bright new fence in Resene Half New Denim Blue and its character-packed letterbox in Resene Havoc.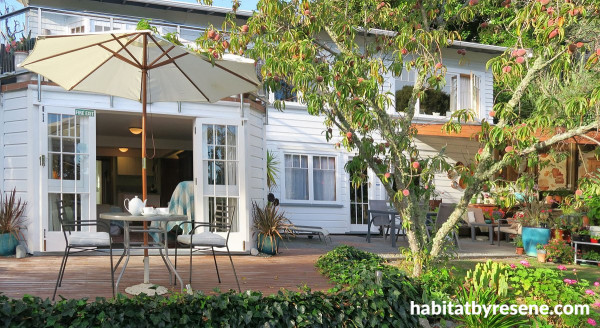 The outside of the home is painted in Resene White for a classic look fitting with its 1932 heritage. Protect decks with Resene Woodsman Decking Oil Stain – try a deep colour like Resene Oiled Cedar.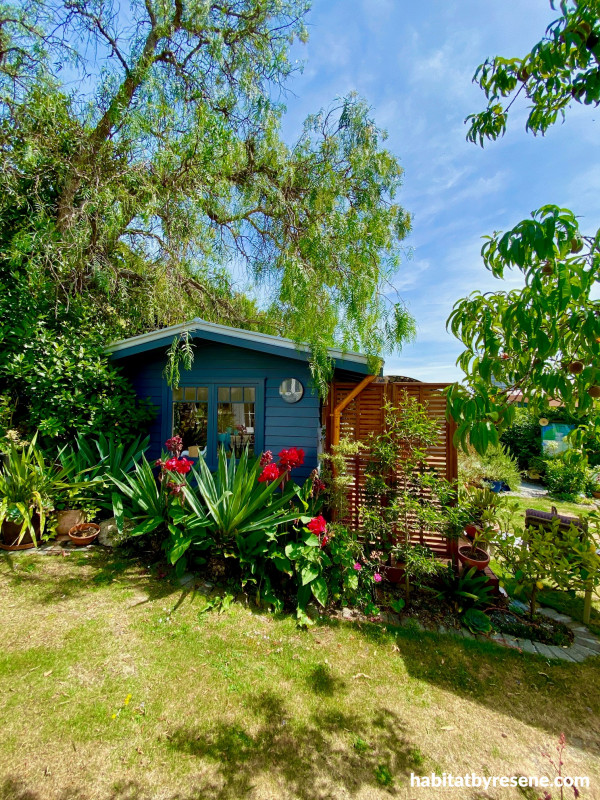 The garden rooms are set against the couple's lush Nelson garden and pop painted in Resene New Denim Blue.
Published: 17 Mar 2022
Do you have a home full of wonderful Resene paint and colour? Send us some snaps by emailing [email protected].
Resene Half New Denim Blue
the look
If you're stuck on what
colour to use or need colour
advice, try out the Resene
Ask a Colour Expert service.