►
◄
latest
habitat tv
blog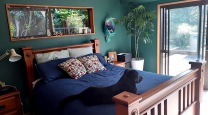 A charismatic Christchurch villa's relaxed, earthy refresh
Charm and a good location are elusive qualities in a home, curiously difficult to come by – and even more difficult to come by together. So, when Christchurch-based first-home buyers and amateur remodellers Shayden and Georgia happened upon a 1909 villa that had both, their decision (and plan of action) were already made. They would update the property as its design stewards, reworking previous modifications, garnering more DIY experience and using Resene paints to craft a place of respite within their busy lives.
The couple began their renovations by installing period-style architraves and skirting boards – features likely lost when the home was flipped prior to its sale – to pay homage to the home's era. Their first colour choices were cognisant of this, too: Resene Alabaster, a near-white, now bathes their ceilings and trims in a crisp glow, while walls in grey-tinted Resene Black White can be found in almost every room. "It was a neutral colour palette to make a base from," explains Shayden.
With this framework in place, Shayden and Georgia approached each room differently, focusing on their needs while incorporating earthy hues and gently weaving in a thread of boho-inspired décor – the metaphorical sun around which their mood board orbited.
The master bedroom was devised into what they call their 'zen space', where a feature wall in blue-green Resene Celtic mirrors an open shelving system replete with equally verdant plants. "Our feeling for this room was natural and earthy," says Georgia, noting the linen curtains, which sweep to the floor, and the rattan bedhead and chandelier, both curved and intricate, which bring a sense of structure.
Other, bolder plans were in store for their guest bedroom. "We landed on Resene Half Baltic Sea, after trying a series of greys in the space," says Georgia of the second room, where they wanted to have more fun styling. "It holds its own and isn't influenced by other colours, so it was ideal for pushing boundaries." A scheme of mustard yellows and deep blues was employed to complement the space's depth, while a series of woven bowls and mats float above the bed, as if being carried by the sea.
The bathroom is in many ways the home's crowning glory, in part because of its simple yet indelible style – complete with matte tiles, oak flooring and an illuminated, arched mirror – and in part because of the arduous journey it took to come to fruition. "It was our biggest renovation and one that took a lot of planning," says Shayden, recalling how they had to install new pipes from the road through the house – a surprise as much as a setback that meant the pair were stuck showering outside during the country's first lockdown. "It pushed our limits and our DIY expertise, but we used trades where we needed to and managed to learn on the job, even if mistakes were made along the way."
Texture was carried into the laundry via a grooved splashback distinguished by misty grey Resene Quarter Delta, chosen after a handful of tests for its chromatic similarity to the room's grout. The bonus, says Georgia: "it didn't throw purples or greens, especially in the LED light."
For a couple in search of an opportunity to carve out a place of their own, the home is a telling assemblage of their goals and tests – a want for something soothing paired with an appetite for modern sleekness. "We have always enjoyed relaxed interiors that use tones from nature and the elements," reflects Georgia. "It was important for us to have a home that helped us feel that calm that nature has."
Read more about Shayden and Georgia on their blog Mooch Style www.moochstyle.com
Published: 18 Nov 2020
Do you have a home full of wonderful Resene paint and colour? Send us some snaps by emailing [email protected].
the look
If you're stuck on what
colour to use or need colour
advice, try out the Resene
Ask a Colour Expert service.