►
◄
latest
habitat tv
blog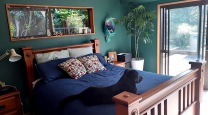 A funeral assistant looks on the bright side of life using bold Resene Scrumptious and Resene Fizz in her home
Often, the best things come to those who paint. This was certainly the case for Kirsten and Trevor, who have taken their time renovating their Nelson home with a vivid assortment of Resene paints.
"We learnt to take it slow, live in the house and understand what flow we wanted to achieve and then we planned… and planned again," says Kirsten, whose home is now a vibrant haven of colour.
Kirsten, who works as a Funeral Assistant, has a bright philosophy when it comes to using bold Resene colours. "Use colours that make you happy. If you love it that's all that matters. Paint can be changed again and again, so don't be afraid to experiment."
The original interior of Kirsten's home was painted in dated creamy yellows. "The walls were peach, apricot and blush pink, which sounds nice but definitely had to go!" says Kirsten. Now, guests are greeted with a riot of colour the moment they walk through the magenta entranceway. Painted in Resene Scrumptious, the entranceway sets a bold and beautiful tone for the house.
Kirsten painted the media room with a yellow that's certainly not mellow. "Yellow has become my go-to colour. It's great to brighten up an area," says Kirsten. "On a whim I asked the painter to paint the feature wall in the media room with Resene Fizz; it's a perfect sunshine yellow.
"On the day the media room was painted I came home and thought 'Wow! It's definitely yellow.'"
The high energy atmosphere created by the Resene Fizz feature wall was enhanced by contrasting crisp white walls in Resene Black White. Kirsten created cohesion in the space by commissioning an artwork, also painted in Resene Fizz, to go on the adjacent white wall.
"I love art, especially New Zealand art that has a unique style," says Kirsten. "That's why we went for Resene Black White on the walls, its slight grey tint makes a great backdrop for our colourful art."
Resene Black White was also used on the walls in the lounge, kitchen and hallway, as well as the skirtings and architraves. It provides a light, neutral colour that makes Kirsten's bold feature walls dazzle.
A dash of playful blue and a sprinkle of bubbly yellow had Kirsten painting up a storm in the kitchen. "We used Resene Charlotte for the splashback as it's a good clean blue." Resene Charlotte created the perfect contrast to the couple's Belling Range in Resene Fizz. The crisp Resene Black White walls and ceiling kept the space feeling clean and highlighted the bold lines of colour.
But Kirsten's colour palette wasn't all candy coloured. She also used a stormy Resene Gumboot as a feature wall in the master bedroom and bathroom. Reminiscent of muddy puddles and charcoal from the firepit, Resene Gumboot is a grey straight from the farm. "As far as dark greys go, Resene Gumboot is my top pick. It is so versatile, we've also used it on exteriors, interiors, plant pots and artworks," says Kirsten. In the master bedroom, the dark feature wall absorbs the light from the sliding doors, reducing the glare and adding a touch of elegance.
"There's no set rule to the overall look," says Kirsten. "We go for comfort and clean lines when it comes to furniture and a good indoor outdoor flow is a must.
"I incorporate anything and everything that is bright and bold."
"It has had its challenges but we took it slow," says Kirsten, whose husband Trevor is the Co-owner of Mike Greer Homes in Nelson and Blenheim. "From being in the building industry for so long we knew exactly who we wanted to help us with the renovations." The couple enlisted expert assistance from Complete Kitchens to renovate their dream home.
"My friends and family love what we've done, but always say they would be too scared to do it themselves," says Kirsten.
"I come home every day and it makes me smile and relax. For me that is the end goal."
Top paint tips: Use Resene SpaceCote Low Sheen for interior walls and Resene Lustacryl (semi-gloss) or Resene Enamacryl (gloss) for trims. To make a colour moodier go for an ever flatter finish, like Resene SpaceCote Flat. An easy way to add a pop of colour to a kitchen is a back-painted glass splashback, best painted by a professional using Resene Imperite I.F. 503.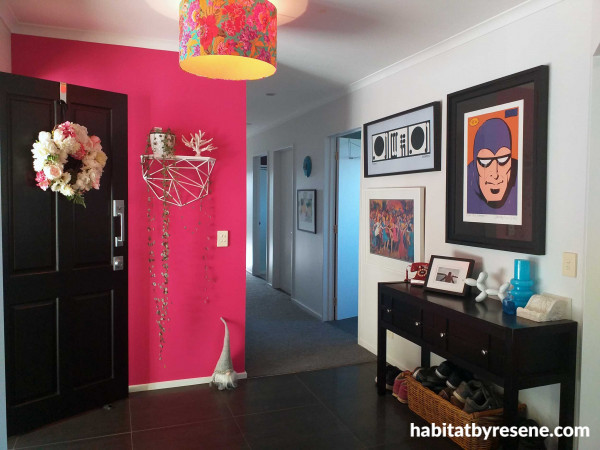 Homeowner Kirsten transformed this entranceway with a vibrant feature wall painted in Resene Scrumptious. Kirsten loves that she can surround herself with colours she enjoys and has made a place she is proud to come home to.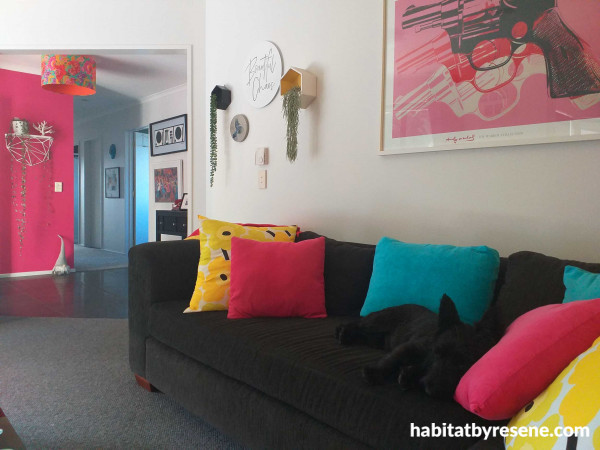 Kirsten and her husband Trevor enjoy spending time with their two Westies, Frank and Griffen, in the family lounge. The walls and trim are painted in Resene Black White to highlight the couple's colourful art pieces.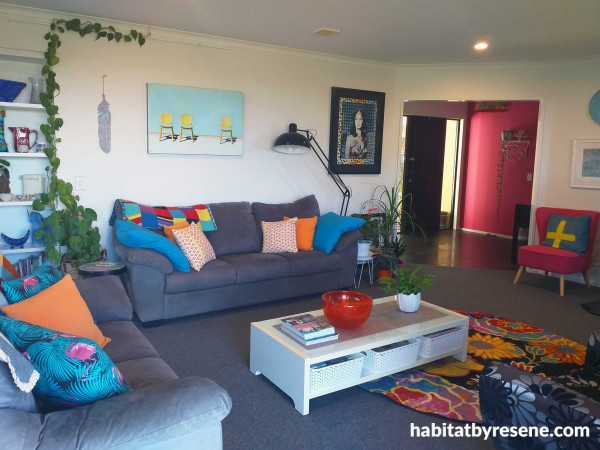 The lounge, painted in Resene Black White, is Kirsten's favourite room of the house. She enjoys snuggling up by the fire in winter and enjoying the long hours of sunlight in summer.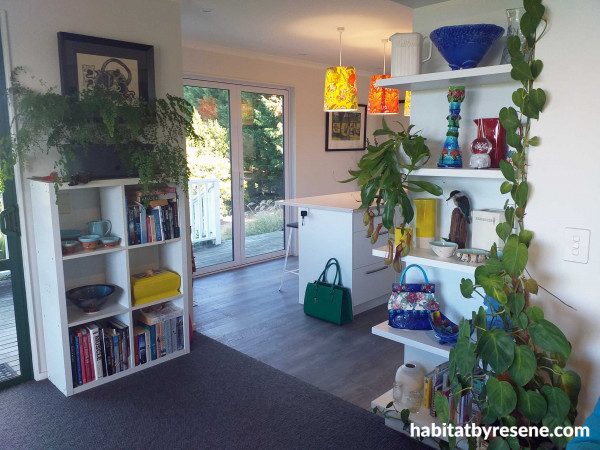 The living areas are painted in Resene Black White to ensure that Kirsten's eclectic mix of artwork, plants and décor always retain a fresh feel.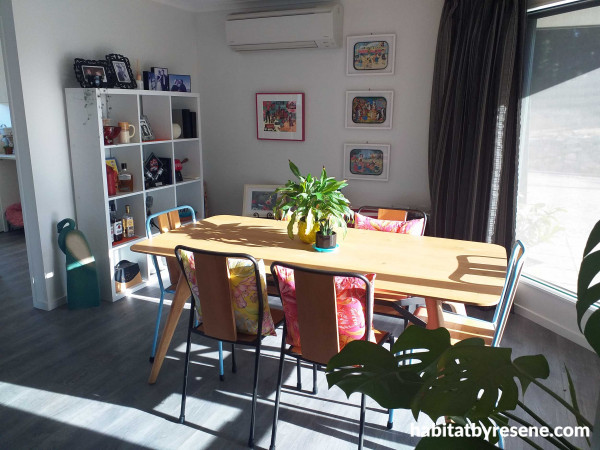 The dining room's walls and trim are painted in Resene Black White. For Kirsten, any room that doesn't have a houseplant feels unfurnished, so the couple have an abundance of greenery in their home. These vivid greens go perfectly with the grey undertones of Resene Black White.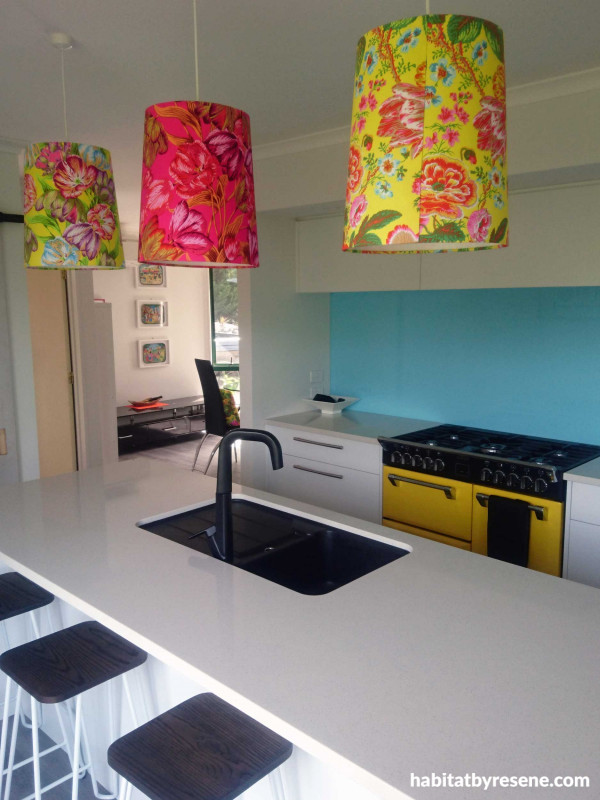 Resene Charlotte is a clear, crisp blue and was used for the splashback in this kitchen. Resene Charlotte also features in the pendant lightshades that Kirsten had custom made from Oscuro. Resene Fizz makes a dashing appearance on the Belling Range cooker. The walls of the kitchen are painted in clean Resene Black White.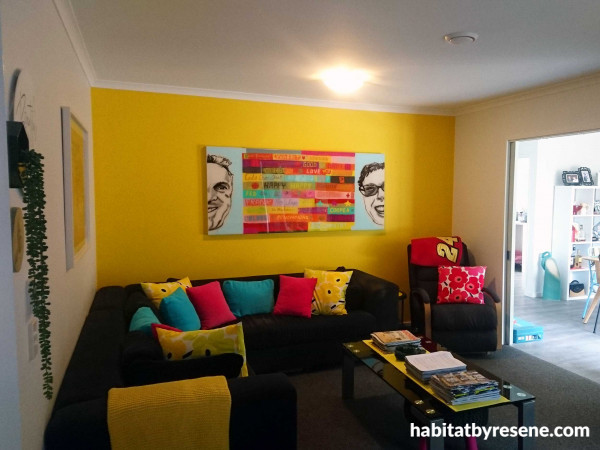 Yellow is Kirsten's favourite colour and a key accent in her home. The media room was transformed with a feature wall in Resene Fizz and Kirsten made yellow pillows to match. The adjacent walls and trim are in Resene Black White. Kirsten commissioned the talented Candy Clarke for an artwork painted in Resene Fizz on perspex.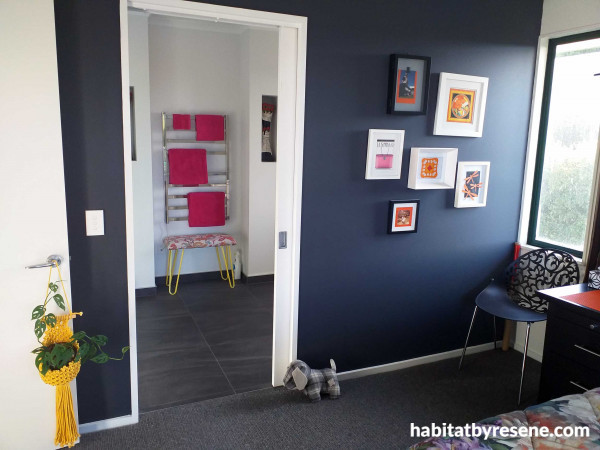 The feature wall of the master bedroom is painted in Resene Gumboot. It provides a deep contrast to the Resene Black White trim and bright white walls in the wardrobe-turned-ensuite.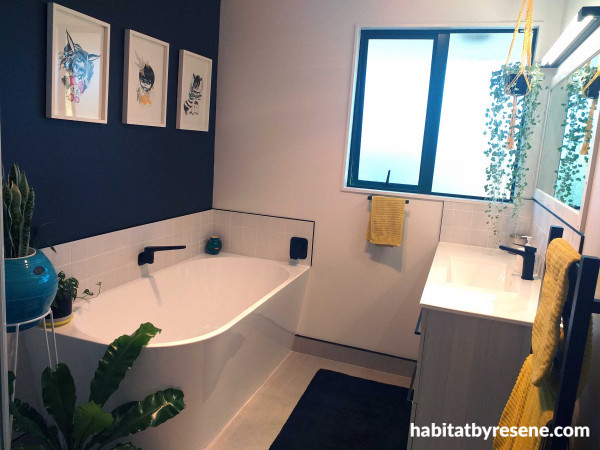 The bathroom features a clean wall in Resene Black White. The wall above the bath is painted in shadowy Resene Gumboot, which absorbs light and highlights Kirsten's bright décor.
Published: 14 Apr 2021
Do you have a home full of wonderful Resene paint and colour? Send us some snaps by emailing [email protected].
the look
If you're stuck on what
colour to use or need colour
advice, try out the Resene
Ask a Colour Expert service.