►
◄
latest
habitat tv
blog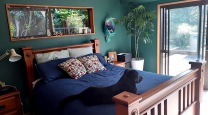 Beachside cottage bought online on an impulse receives a contemporary coastal refresh while retaining original bach style
Spontaneous home buying is not for the faint of heart but when a worn down 1950s Glenbrook Beach bach popped into her inbox it was love at first click-of-the-mouse for homebuyer Vanessa – and her husband John was the last to know! Despite its mustard yellow and green trimmed exterior, Vanessa knew with a loving lick of Resene paint she could turn this run-down gem into her tasteful dream beach cottage.
"I bought it on the spot without telling my husband," says Vanessa.
"I loved the house from the moment I saw it, though my husband couldn't understand why.
"It had been neglected by years of successive tenants," she adds. "The garden was overgrown with waist-high grass and a mass of deciduous fruit trees which made it dark. The interior colour scheme matched the exterior with touches of purple."
Vanessa appreciated her new home's "compact but perfectly formed" good bones, its sea views and easy indoor/outdoor flow and was confident she could create her dream home with a Resene paint makeover. The cottage is a mere 60 second walk to the beach for a dip, she adds, and is perfect for daughter Rachael, and husband John, both ready to relax at home in their seaside staycation retreat.
"The open plan design was ahead of its time and unusually had a hallway separating the kitchen and living areas from the bedrooms," says Vanessa, who admits she was initially daunted by downsizing, leaving her large home on a lifestyle block in Auckland's Whitford.
"Our last home was over 350sqm, ranch-style with five bedrooms, a study, two lounges and a four-car garage on 10 acres. I got interested in the idea of compact living, and while I loved living rurally, I had also missed being close to the sea."
Vanessa chose to enhance her home's bachy vibe exterior modernising it with Resene Duck Egg Blue, enveloping the house in soft blue, grey and green hues, which she framed with barely there black edged white trim using Resene Half Sea Fog. To refresh the wooden front deck, Vanessa chose Resene Woodsman Whitewash for a bleached, beach worn look, a feature Vanessa calls a "game changer".
"It turned an eyesore into an extension of the interior scheme and as an outside room," she adds.
Inspired by her travels to Venice Beach in California and seeing the "sweet cottages", Vanessa chose sunny yellows, white and soft blues for her interior palette with on-trend Hamptons coastal interiors, which had also caught her eye.
"I had a vision I could create a similar quirky coastal vibe down here 'at the beach', as the locals call it. We had to buy new pieces to fit the coastal cottage theme as our furniture from the other house was too modern. Mostly I have bought second-hand and upcycled each piece with Resene paints."
While Vanessa inherited a beautiful kitchen with kauri floors she modernised the space painting the cupboards with Resene Half Sea Fog. With the subway tile backsplash, upgraded appliances and new Formica benchtop, Vanessa created a sparkling contemporary kitchen "at a fraction of the cost of a new kitchen".
True to its coastal locale, the dining and lounge areas are bathed in natural light, which Vanessa softened using seaside-inspired blues on the wall.
"Resene Coastal Blue by Karen Walker was the perfect choice," reflects Vanessa. "The custom blinds made with Warwick fabric were chosen to match the walls and the soft white shutters we had installed makes the blue pop."
Vanessa continued the beachy, warm-hued Resene Coastal Blue from the Karen Walker Paints collection in the hallway, also using it as a feature in the laundry and bathroom.
"This ties together the home seamlessly," she says, adding she used Resene Half Sea Fog in two bedrooms including the master bedroom.
In renovating a home using paint, Vanessa recommends people approach the project by having an overall scheme in mind and warns against rushing it.
"habitat magazine is a great place to start for inspiration," says Vanessa, adding "look at what you have already got, don't be afraid to paint furniture a different colour to match the scheme or buy second-hand.
"You also don't need to achieve a complete look instantly. We did this over time starting with the interior colours, built fabric choices and window treatments around this as and when we could afford them."
While she found it hard to choose a favourite among her Resene colour selections, the choice of blue makes the top of the list, with Resene Coastal Blue by Karen Walker number one followed closely by Resene Duck Egg Blue used on the cottage exterior.
But when asked what she loves most about her revived coastal home, Vanessa only has one reply, "Everything!"
"I especially love how each room has its own quirky personality but lives within a cohesive scheme. I really do feel like I am on holiday every day."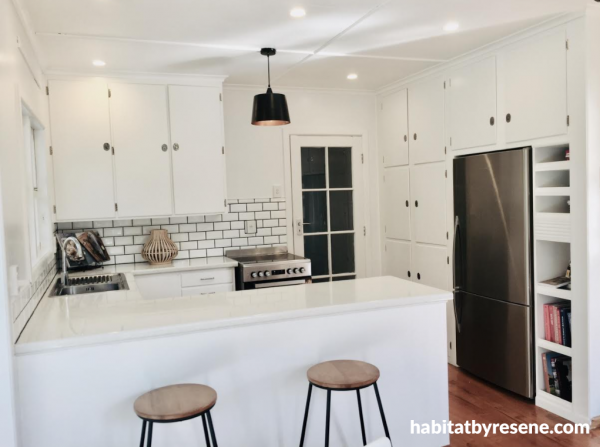 Vanessa painted the kitchen cupboards in Resene Lustacryl semi-gloss tinted to Resene Half Sea Fog, which makes the nautical cabinet latches pop. She carried the Resene Half Sea Fog throughout the kitchen using a mix of paint finishes with Resene SpaceCote Flat on the walls and ceiling and Resene Lustacryl semi-gloss on both the trim and door.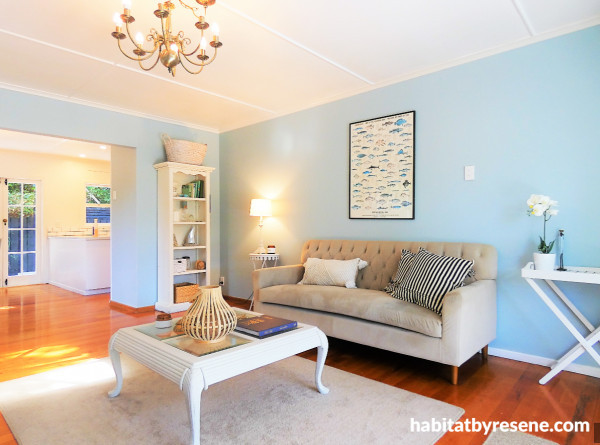 Vanessa captures her love of blues in the lounge using Resene Coastal Blue from the Karen Walker Paints collection, which showcases her beachy Hamptons style and "at the beach" decor. She chose Resene Half Sea Fog on the ceiling, trim and door for a sleek, contemporary look.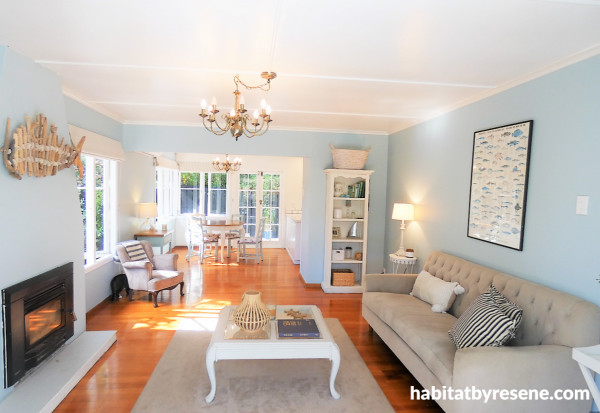 The bronze chandelier Vanessa loved so much from the original home along with the driftwood fish above the inset fireplace are bold statement pieces in the living area painted in Resene Coastal Blue from the Karen Walker Paints collection. The ceiling trims and door are in Resene Half Sea Fog. Vanessa adds, "Using the Resene Half Sea Fog throughout pulled the theme together".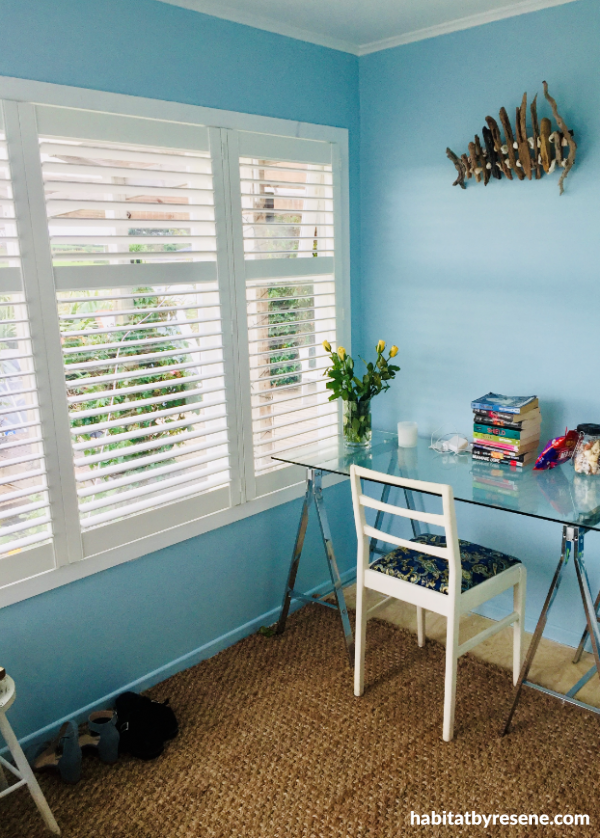 Vanessa wanted her daughter Rachael's study to be a calming space so she painted it in Resene Escape, a dreamy pale cerulean blue. Vanessa stayed consistent with her choice of Resene Half Sea Fog for the trim and ceiling completing the bachy vibes with hardwearing natural jute on the floor.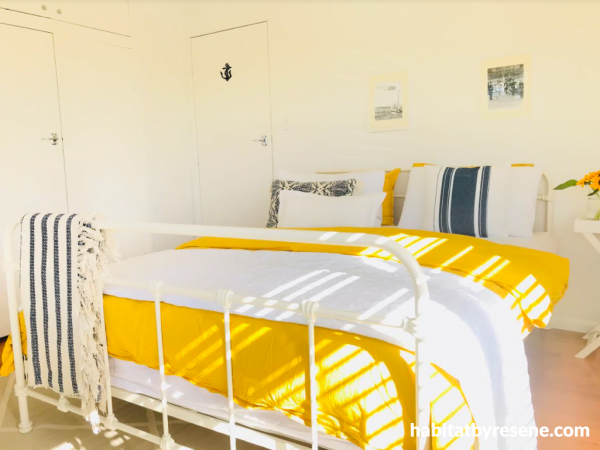 Vanessa and John enjoy sunny yellows and nautical blue stripes in a sun-drenched bedroom with Resene Half Sea Fog on the cupboards, walls, ceiling and trim. An anchor hook on the door completes the relaxed coastal vibes with a cheeky nod to the Hamptons.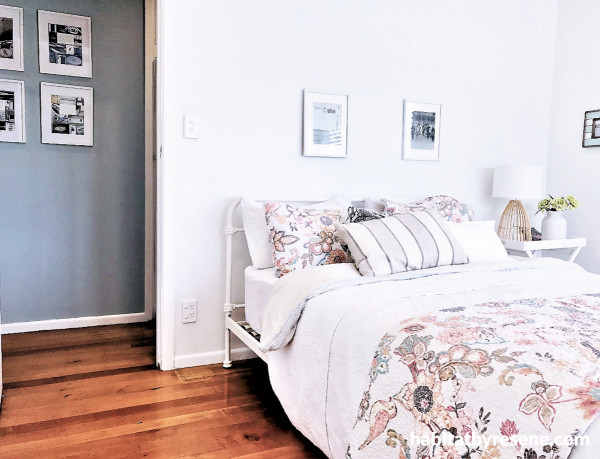 In the shaded hallway, Resene Coastal Blue from the Karen Walker Paints collection takes on a darker tone on the feature wall which complements the bright Resene Half Sea Fog on the bedroom walls, ceiling and trim. Vanessa says "Resene Coastal Blue looks very different in each of the rooms because of the different light, looking darker in rooms with less light and brighter in rooms with more light. It almost looks like different colours".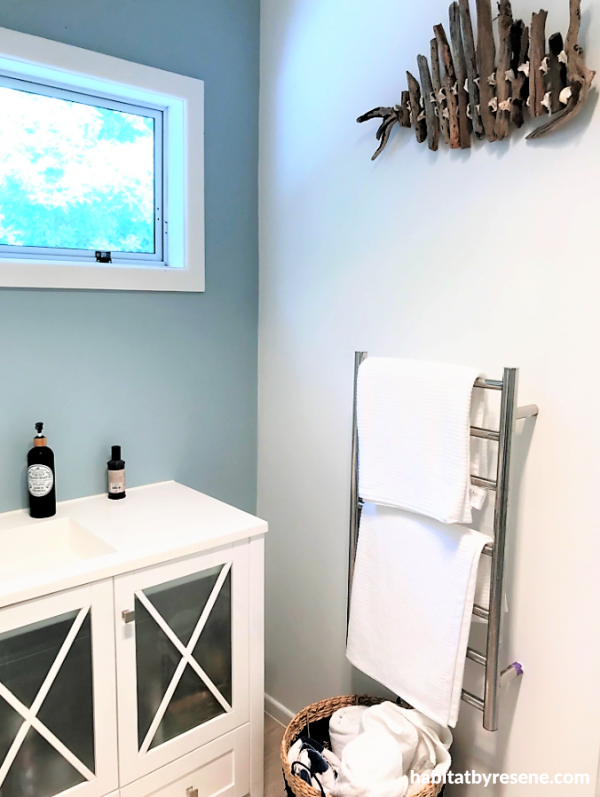 Hamptons coastal minimalist luxury flows into the bathroom with walls painted in Resene Half Sea Fog on three walls, trim and ceiling, with a feature wall of Resene Coastal Blue from the Karen Walker Paints collection on the window wall. The challenge in the bathroom, Vanessa adds, was sourcing good quality cabinetry "that fitted the beachy vibe without being too modern".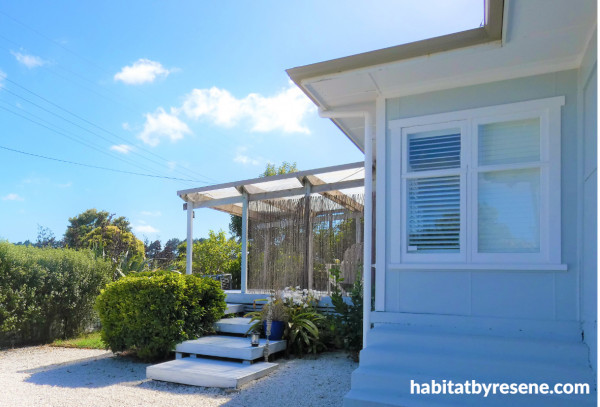 Vanessa chose Resene Woodsman Whitewash to finish the large floating steps and covered deck, creating a "game changer" bleached wood effect providing the family of three with an all-year-round beachy oasis to take time out to admire the view from a Cape Cod Adirondack chair.The contemporary coastal look is captured in Vanessa's choice of Resene Duck Egg Blue, which has refreshed the beach house in combination with Resene Half Sea Fog, a subtle black white, for the trim.
Published: 25 Feb 2021
Do you have a home full of wonderful Resene paint and colour? Send us some snaps by emailing [email protected].
the look
If you're stuck on what
colour to use or need colour
advice, try out the Resene
Ask a Colour Expert service.