►
◄
latest
habitat tv
blog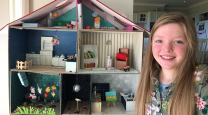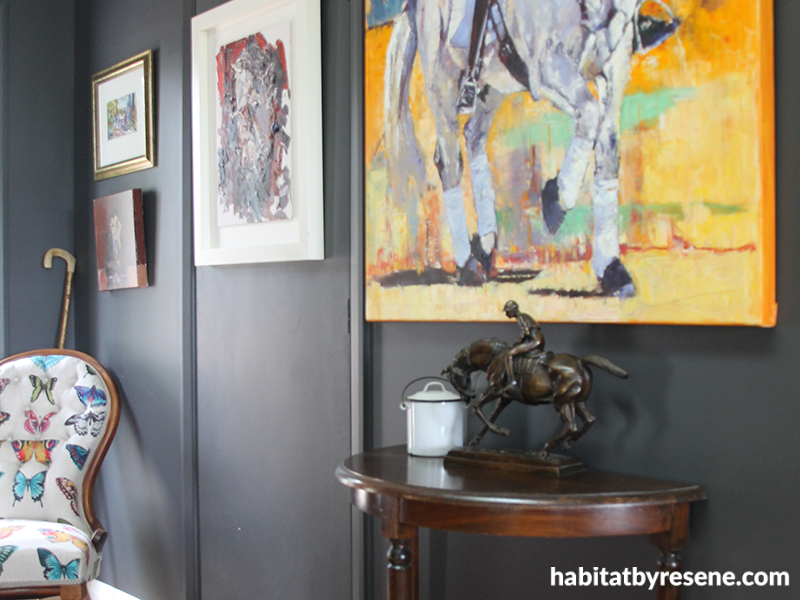 A look inside Christchurch artist Jane McIntosh's home and garden
21 Apr 2022
Jane McIntosh's passion for colour blends into every aspect of her life. An artist and gardener based in North Canterbury, her home and garden are as colourful as her works. Bold orange, buttercup and charcoal walls across her home have been brought to life with Resene paints.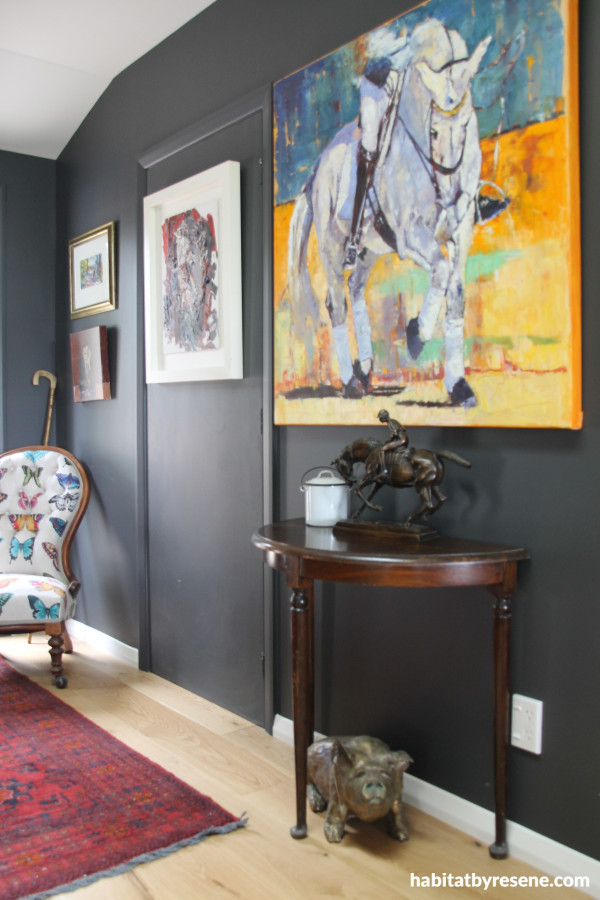 Resene Foundry is dark and moody in Jane's living room. The ceiling and trims are Resene Black White.
Ahead of the Autumn with Art in Gardens festival starting on April 22, Jane says her home and garden inspire her landscapes and portrait paintings and sculptures.
"My home and rural environment play an important part in my creative expression," says Jane. Her studio view from her farm in Culverden offers ample inspiration. Her dogs (Arnie, Joey and Winnie), Zen the Burmese cat and a band of Pekinese ducks are regular admirers of her work. Plenty of her pets end up on paper and canvas.
Jane has long been a fan of using Resene paints for her home, splashing colour across the walls of both the cottage and homestead on the property she shares with husband Tom. Currently the pair live in the cottage (originally built in the 1960s) and have recently undertaken some renovations.
"I have always loved colour, especially in living areas," says Jane. Travelling through Historic Trust Homes in Italy and England with their bold use of interior colours inspired her to get creative on her home turf. Bedrooms in the cottage were painted with Resene Bardot, Resene Oh Behave and Resene Hippie Green.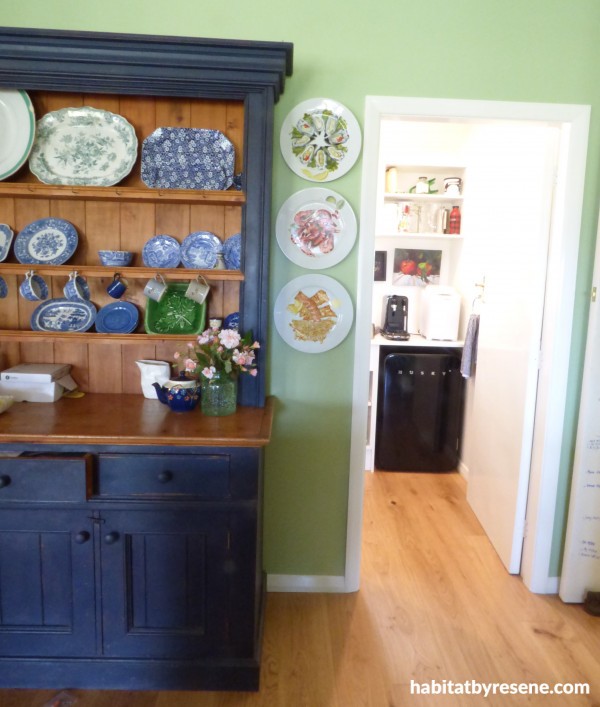 Resene Caper is cheerful and welcoming in Jane's kitchen. The trims and architraves and doors are Resene Black White. Try Resene Tory for a colour match of the kitchen hutch dresser.
Bright, herbal green Resene Caper was used fittingly in the kitchen. Retro orange shade Resene Oh Behave was a vibrant choice for the couple's lounge, and Resene Foundry, a shadowy charcoal, made a statement in the entranceway. "The garden and surrounding hills also helped select and influence the colours that we have chosen."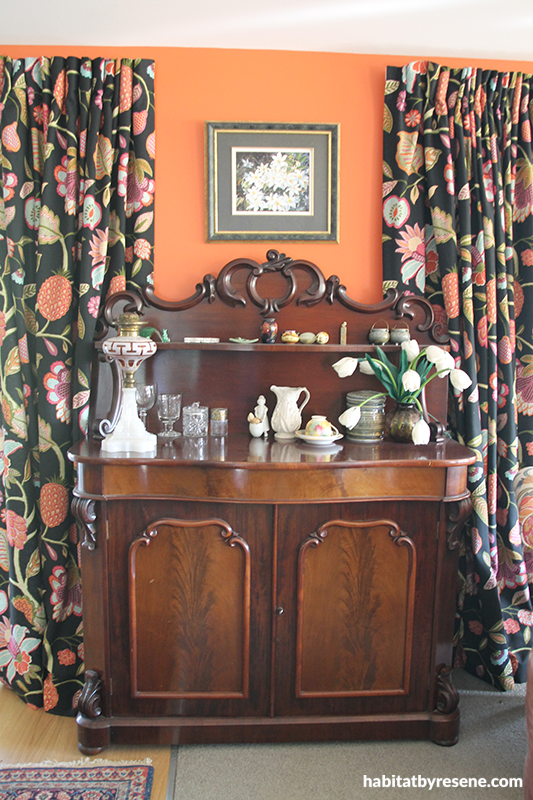 Resene Oh Behave was a bold choice in the lounge and makes a statement. The ceiling is Resene Black White.
Jane's garden is a further expression of her creativity. The garden has been entirely redesigned recently by incorporating existing trees, and a sweeping lawn with the re-establishment of the pond and extensive new plantings. You can explore the studio and tour the garden with Jane at Autumn with Art in Gardens starting on 22 April 2022.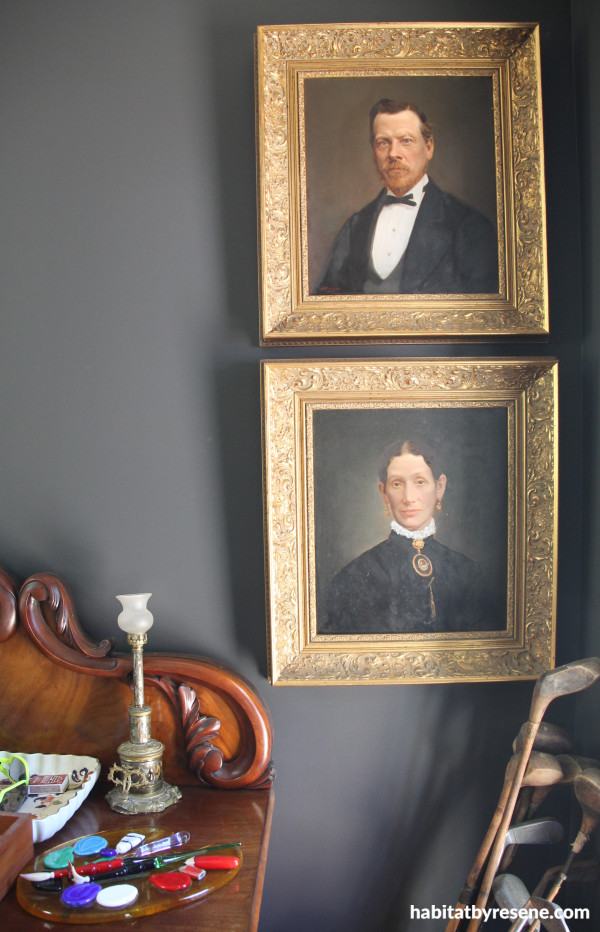 Resene Foundry makes for the perfect backdrop with impact for Jane's hanging portraits.
The event was created as three friends (Lissa Holland, Jane McIntosh and Lou Davison) realised that in autumn particularly, they lived in one of the most vibrant, undiscovered parts of North Canterbury. They decided to put together three days at the height of autumn something that would entice people into the Hurunui district. "The road signs are up, the artists are painting furiously, and the gardeners are clipping and tidying."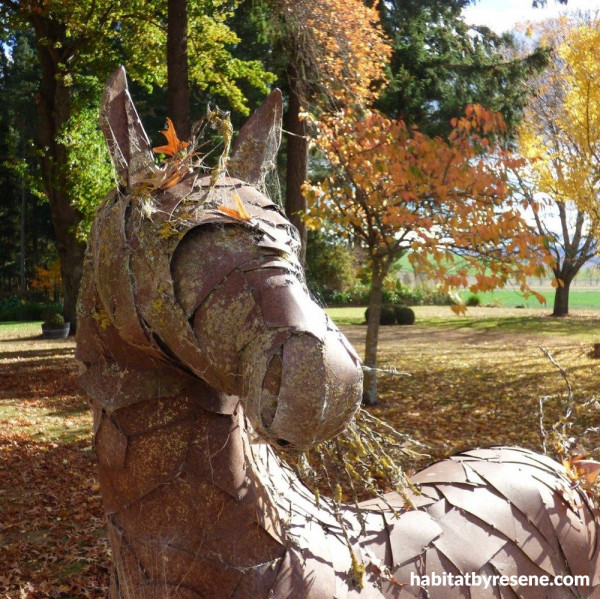 One of Jane's sculptures on display in her garden.
For full details on the event and its programme, visit www.autumnwithartingardens.co.nz.
Published: 21 Apr 2022