►
◄
latest
habitat tv
blog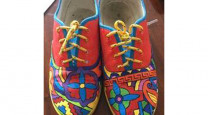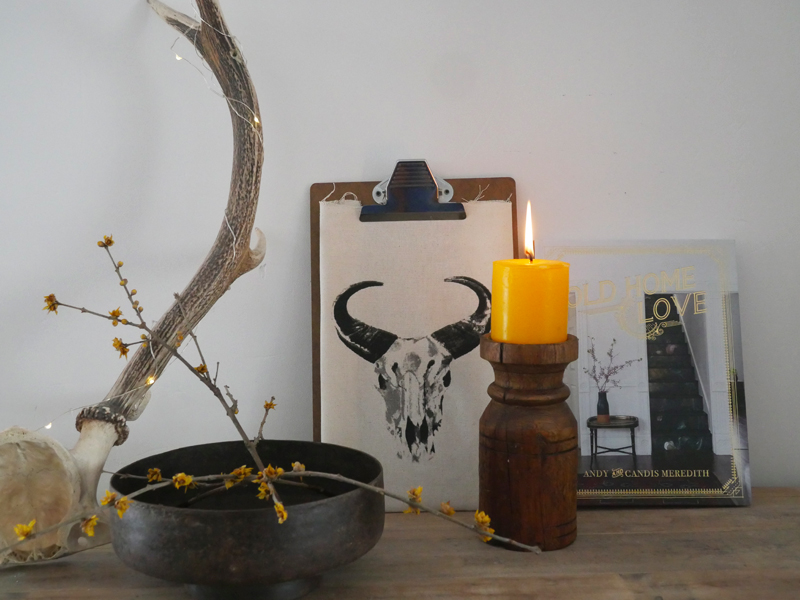 Bringing trends into the home
26 Apr 2018
Stylist Francesca Storey discusses bringing the latest trends into the home – and that it's not as difficult or intimidating as it may seem.
Magazines, blogs, social media and advertising tempt us with a design aesthetic and mood of the moment but how do we bring on-trend colours and schemes into our homes without commiting to an immense interior overhaul?
Big, luscious floral blooms on dark and moody backdrops having been steadily sneaking onto prints and wallpaper and more recently, furnishings and cushions too.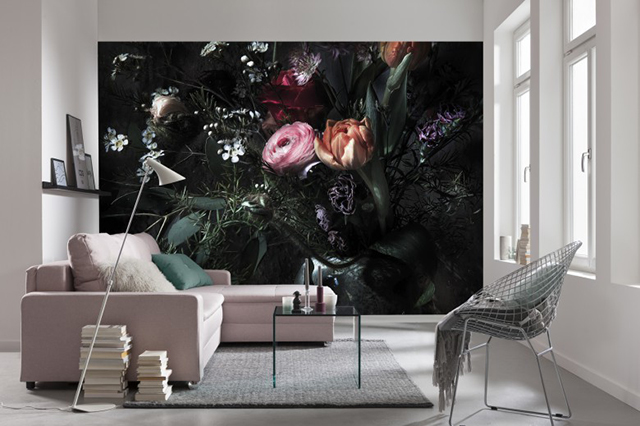 Wallpaper pattern 8-999 from the Resene Wallpaper Collection.
It would be lame to simply suggest shopping for blooms to bring that big floral drama (although, it bloomin' works so don't knock it 'til you've tried it!) so how to do it without the real thing?
Wallpaper samples or wrapping paper sheets with a mighty flower or two can look striking framed and leant against a wall but also keep an eye out for vintage puzzles or floristry books with the same designs. Although a little more ornamentally orchestrated, other generations loved this look too and there's a good number of dark floral images floating around op-shops and family baches as a result that – grouped together on a wall – can look stunning.
A puzzle squished snugly against glass in a simple frame works wonders, or if it's in good condition use the image on the box instead as the matte card packaging has a certain quality and texture that works really well when framed.
To bring creamy toffee tones, stoney neutrals and hues of burnt orange and rust that are currently popular, look to backyard and forest forages or a touch of beachcombing:
Wood and timber materials (twigs, driftwood) and even autumnal leaves themselves used as display pieces can add great seasonal interest to a space.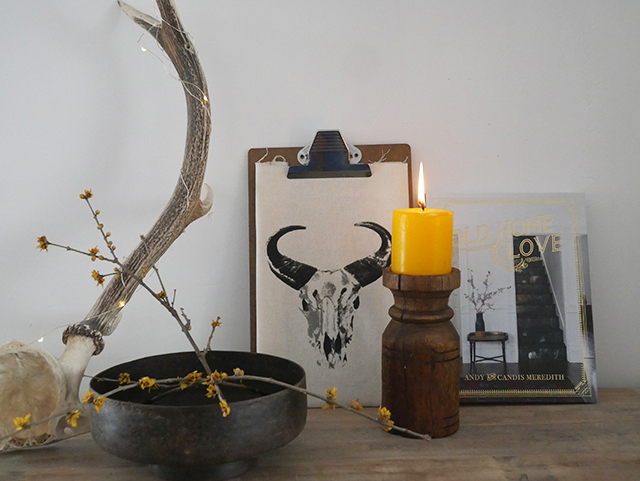 Threaded leaves hung as garlands look amazing and bring that particular on-trend colour scheme affordably to life.
Stones, shells and bones (think fish as opposed to human – it's just a little less macabre!) offer a beautiful natural colour wheel.
Rusted iron and tarnished metal can bring earthy tones of oranges and browns – it's not a good look to have your decor linked to tetanus so think carefully of how to use old tin pieces or tools in displays to add a chunk of industrial to the look.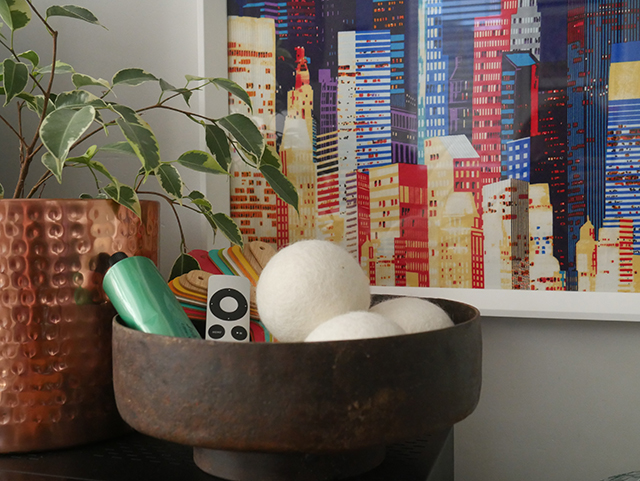 Around your house look to see what can be reinvigorated – many a rattan tray or basket is at the back of a pantry or on an out-of-reach shelf and they're itching to be brought back to life in today's texture-loving homestyle.
Not to be confused with macabre (see above!) there's still a lot of love out there for the trend of macrame. Displaying knotted and woven textiles is still proving popular and without getting creative or overly arty, the on-hand display of different textiles is so darn attractive even if it's your own garments that are hung on pretty hooks on a bedroom wall, or balls of wool of on-trend colours displayed prettily together in glass domes.
If you can't find much at home or out and about but are still keen to change it up a little more, don't just head for the bright lights of city stores or online checkouts. What goes around comes around and it's likely that a version of what's 'on trend' has been created, drawn or photographed in a previous and similar life (even if there are a few decades in between).
So enjoy the pursuit of happiness in op-shops, tip-shops, builder reclaimers – there's online too but there's nothing like hands-on-the-win when you spy that piece amongst a bedlam of crazy.
For colour, don't underestimate the wide palette that books provide – be it the spines, the paper covers or the books themselves, you can bring a wealth of colour options to your room. Lie them down, stand them up, prop them open – they can bring a beautiful aesthetic point of difference!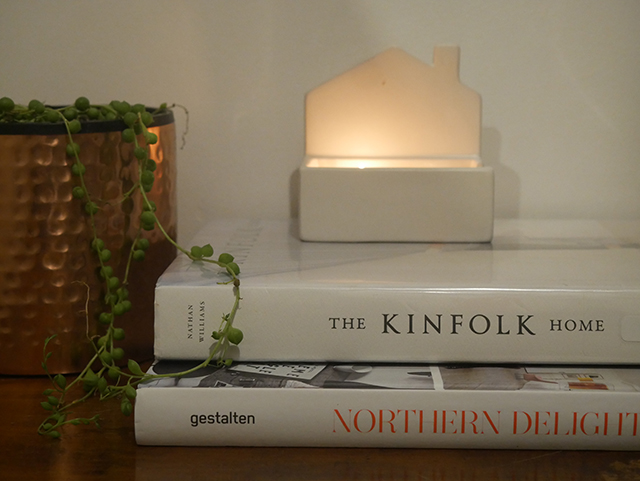 And then there's the mighty Resene testpots which enable you to bring those on-trend colours into your home in small doses. Paint up picture or mirror frames, stones or twigs, as it's not just your wall that can add a small change of colour in a room.
Look with fresh eyes at jewellery that you own. Wooden bead or shell necklaces can be perfection hung on a hook on a bedroom wall or in the bathroom (there's that natural colour-wheel again).
I love neon – and a word lit up in neon? Now you're talking! So for me, a neon phrase borrowed for inspiration from a magazine, even with it's torn and rough paper, looks edgy and sharp in a small frame on my bookshelf. Not exactly the effect the neon artisan was after but good enough.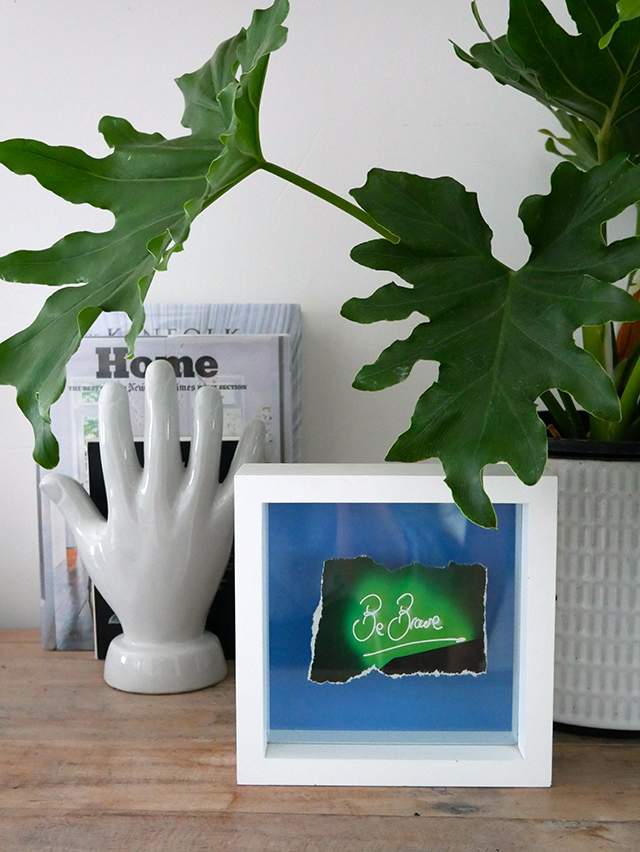 In conclusion, my biggest tip is to not take decorative dabbling too seriously and have fun with what you use in your home. And fear not if it doesn't quite work out as planned. My recent textural styling hiccup went something like this:
Husband: "What the heck is someone's old sweeper brush doing hanging up by our bed?" Me: "But it's vintage. And 'on-trend'. And brown. And adds texture..."
Husband: "All I see is vintage dust."
And before i could say "note the detail of its artisan leather strapping" the brush was sweeping the kitchen floor and I had to take my yearning for the organic textured detailing elsewhere. So be it! Good luck.
See more from Francesca Storey at www.showroom.org.nz.