►
◄
latest
habitat tv
blog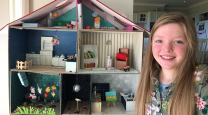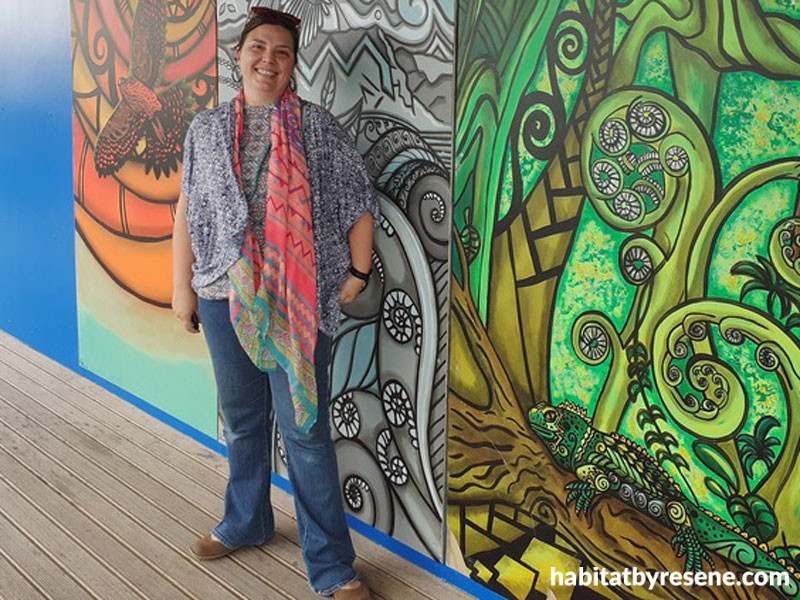 Lucia Laubscher creates murals that matter
17 Mar 2022
"When I was five years old, my first-grade teacher looked at a cartoon elephant I drew and exclaimed 'You are an artist!'. It was a comment at school in South Africa that stuck with Lucia throughout her school years and continually fed her desire to be creative, right through to today, where, now based in Auckland, Lucia earns her living full-time as an artist, creating colourful works using Resene paint.
Today Lucia's artistic style is very adaptable to meet the specific needs of the clients who commission her work. "It is personalised to tell each client's story or convey a message or theme," she says.
"My style is adaptable to the environment an art piece might be used for, although I usually try to incorporate cultural aspects of the surroundings and people into my art."
With clients that vary from schools and a plumbing company to Auckland Transport, that adaptability has been key for Lucia in being able to turn her passion for creating into an income.
"After moving to New Zealand in 2017 I started doing murals for my daughters' school and from there word of mouth travelled around and I got another couple of commissions from other schools," she says.
"I joined an online platform for artists and received more commissions for murals from there. I then received a couple of requests from acquaintances for artworks for their businesses, friends and relatives and now I am permanently busy creating art on request."
The process of creating works on commission means working closely with clients is essential to try and ensure they're going to be happy with the finished piece. "I first talk to the client about what they are hoping to convey or achieve with the mural. Most clients have some idea of the 'feeling', 'message' or 'purpose' for the request," Lucia says, though it's also important they're happy with the look of the work, not just the message.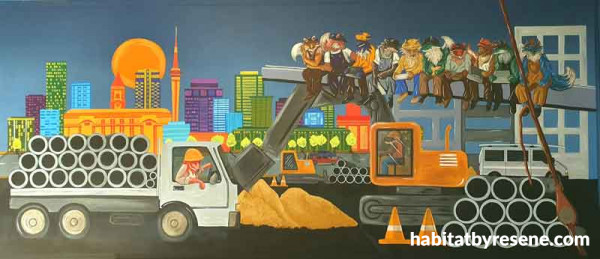 Lucia adds colour to a mural for Auckland's Fox Plumbing with greens in Resene Verdun Green and Resene Zuccini; blue notes in Resene Tomorrow, Resene Bowie and Resene Half Resolution Blue, purple contrasting buildings in Resene Purple Rain, Resene Reverie and Resene Sassy; bold orange, gold and tan tones in Resene Chilean Fire, Resene Tahiti Gold, Resene Twisted Sister, Resene Hot Curry, Resene Chocolate Brownie; Resene Poppy and Resene Whizz Bang reds, with paler highlights in Resene China Ivory and dark notes in Resene Haiti.
"I ask them about their likes, their favourite colours, culture and themes they might have in mind and then go home to do some research with the information they've provided.
As a number of Lucia's commissions are outdoor murals, durability is important and for that she turns to Resene Lumbersider. Lucia uses Resene paints in most of her work, whether it's from a testpot or even diluted slightly in an airbrush.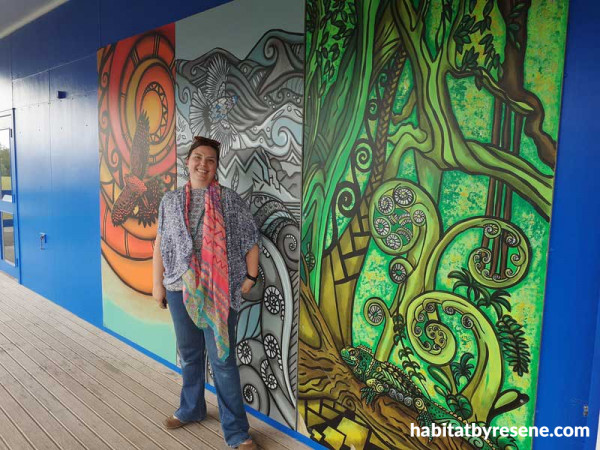 Lucia Laubscher with one of the murals she completed at West Harbour Primary School.
"Resene paints are easy to use, durable and there's an amazingly wide range of colours."
Though her work features a broad range of Resene shades, Lucia is a particular fan of Resene's range of blues. "If I'm forced to choose just one, Resene Yes Please, would be hard to turn down," she says.
"Each artwork has its own colour palette driven by the theme of each artwork as well as my love for vibrancy and conveying emotion with colour.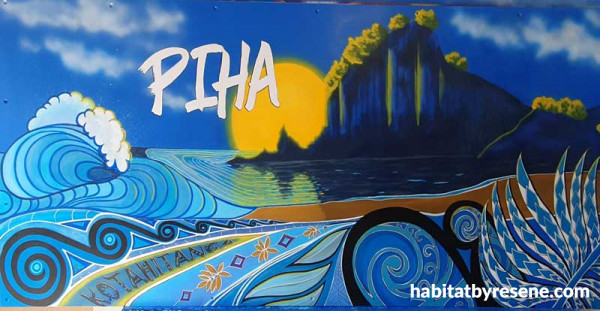 Lucia's design for the Piha School name mural includes an eye catching combination of yellows in Resene Lightning Yellow, Resene Paris Daisy, and Resene Holiday with Resene Hot Curry in the strip of sand. A broad mix of blues including Resene Scooter, Resene Point Break, Resene Lure, Resene Yeehaa, Resene Picton Blue, Resene Malibu and Resene Optimist combine to complete the coastal feel.
"Art is a powerful tool to spread a message, convey a feeling, create an atmosphere or add interest and colour to a space."
See more of Lucia's work at www.artbylucia.co.nz.
Published: 17 Mar 2022