►
◄
latest
habitat tv
blog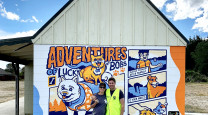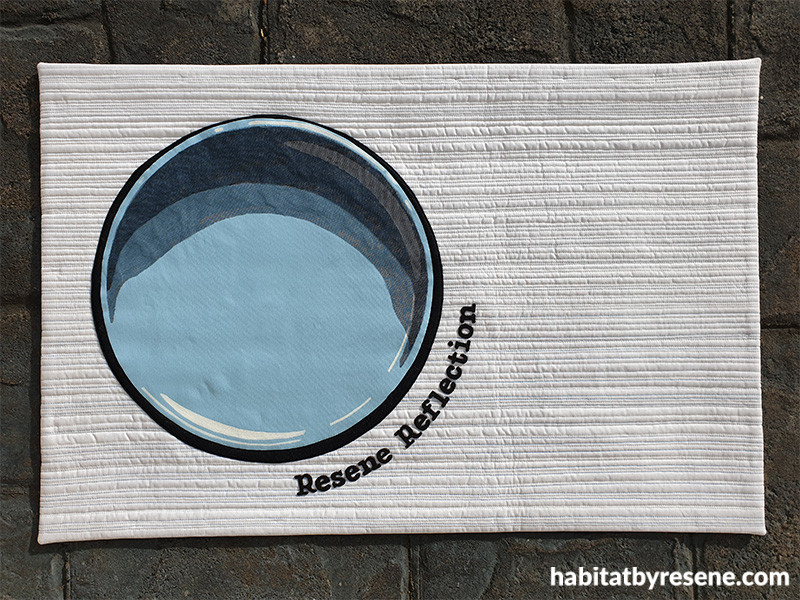 Mary makes a covetable quilt
23 May 2019
Last month, the Auckland Quilt Guild held their annual Dorothy Collard Challenge, where members create a 30" x 20" quilt (or 76.2cm x 50.8cm – we're told quilters still work in inches) inspired by a shared theme. This year, the theme was 'Reflection'.
Quilter Mary Metcalf, who has been at her craft for well over 30 years, had been trialling various blue Resene testpots for a feature wall in her lounge.
"I was delighted to come across a beautiful blue called Resene Reflection," says Mary. "It was my inspiration for the quilt which, I am happy to report, won a merit prize."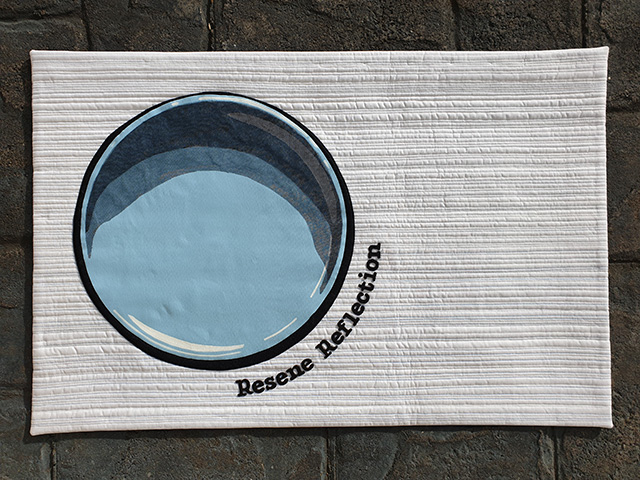 Mary Metcalf's 'Resene Reflection' quilt, which brought home a merit prize in this year's Dorothy Collard Challenge. Mary says that she loves Resene paint colours – especially the blues – but as far as favourites go, she says that Resene Aquamarine wins the top spot. She used it to paint her foyer.
Mary estimates that it took her a couple weeks to make the piece. She started by painting the contents of her Resene Reflection testpot on a stretched canvas, adding some highlights in Resene White. Then, she cut out two layers of black tulle to get the depth of shadow, which she glued to the canvas. Underneath, the testpot container is made from a circle of black felt. Mary layered up two white cotton fabrics, with a layer of batting sandwiched between them, and quilted "many, many lines of machine stitching" to create the background. Once she had bound the quilt, she stitched the testpot onto the background. The lettering was made from card, which she painted Resene Black and stitched onto the background.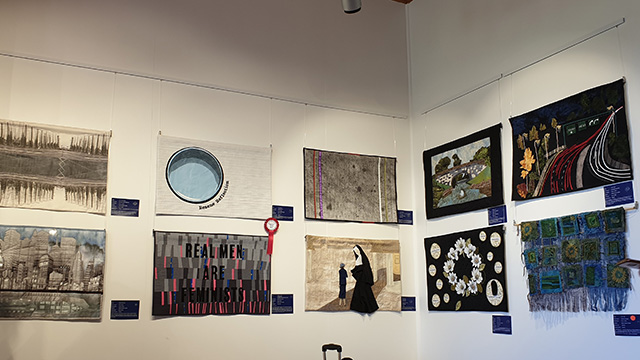 Mary's Resene Reflection quilt hanging among others featured in the exhibition, which is currently showing at the Lake House Arts Centre in Takapuna, Auckland.
This isn't Mary's first time taking home a prize at the Dorothy Collard Challenge. Last year, her 'Flying Geese' quilt was named the winner.
If you'd like to see Mary's work in person, Auckland Quilt Guild's exhibition is currently showing at the Lake House Arts Centre in Takapuna, Auckland. For more information, visit the Auckland Quilt Guild's website.
Published: 23 May 2019