►
◄
latest
habitat tv
blog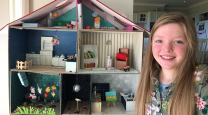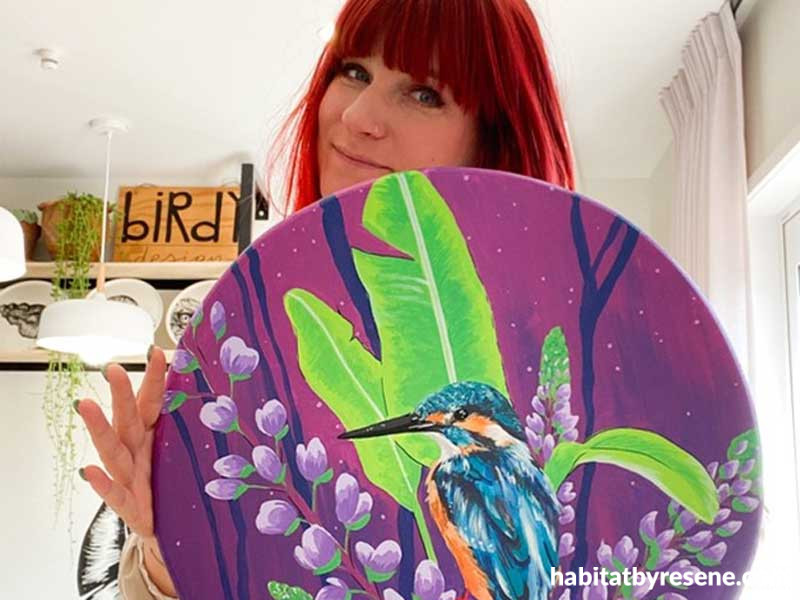 Meet the Whangamatā artist inspired by birdlife
07 Apr 2022
When Merel arrived in New Zealand with a suitcase from the Netherlands three years ago, she kept herself busy by painting and sketching. Her new surroundings offered ample inspiration. "I couldn't work because I didn't have a work visa at the time, so I went straight into making art and kept myself busy with something I love." A few years down the line and vibrant portraits of birds have become her artistic signature, created with Resene paints.
Nature has long inspired Merel, who worked as a window dresser and artist in Holland. "Nature inspires people in so many ways, and it always inspires me, especially birds. When I got my permit, I started Birdy Design NZ, making art, illustrations, murals and hosting creative workshops."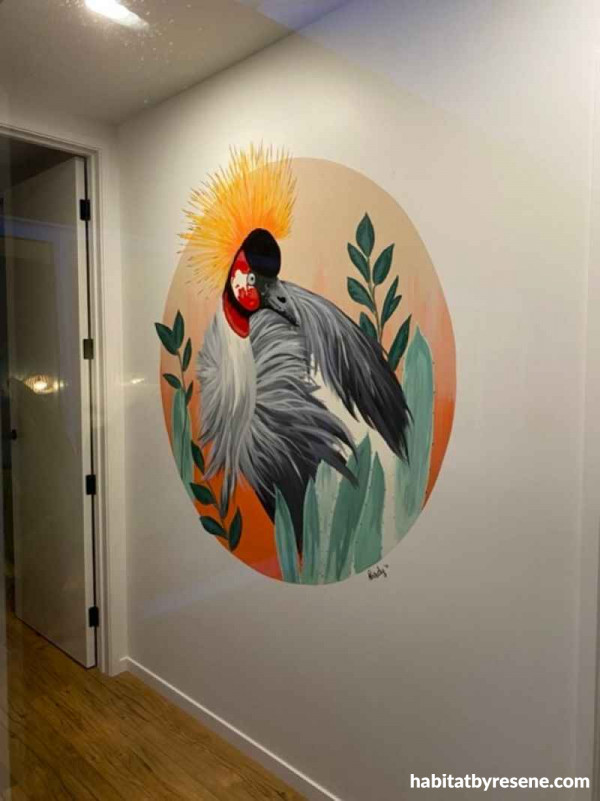 Merel's African crowned crane bird mural at her home uses Resene Broom, Resene Adrenalin, Resene Alabaster,Resene Cardin Green, Resene Big Bang and Resene Del Toro.
Her business name stems from her own, Merel means 'black bird' in Dutch. "I specialise in botanical and wildlife designs, but I also love a creative challenge that's out of my comfort zone." Her canvasses range from paper to concrete, and are either painted monochromatically in black and white, or the total opposite in vibrant colours.
"I actually made my favourite mural at home. I love it so much because I used my own walls to try something new. Using Resene paint I painted this African-crowned crane bird in our hallway. I was a black and white artist for a few years until a friend pushed me out of my comfort zone to create a colourful mural.
"I love that we can surprise ourselves – just believe in yourself and you can do way more than you think. That's why teaching people to be more creative is so amazing."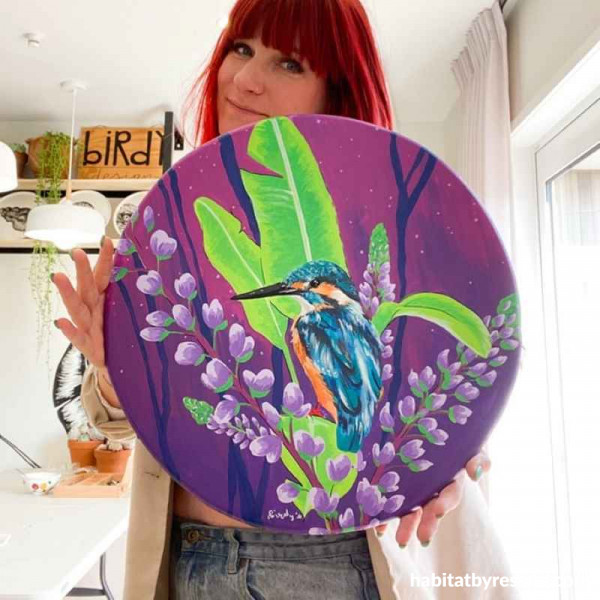 Merel's kingfisher is displayed at Whangamatā Medical Centre. She used Resene Blue Diamond, Resene Centre Stage, Resene Biloba Flower, Resene Aviator,Resene Bowie, Resene Dizzy Lizzy, Resene Bingo, Resene Black Rock and Resene Adrenalin to create the piece.
Large wall murals for clients always start with a sketch on paper, so both Merel and her client have an idea in mind of the finished product. "I draw a design in ProCreate so I can give them a real look of the end result, then make adjustments."
For interior murals she uses Resene SpaceCote Low Sheen, and for exterior murals Resene Lumbersider low sheen.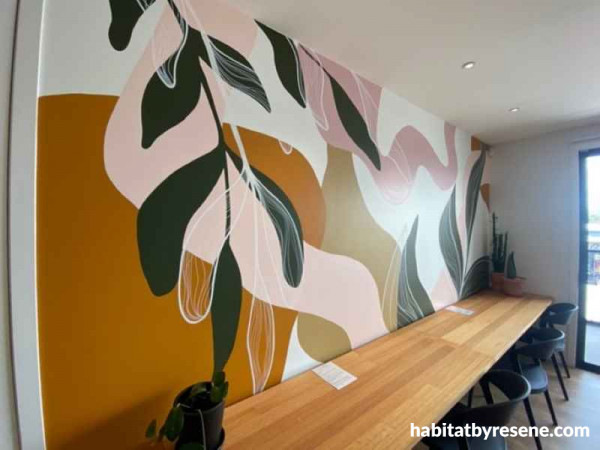 Her mural at WhiteNoise Workspace is bold and funky, using Resene Mai Tai, Resene Cinderella, Resene Olive Green, Resene Blossom, Resene Raptor and Resene Papier Mache.
"For smaller art pieces I love working with Resene testpots. You can get them in every colour you like. I don't make too much of a plan for these art pieces, I like to go with the flow." Merel's current favourite Resene colour is Resene Mai Tai, a vibrant orange that she says goes well with other colours, but also stands out.
"Resene is well known for their amazing quality in paint. The colours are vibrant and customer service is impeccable. My colour palette varies with every project but I love working with colours that have an earthy feel."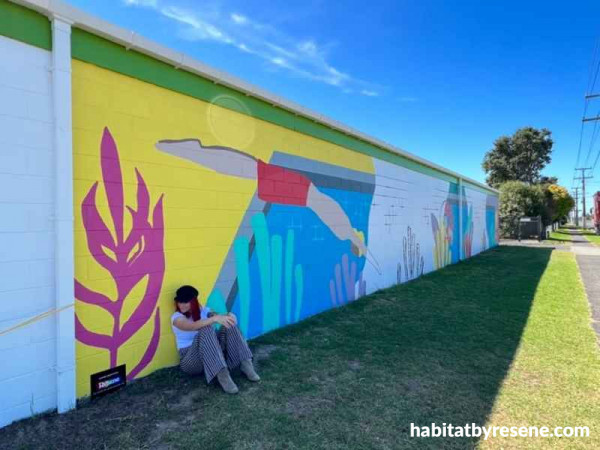 At Whangamatā's community pool Merel's mural brightens up the wall. She used Resene Cranberry, Resene Amethyst Smoke, Resene Banana Split, Resene Dali, Resene Bingo, Resene Moleskin, Resene Boston Blue, Resene Slate, Resene Black and Resene Del Toro.
View more of Merel's work, www.birdy-design.com.
Published: 07 Apr 2022