►
◄
latest
habitat tv
blog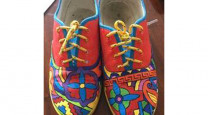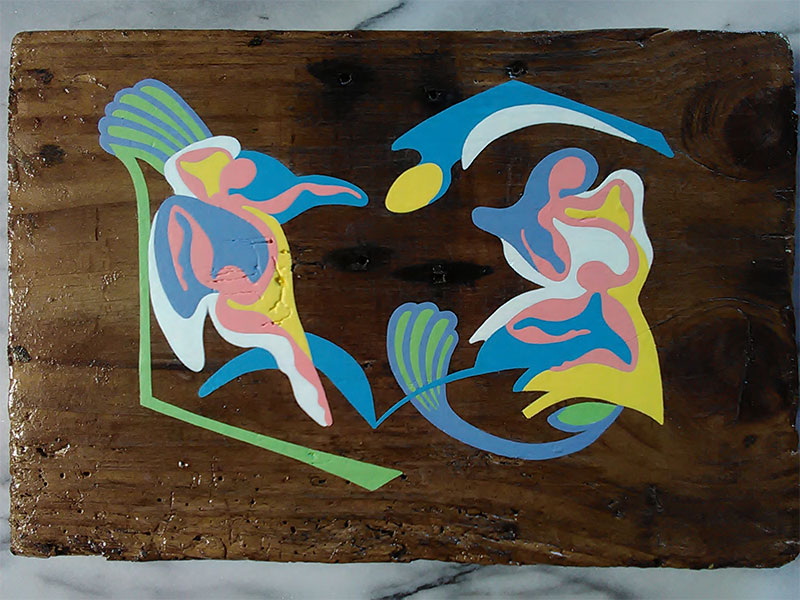 Picking up a paintbrush helped Janie regain her artistic independence
24 Apr 2019
Artist Janie Taylor has lived in Karehana Bay, Plimmerton since 1972. In 2001, Janie lost the use of both hands after suffering severe injuries – but she didn't let that stop her.
Designing and making things – from gardens to clothing to décor – has been a lifelong source of joy and adventure for Janie, and she says that her progression into painting came quite naturally.
"After my injury, my greatest fear was depression from not having creative outlets. So, my daughter Bridie – who is very creative herself – gave me paints and a small brush 'to play with'. It was the only tool I could use at the time and for the five years that followed," remembers Janie.
She says that most of her artwork is fairly small, as her right hand continues to have limitations and is often painful, but she is still able to use small brushes while resting her arm on a flat surface.
Influenced by a childhood interest in cave drawing and various indigenous and folk art styles, her designs are original and autobiographical.
"I love colour, movement, definition and detail so each design has to include all these elements for me to enjoy painting it, but they also express my thoughts and feelings about the people I love – including my late partner – and things that took place during our lives," says Janie.
"As a personal and romantic gesture during my partner's declining years, I chose to paint on driftwood and rustic hyper-tufa plaques to connect my artwork to our escapist lifestyle in a seaside town.
"I work in a vibrant palette for joyous and whimsical subjects and an autumnal or pastel one for more reflective memories. Neutrals, to me, are useful tools for contrast and definition but never the basis for a colour scheme, though I enjoy decorating neutral organic surfaces with controlled, sophisticated designs from my imagination."
Janie says that "Resene paint, being environmentally-friendly, was an essential first choice for me. And, the exterior durability of Resene testpot paint widened the market for my art to include outdoor display possibilities."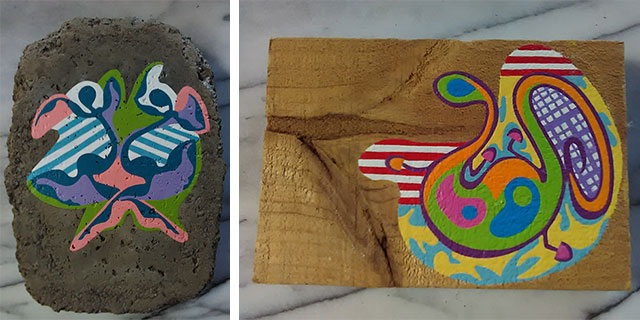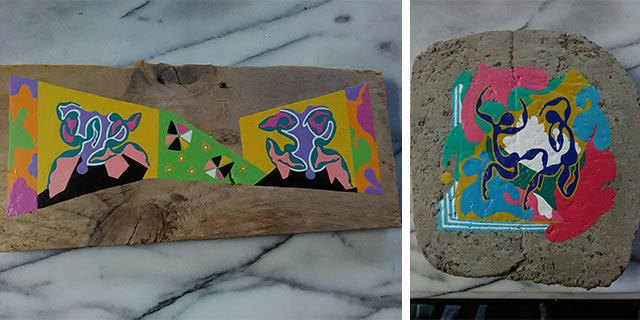 Four of Janie's colourful creations, which were made using Resene testpots on driftwood and reclaimed timber.
Several decades ago, Janie began building a garden in the clay hillside behind her house. Today, it is filled with meandering pathways, a riot of colourful flowers and her beautiful outdoor art. Each year, it is a regular stop on the Friends of P?taka Arts Trail, which is one of the best opportunities to see her latest work.
images Janie Taylor