►
◄
latest
habitat tv
blog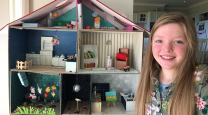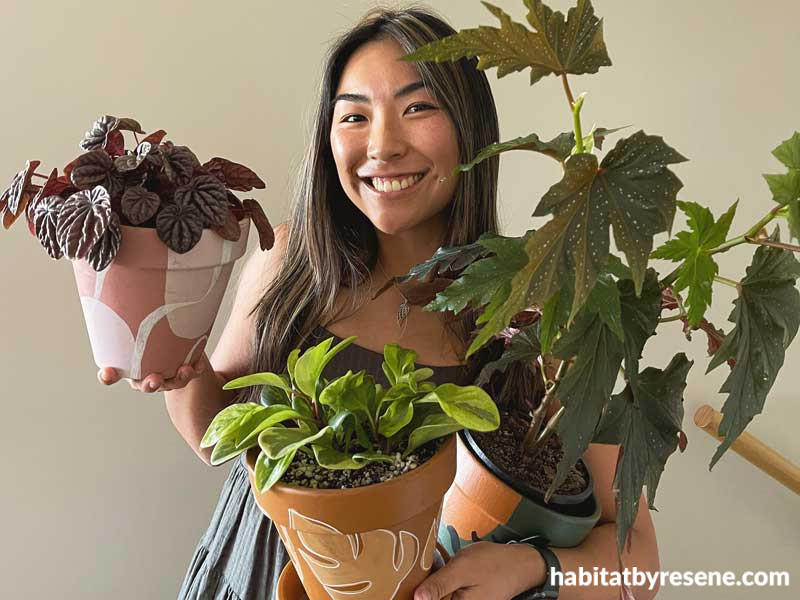 Pot plants brought to life with Auckland artist's intricate paintings
09 Mar 2022
Celine is taking terracotta pots to the next level with Resene paint colours. Monsteras, maidenhairs, peace lilies and cacti across the country are enjoying new terracotta homes adorned with flora.
Based in Auckland, Celine's business 'The Plant Kit' was seeded in the country's first lockdown. "I decided to invest in an iPad, which was one of the best decisions I've made. I found a passion for drawing, plants in particular, which started my plant obsession."
Celine's pots are created with Resene paint colours. Her warm-toned pots use Resene Korma and deep forest green pots Resene Forest Green.
A collection of more than 60 house plants are currently dotted around Celine's home. "I needed to come up with a cost effective way to present my plants in a beautiful way. It was my aunt and sister that suggested painting terracotta pots, and the idea stuck."
Celine's designs are based largely on the plants and flowers around her. The unique qualities of leaves prompted her to start painting their shapes on her new pots. "I wanted to create something that was beautiful and elegant, yet didn't take away from the plant itself. As a result, I try to paint simple designs that match the colour of the leaves to create a match made in heaven." The design process starts with picking Resene colours. She'll look at Resene colour charts and create a design on her iPad to check the colours work together, and once she's happy she'll pencil in the design on her pot.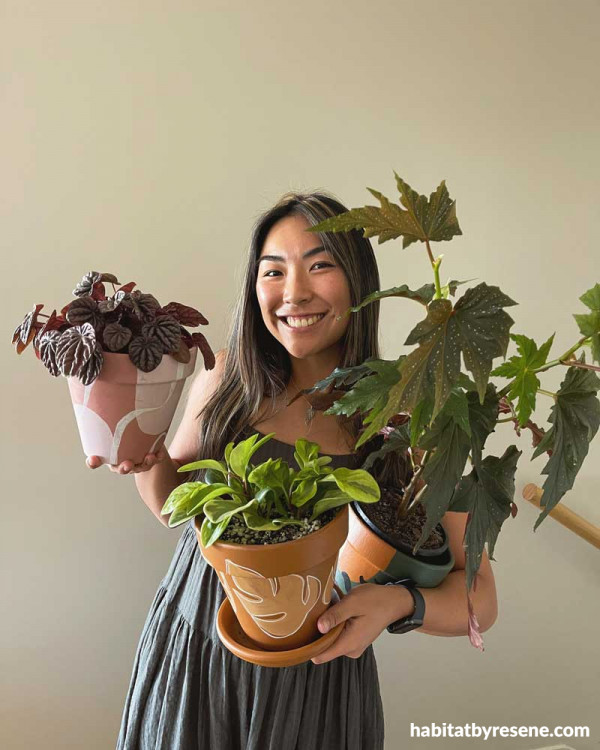 Celine with her colourful plant pots in Resene Coral Tree, Resene Blossom, Resene Korma and Resene Forest Green.
The process of painting starts with wiping the terracotta pot clean to get rid of the dust. She follows that up with a coat of Resene Aquapel & Terracotta Sealer to ensure the pot is water resistant. After this dries, she'll paint using Resene testpots. Favourite colours include Resene Coral Tree, Resene Cutty Shark and Resene Forest Green. "My all-time favourite colour is Resene Cutty Shark – I love the light turquoise colour and I think it goes beautifully against my natural wood and white furniture." The final step is spraying the pot with Resene Clearcoat UVS, to give the pot a shiny finish and to increase longevity of the paint.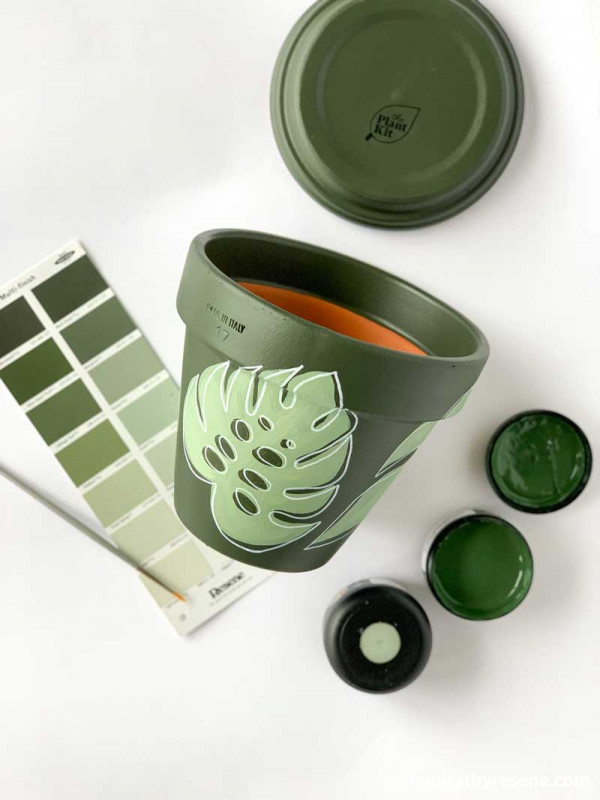 A monstera is painted in Resene Xanadu by Celine with Resene Forest Green as the background.
Auckland's second lockdown last year offered Celine the perfect opportunity to start a website to sell her creations, which were slowly building up amongst her house plants. A friend helped design a logo for her business, and she spent plenty of time searching for sustainable packaging options. "That's another reason I choose to use Resene, because of how environmentally conscious they are as a company and their products. Most of Resene's paints have the Environmental Choice approval, which means that they produce no or less Volatile Organic Compounds than solventborne based paints."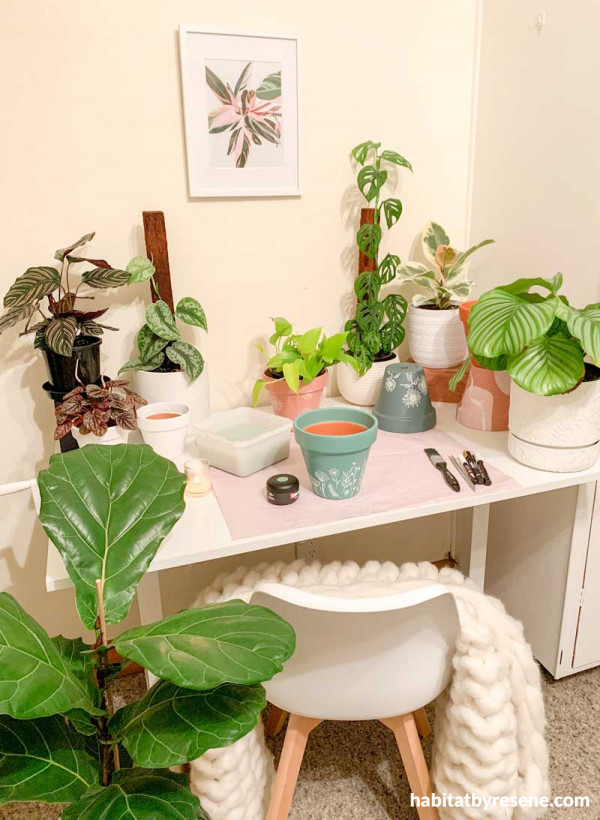 Celine's painting and crafting workspace. The front pot is painted Resene Timber Green, Resene Xanadu and Resene Green Sprig; the back is painted in Resene Korma and Resene Astra mixed with Resene Korma.
Painting is Celine's escape from the world and her way to destress, she says. "I love focusing on the brushstroke and making sure it's perfectly smooth. Focusing on this helps to take my mind off the hustle bustle of life."
View the range at www.theplantkit.com
Published: 09 Mar 2022