►
◄
latest
habitat tv
blog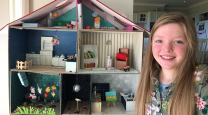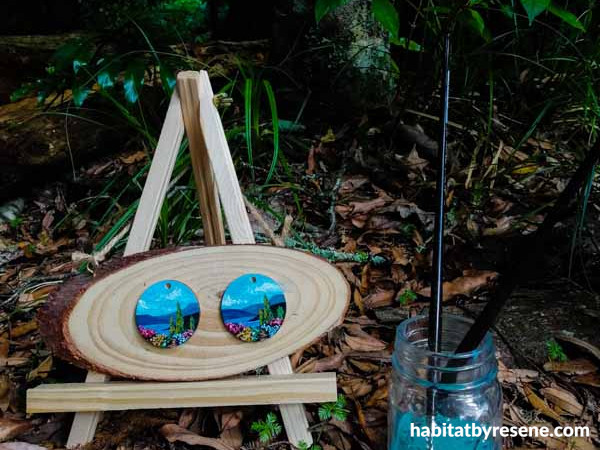 Miniature masterpieces: Rotorua artist's lovely little landscape earrings
14 Apr 2022
Landscapes and florals have never looked than sweeter than on these earrings created with Resene paint. Rotorua artist Sarah Kolver paints dreamy outdoor settings on plywood earrings, through her business Blue Puddle Earrings in detail so intricate they could be full-scale artworks.
Sarah Kolver's beautiful earrings are created on ply and weigh only 3g each, each painted in Resene hues like Resene Bluetooth, Resene Alabaster, Resene Half Bone, Resene Cobalt, Resene Karma, Resene Guardsman Red, Resene Poppy, Resene Carpe Diem, Resene Clover and Resene Buttercup.
Each pair of Blue Puddle earrings takes several days to make, which is no bother at all for nature-lover Sarah who uses her art as a way to spend more time outdoors.
"I attempt to paint most of my earrings in the forest or beside a lake. I pack a wooden box of paint, my small plywood discs, and of course a picnic. Then I'll go into nature and paint whatever suits me, not just the landscape in front of me. It's a bit of an unconventional way of plein air painting, but it's fun and that's what matters," she says.
To create her earrings she first stains the backs with Resene Colorwood and then applies a clear coat of Resene Aquaclear. She then primes the front with Resene Quick Dry before painting the front using a tiny brush (really only a few mere hairs on a stick) to create the intricate details.
"Often you can trick the eye into seeing detail through small dots and delicate lines, so I try to pick subject matter that lends itself to this," she says.
Her favourite Resene colours to use are Resene Bluetooth, Resene Alabaster and Resene Half Bone.
"Resene Half Bone is creamy and provides a much warmer base for my paintings than pure white would, which is great," she says.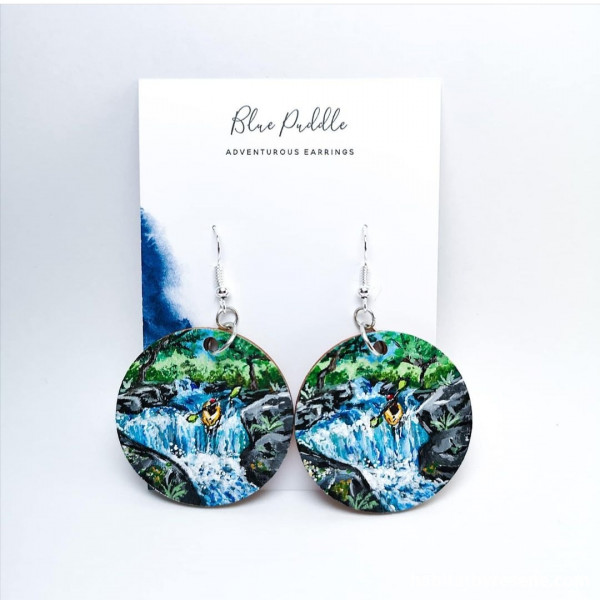 This waterfall scene on the Kaituna River was a commission for an adventure-loving kayaker. Sarah used Resene Bluetooth, Resene Half Bone and Resene Clover on the pieces.
Outdoor adventures and art have long been paired hand in hand for Sarah. "My family has always used weekends as an excuse to explore new places, and I was lucky to grow up around creativity. We'd rescue charcoal from the campfire and draw landscapes on unused logs or take a small tray of paints with us when we headed into the bush."
Sarah says she got serious about painting in high school, focusing predominantly on surreal portraiture and native birds. "I studied a Bachelor of Fine Arts and a Bachelor of Arts in English and Screen Production at Elam School of Fine Arts and the University of Auckland. Since then, I've had both my earrings and larger works displayed in several galleries, cafes and shops across the North Island, and have sent a lot of my work overseas."
Her commission requests often include customers asking her to paint a landscape that's special to them. "This brings me the most joy, as I know they'll be able to wear a place that's close to their heart."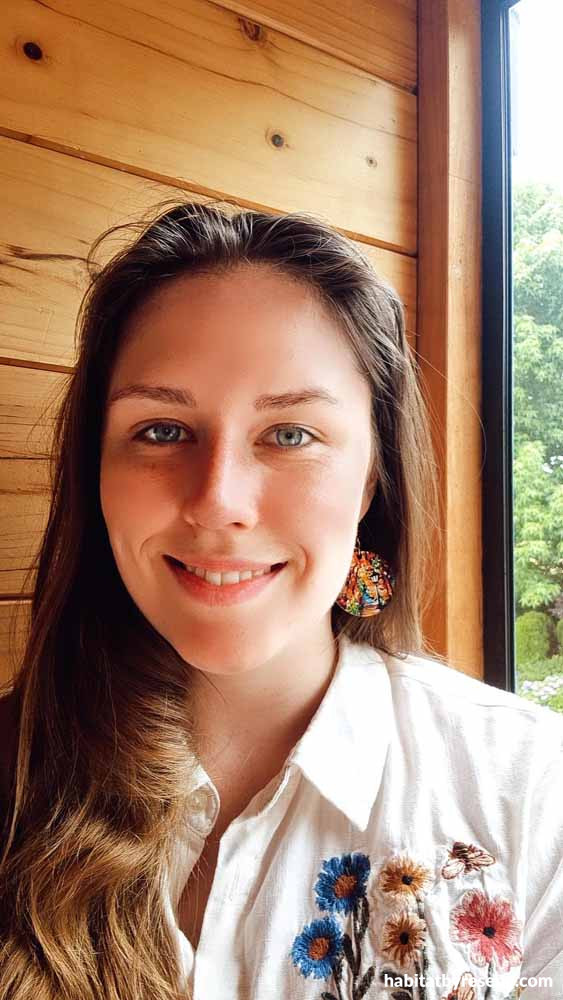 Rotorua artist Sarah Kolver wearing some of her Blue Puddle Earrings which are inspired by the outdoors.
Sarah first started using Resene paint when she started painting roadside Chorus cabinets in the South Waikato region. "I was blown away with how easy they were to work with and the vibrancy of their hues." Cabinets with her art can be found in Tirau, Tokoroa and Arapuni.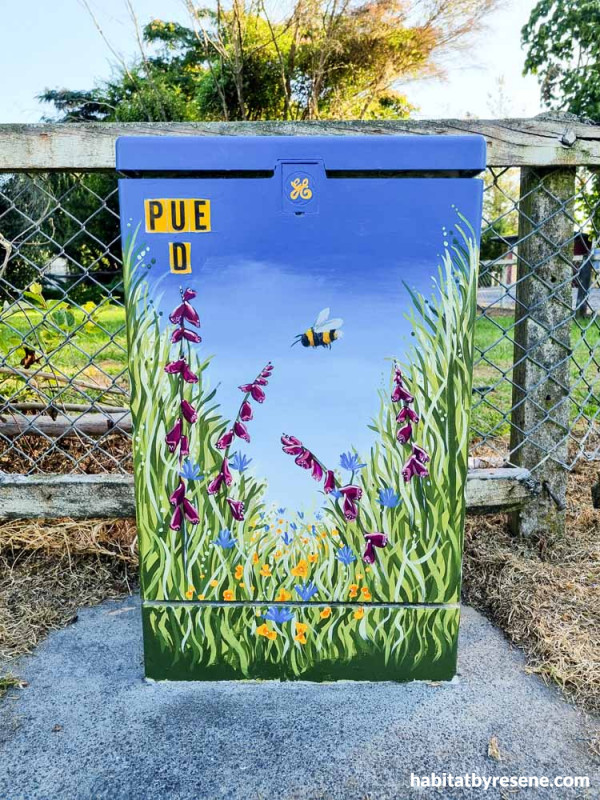 Sarah's Chorus box in Arapuni is inspired by the wildflowers that grow around Arapuni, near Putaruru. The meadow scene is painted in Resene Alabaster, Resene Wasabi, Resene Carpe Diem, Resene Bluetooth and Resene Westside.
"Tirau cabinet is inspired by awesome sunsets and native birdlife, and the Arapuni cabinet by the fields of wildflowers that grow around the region. The annual Chorus art program is an awesome way to get your art out there and I'd highly recommend it to any artist looking to try something new," Sarah says.
See more of Sarah's Blue Puddle Earrings at www.chooice.co.nz/store/blue-puddle-earrings/
Published: 14 Apr 2022