►
◄
latest
habitat tv
blog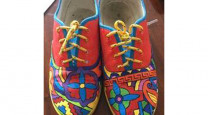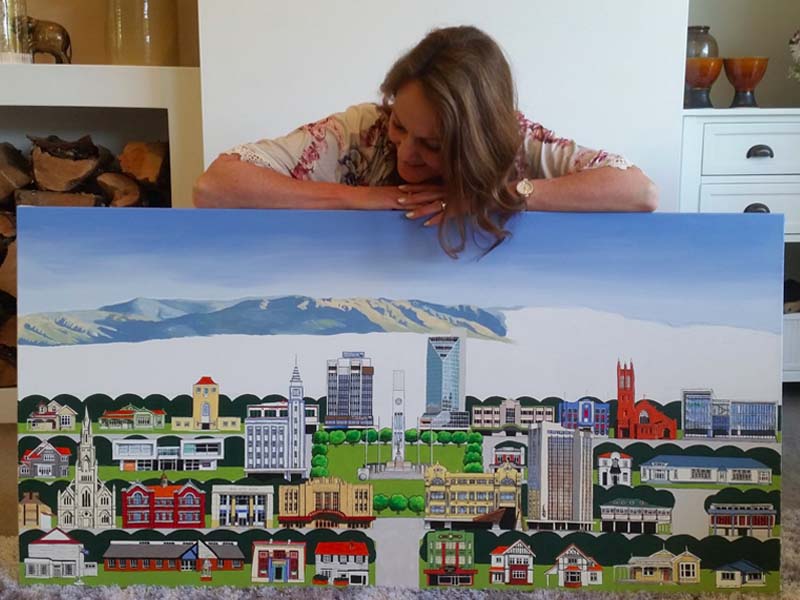 Sarah shares the love
07 Dec 2017
Kiwi artist Sarah Platt is well established in the art community, known for her detailed paintings of New Zealand towns and cities, created using Resene paints.
Five pieces from Sarah's Love Manawatu collection will be going to auction this month to benefit the Arohanui Hospice, as well as the apprentices that Sarah is training up to help complete the pieces. She tells us more.
Tell us about yourself and your work.
I'm an established artist in the Manawatu. I've been painting cities and towns for 15 years and publishing them as prints – I've covered five different regions so far.
I design compositions that include all the iconic and loved features of a town and paint them in intricate detail. People respond to the work because it tells the story of 'home' for them. Thousands of Kiwis both here and around the world have my work hanging on their walls.
How long does each painting take to complete?
Each painting takes weeks to months to produce, so the only way I can accomplish this dream is to gather a team around me to help. This new Love Manawatu collection that we are about to release will be the first team collection.
I wanted to start this here at home to prove the process in my own region before working throughout the rest of the nation region by region. I have recruited four young artists and have taken them on as Sarah Platt apprentices.
The skill set that is needed was difficult to find, and I've ended up having to go further afield than just Manawatu to make the team up.
I'm stoked with the team I have.
Tell us more about the Love Manawatu collection.
The Love Manawatu collection is being made up of five towns:
Love Palmy, designed and painted by me; Love Feilding, designed by me and painted by Becca Platt; Love Shannon, designed by me and painted by Lisa Tippett; Love Pahiatua, designed by me and painted by Sarah Barnes; and Love Woodville, designed by me and painted by Tessa Bardsley.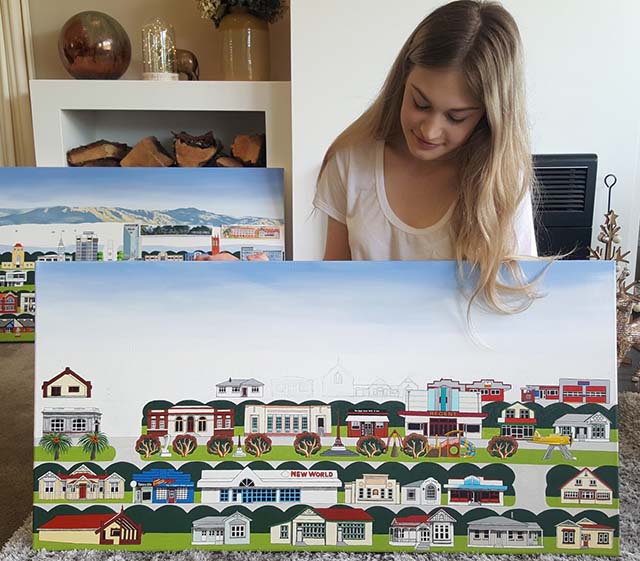 Apprentice artist Sarah Barnes who's painting Sarah's design, Love Pahiatua.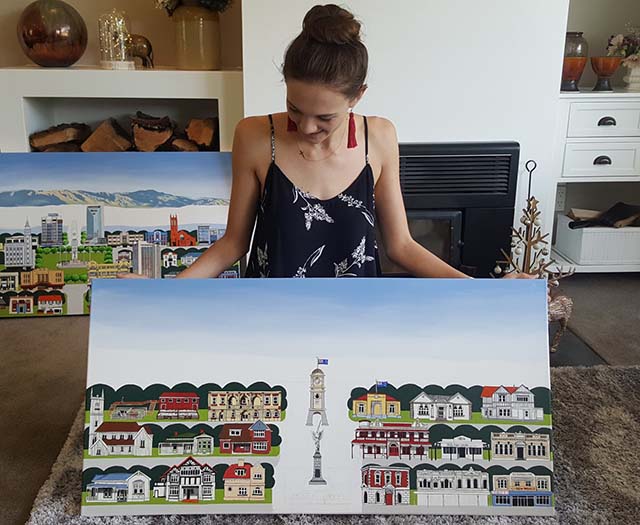 Apprentice artist Becca Platt who's painting Sarah's design, Love Feilding.
The artists have all signed intellectual property rights agreement that ensures that the unique Sarah Platt iconic style I've spent 15 years developing and creating a market for is kept within the Sarah Platt collection and quality control.
What have been the challenges of this collection?
It's been a big challenge for me to put the collection together as I only allowed two months to design all five pieces.
The girls spend time in the studio here with me each week so I can give them direction and help with colour choice and mixing, and with bits that I don't have time to teach them to do just yet, like the blended sky.
Each artist has been gifted testpots from Resene, and we have made sure we use the same colours on parts of our paintings to ensure that the collection has continuity.
I'm so happy with the quality and cohesiveness of the collection. Each piece will be simply stunning.

Are these artworks for sale?
The five originals will be auctioned at LOCAL cafe in Palmerston North.
I'll set a reserve on each piece and the profit above that reserve will be split three ways between the apprentice artists, the Arohanui Hospice and Sarah Platt Art.
All proceeds from the $25 door tickets also go to the Hospice. The apprentices are doing the work for a commission price which will be covered in the reserve.
What's next for Sarah Platt Art?
When I start working on other regions I'll find new apprentice artists in those regions.
I possibly will also keep on using the trained apprentice team I have now for them as well.
I have a lot of clients who have expressed interest in having commissions painted, and after the release of this collection I am hoping to once more be able to offer this service through my new artists.
The Love Manawatu auction will take place on 13 December, at LOCAL cafe in Palmerston North from 5pm.
For more information, and to see more of Sarah's wonderful art, visit www.sarahplatt.co.nz.