►
◄
latest
habitat tv
blog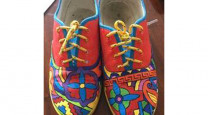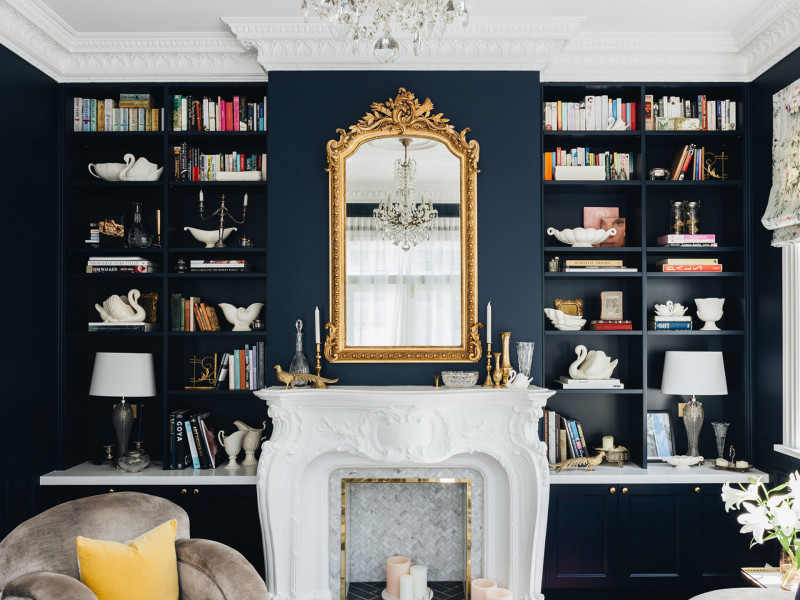 This beautiful blue built-in bookcase will convince you to get the paintbrush out
12 Aug 2020
Believe it or not, a multi-coloured rug was the ultimate decider of this stunning deep marine blue bookcase. Interior designer Charlotte Minty says, "my clients had a multicolour rug that they loved, and we had it colour-matched to Resene paint colours to create a palette for the whole house. Resene Indian Ink was one of the matched colours and once we saw it, we instantly knew it would be perfect for the cosy sitting room."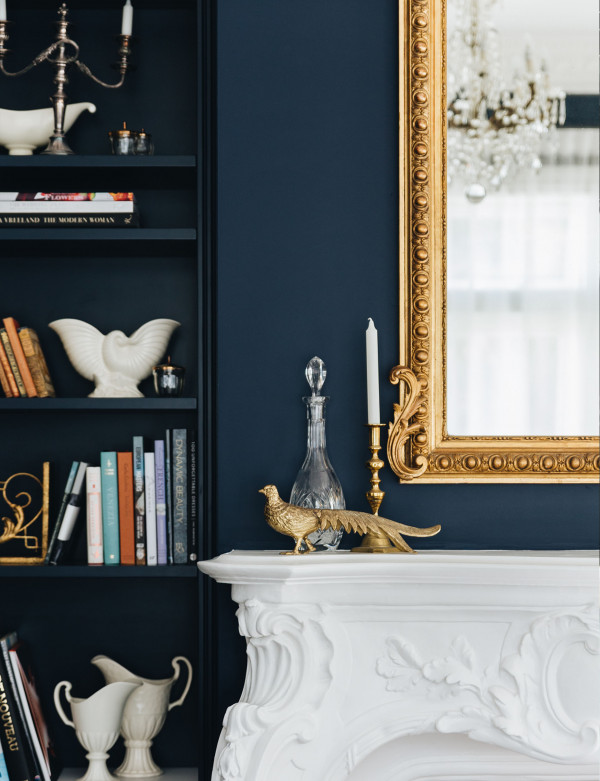 Resene Indian Ink makes a striking and elegant feature on the wall in this cosy sitting room, designed by Charlotte Minty. She has paired it with Resene Half Sea Fog on the fireplace and touches of brass and gold in the accessories.
The elegant blackened blue of Resene Indian Ink features on all four walls of the sitting room, including the floor-to-ceiling recessed bookcase. The crisp white of Resene Half Sea Fog brings the blue to life by creating striking contrast. "They bring out the best in each other," says Charlotte. "The white makes the blue more intensely inky, while the dark blue brings out the crisp and clean undertones of the white."
The room receives smatterings of sun throughout the day, which is why Charlotte didn't hesitate to use the dark colour on all four walls. "When the sun hits this colour, it brings an added richness to the room," she says.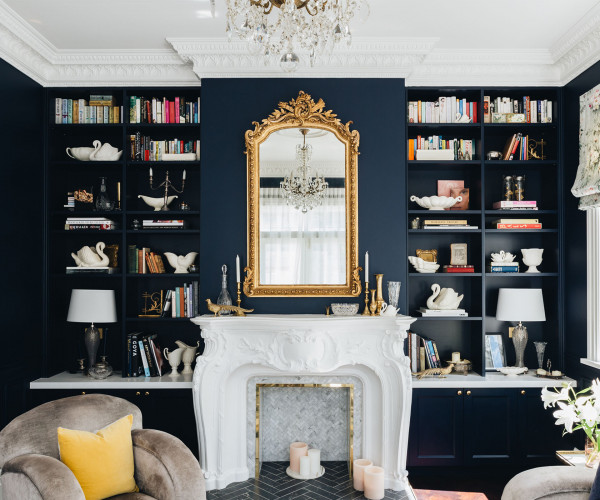 Charlotte has created a sophisticated and memorable sitting room with a floor-to-ceiling bookcase painted in Resene Indian Ink to sink in with the surrounding walls. Resene Half Sea Fog on the ceiling, fireplace and window trims provides a striking contrast and elevates the space further.
Finishing touches, such as the gold mirror and brass details only add to the elegance and sophistication that this room oozes. "The deep blue creates a backdrop that brings out the lustre and warmth in these items. I think small doses of brass and gold against any backdrop is generally a good idea," suggests Charlotte. Charming Crown Lynn vases are dotted among the shelves of the bookcase, made features by the dark contrast of Resene Indian Ink behind them.
Charlotte's top tips for choosing just the right colour:
If choosing a white for a space, look at the direction the room is facing. For south and east facing rooms, the light tends to be cooler, so try using warm whites. The light from the north and west is warmer and a little rosy, so cooler whites tend to work well.
Spaces with windows look best with white walls. If a room has little or no natural light, don't paint it white as it tends to look dead. Try using a warm medium tone like taupe or a warm grey instead.
Don't rely on a small paint chip to choose your colour! Try Resene testpots or Resene A4 drawdown paint swatches in the intended space to see how it really looks – both during the day and after the sun goes down.
I prefer dusty, muddied colours. They are softer on the eye and easier to live with than clear, bright colours.
design Charlotte Minty
images Bonny Beattie