►
◄
latest
habitat tv
blog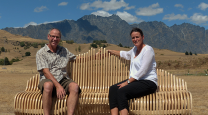 Claire and Aaron craft an eclectic dream world out of a 1940s cottage
Set on a large mature section nestled above Little Shoal Bay on Auckland's North Shore is a sweet 1940s brick-fronted cottage. Now owned by Claire and Aaron, the home is hardly recognisable from when they purchased the property 12 years ago. "The house had been added to in various ways by several of its previous owners," recalls Claire. "It was definitely a case of worst house, best street; and despite the overwhelming smell of animals and obvious neglect, it was love at first sight," recalls Claire. The house was barely liveable as it was, so the couple wasted no time in removing mould infested carpets, taming a very overgrown garden, installing a functional bathroom and adding a charming palette of Resene paints to the interior walls.
Beautiful Resene shades of blue, green and grey repeat throughout the house – from pretty pastels through to deep jewel tones – giving this home a cosy and cohesive aesthetic. Chosen for their clear connection to the lush green bush and tranquil blue waters that surround the home, these hues are also reminiscent of South Africa - Claire's native homeland.
"There is a lot of Mediterranean influence in the architecture in South Africa, with doors and windows often painted in blues and greens," explains Claire. "I find these colours restful, meditative and reminiscent of home."
Claire, creative by nature, runs her doll making and illustration business from a workshop on the home's lower level. The swoon worthy studio is a crafter's paradise painted in Resene Half Sail – a whimsical and dreamy room that oozes country cottage charm. Claire's signature style sees contemporary items mixed with a selection of homemade, upcycled and vintage pieces which work to create a wonderfully eclectic interior décor.
Paired with Resene Double Sea Fog, Claire has added a feminine feature wall in Resene Kangaroo to create a soothing and serene space for daughter Maddie. For added whimsy, Claire painted a felled branch in Resene Double Sea Fog and dressed it with homemade felt decorations and paper pompoms. White dots on the wall add texture and interest. A vintage timber bench seat purchased from Trade Me, has been upcycled with a lick of glossy Resene Alabaster; and a shabby chic desk painted in Resene Tea completes the room's dreamy look.
In son Sam's bedroom across the hall Claire chose the maritime hue of Resene Spinnaker for the walls, with Resene Alabaster applied to the window frames and ceiling for contrast. A vintage desk painted with a distressed finish in Resene Bluetooth is paired with a retro school chair (painted in Resene Alabaster) to add a fab pop of colour to the room. Claire has also made over an old tall boy with a lick of Resene Alabaster. As a unique way of adding pattern to the space, Claire has used offcuts of black, white, silver, and blue fabrics to dress the drawer fronts.
In the master bedroom a feature floral wallpaper in muted and metallic tones has been paired with the earthy hue of Resene Settlement to create an opulent yet restful space. While this design comes from an older Resene collection, try Resene Wallpaper Collection E386510 or Resene Wallpaper Collection E378007 for a current alternative. Natural elements of warm timber, seagrass and potted greenery provide a sense of nostalgia for Claire, as well as creating a further connection to the homes surrounds.
In the kitchen, the couple updated the old rimu cabinetry by adding a fresh coat of Resene Alabaster and new contemporary chrome hardware to the door fronts. Bathed in all-day sun, the space has an abundance of natural light so Claire opted for Resene Silver Chalice on the walls to help cool the space. In the two living areas, Claire used colour to create a sense of calm and relaxation with Resene Navigate, Resene Rice Cake and Resene Finch to make the rooms feel extra cosy, inviting and warm.
Claire has an obvious eye for design and detail as well as crafting skills we can only aspire to. We love that she hasn't been afraid to experiment with colour to make her home feel calm, relaxed, and refreshed and as well as to remind her of her homeland.
Published: 04 Jun 2020
Do you have a home full of wonderful Resene paint and colour? Send us some snaps by emailing [email protected].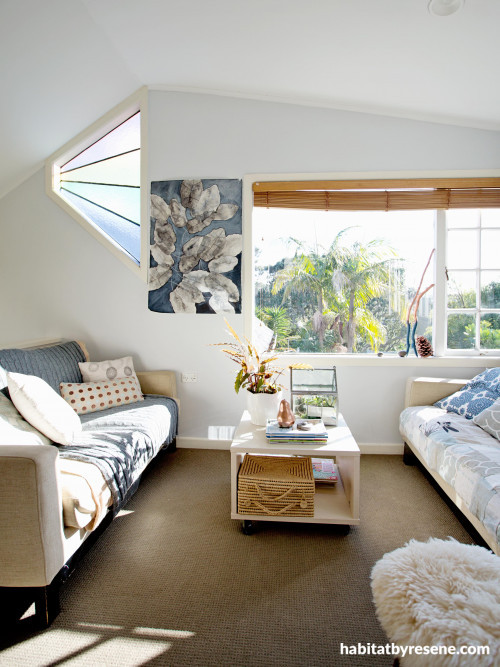 The large family room is bathed in all day sun, so Claire chose a cooler blue palette supported by walls in Resene Triple Sea Fog to ensure the room never felt too hot. Trims and ceiling in Resene Alabaster.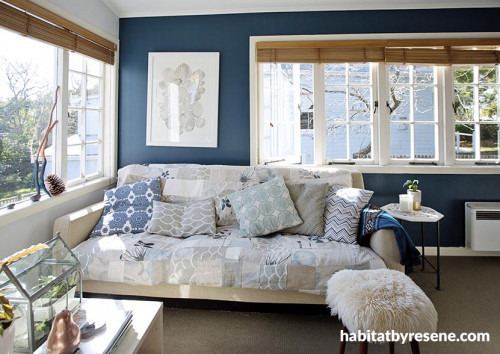 A feature wall painted in Resene Navigate adds depth and warmth to the family room. Adjacent walls in Resene Triple Sea Fog, ceiling and trims in Resene Alabaster. Bring in some throw cushions in Resene Half Opal and Resene Horizon to get a similar look.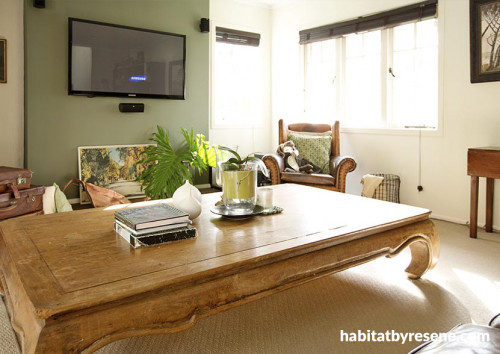 The more formal living space where Claire and Aaron retreat to in the evenings once the kids are in bed has been painted in the warmer tones of Resene Rice Cake and Resene Finch.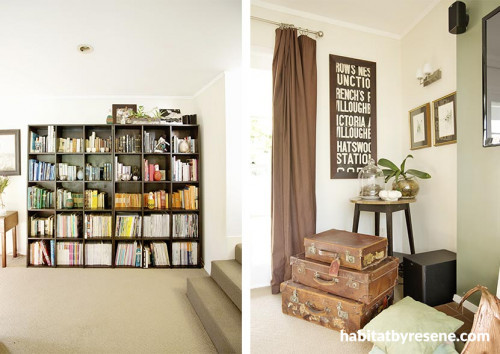 Warm, comforting accents of timber, tan leather and fresh foliage create a soothing, earthy ambience in the living room that you cannot help but relax and unwind in – but our favourite detail is the chromatically arranged bookshelf. Walls in Resene Rice Cake with accent wall in Resene Finch (right) and ceiling and trims in Resene Alabaster.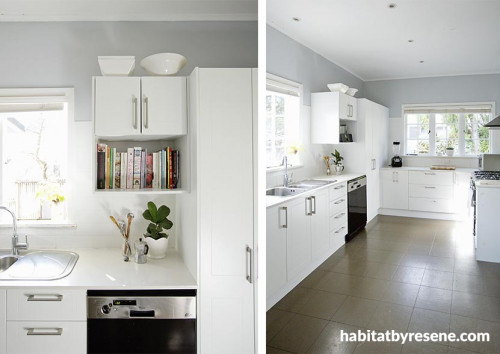 The original kitchen cabinetry looked tired and dated but was still in great condition. Instead of a costly kitchen renovation, Claire and Aaron opted to have the kitchen cabinets professionally sprayed in Resene Alabaster to give the room a sleek and contemporary finish. Given the abundance and sun and light in this space, Claire deliberately chose the cooler hue of Resene Silver Chalice for the walls. Ceiling and trims in Resene Alabaster.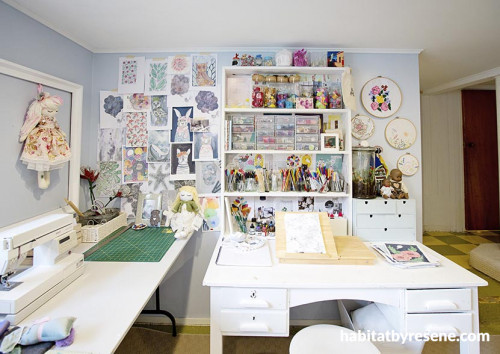 Claire runs her doll making and illustration business from a swoon worthy craft room on the home's lower ground floor. With walls painted in Resene Half Sail, the soft blue hue evokes a sense of calm and clarity. A set of shelves painted in Resene Alabaster houses her many craft tools, materials and paints. A second-hand desk – also painted in Resene Alabaster – provides an additional work surface. A cute desk cubby painted in Resene Half Escape is another practical storage solution but also adds a splash more colour to the whimsical space. Ceiling and trims in Resene Alabaster.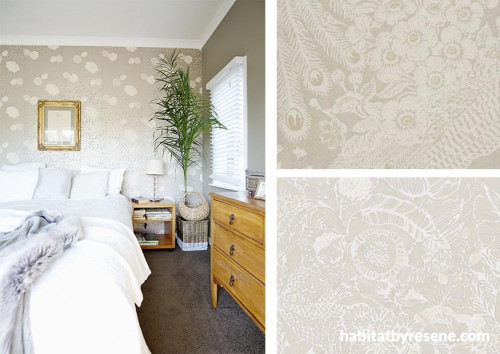 A metallic, light reflective feature wallpaper in the master bedroom evokes a feeling of luxe. Paired with warm timber elements, potted greenery and Resene Settlement on the walls this room feels inviting, warm and restful. While this wallpaper design is from an older collection, look to Resene Wallpaper Collection E378007 (top) or Resene Wallpaper Collection E386510 (bottom) for a current alternative.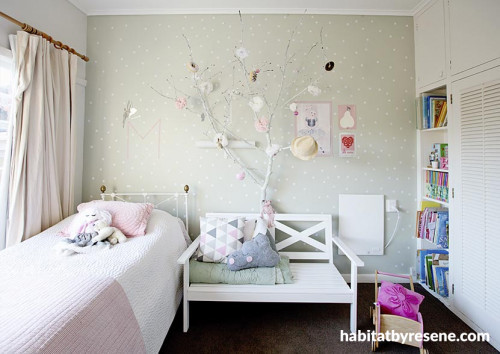 A whimsical palette of a soft green accent wall in Resene Kangaroo, pale grey Resene Sea Fog (left wall) and bright white polka dots, trims, built-in-shelving, joinery, doors and ceiling in Resene Alabaster paired with pops of pale pink create a dreamy space for daughter Maddie. Try bringing in accents in Resene Pearl Bush and Resene Vanilla Ice for a similar look.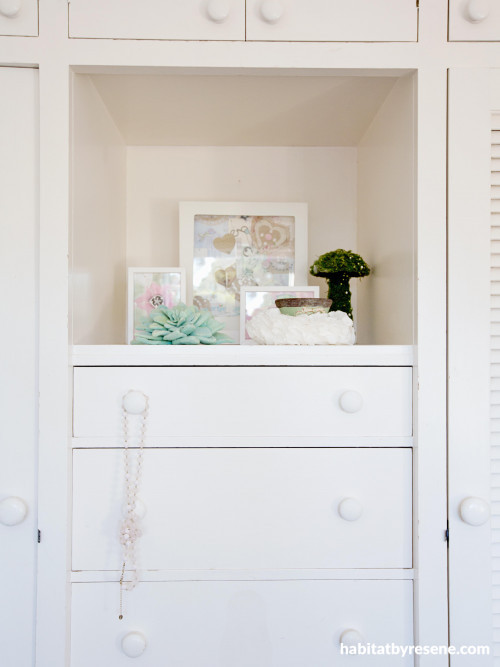 The original timber cabinetry in Maddie's bedroom has been refreshed with Resene Sea Fog. Trinkets and framed artworks by Claire pick up on the room's pastel palette for added cohesion.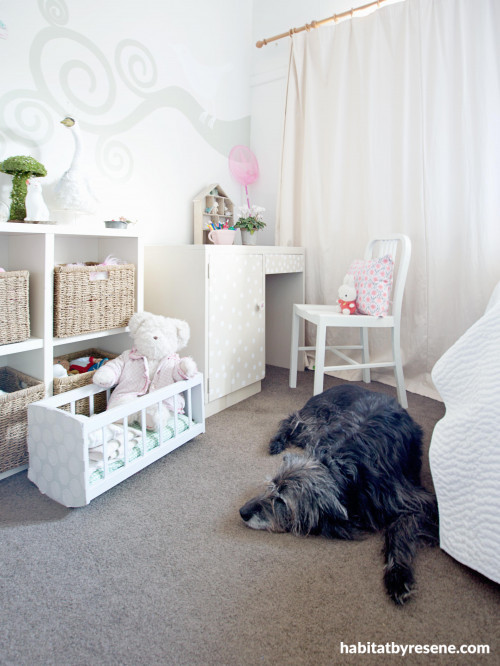 A vintage desk has been painted by Claire in Resene Teaand finished with decals for added interest - you could create a similar look using Resene testpots. It subtly contrasts the walls painted in Resene Sea Fog. A pastel green decal adorns the wall above the desk to echo the Resene Kangaroo featured opposite. If you're feeling inspired, it's easy to put a few Resene testpots and a high quality paintbrush to good use to add a flourish of personality in your own child's room.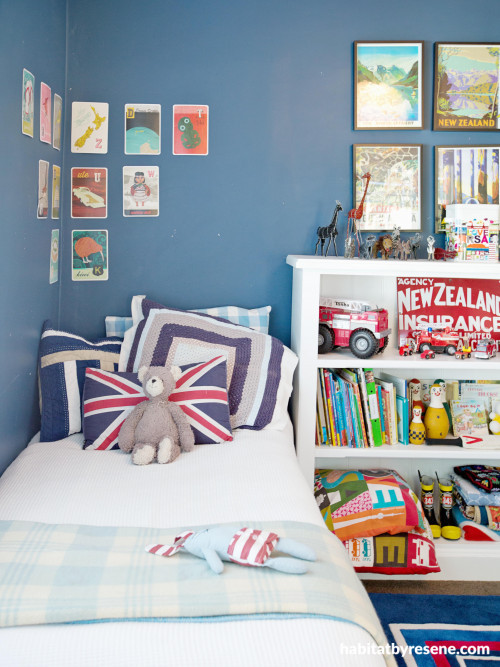 The maritime hue of Resene Spinnaker in Sam's bedroom is the perfect colour to showcase his Kiwiana artworks, colourful toys and books. The beautiful blue tone evokes a sense of calm and comfort that's perfect for both rest and play. Try adding accessories in Resene Bunting and Resene Jalapeno to get the look.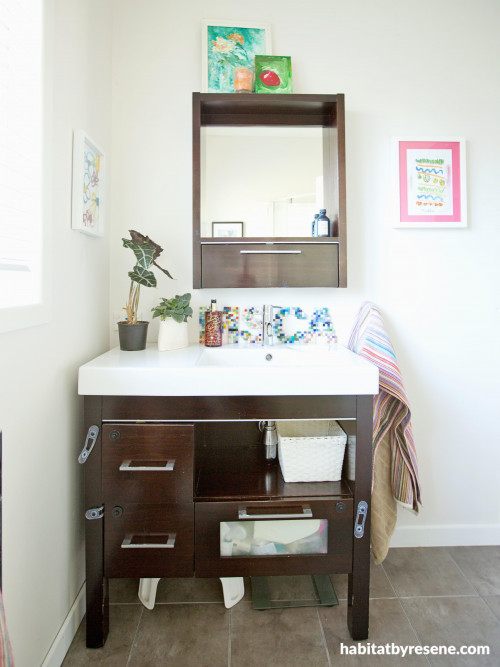 The shared family bathroom has been painted in Resene Sea Fog from tip to toe for a fresh and clean aesthetic. The family's artistic handiwork can be found through mosaic initials and framed artwork on the walls which add whimsy and colour to the space.
images Emma MacDonald, FotographicNZ