►
◄
latest
habitat tv
blog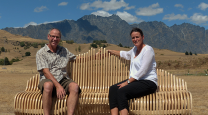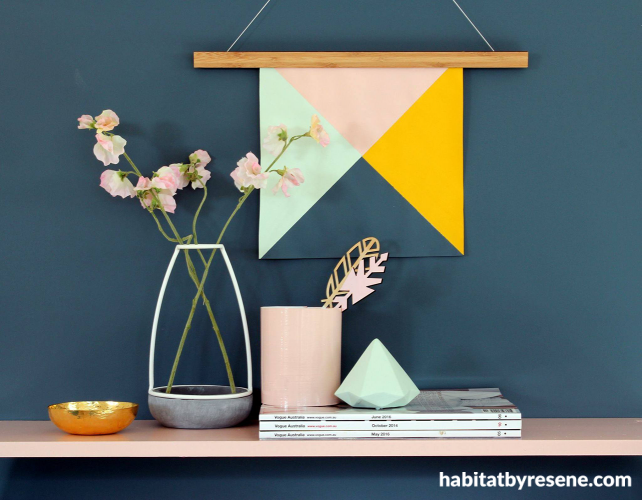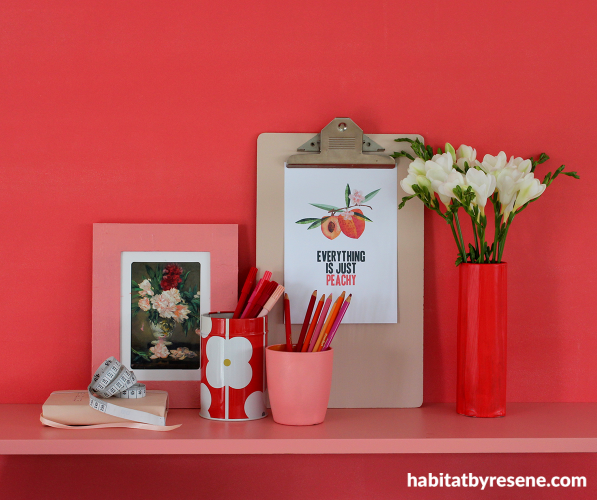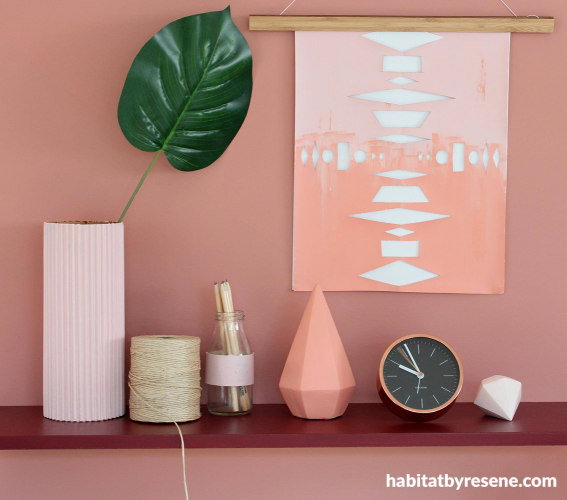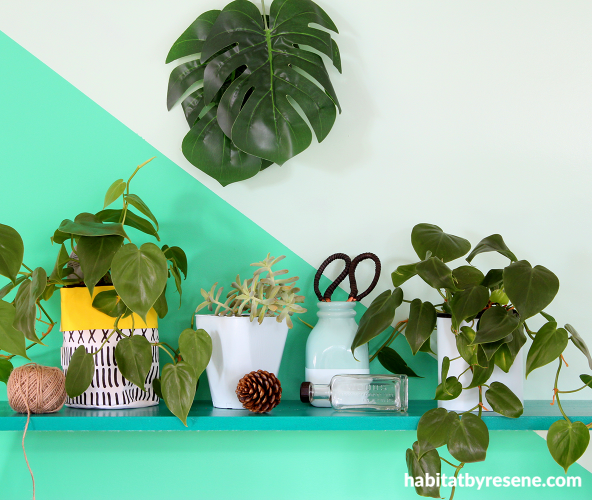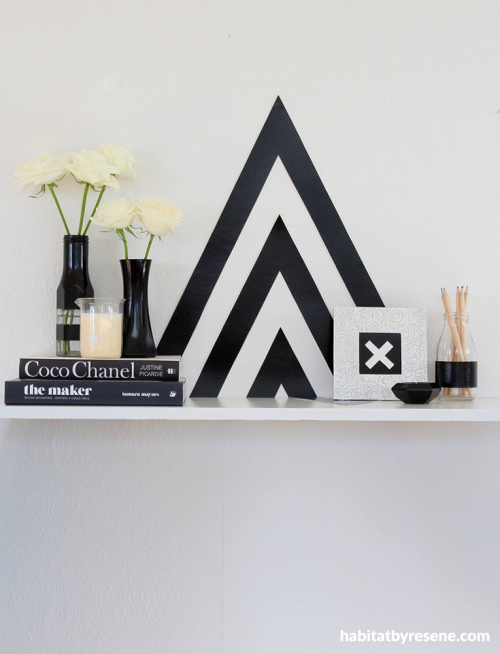 Colour combos to try right now
There's something about pulling together interesting and good looking colour combos that makes us want to pat ourselves on the back. Oh, the satisfaction of a stunning colour palette. Picking up a few Resene testpots and having fun with colour is a great way to start and can help you wrap your head around bigger projects for later on.
Every week we feature a shelfie on our Facebook page from stylist Nikki Astwood of Revised Edition, asking her to play with the latest, seasonal colours and showcase how they could work in a home setting. Here's her latest batch of colour goodness and our advice on why these colour combos work. You'll want to try them right now.
Did you know… Resene testpots come in 55-80ml sizes and are available in most Resene colours? You can pick them up from any Resene ColorShop. Find your local here.
Published: 01 Sep 2016
Do you have a home full of wonderful Resene paint and colour? Send us some snaps by emailing [email protected].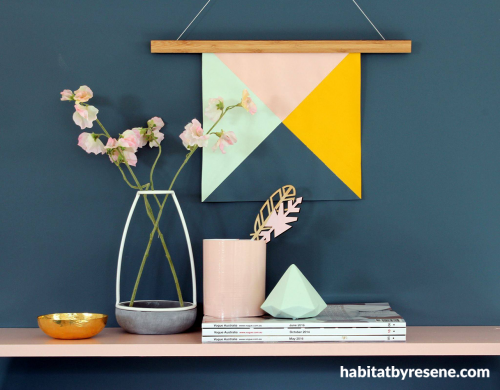 Squid-ink blues are a delicious trend. The icy pastels (Resene Sakura and Resene Kandinsky) are a treat to the eyes and shine against the inky blue (Resene Explorer). The burst of yellow (Resene Starstruck) and gold-plated bowl give it warmth.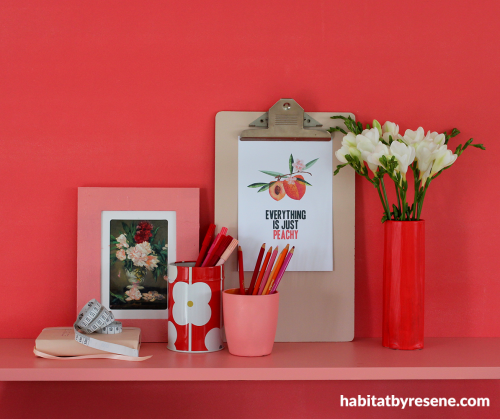 Red is an energetic colour that can be softened by, believe it or not, muted shades of red. This peachy colour combo uses shades of red and well-placed neutrals. Get the look with Resene Rapture on the wall, the shelf and glass (with pencils) in Resene Glorious, the clipboard in Resene Cashmere and the tall vase in Resene Havoc.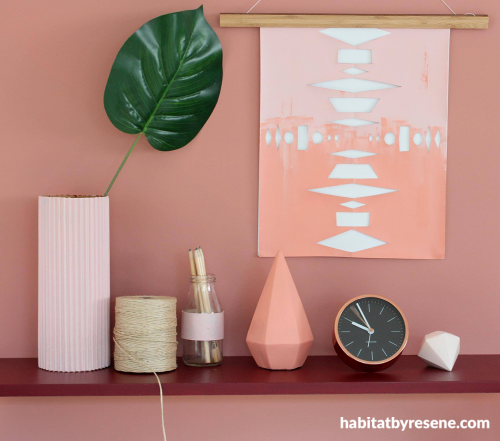 Dusky coral is a desirable colour but how to make it work? Keep it simple. Pair with copper tones, muddied reds, and icy pink accents. Nikki's used Resene Coral Tree for the wall, Resene Persian Red for the shelf, Resene Paper Doll for the vase, milk bottle and artwork and Resene New York Pink for the diamond and artwork backing.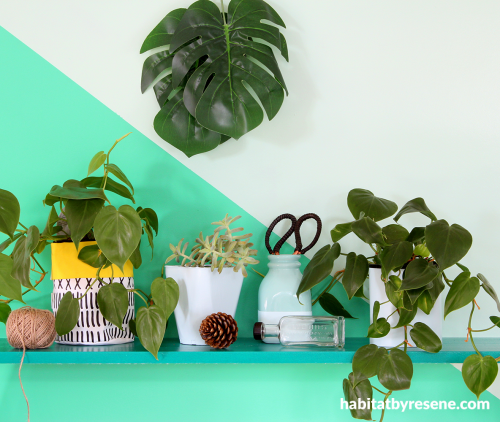 This would look so fresh in a kitchen or bathroom, don't you think? Strips of Resene Home Run and Resene Half Carefree on the wall and Resene Freefall on the shelf is an inviting palette. It's the perfect backdrop for hanging plants, herbs and plant cuttings.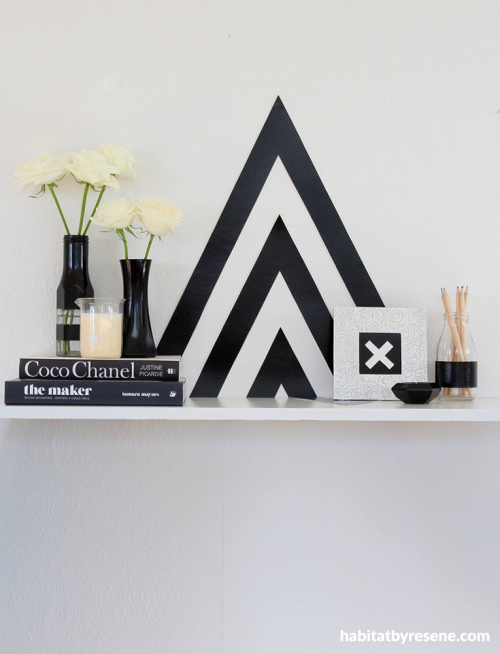 "Simplicity is the keynote of all true elegance," said the ever-fashionable Coco Chanel. When it comes to black and white, a classic design detail such as repeat triangles is an elegant result. Nikki has used Resene Nero and Resene Black White for this sophisticated shelfie.
the look
If you're stuck on what
colour to use or need colour
advice, try out the Resene
Ask a Colour Expert service.