►
◄
latest
habitat tv
blog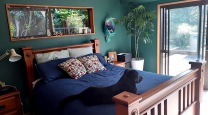 Colours go dark and twisted
Dark colours can be a little intimidating for home decorators. Nobody wants to be left with a gloomy, depressing or unwelcoming room. But to avoid dark colours completely is to miss the opportunity to really inject personality and drama into a room.
The range of dark colours now available from Resene offers much more than merely black or charcoal. Colours like Resene Jaguar or Resene Woodsmoke are darks that come with a new twist, whether it's an undertone of blue, green or brown, that can make your room evocative, interesting and mostly importantly, inviting.
Decorating with these dark, twisted colours can be make entering a room as enticing as that smell of warm bread coming out of the kitchen. The trick lies in layering with tones and textures and trying bold contrasting colours with your furnishings so the whole room really pops. It's a direction followed by furniture and homewares retailer Nood when they styled these stunning images to showcase some of their latest products.
No room is too small
The number one 'rule' that can be broken is that you shouldn't use dark colours in small rooms. Not true. It may depend on what you use the room for, and how it is lit but dark colours won't automatically make a small room feel claustrophobic.
Colours such as Resene Element actually have a cool base which makes the walls recessive; more of a dramatic background to showcase your furnishings, rather than dominating the space.
If you're particularly nervous about going for a twisted dark shade on the walls, think about trying the smallest room – the bathroom – first. It's a space that's prime for experimenting as it's not a centrepiece room, if you change your mind it's a small room to re-paint and a white toilet and hand basin will contrast perfectly with moody colours. An interestingly decorated bathroom will always be a talking point for guests.
All for one
One way to use dark and dramatic shades to give a sense of space to a living area or bedroom is to really commit to one shade. If you can, match your couch and armchairs to the shade of your walls and use variations of the tone in your other decorations and furnishing, with a pop of lighter contrast in a shade.
Try a dark colour on the walls with a closely matching couch, and then add layers of similar shades on a painted table top or shelves. Add curtains in similar shades and cushions in a mix of matching and contrasting colours.
By keeping a room largely to shades of one colour it gives it a cohesiveness that implies size and space and allows you to showcase some of the features of the room, such as decorative ceilings or polished wood floors, or a prized piece of art.
Adjust the contrast
Adding contrasting colours around an evocative dark wall shade can be the thing that takes a room from interesting to wow.
When you're choosing your wall colour talk to a Resene colour expert about shades that will not only match it, but shades that will really make it sing.
Try smoky brown Resene Ironsand with dusky pinks or olive greens. Use these colours as highlights to emphasis the wall colour, think mirror frames, shelves, or even skirtings and ceilings. Then take these colours into your soft furnishings such as cushions, rugs and curtains.
Another great colour combination to try is subtly green-toned shades such as Resene Mangrove with contrasting gold room decoration.
Lighter twist
If going completely dark and twisted still seems too daunting you could opt for a lighter shade of dark, which will still reflect your personality.
A colour such as Resene Dark Slate will still add a bold feel to a room while working more easily with softer shades.
Other tips and tricks
As a rule keep bold or fussy patterns to a minimum so the colours are the talking point of the room, rather than competing with another bold idea.
Most of these dark shades work well with bold jewel tones that go with their undertones like buttery golds, emerald greens and deep pinks. Colours and fabrics, particularly on-trend velvet, will add an inviting sense of warmth comfort and luxury.
If you're worried about a room being too dark, try large mirrors to reflect more light.
Dark, leafy plants, and flowers are another excellent way to add and change colours and textures to dramatic rooms.
These new dark tones are the perfect way to turn any room into an exotic, warm and inviting oasis – and who doesn't want that on a cold, winter's night.
All furniture and furnishings are from Nood. See here for more of their products.
Published: 04 Jul 2018
Do you have a home full of wonderful Resene paint and colour? Send us some snaps by emailing [email protected].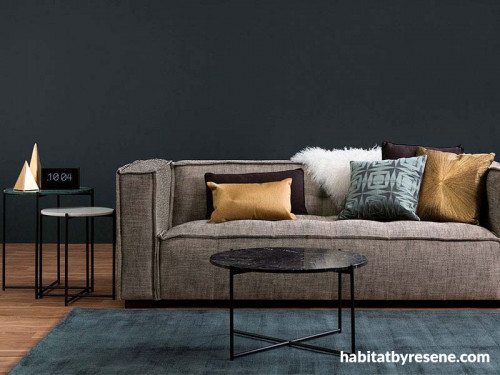 Resene Woodsmoke has green and blue undertones, and is a great backdrop for an Immerse 3-seater sofa and other furniture from Nood.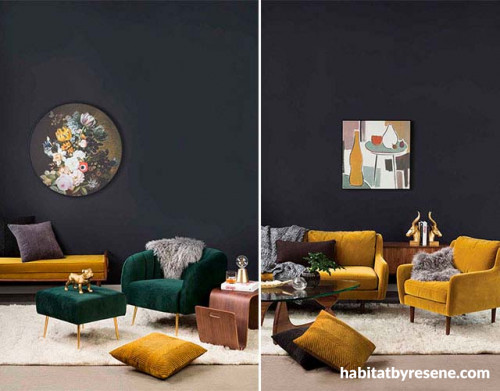 On-trend colours like mustard and jade green are ideal to showcase against dark walls, in this case Resene Jaguar. The luxe mustard suite is a Floyd 2-seater sofa and Floyd armchair while the jade green chair is the Farah armchair, all from Nood.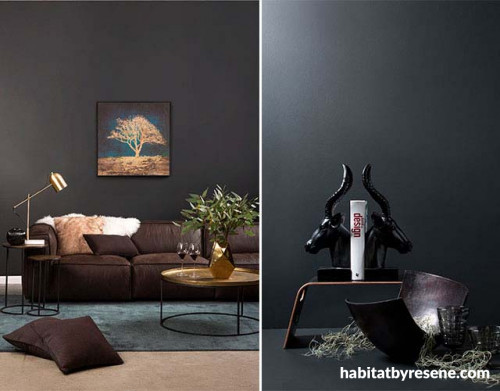 Try a dark colour on the walls with a closely matching couch, like this Danbert 3-seater sofa from Nood against Resene Element walls. The Forge Coffee Table adds a light, lustrous contrast.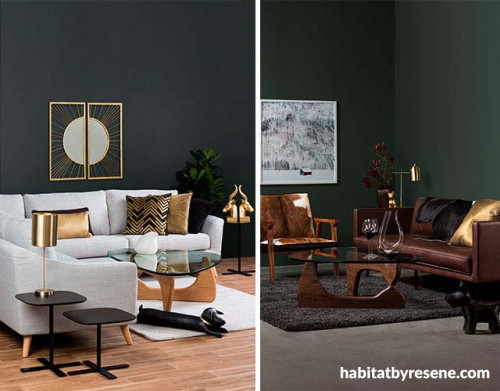 Another great colour combination to try is subtly green-toned shades such as Resene Mangrove with contrasting gold accessories. Note how the colour works with both light and dark sofas – these are the Hampton corner sofa with a Rising Sun Mirror Panel, and Angle Line Cushion, while on the right is the Myles 3-seater sofa and Vcool Armchair, all from Nood.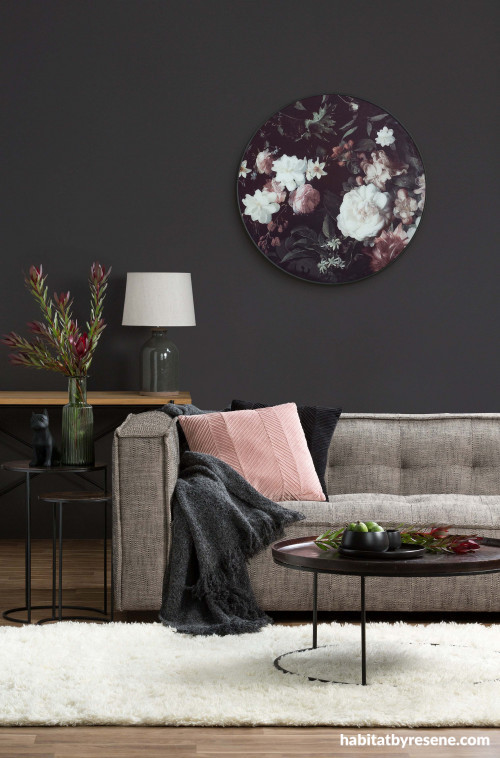 Try smoky brown Resene Ironsand with dusky pinks and deep wine reds. Seen here with the Immerse 3-seater sofa and Velo Stitch cushion from Nood.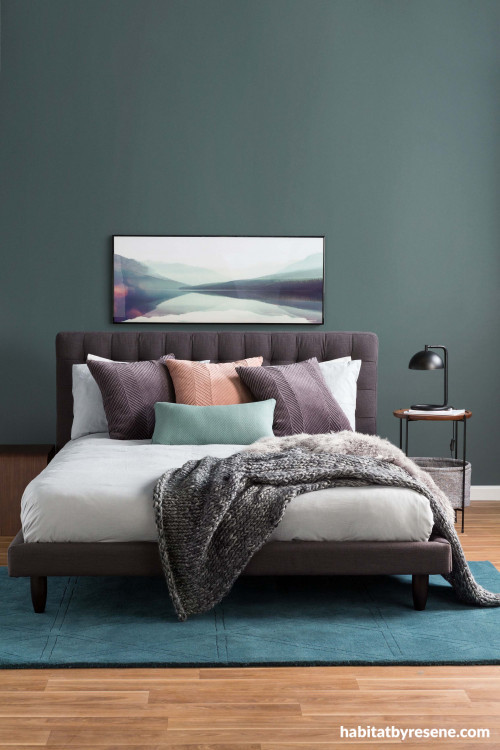 If too dark is too daunting, try a slightly light hue, like this Resene Dark Slate on the walls, teamed with a Rockabye bed, Suri duvet cover set and The Lakes artwork from Nood.
the look
If you're stuck on what
colour to use or need colour
advice, try out the Resene
Ask a Colour Expert service.