►
◄
latest
habitat tv
blog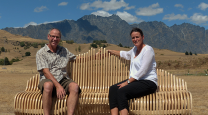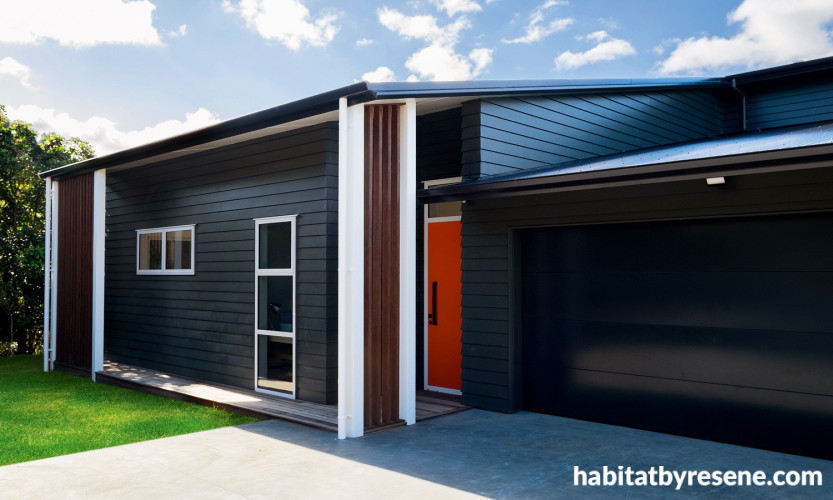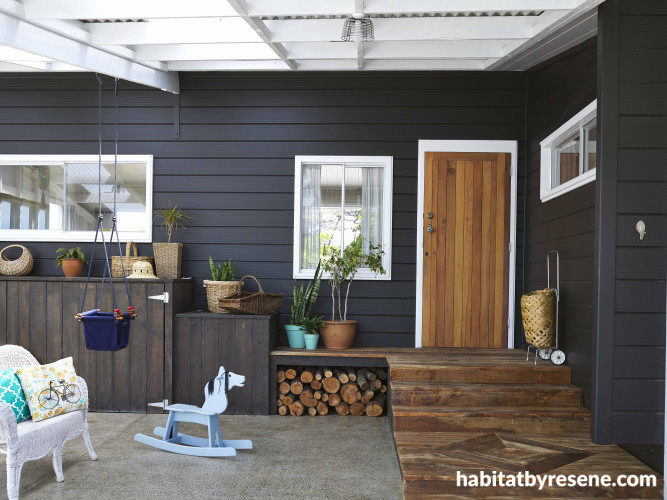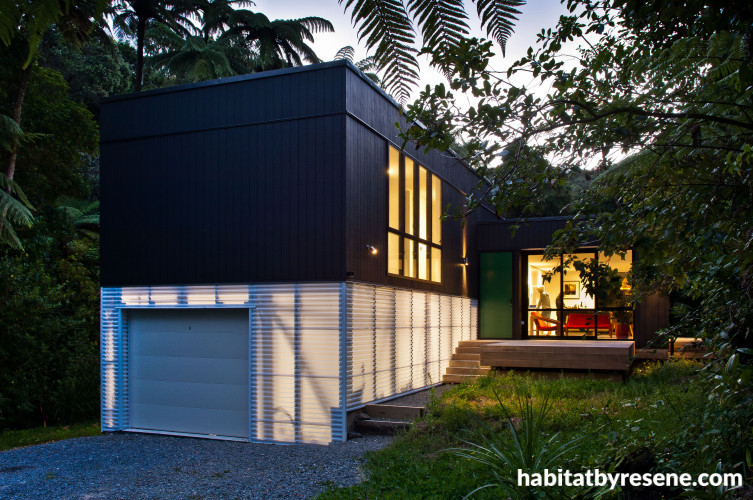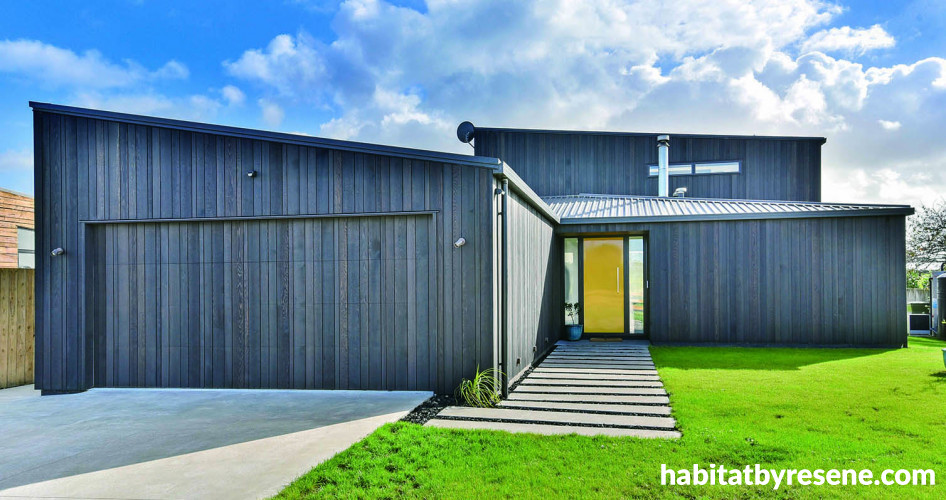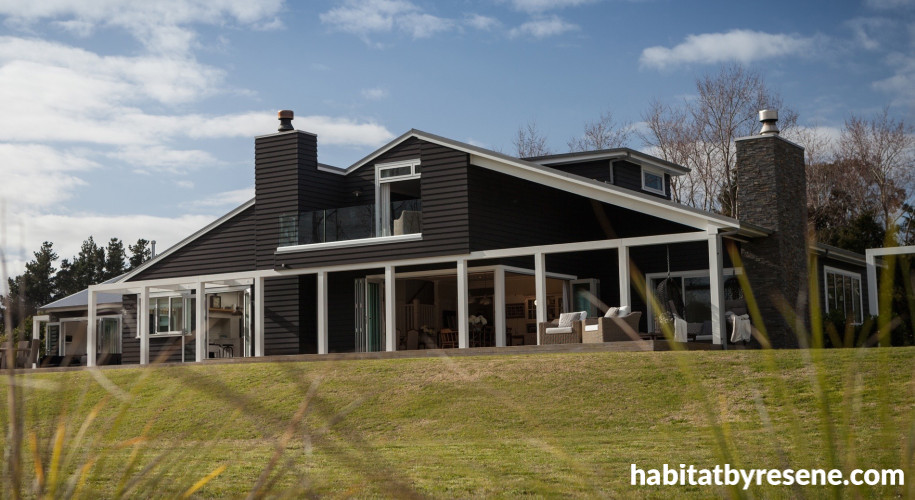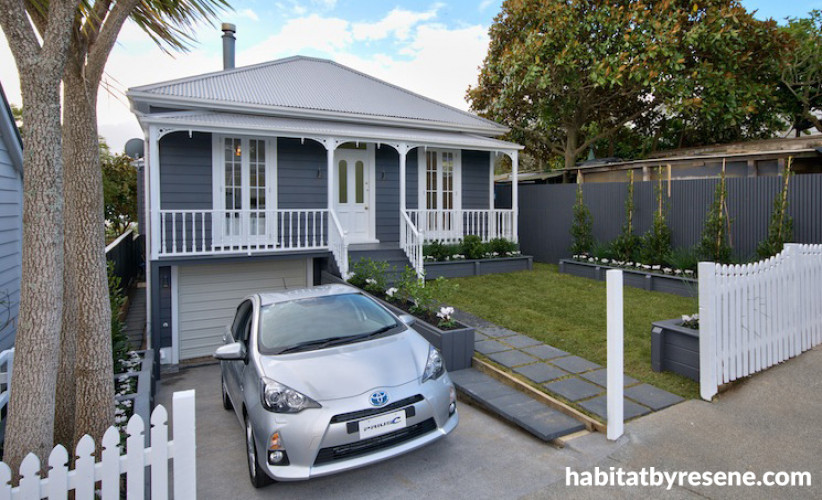 Daringly dark house exteriors
There's something about a dark house exterior that seems to connect with us. Maybe it looks more grounded, stronger and more distinctive, or just out-and-out eye-catching.
A dark exterior paint job can suit many styles of house. It can be used on board-and-batten cladding for a rustic or beachy look. On a contemporary home, it can look edgy, on a grander weatherboard home, it speaks of a glamorous Cape Cod style or on a smaller villa, it can just look darned cute! It crosses the style divide from the most modest of baches to the grandest of architectural creations.
Darker exteriors also look good in any setting, from urban to rural and seaside. Imagine a bright white house in the middle of a spectacular natural environment – it wouldn't look so good. But swap that out for black, or near-black ,and you have a winner.
A dark exterior looks solid and strong. As long as the shape of the house isn't too blocky, and there is enough visual relief through windows and trims, dark colours won't look too imposing or stark.
When you're planning a dark exterior, think about details like the downpipes. A smart dark exterior will soon look weird if you stick white plastic downpipes on top of it. Luckily, there are many clever options available now – keep an eye out for the brand new gloss black range being launched by Marley next week.
Likewise, make sure your joinery and trims colours work in with your chosen paint colour.
Of course, paint isn't the only product you can use to get a nice strong look for an exterior. With the increase in popularity of cedar cladding, often used vertically rather than horizontally, wood stains are the perfect solution. They add depth to the timber, protect it, and continue to look good – none of that patchy weathering look that used to be popular with cedar.
There are two types of stain available in the Resene Woodsman range, a waterborne version, and a penetrating oil stain. Both have different advantages, so talk to the staff at your local Resene ColorShop about your particular situation and needs.
Top tip: For any dark exterior, choose Resene CoolColour paint or stain. It reflects more UV from the sun, helping to protect the paint, stain and the cladding from heat stress.
Top dark paint colours

Resene Bokara Grey has to be one of the most specified paint colours for dark residential exteriors. It's not actually grey, but more of a black with a hit of coffee bean brown to soften it.
Resene Waterborne Woodsman Pitch Black stain gives the classic good looks of a tar creosote black but lets the grain show through. If you're after a solid colour effect, use Resene Lumbersider tinted to Resene Nero.
Resene Element is particularly popular as a roof paint. It's warmly dark and mysterious, a substantial shade of earthy stone.
Read more: For more clever exteriors, see how these plain Jane houses were turned around.
Published: 04 May 2017
Do you have a home full of wonderful Resene paint and colour? Send us some snaps by emailing [email protected].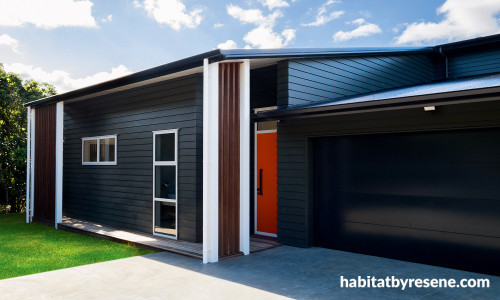 David and Sarah Holden chose a Resene Double Gravel for the exterior of a house built for them recently by Jennian Homes Coromandel. It's punctuated by a vibrant bright orange front door (get the look with Resene Daredevil).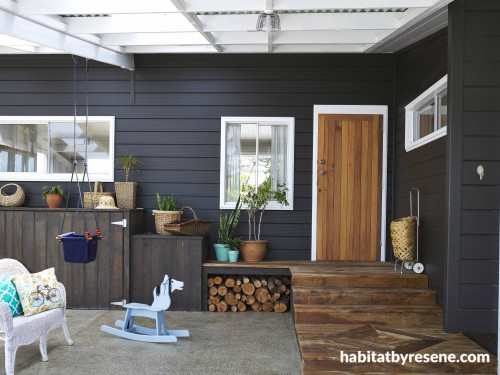 April Harwood Smith and Zane Hansby transformed their classic Lockwood with Resene Bokara Grey cladding and Resene Black White trims. This was part of their finalist entry in the Your Home and Garden/Resene Colour Home Awards. See more great homes at Home to Love. Photography by Melanie Jenkins.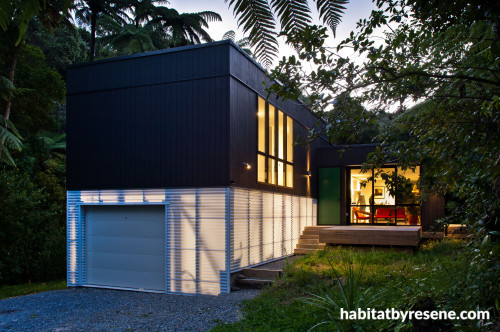 Another house that uses Resene Bokara Grey but this time in a more modern context. The house was designed and built by Box.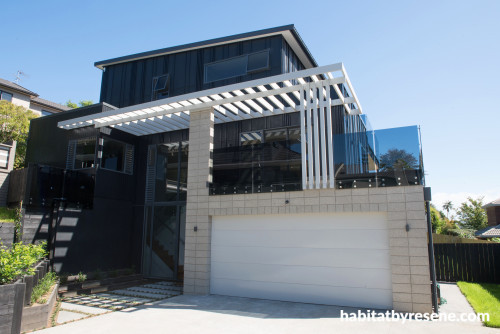 This house beautifully brings together a number of claddings and elements, including being able to integrate the Marley Stratus Design Series downpipes and guttering in Grey Friars. The main cladding is painted in Resene Double Cod Grey, the eaves are in Resene Triple Sea Fog, and the pergolas are in Resene Gull Grey.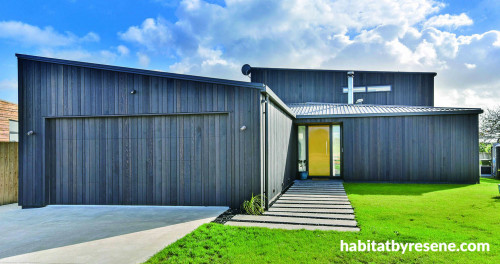 Vertical stained cedar is a stunningly contemporary look. Here, the cedar is finished in Wood-X Foundry stain, available from Resene ColorShops. The house was built by award-winning company Waller Projects Ltd. Get the front door look with Resene Wild Thing.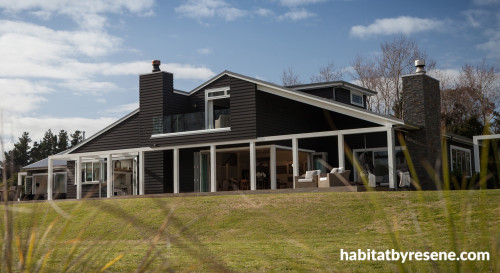 This home has a glamorous country look, using Resene Blackjack on the cladding, specified by Kapiti-based Appletree Designs.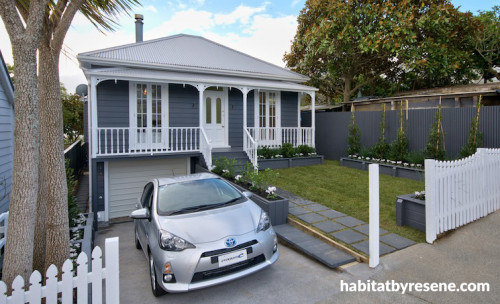 An updated villa looks chic and urbane in Resene Baltic Sea. Make sure you use Resene CoolColour paint to protect the paint and the cladding.
the look
If you're stuck on what
colour to use or need colour
advice, try out the Resene
Ask a Colour Expert service.