►
◄
latest
habitat tv
blog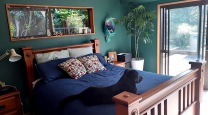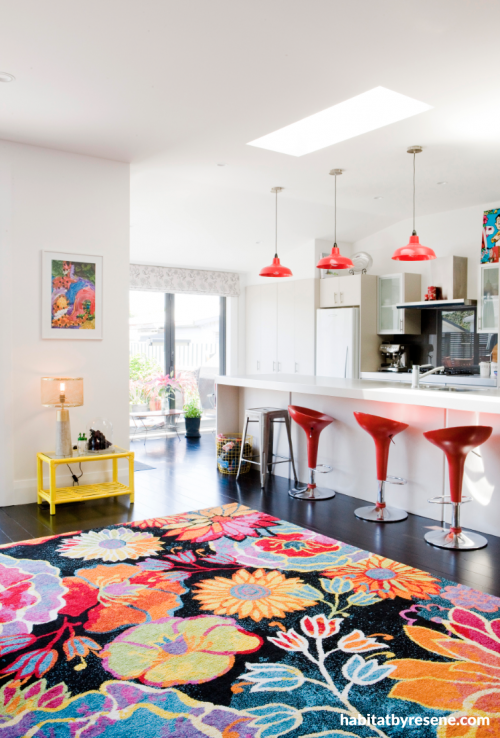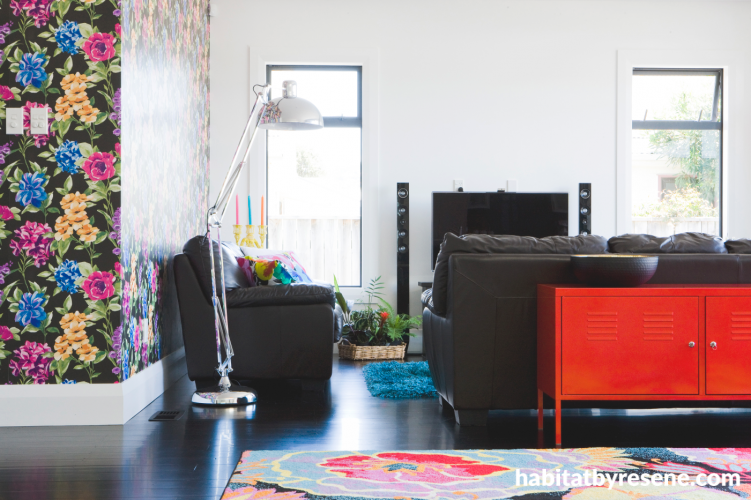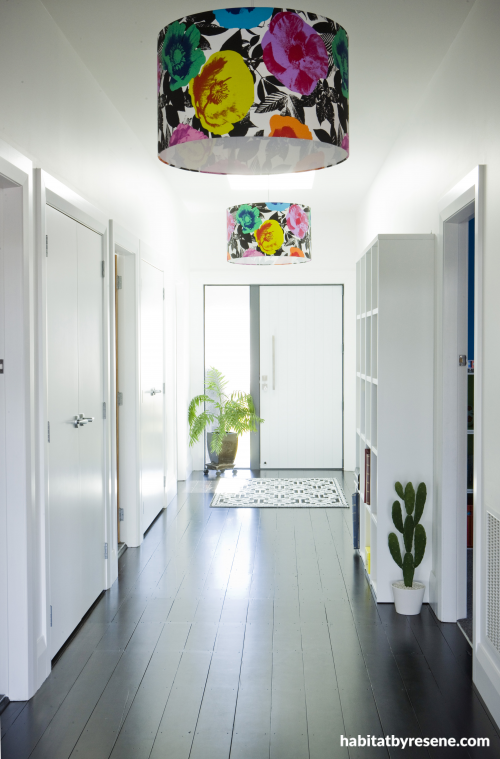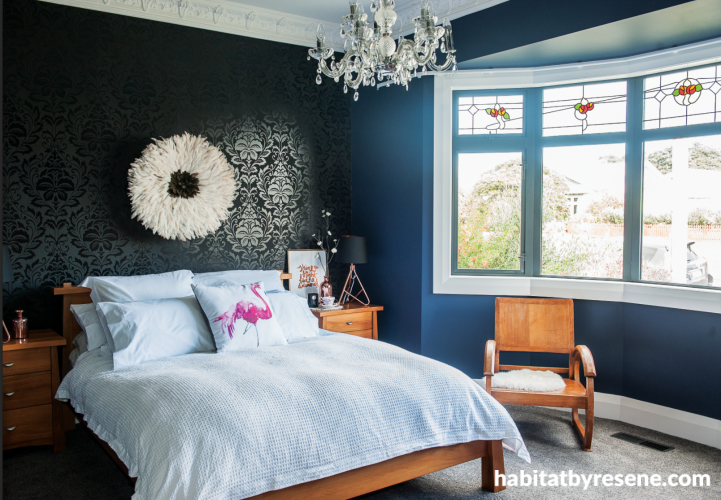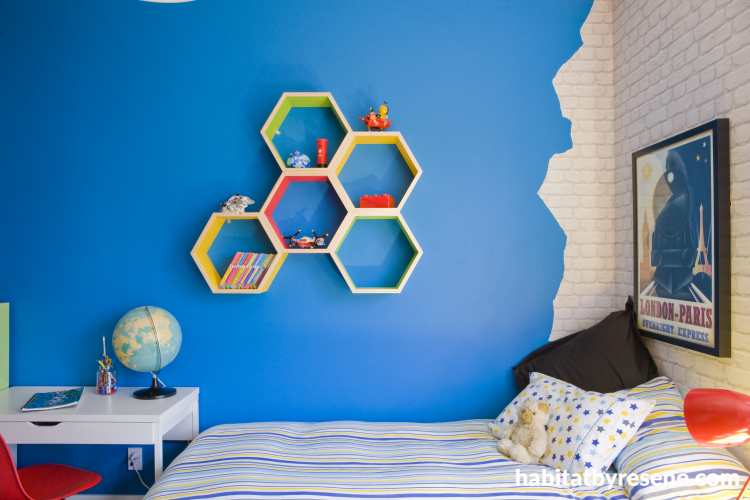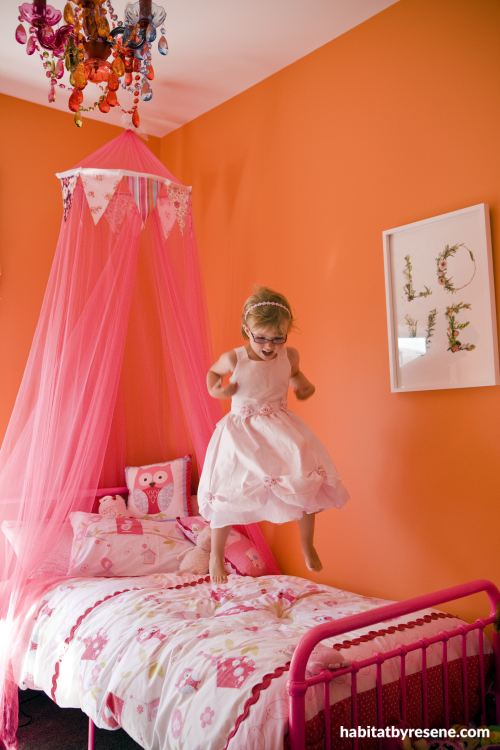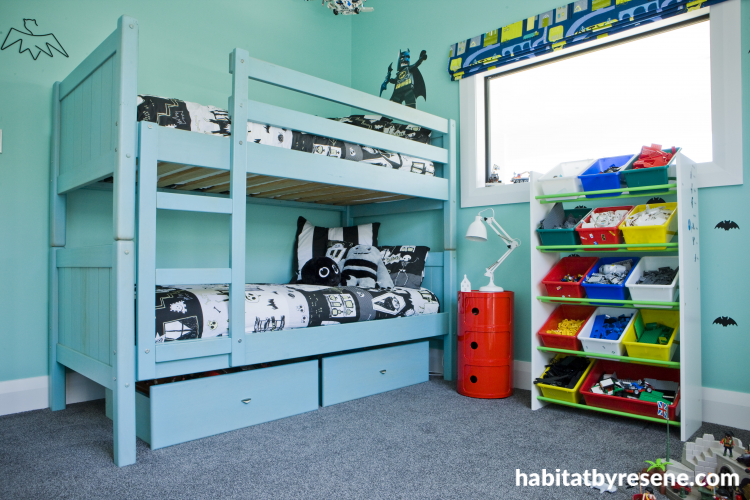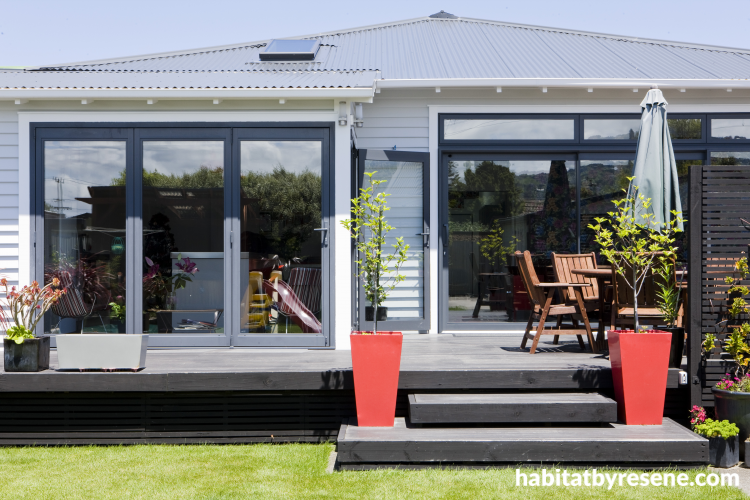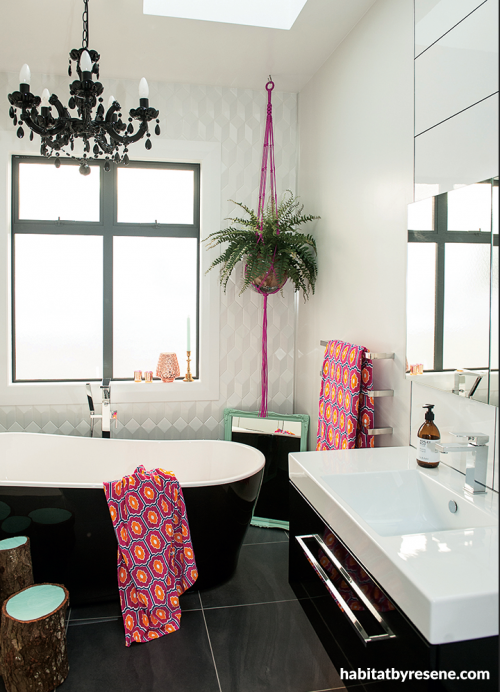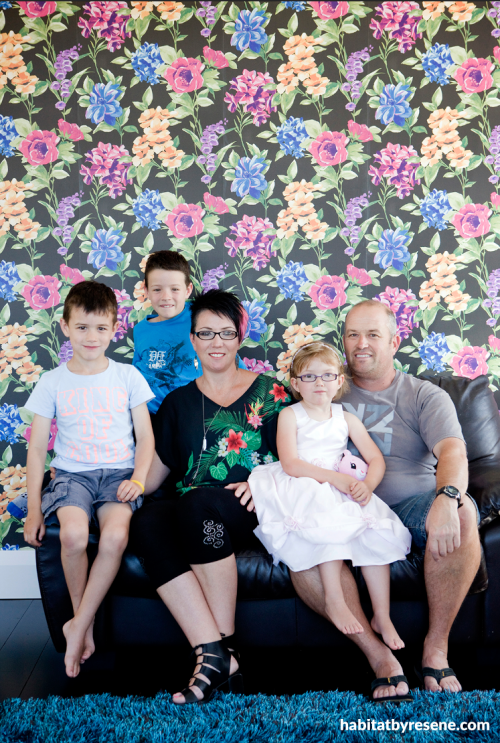 Debbie gets fearless with colour
One room is bright orange, another is turquoise, a third is bright blue and the living room sports a rampant floral wallpaper from Resene. Designer Debbie Omond doesn't shy away from colour, using an out-there array of tones and patterns in her own house. It's eclectic, and gorgeous.
"Whatever goes!' declares Debbie Omond. "I'm not afraid of colour!"
Debbie and her husband Mark bought their 1927 California bungalow in 2003 as a quick do-up and sell-on. They never left. The house was rough and while the couple made small changes initially, it wasn't until last year they decided to extend and renovate in one hit. By this stage, the family had grown to include three children.
Debbie realised that she had the freedom to play with colour schemes that might otherwise have been considered a little risky for re-sale. She wanted to preserve some elements of the original bungalow while injecting the home with a more modern feel. The original front façade of the house was moved forward to create an extra bedroom, two bathrooms and a laundry. At the back, sliding doors, large skylights and new windows envelop a large open-plan living area and kitchen, which open to the garden. Using Resene Alabaster to 'white out' most of the area, she was able to create a bright fresh canvas for her love of colour in accessories and design.
Wanting to create a room that her son could grow into, Debbie sourced an off-beat wallpaper which mimics a brick wall (Kids & Teens wallpaper 226713 from Resene). She meticulously tore the paper's edge to create a gap-in-the-wall effect to merge with the painted surface beside it.
Eight-year-old Dylan felt it was important that the shade of blue he chose for his room had a good name; Resene Captain Cook made the final cut.
Did you know… that Resene is continually introducing new wallpaper designs and has its own exclusive ranges. See the latest collection in the wallpaper library at your local Resene ColorShop.
A second bedroom was decorated for the couple's two younger children, Amber and Caleb, to share. Debbie chose Resene Renew as a gender-neutral green but the siblings were soon lobbying for their own rooms. A smaller playroom was converted into a glowing hideaway for Amber, using Resene Clementine Orange. "I looked at the other rooms and thought – what haven't I tried?" A hot pink canopy bed was found to contrast beautifully with the vibrant orange walls.
For the main bedroom, she chose to embrace rather than compensate for the south-facing orientation with dark colours. Her aim was to set the tone to moody, romantic and luxurious using a feature wall in an embossed Resene Flock 3 wallpaper (code 2554-26) and Resene Midnight Express painted walls.
"Each of my rooms are a little shock of colour – and they've all got their own story to tell," explains Debbie. The new and spacious hallway, in Resene Alabaster, is hung with two large floral print lampshades, which link the jewel-box colours of the bedrooms to the living space beyond.
The renovations were completed within six months and Debbie grins proudly when she comments that, as resident project manager, she was able to bring the work in at $1000 under budget. Mark also praises their builder Brad Tautahi (of BT Building Projects) for his unfailing patience and willingness to take on the couple's ideas.
With a background in graphic design and project management, Debbie has also trained in interior design and recently launched her own design business Compose Interiors.
In future, there are plans for Mark's converted freight-container office in the garden to become an outdoor den for the children as they move into their teens. For now, though, the Omonds are happily enjoying the new-found space inside their home, where there is all the colour and drama to transport them to a perpetually sunny place without the need to even step outside the door.
photography and words Nicola Edmonds
Published: 05 May 2016
Do you have a home full of wonderful Resene paint and colour? Send us some snaps by emailing [email protected].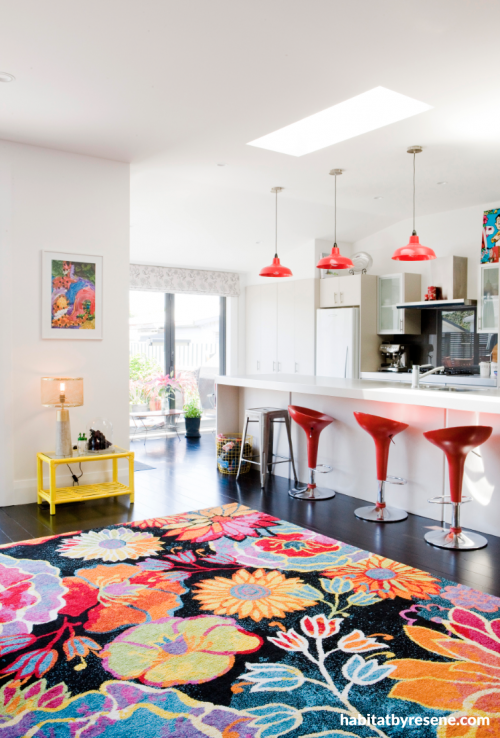 The open-plan kitchen area is described as a 'watch this space' zone. Using Resene Alabaster is a fresh neutral background for colourful accessories.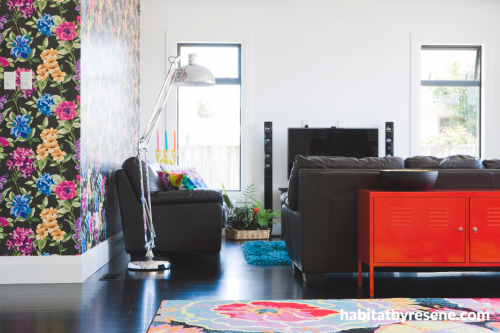 The most recent decorating addition is this dramatic and colourful wallpaper: Paradise (Petula Black 98363). The rest of the walls are painted in Resene Alabaster.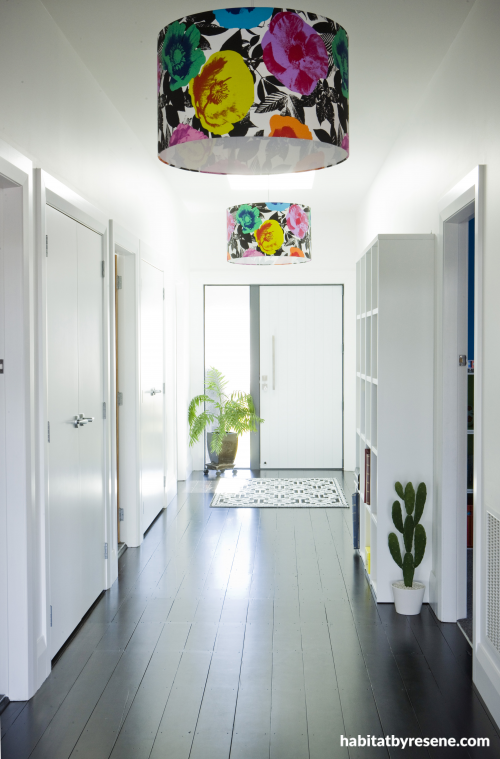 The new and spacious hallway, painted in Resene Alabaster, is hung with two large floral print lampshades, which link the jewel-box colours of the bedrooms to the living space beyond.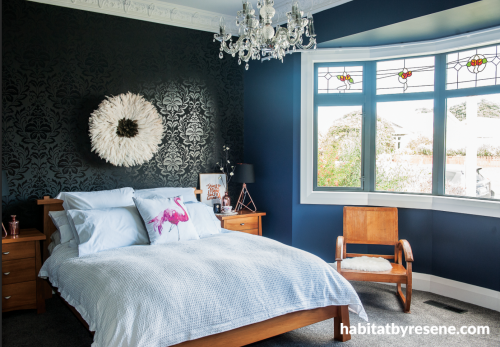 Debbie chose not to fight the fact that the main bedroom is on the darker south side of the house, going with a Resene Flock 3 (code 2554-26) wallpaper and Resene Midnight Express painted walls.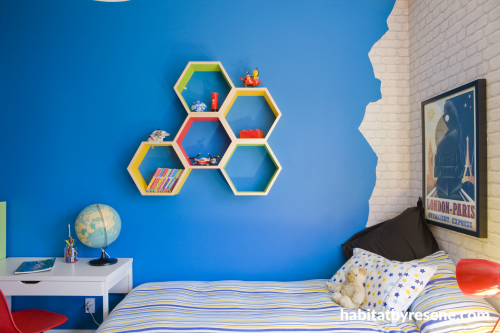 Debbie carefully tore the edge of the Kids & Teens wallpaper (226713) to give a deconstructed look to Dylan's room. He chose the blue paint as much for its colour as the name: Resene Captain Cook.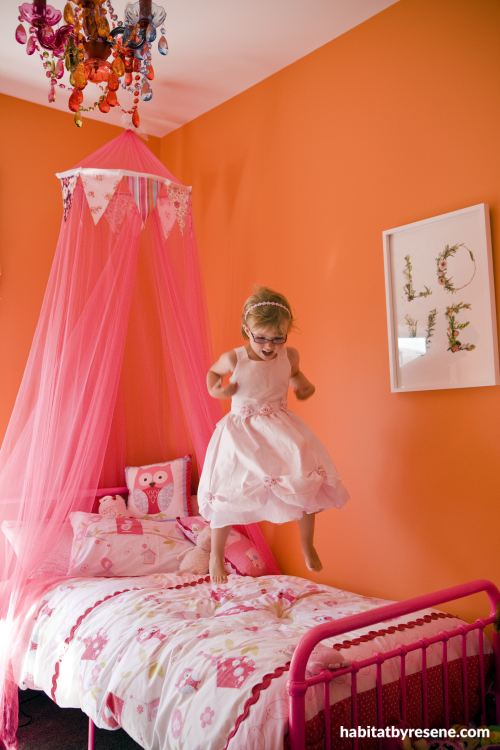 Amber now has her own room, gloriously painted in Resene Clementine Orange, from the Karen Walker Paints collection.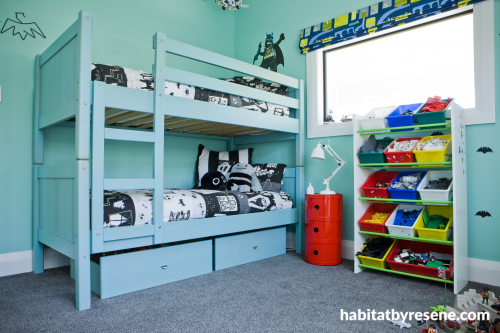 Caleb's room is a cool, gender-neutral space painted in Resene Renew.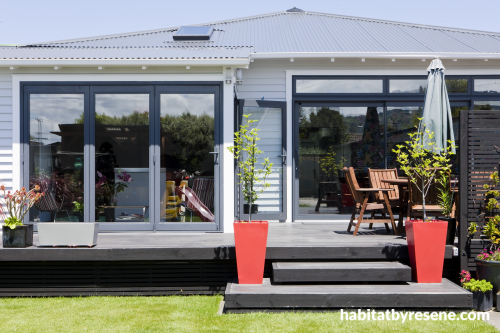 At the back of the house, new sliding doors and windows in a wide-profile aluminium blend with the character of the house. The weatherboards are Resene Lumbersider tinted to Resene Quarter Silver Chalice and the trims are Resene Alabaster.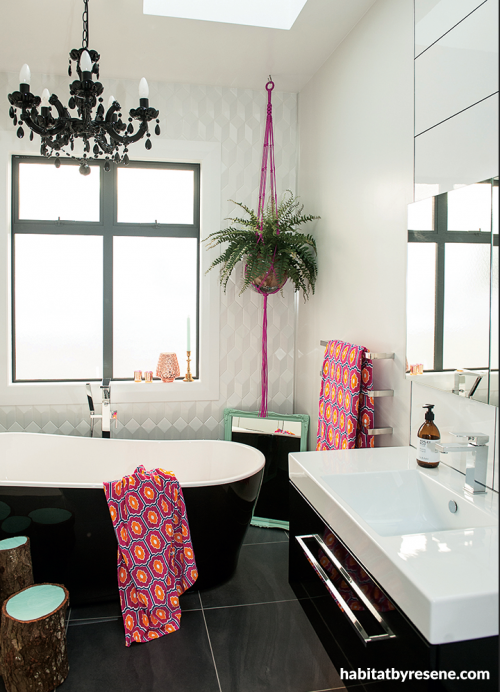 Resene Alabaster makes the bathroom a calming place to be.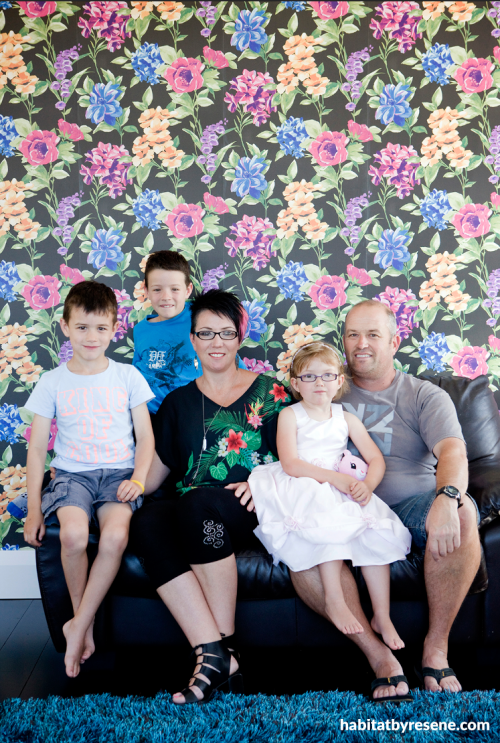 The family are, from left, Dylan, Caleb, Debbie, Amber and Mark.
Resene Quarter Silver Chalice
the look
If you're stuck on what
colour to use or need colour
advice, try out the Resene
Ask a Colour Expert service.