►
◄
latest
habitat tv
blog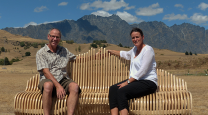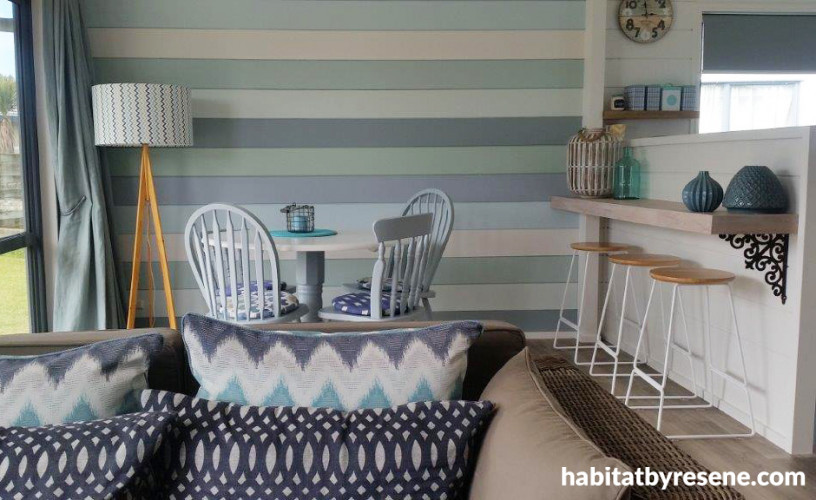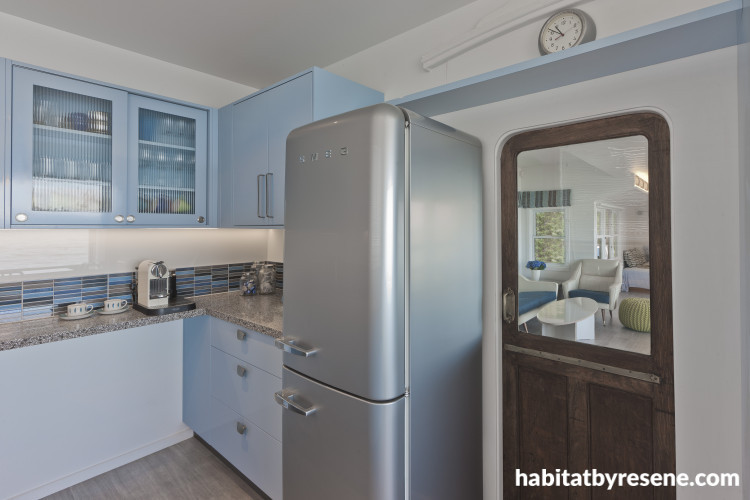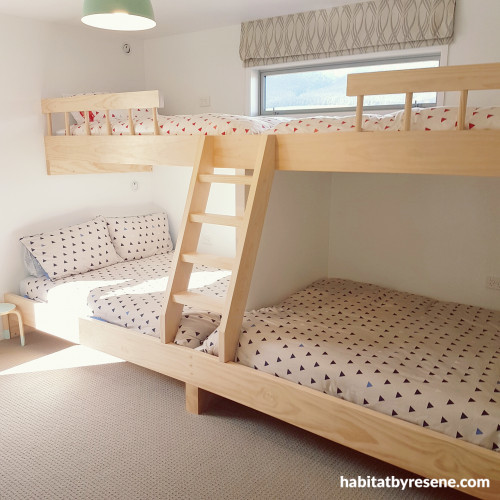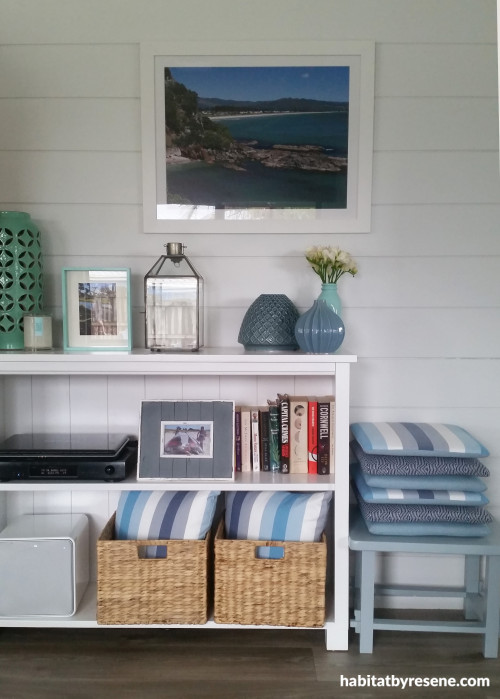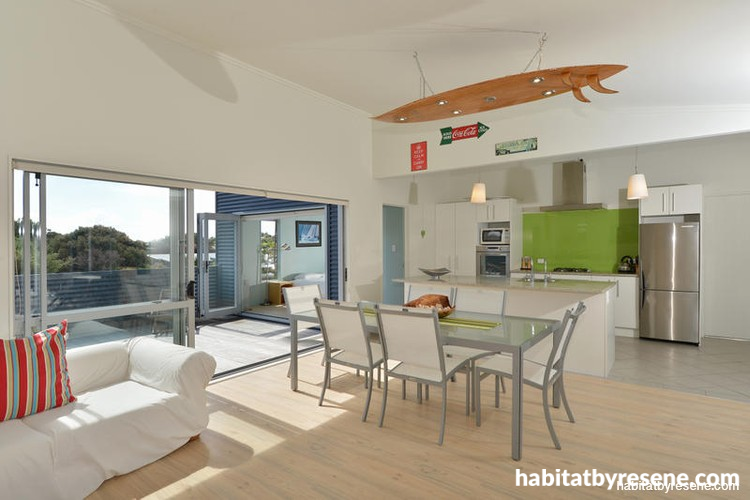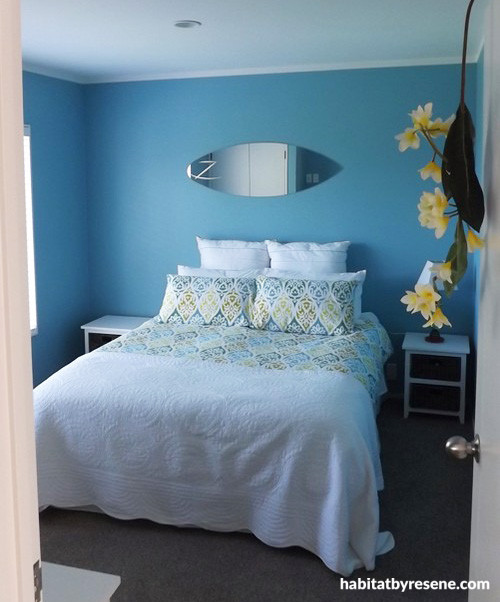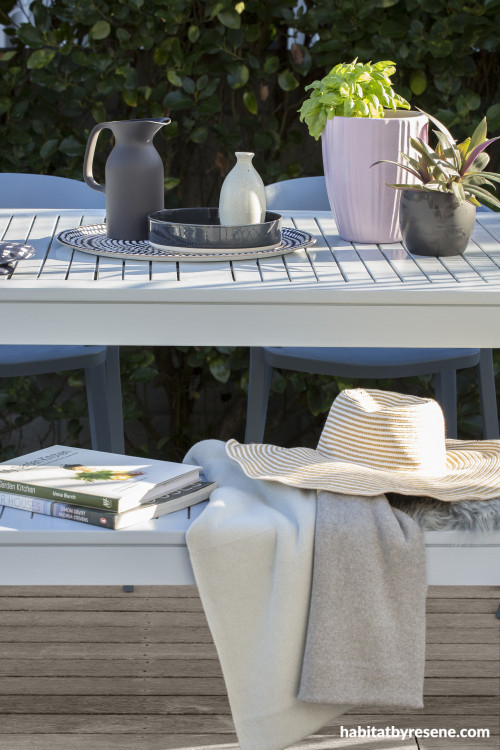 Decorating a bach
Will your bach be a sea of appropriately themed accessories and colours? Will it be chaotic collection of handy-me-down bits and bobs? Or will it be somewhere in between – a place where you can impose a modicum of style but which will cope with the onslaught of mismatched furniture and homewares that always end up at a bach?
As soon as you own a bach it opens up the doors to gift-giving friends and relatives who turn up with anything from quirky signs that announce the direction of the beach or warnings about 'over-refreshing' yourself, to sea-themed accessories and fish-shaped bowls. There will be board games, lawn games and all sorts of other games… which will be very welcome if you've decided to go screen-free at the beach.
Most baches are fairly small, and the expected decorating standards can be fairly relaxed. Which means you can give the inside a quick and easy paint in just a weekend, and make quite a difference.
Visitors are less likely to be startled by an adventurous colour scheme or an inexpertly executed seascape mural at a bach. You can have a bit of fun and unleash that creative artist you always harboured within.
Or you might consider keeping the wall colour neutral to cope with the fact that none of the furniture matches and that no two of your coffee cups are the same.
Dealing with clutter
If yours is an older bach, chances are it won't be endowed with beautifully fitted out cupboards. It may not even have wardrobes. Look out for any opportunity for creative storage.
Bookshelves go a long way to storing not only books but linen, or kitchen items like glasses, crockery or even food. Trunks or lidded ottomans are great to double up as coffee tables and to store linen and games.
Old tea chests in the garage can store the cricket set, fishing rods, and volley ball net.
Use under-bed trundle boxes and hooks on any wall surface possible for brooms, coats, dog leads and hats.
Dual purpose spaces
Many spaces in modestly sized baches need to serve dual purposes. A fold-out sofa turns the lounge into another bedroom. Is there a corner for visitors to stash their bags and bedlinen during the day?
Garages become sleep-outs. Is there space to store spare mattresses in the rafters or up against the wall?
A bedroom built for two can become a dormitory for several with the help of well-designed bunks and trundle beds.
Consider an extendable table, or just a small indoor table, knowing that for most of summer you'll be dining on the deck.
Form a flat spot on the lawn for tents and/or cricket games or petanque.
Take it outside
Time at the bach means time spent outdoors, so don't let your decorative musings end at the doorstep. A comfy chair, hammock, good-sized deck and roomy outdoor dining spaces all add to easy living and socialising.
You needn't break the bank. Upcycle older furniture or storage pallets with Resene Enamacryl (a tough waterborne enamel) in colours of your choice for a fresh look and years more of use.
Theming it up
If you're keen on a theme, try these for size:
Sea and sandy colours never go amiss. Let aqua, blue and ochre wash through your bach. Add seagrass rugs, baskets, shells and filmy fabrics. This sort of colour scheme is easy on the eye and easily adapted to current looks. It can turn a little bit Scandi – use Resene Duck Egg Blue or Resene Scandi for the walls. The first is a delicate blue-grey while the second is a chilled-out palest ice blue. Or it can go Cape Cod in style with Resene Colorwood Whitewash on the timbers, white walls (try Resene Sea Fog) and accents of nautical blue (try Resene Into The Blue or Resene True Blue).

Go retro with a 1960s vibe and get playful with turquoise, red, yellow, sky blue and orange (see suggestions below). Don't be shy – use them all in different rooms or areas of the bach so that you end up with an almost colour-blocked look. Fossick in second-hand stores or online for old crockery and mid-century furniture.
Try these colours:

Try some surfie chic with intense tropical colours, and accessorise with cherished momentoes from exotic climes. Keep your old surfboard in the living room (yes, you're allowed), add some palm-print cushions, hang your most beaten-up straw hat on the hook, put the Beach Boys on your playlist and mix up a batch of pina coladas.
Try these fun shades:

Go au naturalle with robust, honest materials like plywood and concrete, protected with Resene stains, urethanes and waxes. This is an honest, pared back look very popular with new baches – it harks to the baches and cribs of old, which were often old shacks made of whatever leftover materials were to hand. Of course, today's versions aren't quite so rumpty, and have that designer edge.
Published: 29 Nov 2016
Do you have a home full of wonderful Resene paint and colour? Send us some snaps by emailing [email protected].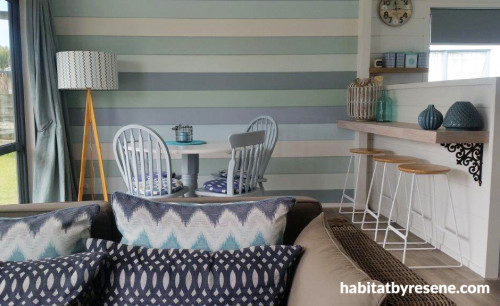 A striped wall in Resene Carefree, Resene Cut Glass, Resene Half Sea Fog, Resene Nebula, Resene Longitude and Resene Dusted Blue was created by designer Jackie Jones for her own bach.
This Marlborough Sounds bach is the perfect retro retreat with walls in Resene Half Foam.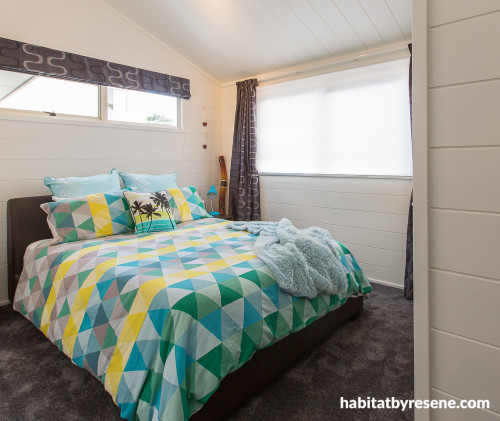 Resene Quarter Merino is used to paint the timber lining of this old Lockwood bach.
A retro kitchen for an old tram that has been converted into a bach. It's finished in Resene Comfort Zone, and designed by Elite Kitchens.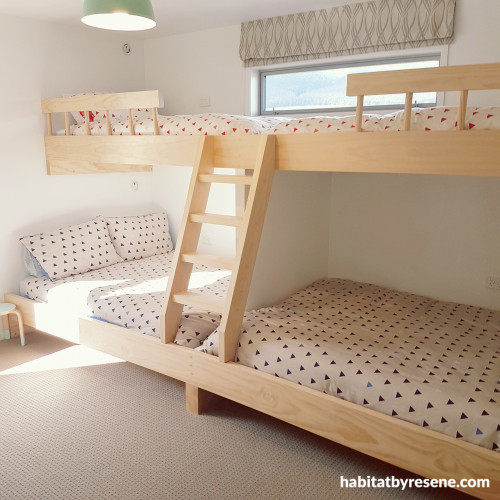 Bunks are the ultimate in flexible sleeping at a holiday home. These were built by the homeowner; the walls are Resene Double Alabaster.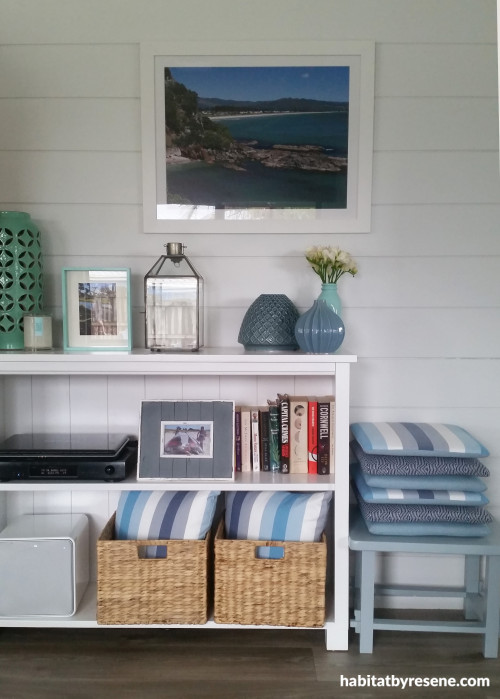 Bookcases are a great flexible storage option for all sorts of bach items. The walls here are Resene Half Sea Fog.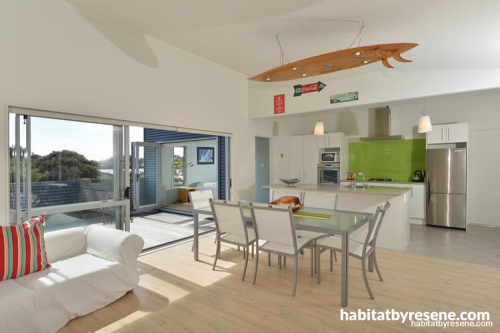 Keeping interior walls neutral (these are painted in Resene Milk White) allows for the usual mix and match furniture and accessories you tend to collect at the bach. The kitchen splashback is Resene Happy Hour.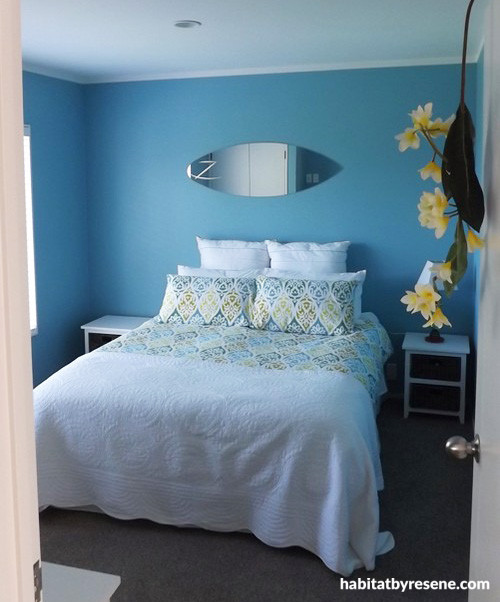 Walls in Resene Meltwater give this bach bedroom a summery look… along with the surfboard shaped mirror.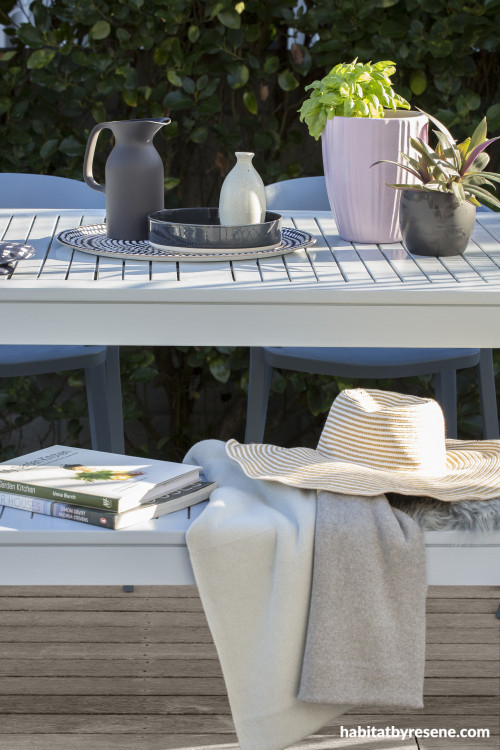 Smartening up older outdoor furniture for the bach is fun and easy - just give them a lick of paint, using Resene Lumbersider which is a tough, exterior grade paint. This table is painted in Resene Casper and the pink vase is in Resene London Hue.
pictures
Styled by Amber Armitage