►
◄
latest
habitat tv
blog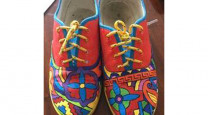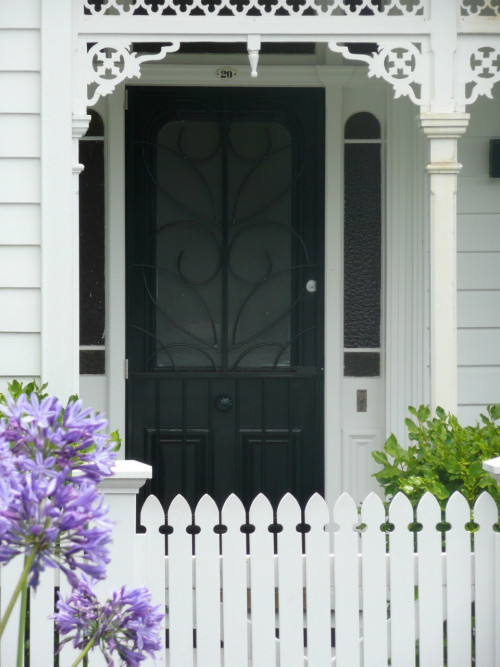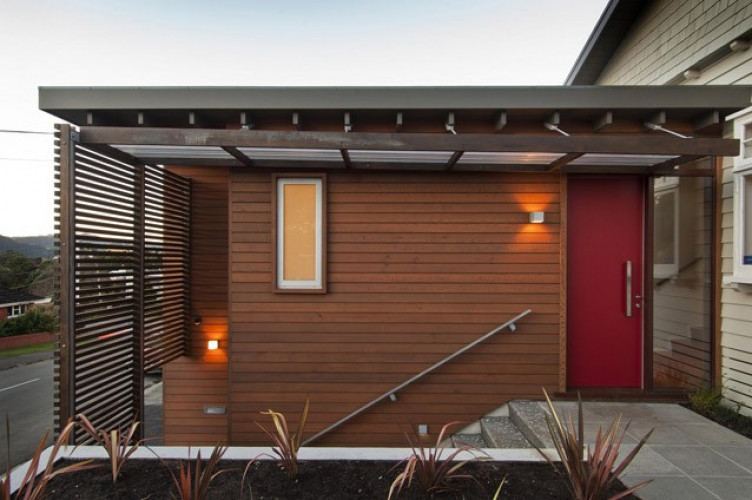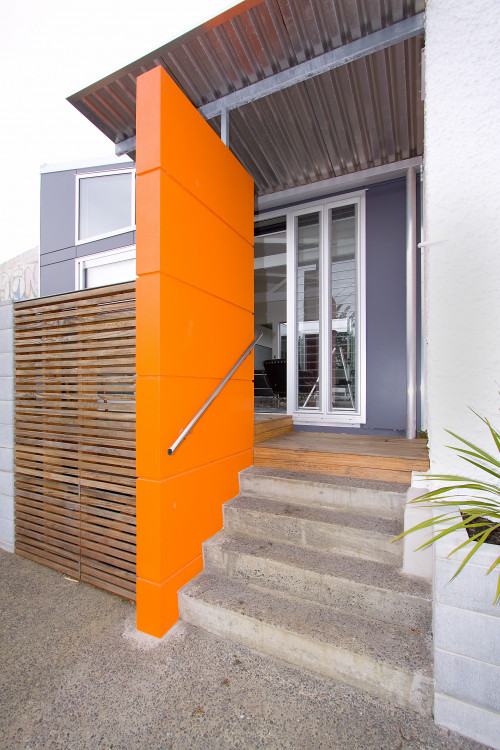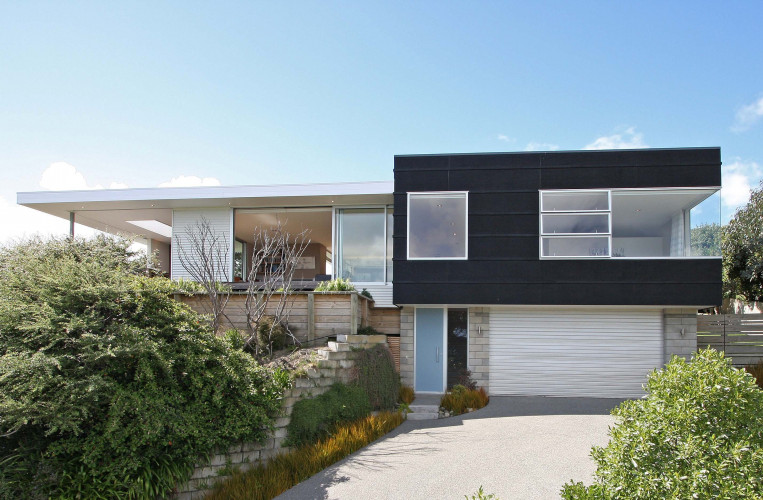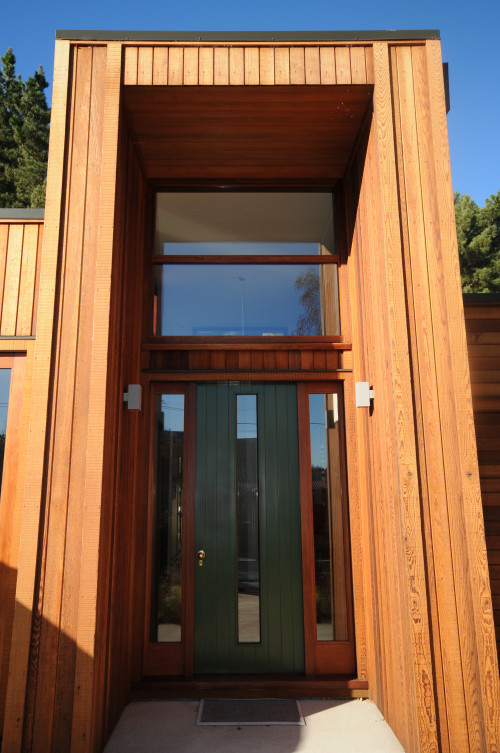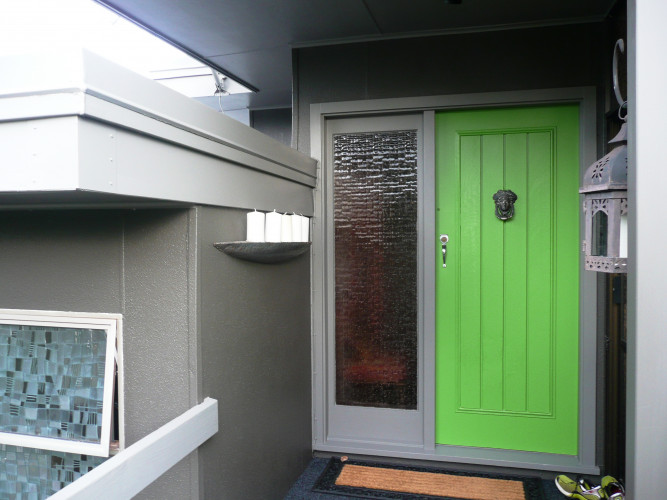 Drum roll please - making a memorable entrance
25 Oct 2012
Do you have a home full of wonderful Resene paint and colour? Send us some snaps by emailing [email protected].
Come on in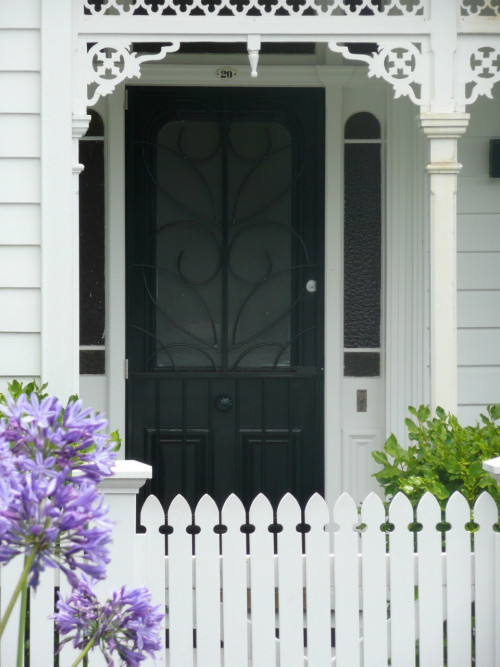 We bought a new house recently (well, new to us but 1970s in origin) and a couple of visitors have struggled to find the front door. It's sort of tucked at the side of the house, beyond a sea of decrepit tarmac. One of the first things we added to our renovation wish list was 'make the entranceway more obvious and welcoming'.
For a small element, a front entrance carries a lot of weight. It has to be obvious, welcoming, reflect the style of the house, provide shelter from the rain and wind, and security to those inside.
Paint it bold, paint it bright
There are all sorts of tricks to make your entrance more obvious but one of the easiest ways to herald a front door is to paint it in a nice bold Resene paint. Red is a perennial favourite but glossy black has also been seen on many a smart front door – that whole crisp white villa with clipped hedges and a black front door look, just like this one with a Resene Nero front door which is fitted with a clever Dora Doors screen. Limey green and orange have also been seen peeking out from the fronts of houses with regularity lately.
Front doors should be painted in an accent colour - a strong, dramatic, bold shade – that often won't be repeated anywhere else in the house. Bright, vibrant colors draw the eye to the front of the house and can be echoed in the colours of flowering plants or in architectural detailing.
If you have an older house, you could find some guidance on Resene's heritage colour charts. http://www.resene.co.nz/homeown/use_colr/heritage.htm
Key elements to a successful entranceway:
• Make it obvious to visitors where they go with a wide path from the street or the forecourt, symmetrical planting or architectural detailing such as a distinctive porch.
• Use good lighting, triggered by a sensor, but not spotlights that blind your guests as they approach.
• Some shelter so that visitors don't get rained on or blown away.
• An entrance that reflects the style of the home – do you want it to be formal and flanked with clipped plants, or a more natural informal approach?
• An interesting front door – extra large with designer detailing, paneled or planked.
• A vanguard of symmetrical planting lining the path, or a couple of potted specimen plants either side of the door, porch or front steps.
• A knocker or bell or intercom system. And a way of seeing from inside out to check who's a-knocking at your door.
A rich addition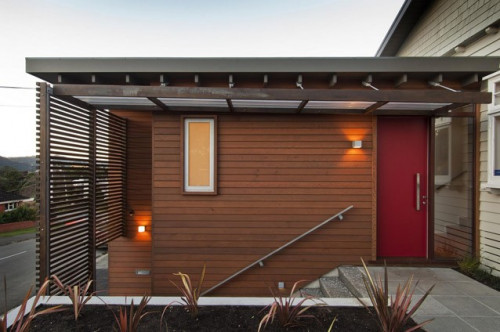 This front door in Resene Pohutukawa which sits alongside rich cedar weatherboards in a Wellington addition designed by Herriot + Melhuish: Architecture. The roof fascia above is Resene Half Masala.
pictures Photograph by Paul McCredie
It ain't half obvious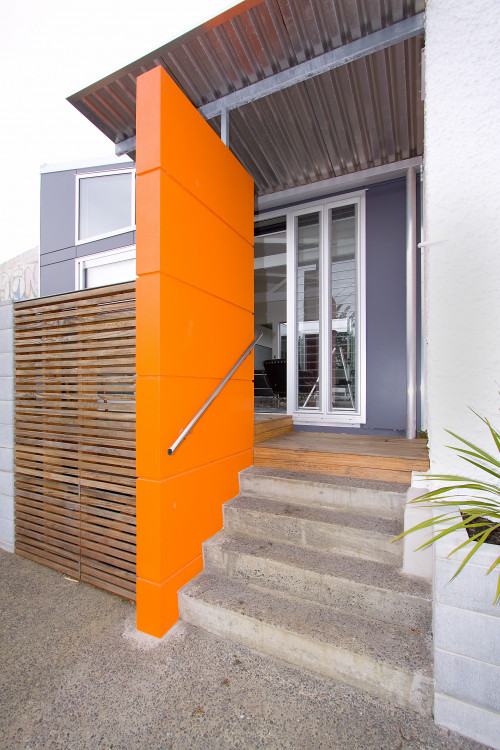 The front door may not be a bold colour but the fin wall certainly is – making it very obvious where you need to go to get to this retrofit of an old butcher's shop in New Plymouth, designed by architect Ian Pritchard. The orange is Resene Mexican Wave while the grey wall in the background is Resene Tuna.
pictures Photograph by Mark Harris
Cool and classy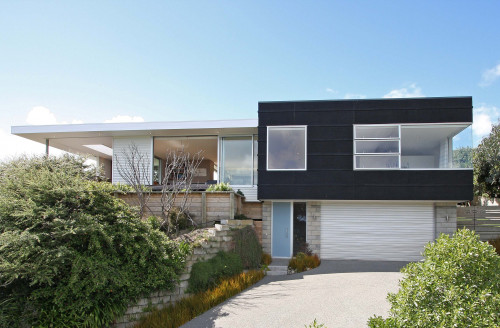 This home by Space Architecture has an icy blue front door in Resene Tsunami that stands out from the Resene Pitch Black exterior stain and corrugated cladding which is Colorsteel Maxx, colour Foam. The soffits are Resene Alabaster.
A soaring start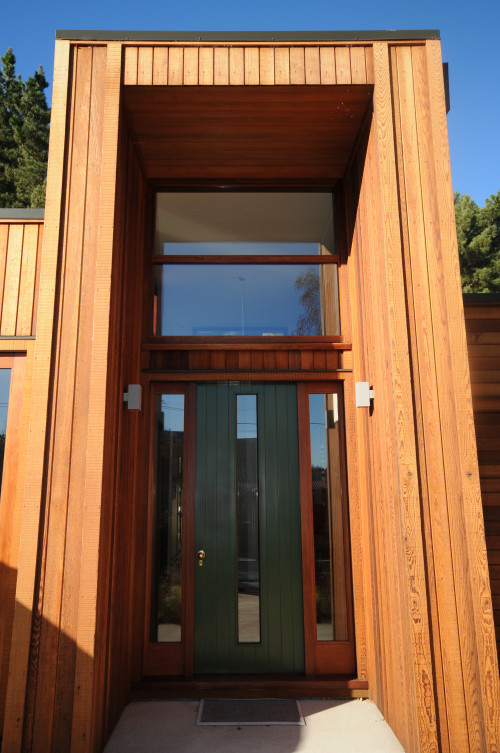 A dramatic almost double-height entrance is made even more visually uplifting with vertical timber board and a door in Resene Deep Khaki. It's in a home designed by John Ayers of Creative Studios.
Add a bit of zing
Resene Burgundy trims and cladding in Resene Happy Hour add to the fun of this unassuming entrance. A quirky security door by Dora Doors, in their Craggy design gives another visual element but with a very practical application.
Gorgeously green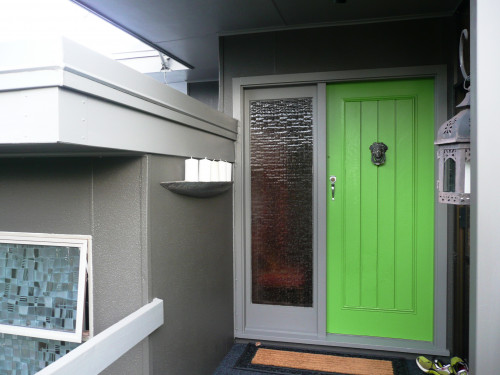 Tineke O'Callaghan chose an in-your-face Resene Limeade front door for her Rotorua home which looks stunning in contrast with the Resene Triple Masala cladding.
Hot bright red makes a statement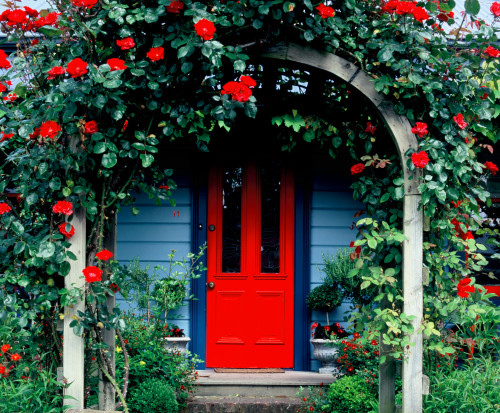 A vibrant front door in Resene Guardsman Red is a cheery departure from the more demur villa colour schemes more common seen. The weatherboards are Resene Bermuda Grey and the trims are Resene Madison.
pictures Photograph by Juliet Nicholas