►
◄
latest
habitat tv
blog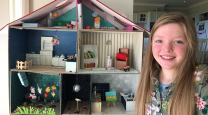 Embrace your dark side with vampy interiors
Go deep, dark and dramatic with a vampy interior look this winter. Inkier hues can be used to suit your existing personal style, be it a moody and mystical look you're after, or a sharp and sophisticated one. Take the plunge with tones like Resene Double Foundry, Resene Violent Violet, Resene Indian Ink and Resene Red Berry and unleash the power these Resene colours have to transform a space.
Why go dark?
While white and light Scandinavian-style interiors have dominated the design scene in recent years, the gothic and vampy trend swings in the opposite direction. Using dark, rich and jewel-toned colours invites a richness of colour into your home, and the tones are just as timeless as their lighter counterparts. Bringing in darker décor is a fantastic way to completely reinvent the look of your space. And when you do that, you won't want to leave.
Small spaces welcome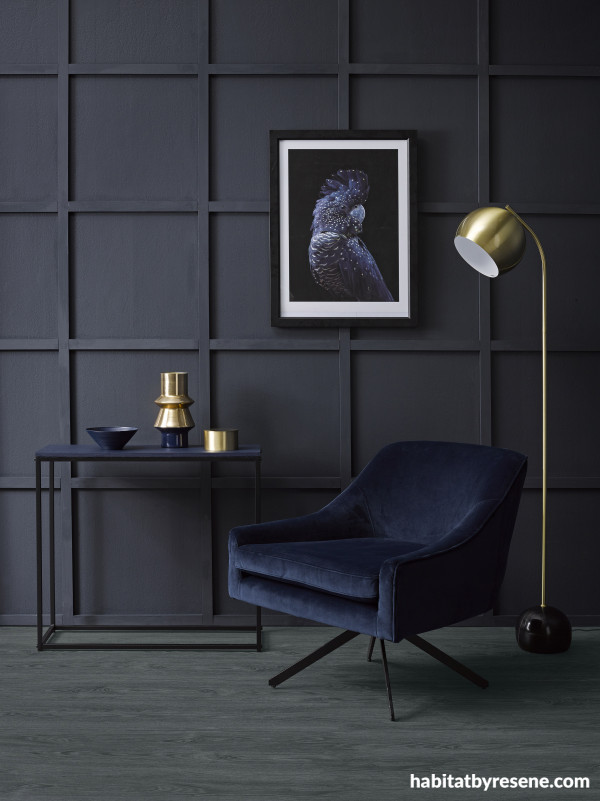 This vampy space in Resene Twilight Zone has added impact in the form of timber battens attached in a grid format. The table and bowl are in Resene King Tide and the floor has a coat of Resene Colorwood Mid Greywash over Resene Colorwood Crowshead natural wood stain. Chair from Nood, floor lamp and furniture from Freedom, artwork from Pop Motif. Project by Vanessa Nouwens, image by Bryce Carleton.
Don't be fooled into believing you can't use dark colours in a small space like a hallway, study, reading nook or bathroom. Dark colours create a sharp and dramatic look, and the oft-quoted 'rule' that dark colours shouldn't be used in small rooms unless you want the space to feel claustrophobic really isn't true. Don't be misled. Feel free to embrace a deep and dark interior style in your small space. Navy tones like Resene Blue Night, Resene Indian Ink and Resene Biscay bring intimacy and cosiness to a smaller room.
Darker shades like Resene Nero and Resene Bokara Grey add elegance to a space immediately in a way white often doesn't. Painting a small room white can actually drain a small space's character, while deeper shades add interest and personality. If you are particularly concerned about a space feeling closed-in, try to look for colours with a cool base, which will visually recede.
Top tip: Mirrors can help reflect both natural and artificial light in a darker space. Placing a mirror near a window to reflect the outdoors is especially effective at visually expanding a room or you could angle a mirror towards a certain area or focal point to give the illusion of more space. Mirrored wardrobe doors or cabinets are perfect for small spaces, as are glass tables and acrylic chairs, which open up a space.
Go grand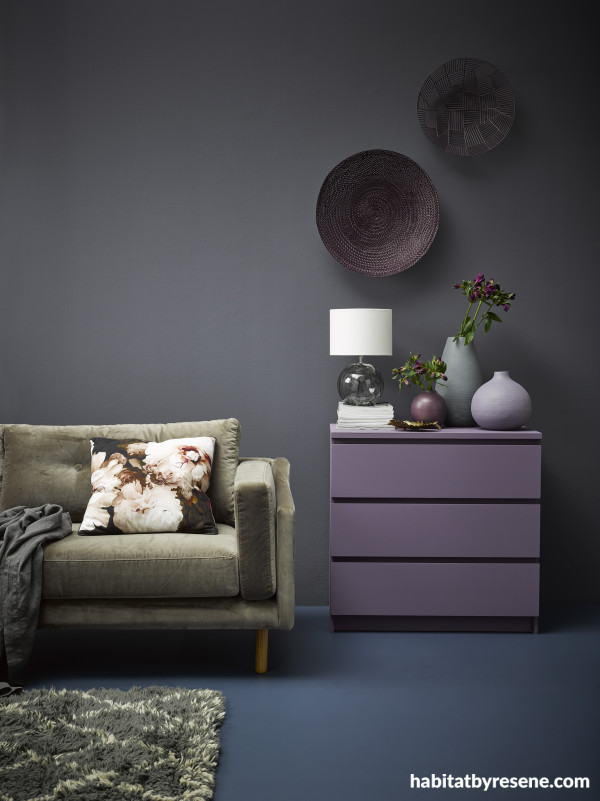 Luscious purples paired together create elegance and a retreat-like space in a home. These dark and cocooning walls are in Resene Gun Powder, the floor in Resene Avalanche and the cabinet is Resene Chapta And Verse. A trio of vases are in Resene Steam Roller,Resene Mamba and Resene Couture, and wall decorations in Resene Sumptuous (large) and Resene Couture. Rose cushion from Contempa, platter and lamp from Freedom, rug and bedlinen from Indie Home Collective. Project by Claudia Kozub, image by Melanie Jenkins.
In dark and vampy interiors, the colour scheme can make a room feel far grander than it actually is. Set furniture against deep purples, dark forest greens, luxurious blues and blacks and watch a room transform in its feel. It's the depth of colour and the interest the palette adds that allows for this.
Paint is the most affordable and most transformative change you can make to any room. When you dive in and go darker, it not only creates a grand feel but a cosiness that envelops you. Navy walls painted in colours like Resene Bunting are particularly good if you're not feeling the all-black look, it's a gentler approach to embrace a vampy style with sophistication.
Top tip: For a hard-working paint that will take the knocks on furniture like a chair or on picture frames, choose a waterborne enamel such as Resene Enamacryl gloss or Resene Lustacryl semi-gloss.
Sparkle and shine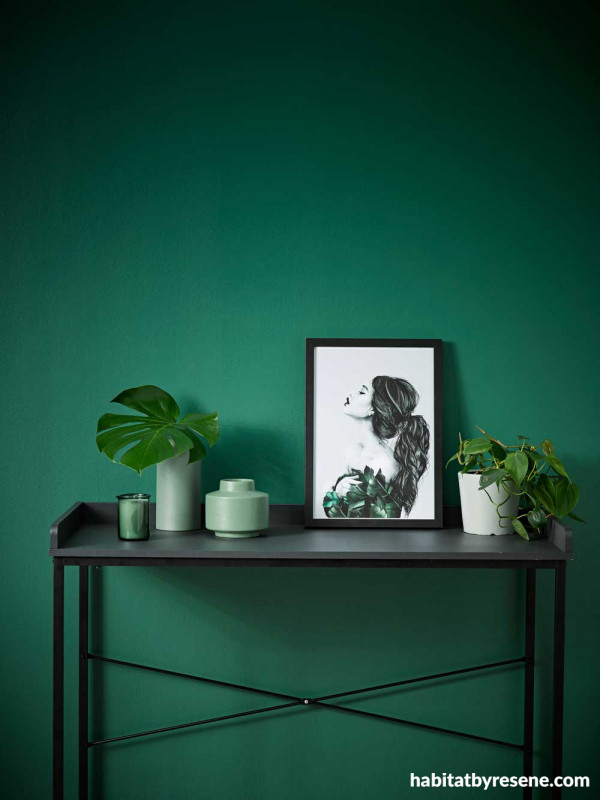 This home office has been painted in emerald Resene Mother Nature, with its desk in Resene Noir. A monochrome look has been achieved with layers of softer green tones by painting Resene Rivergum, Resene Nourish and Resene Peace onto accessories. Leafy plants are also a great way to emphasise a monochrome green look and add texture. Desk from Kmart. Project by Vanessa Nouwens, image by Melanie Jenkins.
Think glittering rubies, garnets and amethyst and create an air of opulence in your home. When going vampy, don't feel the need to stick solely to navies and blacks. Embrace the richness of jewel tones too for a vampy style. They're a great way to dip your toes in the trend if you're worried about black being too foreboding in your interior. Remember dark colour schemes are diverse – tones like emerald, ruby, teal and purple – try Resene Atlas, Resene Smoulder, Resene Deep Teal or Resene Aubergine, create a luxe look in any space.
Deep botanic shades like Resene Aquamarine, Resene Celtic,Resene Bush and Resene Deep Sea make for gorgeous spaces with oodles of character and an edge of decadence and eastern mysticism.
Top tip: Green is at the centre of the colour spectrum so represents harmony, balance and peace. It soothes and relaxes, and is therefore also a healing and reassuring colour. Greens are a good option as they have a neutral, timeless character so don't tend to date.
Add a punch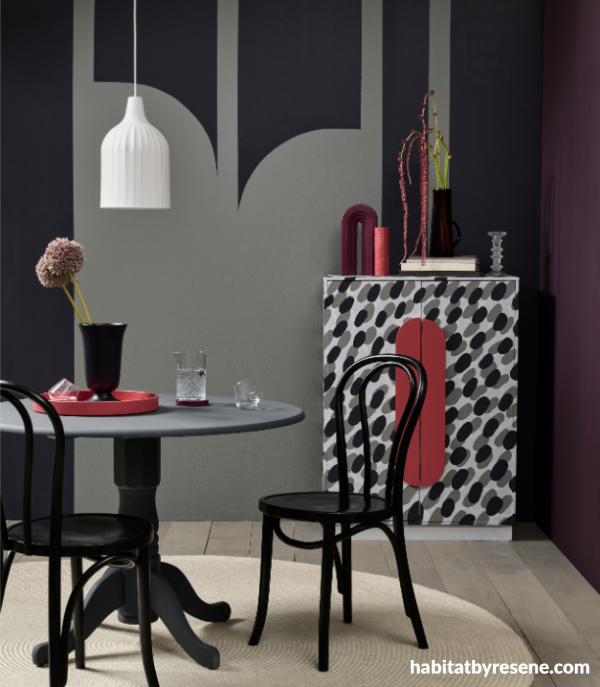 Whether you're looking for a powerful pop or seeking a subdued shade, vampy violet-based hues range from neutral to bold, bringing personality into any space. Add contrast with a fun patterned cabinet. This dining area's back wall is in Resene Revolver and Resene Gunsmoke and its right wall in Resene Half Aubergine. Timber floorboards are in Resene Colorwood Mid Greywash and cabinet in Resene Mercury with painted design in Resene Greywacke, Resene Gunsmoke and Resene Revolver and handles in Resene La Bamba. Table in Resene High Tide, chairs in Resene Blackjack, round tray in Resene La Bamba, rectangular tray in Resene Half Aubergine, vases in Resene La Bamba, Resene Half Aubergine, Resene Greywacke and Resene Mercury, pendant lamps in Resene Mercury and Resene Half Aubergine and coaster in Resene Half Aubergine.. Chaise lounger from Nood, chairs from Cintesi, lamp from Freedom, jug from Flotsam & Jetsam, crystal candlestick and purple jub from Karakter, rug from The Ivy House. Project by Kate Alexander, image by Bryce Carleton.
Perfect your vampy interior look by pairing your main colour with various similar shades of intensity, then throw in a contrasting colour – it'll pack a punch. Inky blues like Resene Indian Ink look fantastic highlighted with gold hues like Resene Gold Rush; deep greens with scarlet (like Resene Forest Green with Resene Roadster); blacks with deep pinks (try Resene Black and Resene Smitten). Forget rules that dictate which colours can be paired together. It's often far more interesting in a room to play with colour than keep all aspects of it white or stick to traditional colour combos. Adding a pop of colour in a vampy-look room adds movement and drama for the eyes.
So, add splashes of bright shades to your dark interior to liven it up, be it your sofa, side table, accessories or art. This way your darker colour scheme becomes full of life, it can be made softer and is more playful.
Top tip: Black or charcoal walls are the perfect backdrop for a gallery-style layout of your favourite art and framed photographs – a great way to add contrast to the room with the images in the frames. Black acts as a neutral element and helps pull together the different colours from within the frames for a more unified look.
There's a dark side in all of us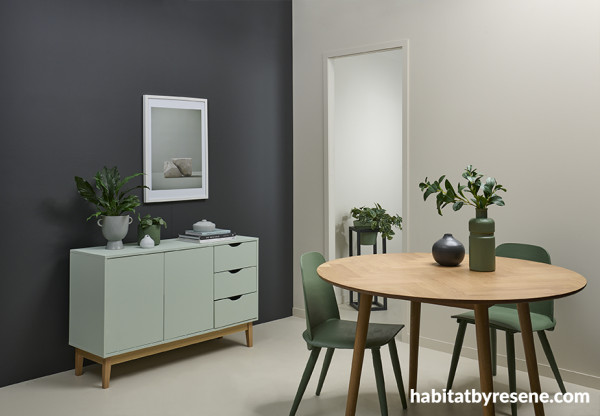 Pair both light and dark tones together for a more subtle dive into dark interiors. This look works particularly well in open, larger spaces like dining rooms or living rooms. The right wall is painted in Resene Quarter Akaroa and the left in dark and dreamy Resene Nocturnal. Cabinet and tray are in Resene Half Innocence, round vase in Resene Nocturnal, small tealight in Quarter Akaroa and large plant pot in Resene Dark Slate. Print from H&M, table from Target, large planter from Stack. Project by Vanessa Nouwens, image by Bryce Carleton.
Never viewed yourself as a darker interior-loving person? Know that in terms of interior style, there's a dark side in all of us there to be embraced, but it's up to you what level of vampy intensity you embrace. From relaxed and boho interior styles to luxurious and sophisticated, dark colours can be incorporated into them all, even Scandi. There is no limit to what you can do with dark shades, don't worry if you feel your personal style won't fit into the look. It's all about finding the right fit for your space and your taste. Here are a couple of ways to incorporate darkness in a more subtle way:
Unconvinced on painting a room dark? Embrace the dark side by adding an unexpected pop of dramatic black with a large piece of furniture. This will add elegance to a mostly-light room. It can also give depth to a room.
Consider painting one element of your room dark for interest. Black window treatments frame the outside view elegantly and add drama (try painting a window frame in Resene Black). Pair with dark curtains for a bold look.
Black doors also look great against light walls as a statement piece in a room, g., pair a Resene Black door with walls in Resene Black White for a bold look.
Top tip: If you're after a light space, but you want to incorporate a dark shade, consider your lighting choices. If you don't have large windows or much natural light, invest in quality indoor lighting instead. Pendant lights over dining tables, table lamps on dark surfaces, floor lights in dark corners and wall lights on black or dark painted walls all help to illuminate a space. They'll also help in creating a calm and cosy atmosphere. Generally the larger the room, the more lighting you will need to accentuate it.
Published: 05 May 2022
Do you have a home full of wonderful Resene paint and colour? Send us some snaps by emailing [email protected].
the look
If you're stuck on what
colour to use or need colour
advice, try out the Resene
Ask a Colour Expert service.