►
◄
latest
habitat tv
blog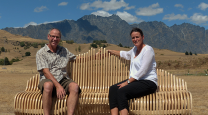 How to create the look of an open plan (even if you don't have one)
Open plan layouts offer an enviable airy, spacious aesthetic that draws the eye in the most beautiful way. However, the open plan dream isn't always immediately easy to set up when your home isn't designed with an open concept floorplan.
Luckily, there are a number of ways to you fake the look in your existing space without pulling out a sledgehammer. Try one of these clever ideas to help bring the feel of an open-concept space in your home.
Keep walls simple
Painting your walls in neutral colours and keeping artwork to a minimum will draw less attention to the fact that your floor plan does, in fact, include dividers. Even homes that have plenty of nooks and crannies can look surprisingly calm with pared-down walls. A cohesive colour scheme in a light and bright tone like Resene Alabaster, Resene Sea Fog or Resene Quarter Merino can instantly make a room look more spacious, and also give you the freedom to involve bolder accessories and furnishings. You can offset the neutral wall colour scheme with a fun, modern sofa in deep Resene Aquamarine and cushions in Resene Cashmere. You can even bring in more bright accessories like candle holders, lamp shades and vases in trendy colours like Resene Bi Hoki, Resene Jailbreak and Resene Just Dance.
Published: 12 Feb 2020
Do you have a home full of wonderful Resene paint and colour? Send us some snaps by emailing [email protected].
This home office/library may have felt smaller were it not painted from tip to toe in Resene Pearl Lusta.
Activate an open-door policy
If there are areas of your home that are sectioned off with doors, go ahead and keep them open in order to provide the illusion of an open floor plan – or, take your doors off their hinges entirely. This simple staging strategy can make a potentially claustrophobic layout feel like a soothing oasis.
A great work around is sliding pocket doors that can be easily hidden away and allow for better flow. This is the perfect solution for when guests come to visit, and you want them to move easily throughout your home. Additionally, when you crave a bit more privacy or want to make your rooms feel more cosier in the cooler months, you can close your pocket doors.
This sliding pocket door in Resene Clementine Orange allows for open flow between two living spaces when it's tucked away. When more privacy or space division is needed, it can be shut – plus, it adds a great pop of colour that plays perfectly off the artwork. Walls in Resene Merino.
A pocket door separates a more formal and a more casual living space. Wall at right in Resene Quarter Akaroa. Wall in lounge (through doorway, at right) in Resene Dark Slate.
Get creative with furniture placement
Arranging furniture as you would in an open-plan space will add intrigue and make your space look less cookie-cutter. Enlist a long lounger to exude the laid-back, peaceful vibe open-concept layouts often exude.
It's also wise to ensure ease of movement throughout the space by opting for an 's' shape walking path in between furnishings. It offers an effortless touch that'll trick the eye and mind into thinking your home is more open plan than it is.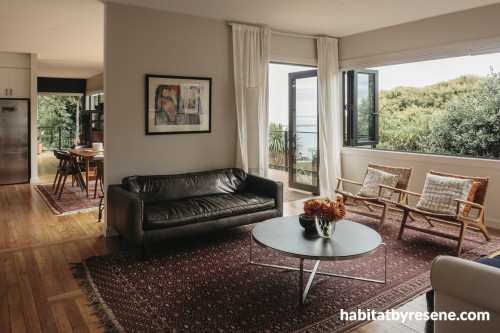 When you can't remove divide walls completely, whether it be for structural reasons or a desire to maintain more intimacy, placing your furniture as if you have an open plan layout can create a similar illusion. The walls, ceiling and trims in this space are in Resene Quarter Bison Hide.
Stick to just one rug
Most open-concept dwellers use different rugs to divide one big space, but who's to say it can't work the other way around? Instead, invest in a particularly striking rug but keep the rest of your space bare.
A vertical or horizontal stripe design in simple colours will elongate your space with its clean lines and make a style statement at the same time. Just remember this key: vertical lines draw the eye upwards and horizontal ones make a room look wider.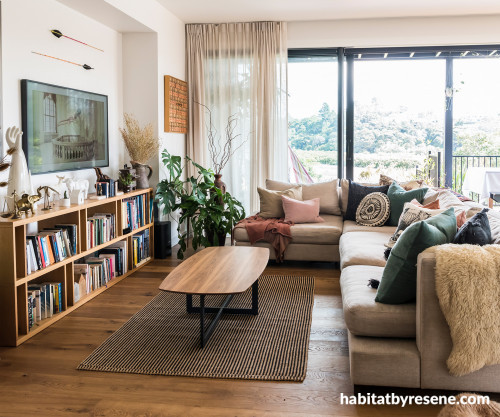 A striped rug can provide definition to your living space while also creating the optical illusion of more space. Ceilings in Resene Double Alabaster and walls in Resene Quarter White Pointer.
Reduce clutter
In order for an open-plan illusion to work, you have to commit to reducing visual clutter. Stick to a few large pieces of furniture only, rather than having several smaller ones throughout. Be mindful of what you bring into the space, and try to go with multi-functional pieces like a coffee table with built in storage. That way you can keep handy accessories like candles or coasters within arm's reach at all times, while always having somewhere to store them. This minimalistic approach also extends to colour – choose no more than three tones to hero throughout to avoid a 'busy' and stressful look.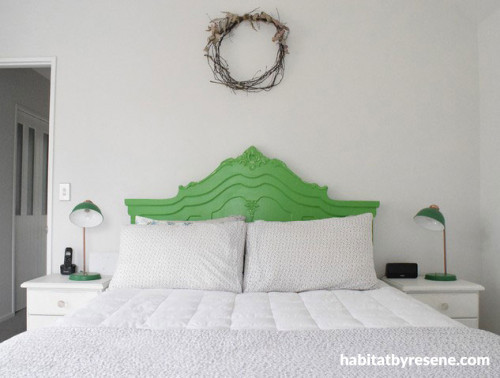 Simple doesn't need to be boring. Show off your unique features by painting them a splashy colour, like this handsome headboard in Resene Feijoa. Walls in Resene Black White with trims in Resene Eighth Black White.
Use mirrors wisely
Mirrors can be pure magic in a smaller space, boosting the appearance of an open-concept look. Installing mirrors on sliding doors, feature walls or simply hanging a large mirror will reflect sunlight during the day, making the room look lighter. Additionally, mirrors cleverly trick the eye into seeing more space by simply reflecting the view of the room. After another easy mirror trick? Position yours next to a window to reflect the outside and welcome a sense of openness.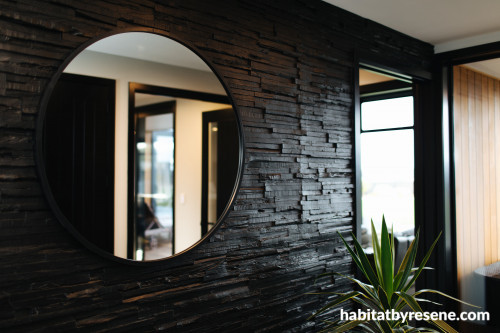 The textured wall in this entryway was painted Resene Nero to help it recede while a large mirror helps reflect more light around the space. The ceiling is in Resene Double Alabaster and the architraves are in Resene Nero.
imagesM O Brown Builders, Kate MacPherson, Rachel Wybrow Photography, Kate Alexander,