►
◄
latest
habitat tv
blog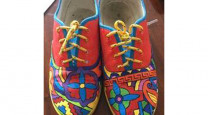 How to make a mudroom when you don't have space to spare
05 Jun 2019
The transitional space between outdoors and in, a mudroom functions primarily as a dedicated zone to keep everything you need for your comings and goings, like footwear, jackets, rain gear and sports equipment. Many homes don't have a dedicated mudroom, but that doesn't mean you don't need a place to stash your stuff right after you walk in the door.
Larger homes with bigger families are likely to benefit more from a mudroom, but even smaller homes can take advantage of the organisational and storage benefits that come with this space.
Try these helpful tips to help shape a special space dedicated to all those everyday things you can't live without where they'll be organised and at-the-ready, even if space is tight.
Storage is king
Storage: you can never have too much of it. Not only is a mudroom the perfect place to eke out some extra storage space, it is a convenient one too. When you're tight for time and already have one foot out the door, the last thing you'll want is to have to search for something important.
When planning your mudroom, think about the specific needs you and your family members have, including the types of outdoor activities you regularly partake in. Jackets, footwear, keys, wallets, sunnies, hats, umbrellas, scarves, gloves and mail all need their own dedicated 'landing pad' if you want to keep clutter under control. Remember to think about things like bike helmets and locks or dog collars and leashes and the like.
If you're short a closet in your entryway, low hooks and open shelves on a veranda or patio can also provide a place to stash wet rain jackets, gumboots and umbrellas before your family members even enter the house – which is especially handy if you have kids who might be too lazy to open a closet to hang their coat. But the same can work indoors as well – just be sure to protect your floors with a mat and make space for an umbrella stand to keep drips from getting tracked further inside.
Do you have a home full of wonderful Resene paint and colour? Send us some snaps by emailing [email protected].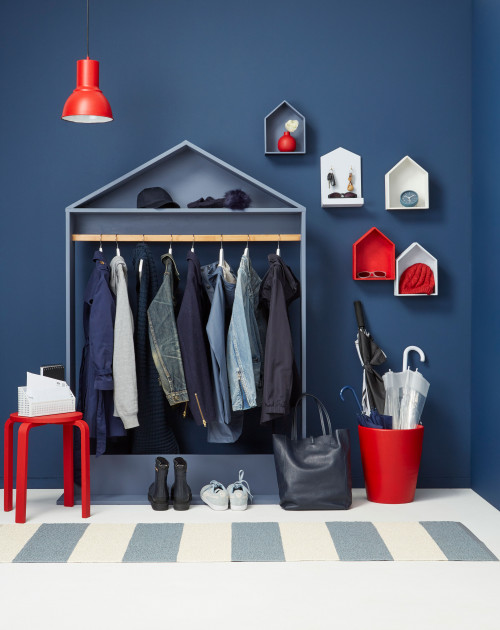 This fun house-shape storage is both whimsical and modern, and the stand-alone coat hanger, painted Resene Hammerhead, is perfect for making a mudroom in a space where you're missing a closet. The walls are in Resene Bunting and the floor is in Resene Sea Fog. On the wall, the house-shaped box shelves are the perfect place to stash smaller belongings, like keys, wallets or sunglasses. They're painted in Resene Hammerhead, Resene Alabaster, Resene Jalapeno and Resene Breathless while the pendant lamp, stool and umbrella stand are in Resene Jalapeno.
Where style and substance meet
Since mudrooms are generally located at one (or more) of the entrances to a home, aesthetics are just are important as their practical functions.
Designer Kate Alexander of Places and Graces created this simple and stylish entryway to keep things tidy that takes up next to no floor space. Kate made the set of hooks herself using a small piece of pine painted Resene Quarter Pearl Lusta – to match the door, picture frame and bench legs – and screwed in a few simple hooks in Resene Influential so that there is always a place to hang coats, scarves and umbrellas.
Kate has also brought in plenty of natural textures like the Sahara Weave Entrance Mat from The Ivy House, which plays off the colours in the artwork; the woven kete baskets painted Resene Grey Olive and Resene Influential, which provide extra storage to keep smaller bits and bobs like keys and sunnies, and the old fashioned broom with a handle painted Resene Influential is at the ready for a quick clean-up.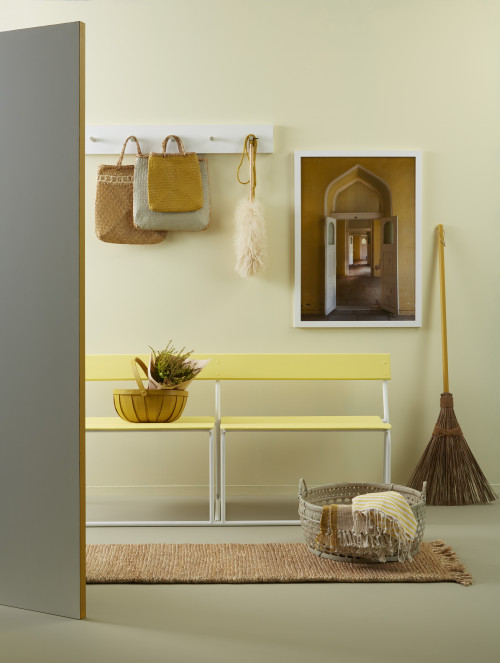 This soft and understated scheme, with walls in Resene Moonlight and floors in Resene Grey Olive, looks warm and inviting to would-be visitors and the door in Resene Quarter Pearl Lusta offers a cheerful surprise with edges painted Resene Influential. The vintage bench was given an update in Resene Chorus Line and Resene Quarter Pearl Lusta and offers seating for those heading out to tie their shoes with plenty of space underneath for painted baskets to keep footwear that's still waiting to be worn out of sight.
Take a seat
If you usually switch up or take off your shoes when you come indoors, be sure to add some form of seating to your mudroom. A bench can offer ways for even more storage, whether it be baskets or drawers underneath or inside a flip-top.
Painted furniture is better than upholstered seating for this purpose, since it can be easily cleaned and wiped dry if it comes into contact with moisture or mud. Opt for Resene Lustacryl for a semi-gloss finish or Resene Enamacryl for a gloss finish for extra protection and wipeability.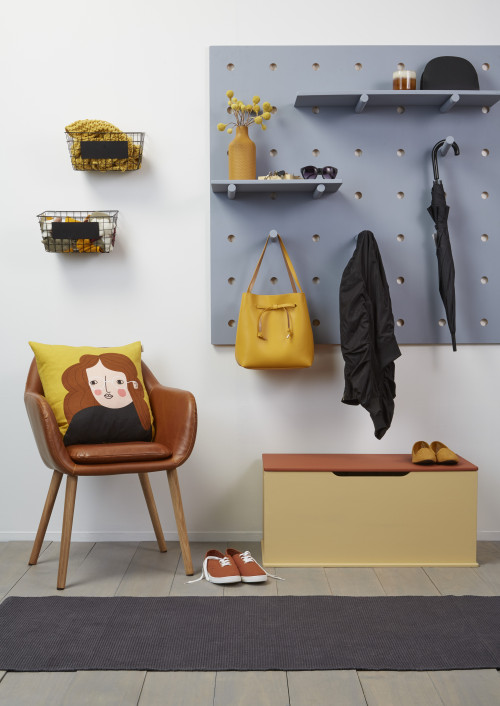 Thanks to a fresh coat of Resene Desperado (on the lid) and Resene Putty (on the base) this toybox has found new life as a place to store and put on shoes in this mudroom. The wall is painted Resene Alabaster, the timber flooring is stained Resene Colorwood Mid Greywash, the pegboard is painted Resene Neutral Bay, the vase is painted Resene Cleopatra and the wire wall baskets are painted Resene Jaguar.
Shoe-ins
Depending on the shape and size of your footwear collection, you may need some clever storage solutions to keep everything organised and avoid any tripping hazards caused by footwear spilling out into the path of entry.
Keeping pairs of shoes in their own separate bins or baskets can help you to find the ones you need when you're in a rush. Or, go for drawers and paint the fronts with Resene Blackboard Paint or Resene Write-On-Wall paint so that you'll know where things are without even having to open them. To keep mess to a minimum, add some pegs low on the wall and hang wet or muddy gumboots upside down over a tray until they're dry.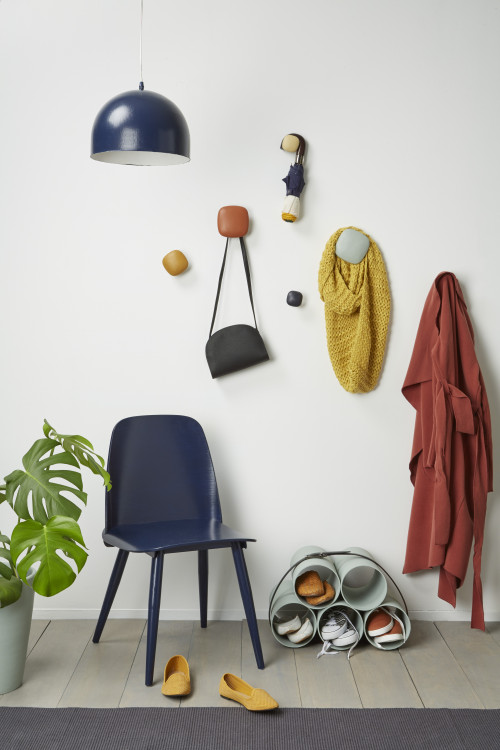 In this mudroom, five large mailing tubes became a DIY shoe holder after they were painted Resene Pewter and bound together with a long men's belt. The walls are in Resene Alabaster, the timber flooring is in Resene Colorwood Mid Greywash, the coat hooks (clockwise from top) are in Resene Putty, Resene Pewter, Resene Jaguar, Resene Swiss Caramel and Resene Desperado, and the chair and pendant lamp are in Resene Indian Ink.
More mudroom ideas:
If you're designing a new home from scratch, consider a mudroom/laundry room combo right at your entrance – especially if a member of your family has a muddy job or hobby. Soiled clothing can go straight into the wash to keep dirt away from the rest of your home.
Bright, patterned Resene wallpaper adds an element of fun, colour and personality to a mudroom. A design that comes in multiple variations can be used to create colour-coded 'cubbies' to separate the belongings of different family members.
If you have a dog with a penchant for puddles, add a built-in rinse-off station to your mudroom to wash your canine down before they enter the main part of the house.
If you live near the sea, your mudroom may end up serving as more of a 'sandroom'. Plan to store and organise towels, beach bags, hats and water gear, and add a rough mat for brushing the bottoms of your jandals off.
Don't forget to add a mirror so you can make sure you're looking your best before you head out the door.
styling Kate Alexander, Vanessa Nouwens?
images Bryce Carleton, Melanie Jenkins