►
◄
latest
habitat tv
blog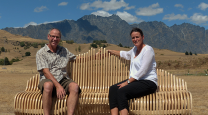 Inside a whimsical Nelson 'Gingerbread House' from the 1860s
Gemma and Jeremy's wee home in Nelson is packed with character – and characters. Flamingoes, parrots and flowers from the Resene Wallpaper Collection rub shoulders with Crown Lynn swans, vintage ducks, polar bears and Kit-Cat Klocks (not to mention Gemma and Jeremy's real life cat Alfie) in the playful home first built in the 1860s.
"The style is gothic, although tourists and passers-by often refer to it as a gingerbread house," says Gemma. Although she and Jeremy weren't exactly looking for a house at the time the sweet gothic gingerbread house was too sweet to resist. When they stepped into the open home in Nelson's historic town area, the fell in love with the home instantly – with Gemma even giving it a little hug when she first set foot inside. "We had just bought a house in Atawhai a year prior and were parking outside of this for work when we saw it was for sale," says Gemma.
"It was a tense time orchestrating an offer and a buy/sell at the same time! I remember my dad saying this would be a once in a lifetime chance to own something cool, to fill it with personality. He told us to go for it and I'm forever grateful for the nudge."
Although the house was one-of-a-kind, it still needed some TLC as it hadn't been occupied for several years. Gemma, who is a credit manager at a bank, planned their budget carefully only doing what renovations they could afford before working their way up to bigger projects like the exterior. At first, they focused on the inside of the home (under 100sqm in total) making the space more livable adding a working pellet burner before adding personality to their home through Resene colours and wallpapers.
"The house was modified in the1980s, so we have some interesting touches throughout, including a rattan covered fluoro light in the front room, and some chandeliers. The thick salmon carpet was the first thing we replaced though when we purchased! We are collectors and lovers of all things retro and vintage, and we really wanted a vibrant welcoming space that complemented this. We wallpapered with fun prints and painted internal spaces."
In the dining area, parrot wallpaper design, Resene Wallpaper Collection J92914, livened up the space, and Gemma didn't restrict herself to using it on just one wall. "We wanted to make it a fun space that we would want to spend time in when home and the paper really complemented our décor. "When we purchased the wallpaper, we were asked several times if we were sure we wanted this many rolls – turned out everyone else just used this for a feature wall."
The walls in a small front room featured fern embossed wallpaper, and instead of starting from scratch, Gemma gave it a fresh and updated look with a coat of Resene Alabaster.
The whimsical theme of the home continues in the lounge, with flowers dancing on the wall in Resene Wallpaper Collection E300105. "Miraculously both of us picked this independently in our top three choices," says Gemma. The ceilings were painted in crisp Resene Black White.
The kitchen is the couple's most recent renovation. They removed old wooden shelving, replaced it then painted the whole space ceiling to floor in Resene Black White. "Our kitchen is teeny and it had been brown wood prior so was very dark. This has made it seem bigger and is so fresh.
In the upstairs bedrooms, Gemma says it was "flamingoes all the way", with Resene Wallpaper Collection 12381. They were the first rooms inside the pair completed, with accents and ceilings freshened up in Resene Black White. "I am not sure Jeremy had much say in this wallpaper, but he swears he loves it. The pale bluey teal background is really calming and not at all cold – it changes a lot in the light."
The interior makeover continued in the bathroom, where inspiration arrived after Gemma spied the warm tone Resene New York Pink in her issue of habitat magazine. "We had wanted to make this a bit funkier without losing the original features which include a solid wooden built-in bench, claw foot bath and pedestal sink. We visualised a room that was relaxing and warm, and as there is a lot of light in there, we knew we could go bold in here too."
The couple say without a doubt, the exterior is what they are most happy with. Resene St Kilda is painted on the weatherboards, Resene Alabaster on white accents and Resene Colour Me Pink on the outside doors and mailbox. "When we purchased, the cottage was a pretty sad yellowy cream with green accents. We knew we wanted a colour that stood out and was unexpected but one that would look very fresh and age well."
Due to the height of the house and proximity and closeness of the boundary, Gemma and Jeremy called in the professionals, Parnwell Painters to paint the exterior. "We had put off painting the outside for so long thinking that it might be too expensive or we might uncover major issues on the weatherboards but it all worked out well. We saved and planned and just got on with it. It looks amazing on a sunny day and dramatic on a grey day and we just love coming home to it."
To save money they coordinated some repairs to the weatherboards to happen at the same time so the builders and painters could use the same scaffolding and worked closely with their neighbours. "Our close shared boundaries created some challenges. However, we engaged with neighbours to make them aware of plans and minimise disruptions. We probably spent more time worried about others than just getting the job done!"
Choosing their exterior blue was fun. While the vintage lovers initially leaned towards Resene Kitsch for their weatherboards attracted by the name – after a few testpots they went with a deeper teal Resene St Kilda which reminded them of the Air New Zealand teal. "Resene testpots are the only way to go but you do need to be brave and commit paint to a wall. We have been willing to listen to experts when it came to tones, i.e. making sure the whites were not too dental bright."
Both Gemma and Jeremy say they're over the moon with their Resene colours, and the house now stands out as it deserves to do.
Top tip: Painting the exterior of your home? Most exterior surfaces, except bare galvanised iron, will have mould, and likely moss, growing on them. Keep in mind it's not enough to remove moss and mould without first killing it, as any residual spores will simply grow back underneath your new paint causing it to flake off. Use Resene Moss & Mould Killer as part of your prep process to treat moss and mould.
images Virginia Woolf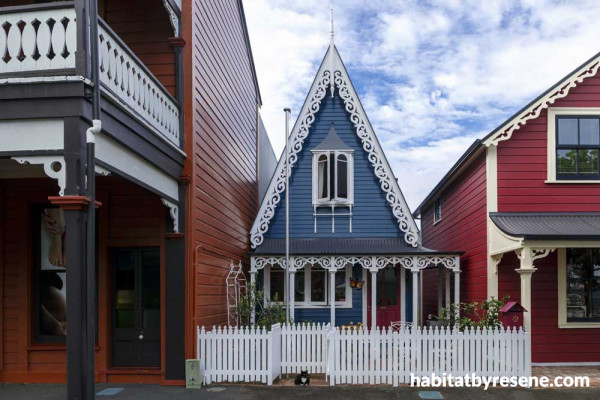 "Painting the whole house was a massive undertaking and we knew we had to engage professionals. It made it so much easier to work in with the builders who were replacing boards at the same time and sharing scaffolding," Gemma says. Cheerful Resene St Kilda is on the weatherboards, Resene Alabaster on white accents and fence, and Resene Colour Me Pink on the doors and mailbox.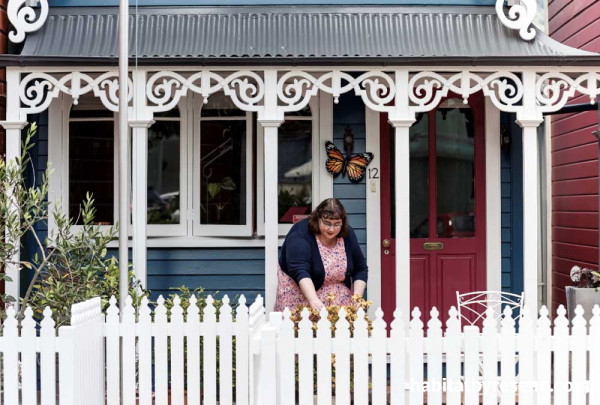 Vintage lover Gemma says the outside of her home makes her smile. The picket fence, fretwork and window trims are in Resene Alabaster, the front door is Resene Colour Me Pink and the weatherboards are Resene St Kilda.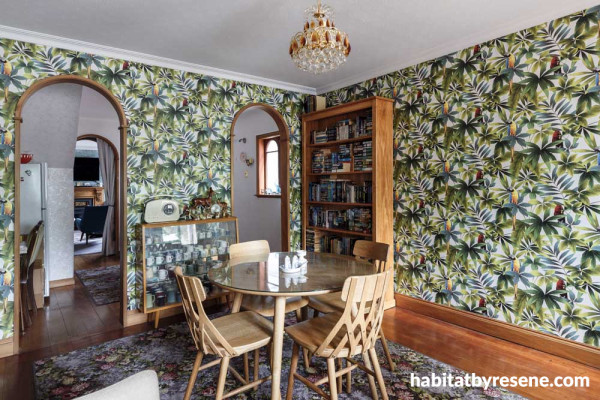 In the dining/sitting area, parrot wallpaper added a whole lot of character and fun to the space in Resene Wallpaper Collection J92914. Ceiling in Resene Alabaster.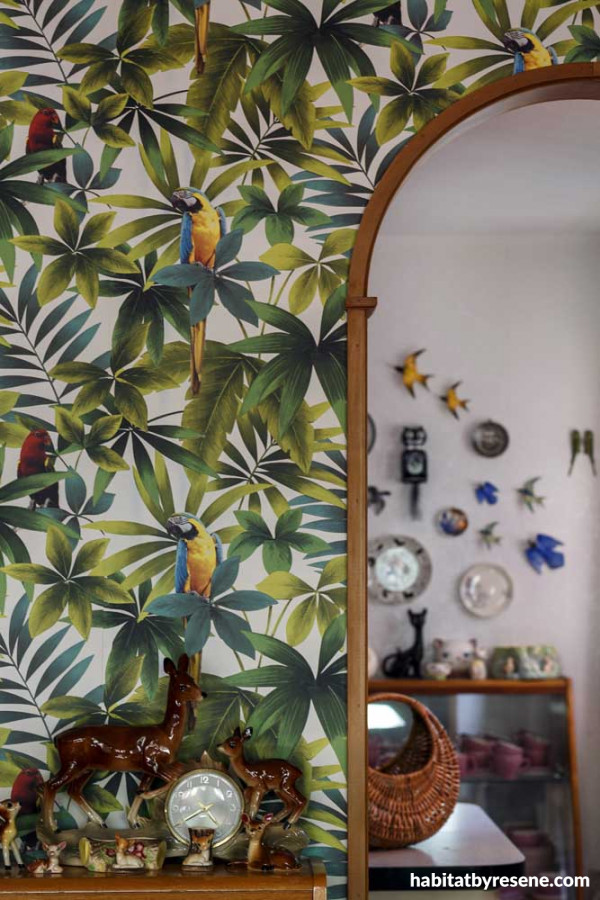 Resene Wallpaper Collection J92914 is full of personality with macaws resting on palms. It's a great companion to Gemma and Jeremy's porcelain deer collection and the vintage birds, cats and Kit-Cat Klock in the dining room. The ceiling is in Resene Alabaster.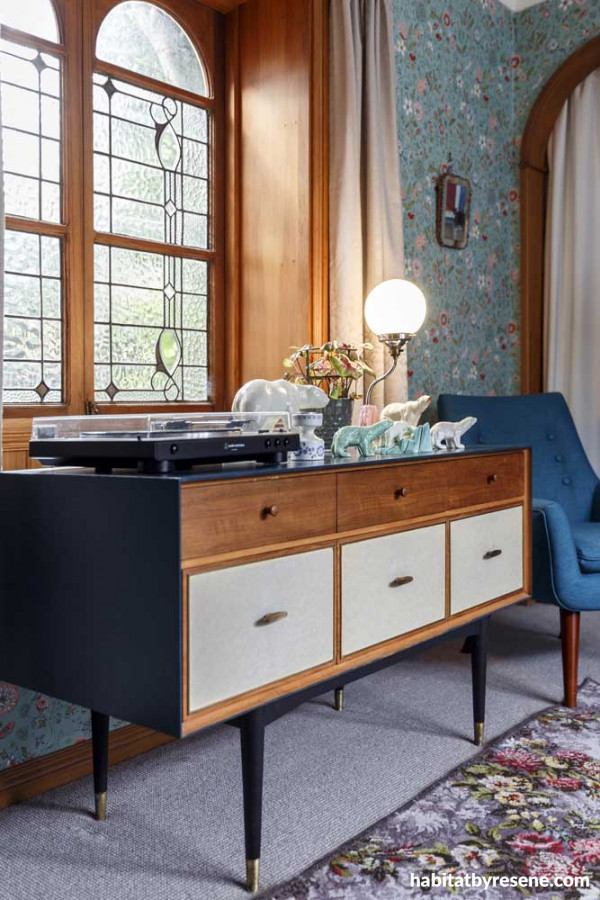 Resene Wallpaper Collection E300105 is bright and inviting in the lounge. "We loved this wallpaper as it had that real eclectic, intricate, vintage look and yet didn't feel like the walls were closing in," Gemma says. The record player is home to Gemma's ceramic polar bears and is painted in Resene Elephant. The ceiling is painted in Resene Black White.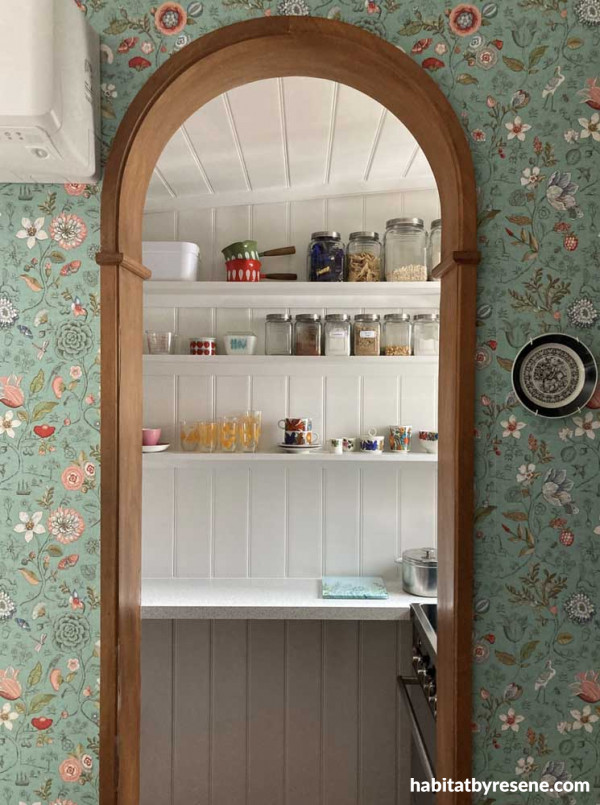 Resene Wallpaper Collection E300105 gives a whimsical touch to the archway looking into the kitchen. Resene Black White, a black-edged white keeps the small space crisp and inviting.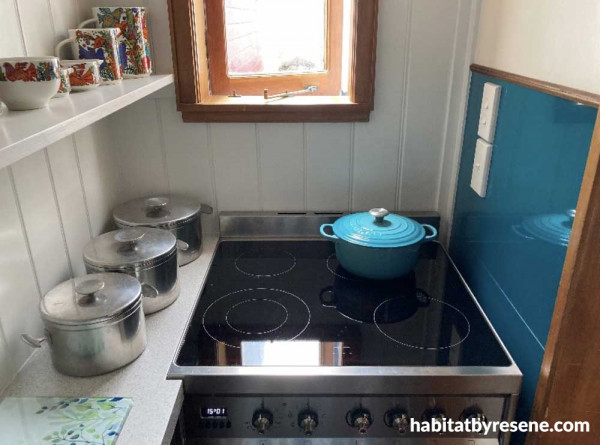 Resene Black White accentuates the paneling and the vintage crockery in the small kitchen while Resene St Kilda on the splashback ties in the colours from the exterior.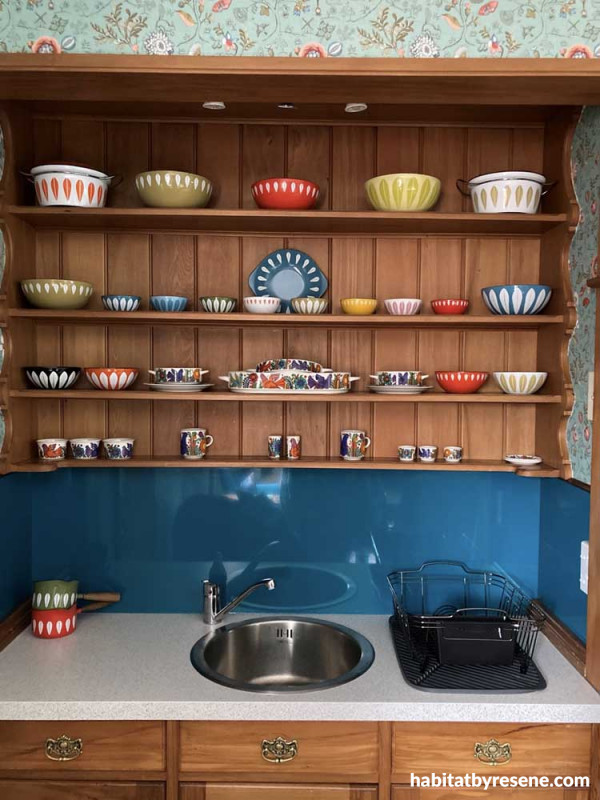 Built-in timber shelving highlights more of Gemma's treasures in the kitchen area and the Resene Wallpaper Collection E300105 and Resene St Kilda splashback accentuate the retro theme.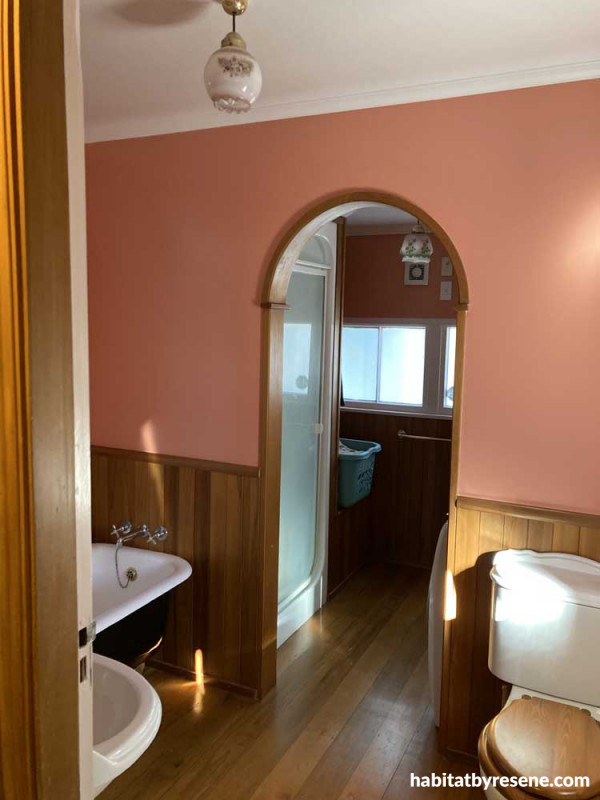 "The overall effect in the bathroom is so fun and lux; our wooden bench and large cabinet above the sink breaks it up perfectly."Resene New York Pink is on the walls, and the ceiling and trims are in Resene Black White.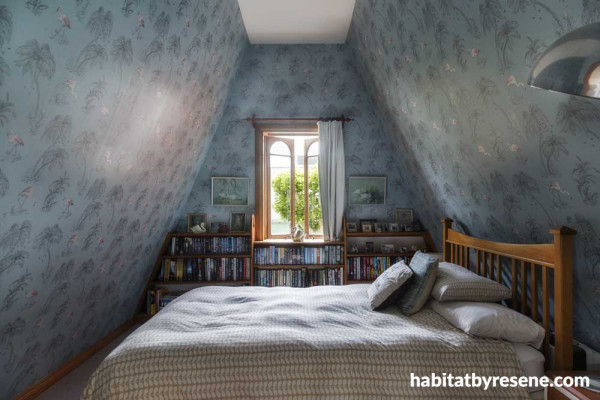 The spare room at the top of the house has sloping walls and is in the very front of the house and always drenched in sun. "Our cat loves sitting in the cute window looking out over the street," says Gemma. Flamingoes dot the wall in Resene Wallpaper Collection 12381, Resene Black White is on the ceiling.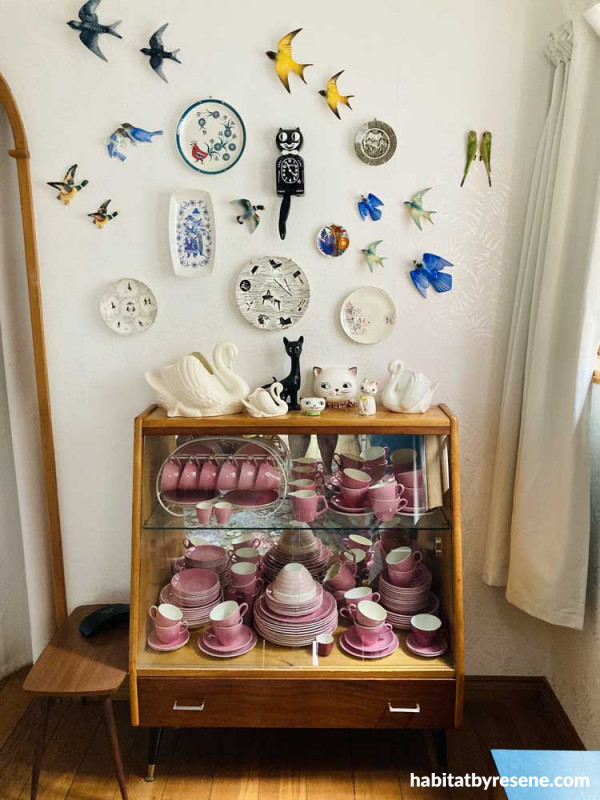 The couple painted over an original fern embossed wallpaper with Resene Alabaster – the perfect backdrop for Gemma's lolly pink glaze Crown Lynn and other collectables. For a similar look, try Resene Wallpaper Collection E384505.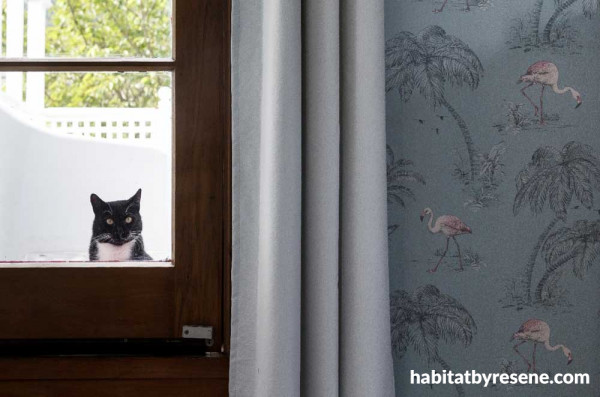 Even Alfie the cat is on theme, having a striking resemblance to the 1950s era ceramic cats and Kit-Cat Klock in Gemma's collection. Flamingoes from Resene Wallpaper Collection 12381 taunt Albie from the bedroom. The exterior deck fence (shown through the window is Resene Alabaster.
Published: 12 May 2022
Do you have a home full of wonderful Resene paint and colour? Send us some snaps by emailing [email protected].
the look
If you're stuck on what
colour to use or need colour
advice, try out the Resene
Ask a Colour Expert service.