►
◄
latest
habitat tv
blog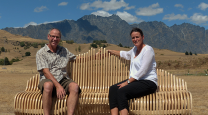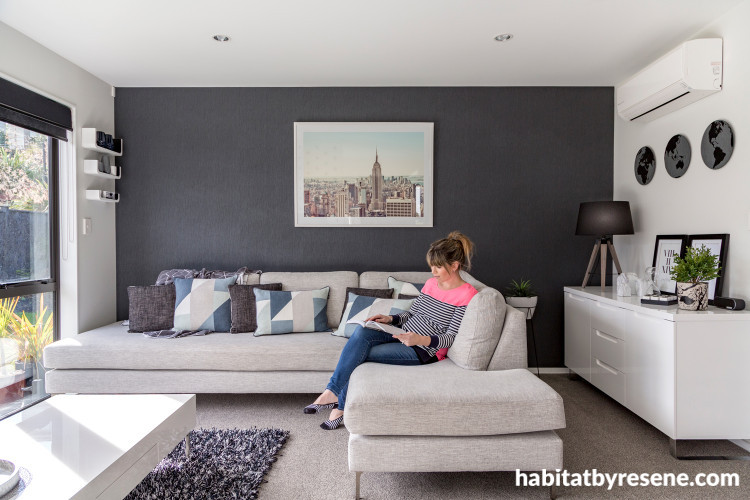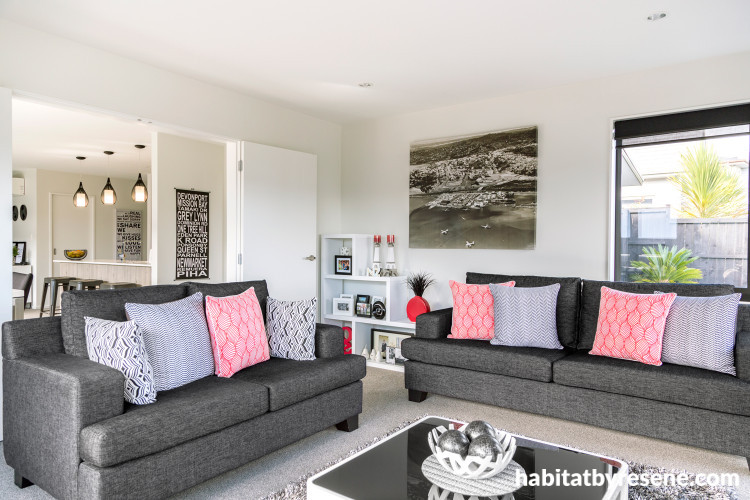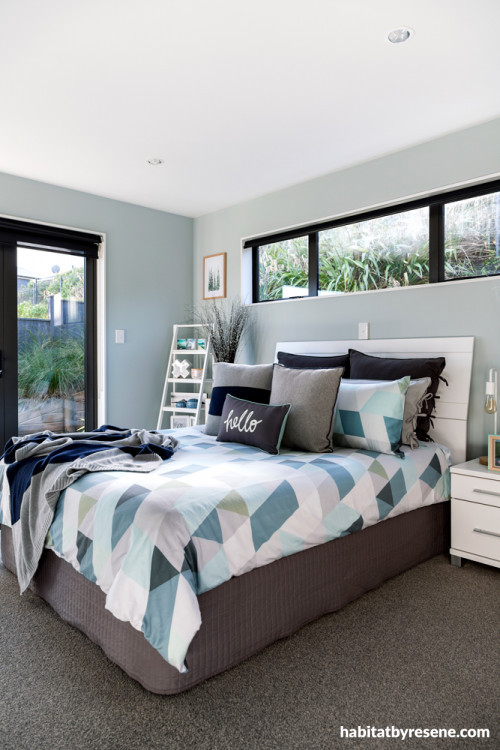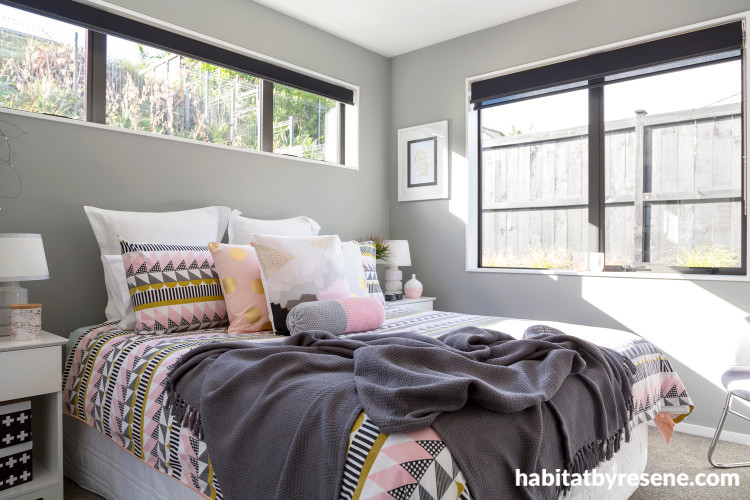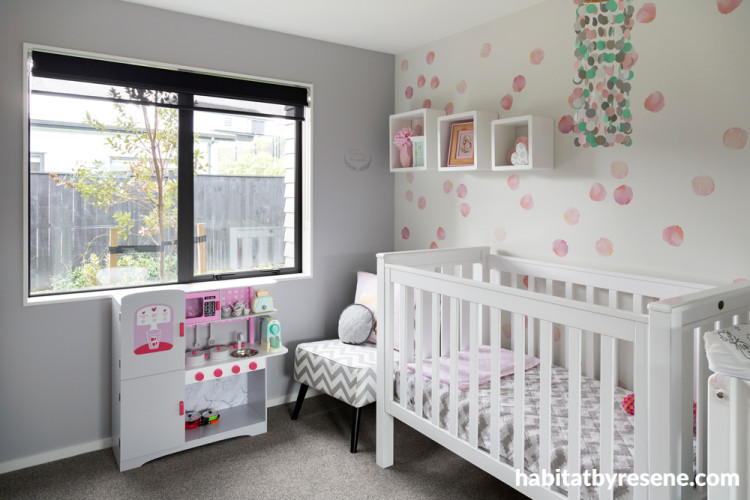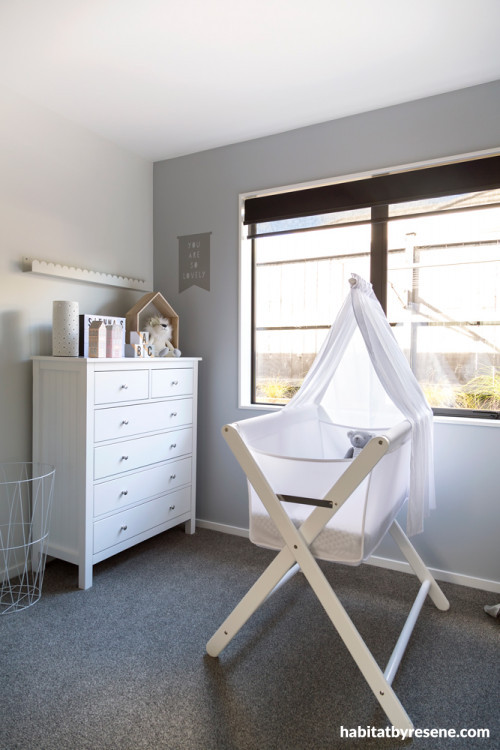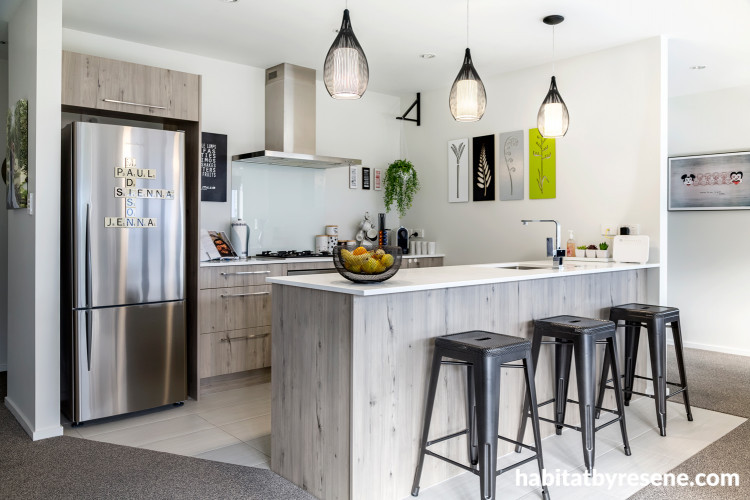 Jenna and Paul turn plain into perfect
When hunting for their first home, Paul and Jenna Sims didn't have to look long before falling in love with this design and build property, with its open plan living and walls painted in Resene Double Black White.
The couple used the blank canvas to build upon, introducing a palette of Resene greys, Resene Duck Egg Blue in the master bedroom and wonderfully textured black-grey wallpaper in the living room.
Jenna tells us about their colour inspiration.
What Resene colours and products have you used?
As a Christmas gift we were given a beautiful Aura by Tracy Ellis quilt set, which had stunning blue/grey/soft green tones. This helped me to choose Resene Duck Egg Blue for the walls of our master bedroom, and it complements the duvet perfectly. The colour also gives off a calming feel, day and night.
The guest bedroom is painted in Resene Delta, which I chose after seeing it in person in Dyls and Dylz' living room at The Block NZ open homes last year. It's such a nice stone-coloured grey, and I knew that it would be easy to change the feel of the room by updating the colours of my accessories.
Our daughter Madison's feature wall is painted in Resene Mischka. I wanted to keep with the grey theme I had created but, being a little girl's room, still have it looking soft and pretty. It works nicely with her pink and mint theme.
Our next project was to do a wallpaper feature wall in our family room – mostly to break up all the white on white on white everywhere. Our custom made lounge chaise is a light grey, so we also wanted something that would contrast the two well. We chose wallpaper from our local Resene ColorShop (code 25803), an amazing black-grey textured paper with a slight metallic fleck running through it. It completely transformed the look of the entire living space.
We also went ahead and wallpapered the small wall that frames our gas fireplace, bookending the two lounges. It turned out better than I had imagined. What I love most about the paper is how it makes our large print of New York City pop off the wall.
Lastly we painted the nursery in Resene Surrender for our baby girl, due soon. I love how it is a neutral grey and quite silvery. I knew I could work with it further down the track with my styling, depending on if we had another girl or a boy. Now that we know it is a girl, I plan to introduce lots of peach and blush tones.
How did you decide on the overall look of the interiors?
I have always loved grey as a paint colour – I appreciate it's versatility. I also kept in mind the furniture and accessories we already owned and what would look the best, as well as a colour that would work down the track when we choose to sell. Plus I love changing things around or introducing new colours... so with grey being neutral, this is easily accomplished.
What part of the house are you most happy with?
Definitely our master bedroom and the wallpaper feature walls in the two lounges. These are followed very closely by Madison's bedroom – I thoroughly enjoy decorating kids' bedrooms.
What is your advice for someone trying to achieve a similar look?
You can't really go wrong with a good shade of grey on the walls. For something different, vary the number of walls you choose to paint in each room. Pair it with some beautiful bedding and cushions, some modern prints and accessories and you're away.
Also, having a good declutter every now and again can make a huge difference to the look and feel of a space.
What was the biggest challenge for this project?
Before moving here I had never painted a room in my life. So picking up a paintbrush and roller definitely was daunting. And being such a perfectionist in everything I do – I did not want to ruin my brand new home's walls. With the wonderful help and guidance of my sister it was actually very easy – not to mention fun and relaxing.
Do you have a favourite colour?
When it comes to home interiors, not really. I've always been drawn to softer colours rather than anything bright, however. I think finding something I love, whether it be bedding, a throw, or a piece of art, and drawing on the colours or tones of that to develop, decorate and design a room has been my way of doing things.
Is there anyone else you would like mentioned?
As previously mentioned above, my sister for all her handy DIY painting tips and tricks, and my mother, for always having an immaculately presented house and eye for detail which is obviously where I get it from.
I'm also a huge fan of The Block NZ TV show, as it has given me a lot of inspiration and motivation.
Published: 10 Aug 2017
Do you have a home full of wonderful Resene paint and colour? Send us some snaps by emailing [email protected].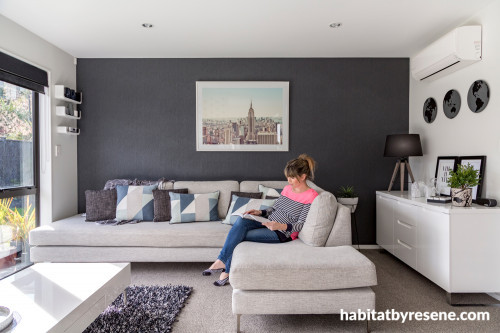 Jenna and Paul chose this black-grey textured wallpaper (code 25803 from Resene ColorShops) to complement their light grey lounge suite. Jenna loves the slight metallic flecks in the wallpaper, which catches the sunlight, as well as how it makes the New York City print pop off the wall. The other walls are painted in Resene Double Black White.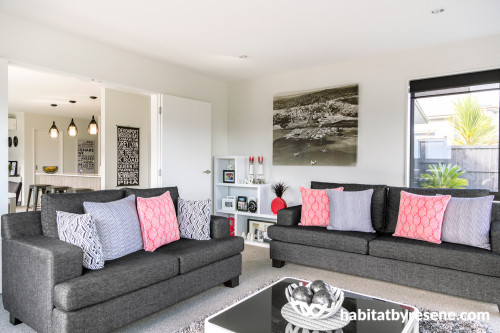 The lounge connects to the kitchen and living room, painted in Resene Double Black White.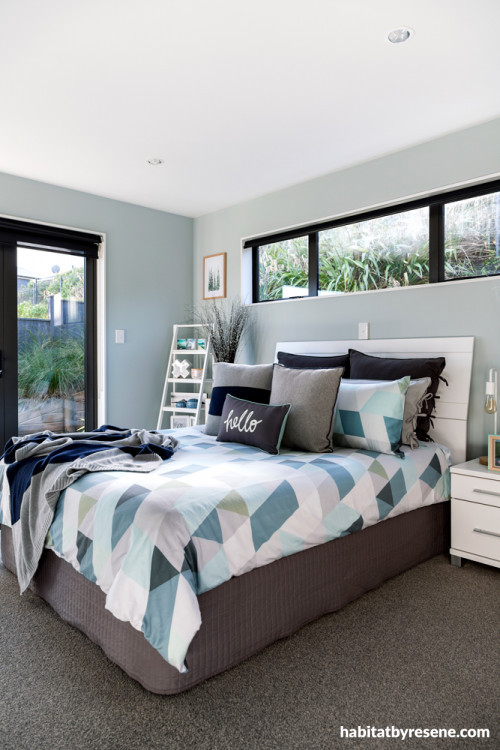 The master bedroom is Jenna's favourite room in the house, painted in Resene Duck Egg Blue. She loves the calming feel the colour brings, day and night.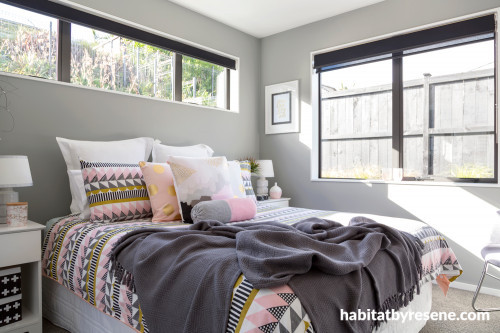 The guest bedroom is painted in Resene Delta, inspired by one of the team's bedrooms in last year's The Block NZ. Jenna likes that it's such a versatile colour.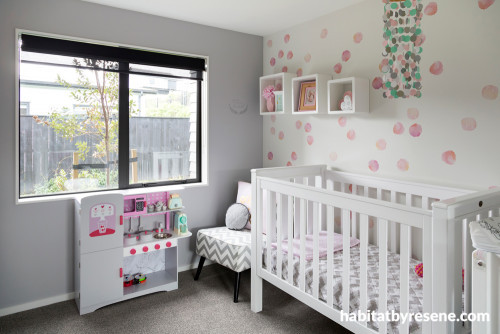 For their daughter Madison's bedroom, Jenna painted a feature wall in Resene Mischka. She wanted the room to look soft and pretty, and the greyed lilac blue was perfect... working nicely with her pink and mint theme. It's also a colour that will easily adapt to any new styling as she gets older, says Jenna. The other walls are painted in Resene Double Black White.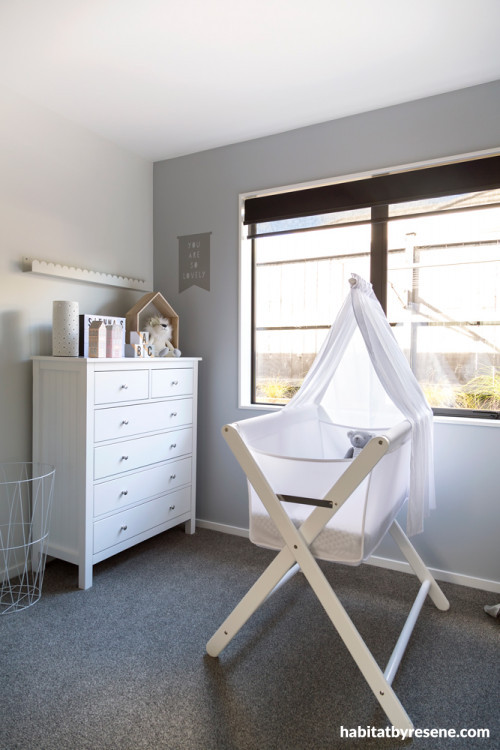 The nursery is painted in Resene Surrender and Resene Double Black White, in preparation for their baby girl due soon.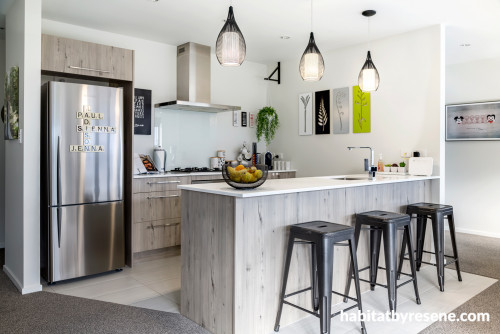 Painted in Resene Double Black White, the kitchen is a lovely, light space for the family to gather.
Resene Double Black White
the look
If you're stuck on what
colour to use or need colour
advice, try out the Resene
Ask a Colour Expert service.