►
◄
latest
habitat tv
blog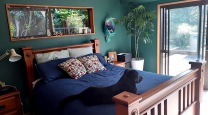 Kay's whimsical wallpapered Morrinsville home
For Kay, building her first home was a life-long dream. With the help of her architectural designer son and builder friend, she was able to turn that dream into a reality, creating a unique home influenced by the eclectic vibes of the Mediterranean and decorated in an imaginative array of Resene paint colours and patterns from the Resene Wallpaper Collection.
Aware that it may be her last chance to design a home, Kay fully embraced the experience and dove right in. She saw each space as an opportunity to bring a different idea to life. Working with Resene Colour Consultant, Amanda, at the Matamata ColorShop to develop her interior palette, the pair approached each room separately with her existing furniture in mind.
The process involved one of Kay's favourite activities - browsing through piles of wallpaper books.
"With the help of Amanda and the staff at Resene Matamata," says Kay, "we matched Resene colours with the wallpapers, always mindful not to clash with the adjacent spaces."
The results are confident, full of life and energy, unafraid of standing out from the crowd – with a style that is uncompromisingly authentic – exactly what Kay wanted.
"I love the wallpaper and orange details in my kitchen-diner. Combined with the white kitchen joinery and the two cabinets, it's a nice fresh room," she says.
"I looked at the whole process as an adventure more than a challenge. 'Nothing is impossible' is a favourite saying of mine, but nothing is perfect or permanent either. There are those times that you look at a space and wonder if it would have been better if you had done something different." Kay singled out her blue room as an example; that even though it's 'done', she still wonders if it's missing something and feels tempted to decoupage one of the walls.
For others looking to embark on a similar project, she recommends focusing on the layout first and decide what's important for your everyday life.
"The bones of the house are a crucial element. If you're into hosting, for instance, then small dining rooms are out. Consider the access between each room as well. I had my doorways widened and only my bedroom and bathroom have doors fitted to them to allow for better flow."
The furniture in each room can also inject a piece of the homeowner's personality and transform the interior. Because of this, Kay believes that it's important that you really love each piece your own.
"All furniture must be loved or have a story. When I bought my day bed, I had gone out to buy a dining table but saw the bed dismantled and leaning up against a wall of a neighbouring shop. I loved it but feared that someone would buy it and then store it in a garage. So, I bought it and now it works perfectly in my lounge."
Aware that her taste will not be the choice of others, Kay says that essentially, it's your home and ultimately your decision on how it looks.
"Never worry about what others think of your home. People have said to me, 'I love it, but I don't think I could live in it,' and that's totally okay. If you get to live in the house that you have dreamed of, life is wonderful.
Now retired, Kay is looking forward to pursuing her love of art and crafts from the comfort of her newly renovated home.
And although she intended for this project to be her last, the design bug doesn't seem to have left just yet, "I have been known to say, 'I haven't done minimalist Japanese yet', so is it really my last chance?"
Published: 19 Jun 2019
Do you have a home full of wonderful Resene paint and colour? Send us some snaps by emailing [email protected].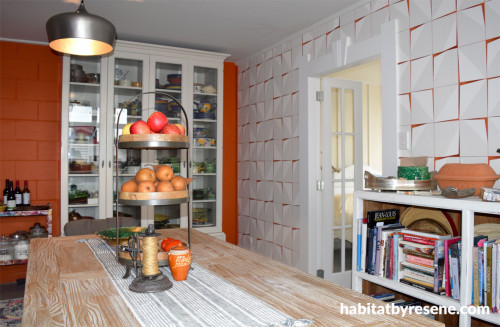 Kay chose to introduce a bright aesthetic and mixture of textures in her kitchen with a few nods to art deco style. She used a geometric pattern from the Resene Wallpaper Collection (for a current alternative, try Resene Wallpaper Collection 611359) and played off the orange details by painting an accent wall in Resene Rock Spray. The trims and ceiling are painted Resene Sea Fog.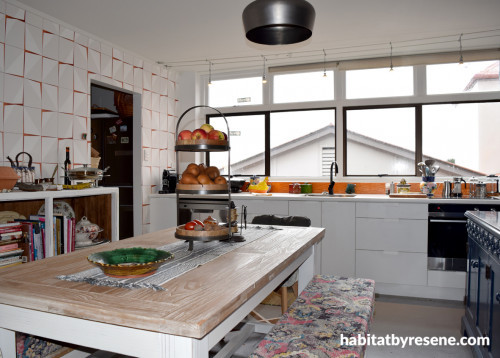 Below the kitchen window, a touch of Resene Rock Spray is visible – tying into the Resene Wallpaper Collection pattern (for a current alternative, try Resene Wallpaper Collection 611359) and the opposing wall. The ceiling and trims are in Resene Sea Fog.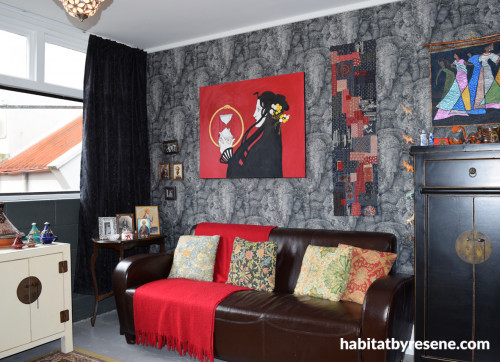 In the lounge, Resene Wallpaper Collection 525502 was teamed up with Resene Possessed, visible here beneath the window, as the base for a striking pattern-on-pattern look that wouldn't overshadow the furniture. The ceiling and trims are in Resene Sea Fog.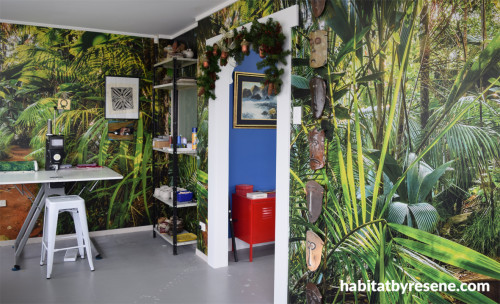 Kay's rainforest work room was formed with Resene Wallpaper Collection 8-989 – a photographic featural wall mural. The trims are painted Resene Sea Fog.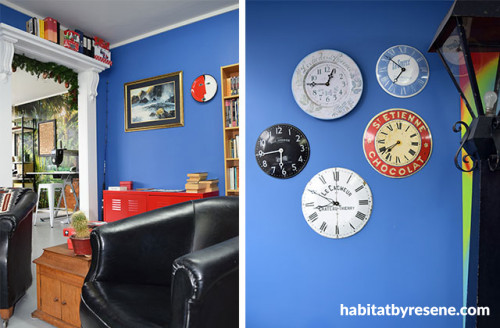 Kay chose Resene Tory Blue for what she has dubbed 'the Blue Room' and complemented it with red, white and black details and a quirky collection of clocks. The trims are in Resene Sea Fog.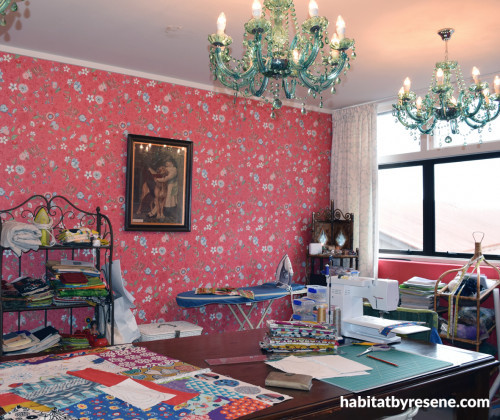 For Kay's sewing room, she went with Resene Wallpaper Collection 375004 – a pattern reminiscent of Liberty of London Fabric, popular among many quilters – and added accents in Resene Vibe and a pair of decadent chandeliers. The trims and ceiling are in Resene Sea Fog.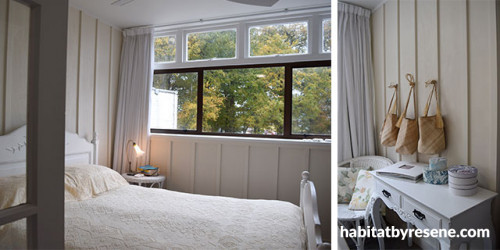 Kay introduced a sense of calm to her bedroom with walls in Resene Quarter Sisal and ceilings and trim in Resene Sea Fog. A trio of woven bags provides storage without sacrificing floor space to keep clutter out of sight.
images Jessica Judge
the look
If you're stuck on what
colour to use or need colour
advice, try out the Resene
Ask a Colour Expert service.