►
◄
latest
habitat tv
blog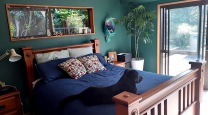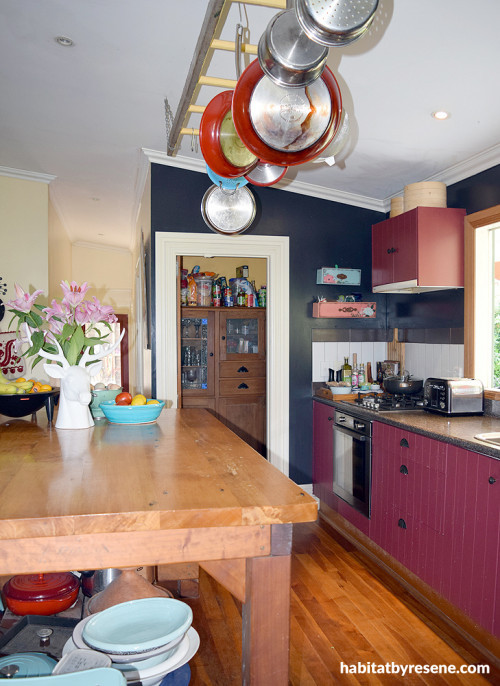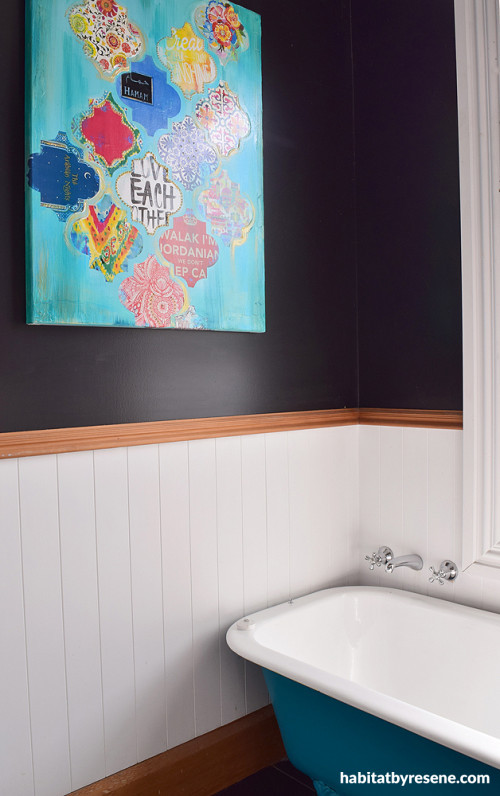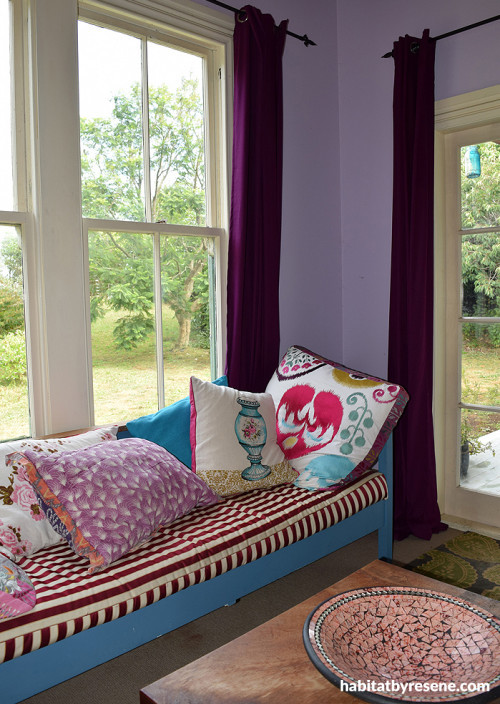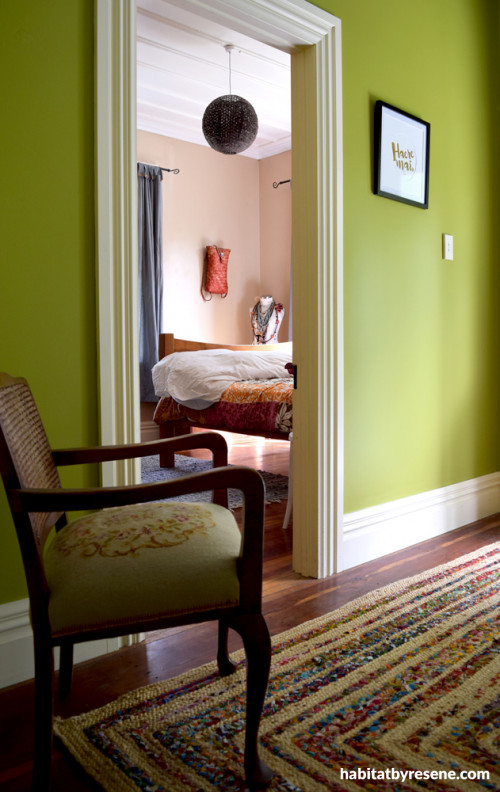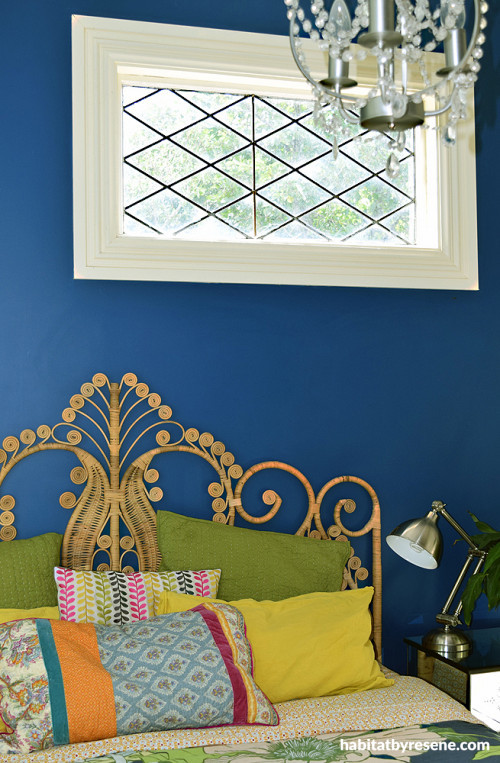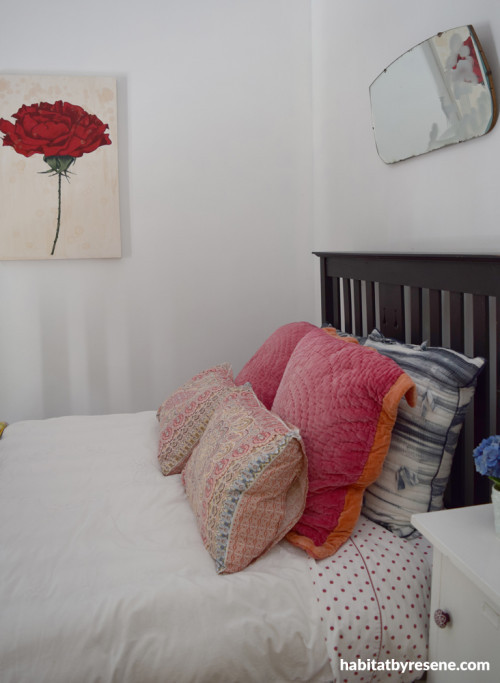 Kim and Isaac go big with colour
While Kim Brebner can appreciate a neutral colour scheme in other people's homes, it's simply not for her. And so when it came to repainting her own, she went big and bold with Resene colour... from a vivacious blue-green in the dining room, to Resene All Black coating the kitchen walls.
The house was built in 1913 and underwent significant additions. It was completely beige when Kim and husband Isaac bought the place, except for the living/TV room adjoining the kitchen, a golden yellow. The couple felt the colour scheme lacked soul... they were quick to paint it with colours that made them feel more at home.
Kim tells us more.
What Resene colours and products have you used, in which rooms, and what inspired those choices?
The dining room is painted in Resene Surfie Green, which I love so much it makes my mouth water! It's been a very inspirational choice as others have admired and jotted down the name.
We used Resene All Black in the kitchen, another unusual choice given the southerly aspect and lack of light. It was a way of taking the emphasis away from the maroon kitchen cabinets that we can't afford to change.
The living room used to be golden yellow and with the wood it gave too much warmth. So we painted it in Resene Prelude, which was an unusual choice inspired by famous British designer Tricia Guild. I just love the lavender next to the turquoise couch.
We chose Resene Citron for our entrance and second toilet, and Resene All Black for the bathroom. The bath is painted in Resene Lagoon Blue, which I also used in the painting above, to tie it all in.
Our main bedroom is painted in Resene Spinnaker.
How did you decide on the overall look of the interiors?
I am inspired by Tricia Guild's relentless use of colour and unusual combinations that always work. I also really like her mish mash of fabric texture and print.
I love colour. I can appreciate all white houses in magazines and in other people's homes but I just can't live with it (I've tried in previous homes). Colour makes me feel happy.
And there's just something about looking past a colour in one room onto another, and seeing them both side by side. It happens best looking through our dining room in Resene Surfie Green onto the Resene Citron in the entrance.
The overall philosophy is to be brave. It's just a wall and you can always repaint... although I never have.
What part of the house are you most happy with?
Our bedroom. The colour changes with the time of day and looks amazing at night with lamp light.
Also, the dining room. When it was beige it was soulless and cavernous. Now it is warm and fun. We just had a Mexican inspired family Christmas in that room... it was perfect.
What is your advice for someone trying to achieve a similar look?
Look in books and magazines and run with what you are immediately drawn to or what sings to you. Definitely research is good as you come across combinations that surprise and inspire.
Do you have a favourite colour, and if so why is it your favourite?
I love blues and greens and everything in between. I am not sure why. Maybe the depth and how good they look together.
Published: 31 Mar 2017
Do you have a home full of wonderful Resene paint and colour? Send us some snaps by emailing [email protected].
The walls of the dining room are painted in Resene Surfie Green, a colour that is regularly asked about and admired by visitors.
pictures
Jessica Judge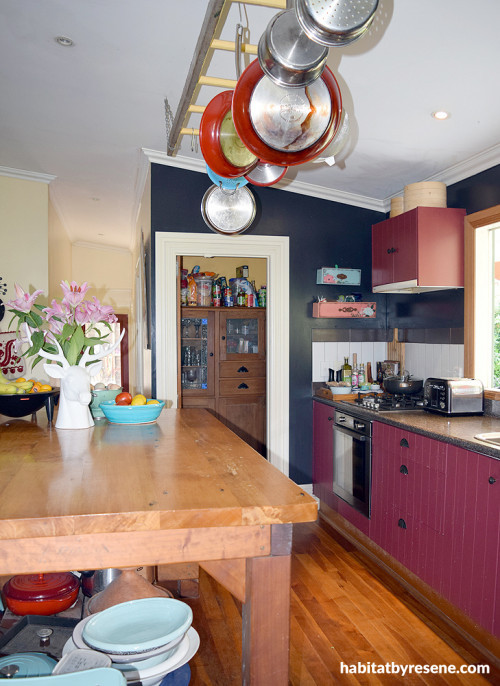 As a way to take the emphasis off the maroon cupboards (that weren't in the budget to change) in the kitchen, Kim went bold and painted the walls in Resene All Black.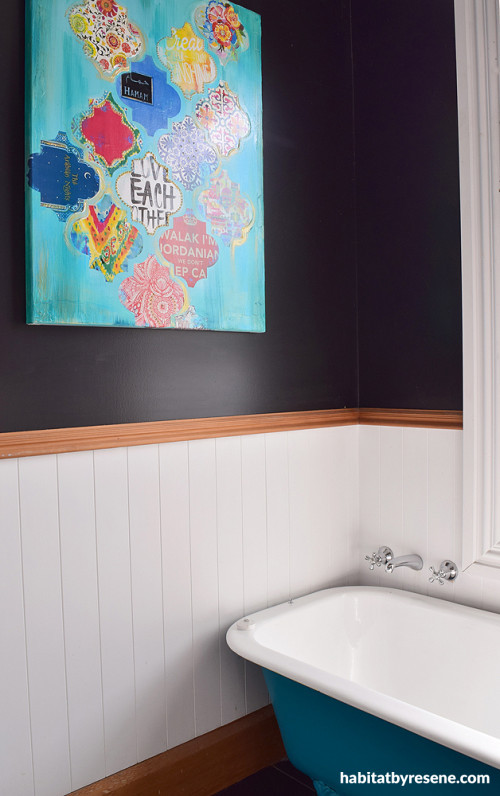 The bathroom is also painted in Resene All Black, brightened up with a bath painted in Resene Blue Lagoon (which also features in the artwork above).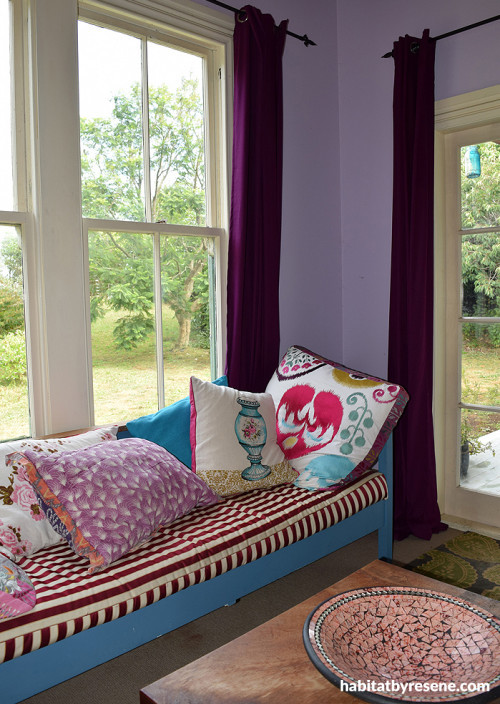 They chose lavender for the peaceful living room, painted in Resene Prelude.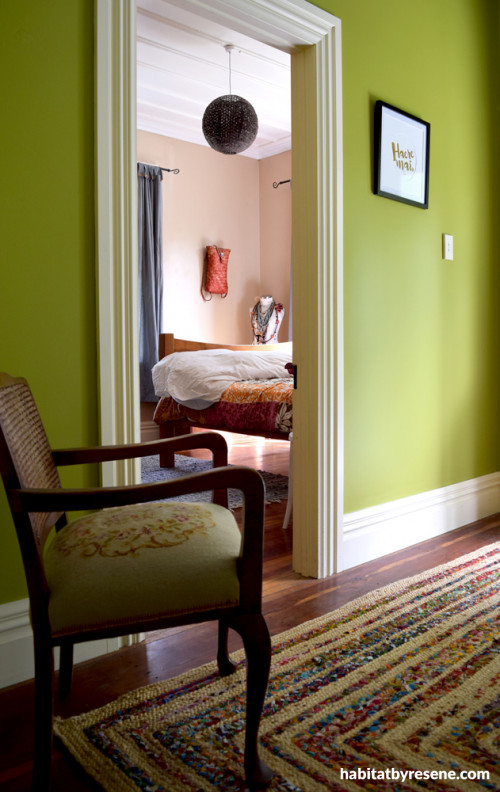 Kim loves to see how the colours in different rooms layer up throughout the house, such as the Resene Citron entranceway that looks into the spare room painted in Resene Peach.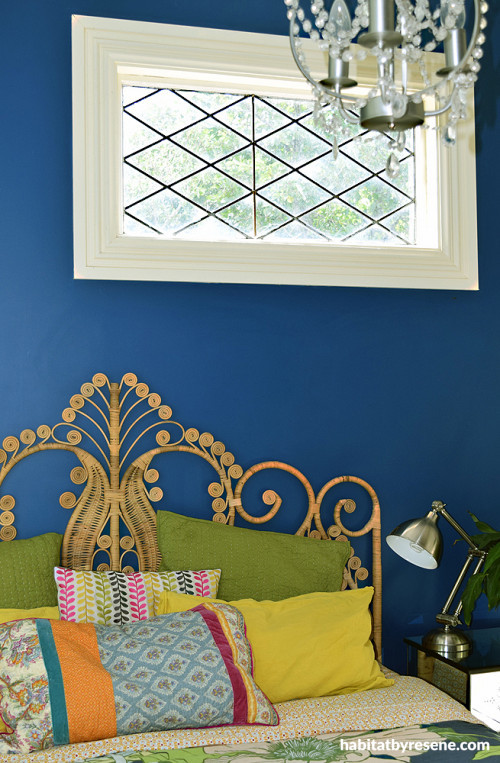 The main bedroom is painted in Resene Spinnaker, a beautiful maritime blue that comes alive in the sunny room.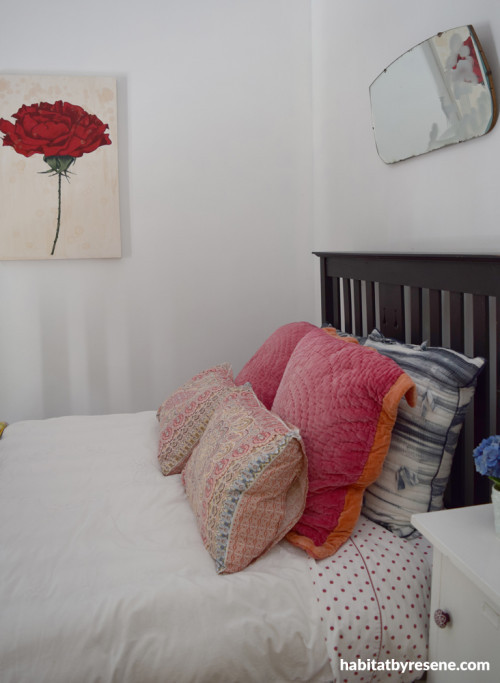 In another bedroom, the walls are simply painted in Resene White, with sharp accents of colour in the decor.
the look
If you're stuck on what
colour to use or need colour
advice, try out the Resene
Ask a Colour Expert service.