►
◄
latest
habitat tv
blog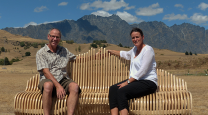 Liveable luxury at home: 5 ideas for a touch of affordable glam
Luxury means something different to everybody. We often associate it with opulence and wealth, but luxury can be as simple as 30 minutes of peace and quiet to read a good book, or a good night's sleep.
In our homes luxury need not break the bank. It can be about creating places of comfort and calm that speak to what makes us happy, with a few touches of glamour here and there, all achieved with just the right Resene colours, textures and finishing.
Here are some budget friendly ideas for elevating the level of luxury at home:
Bespoke luxury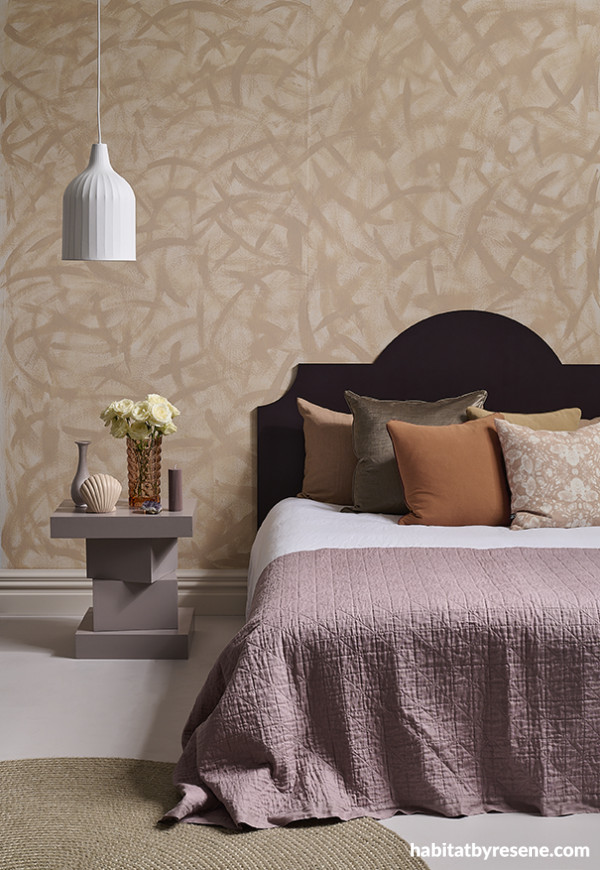 This plush bedroom, with its soft-yet-rich palette of chocolate, caramel and latte browns balanced with delicate pinks, has added glamour from the unique hand-painted walls which emulate textured wallpaper. To create this look at home, start with two basecoats in Resene Bleach White. Then, using a wide paintbrush, apply layer after layer of loose random brushstrokes of Resene FX Paint Effects medium mixed with Resene Cashmere. The floor is in Resene Dover White with skirting in Resene Bleach White. The headboard is painted in Resene Caffeine and the bedside table made of stacked boxes is in Resene Tom Tom. The seashell vase is Resene Cashmere, while the pendant light is Resene Dover White.
Rug from The Ivy House, bedlinen, quilt and throw from H&M Home. Project by Kate Alexander, image by Bryce Carleton.
The thing about creating a luxury space is that it only needs to look expensive. It's really about the value of something to you, rather than how much it cost.
That means decorating with one-of-a-kind furniture and décor with hand-painted details really is the ultimate in luxury because it is unique to you.
If you're feeling creative, think about new ways you can add personalised art and expression to areas of your home.
It might be designing a painted headboard for your bedroom, playing with Resene testpots on a blank canvas, upcycling a piece of furniture or experimenting with bold and unusual colour combinations. It's not about creating a perfect work of art. It's about creating something unique and important to you, that you have taken the time - another luxury - to produce.
Layered abundance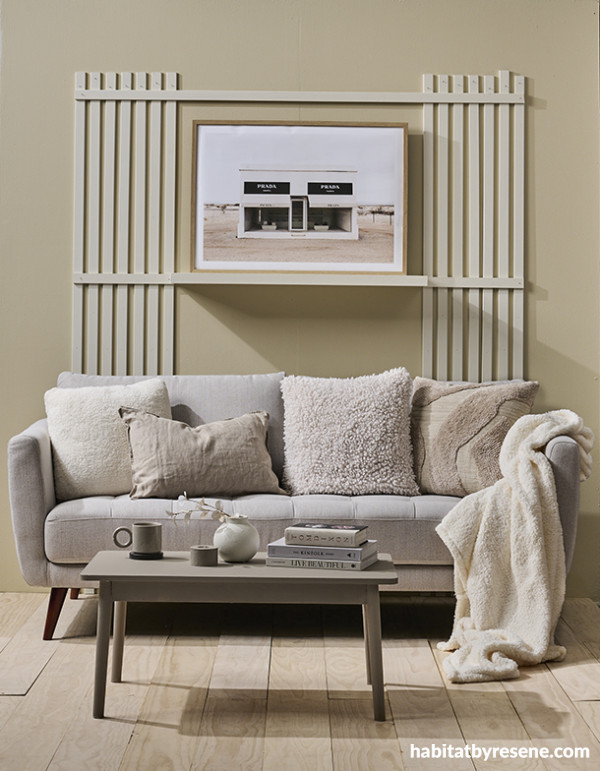 Creamy wood battens and a floating shelf in Resene Half Spanish White against a Resene Spanish White wall elevate this pared back colour scheme. The layers of textured fabrics and the wooden floor finished in Resene Colorwood Whitewash adds a sense of luxury that is minimalist and sophisticated. The coffee table is Resene Stonewashed. On the table the coaster and vase are Resene Ironsand and the tealight holder is Resene Stonewashed. On the shelf the vases are painted in, from left, Resene Tea and Resene Ironsand. Sofa from Target Furniture, cushions from Spotlight, H&M Home, Freedom and Nood, coffee mug from H&M home, artwork from Simply Creative. Project by Vanessa Nouwens, image by Bryce Carleton.
A luxury interior doesn't mean going full maximalist and filling your room with a riot of colour and bling. By all means go that route if that's the look you're after, but you can also create a sense of luxury and abundance while keeping your colour palette almost minimalist.
The secret of this simple sophistication lies in layers. Opt for a layered neutral colour scheme on your walls, ceiling and trims, then layer with furnishings and fittings in a single impact colour, in subtly different shades. For example, you could layer painted surfaces in different intensities of Resene Tea, including half, quarter and eighth strength, and finish with cushions, curtains or and painted accessories in deep greens such as Resene Celtic Green, Resene Palm Green or Resene Midnight Moss.
Add lots of textile layers in different natural and neutral fibres - raffia, twine, wool, linen, rope and macrame. This works particularly well if you also have plenty of wood finished in lighter colours like Resene Colorwood Whitewash or Resene Colorwood Driftwood, so you showcase the natural grain and texture of the wood.
Jewels and precious metals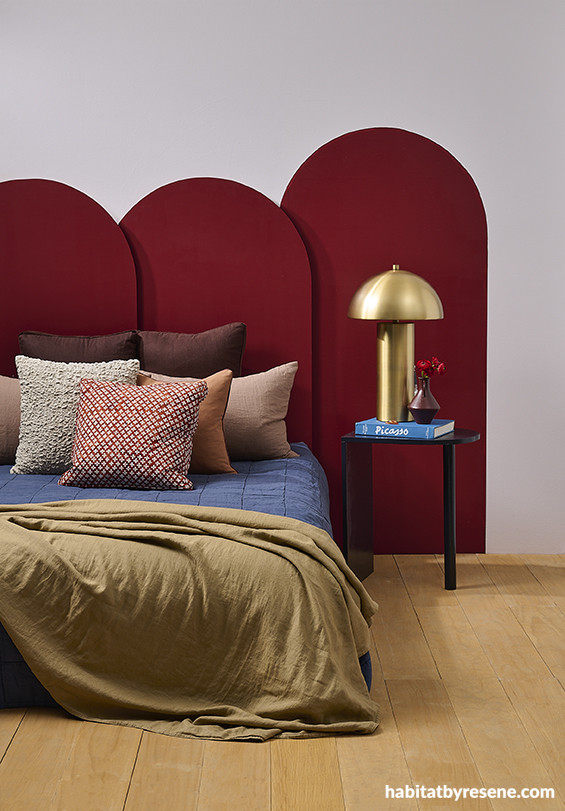 The colour saturations of this ruby red panelled headboard in Resene Salsa creates a dramatic and luxurious backdrop to this glamorous bedroom. The gold lamp works like an expensive piece of jewellery to bring the rest of the colours and textures together. The rear wall is Resene Bonjour, vase in Resene Volcano and the timber floor is stained in Resene Colorwood Natural. The bedside table is Resene Jaguar. Lamp from Freedom Furniture, quilt from H&M Home. Project by Kate Alexander, image by Bryce Carleton.
It's not really a surprise that intense jewel colours and metallic finishes add instant luxury to interiors. They evoke the extravagance and opulence of the jewels and precious metals we associate with wealth and glamour. They can also make our interiors feel reminiscent of the stately historic homes and palaces we see either on our travels or on our screens.
Double down on the luxury with furnishings in plush fabrics like velvet, suede, cashmere and silk. To keep things light and airy opt for notes of pale neutrals like Resene Parchment or Resene Half Milk Punch. Or, to create a moody den, add notes of Resene Greige and charcoal Resene Bokara Grey.
Top tip: When using metallics as highlights, stick to one metallic for the best impact. A mix of metallics can get a bit busy. Look to the Resene FX Metallic colour range to add a little bling to your space.
The luxury of travel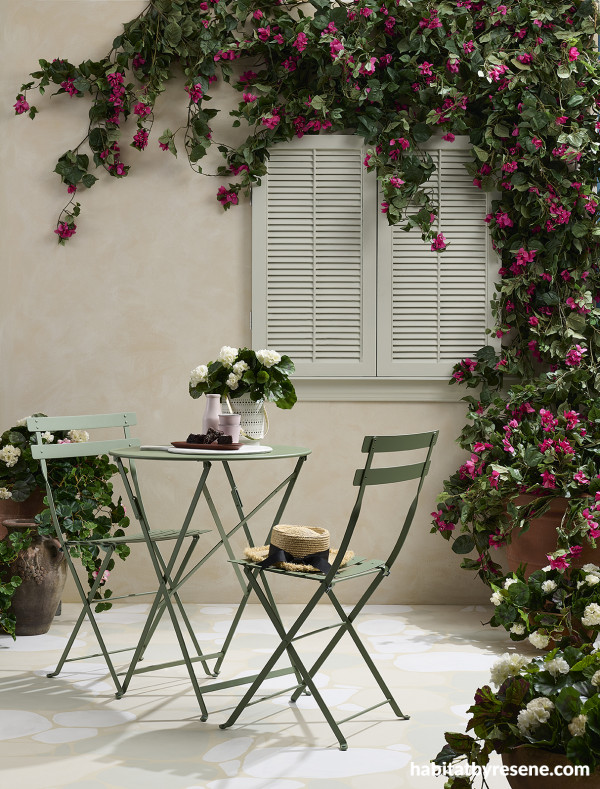 This Mediterranean-style courtyard is a great example of simple, liveable luxury that's easy to create at home and transports us to another place and time. It's achieved with the illusion of limestone walls using Resene FX Paint Effects medium with layers of Resene Half Canterbury Clay, Resene Eighth Canterbury Clay and Resene Double Spanish White. The shutters and windowsill are Resene Kangaroo and the faux cobbled patio is painted in Resene Half Canterbury Clay, Resene Eighth Canterbury Clay, Resene Double Spanish White, Resene Blanc and Resene Half Spanish White. The large post is in Resene FX Faux Rust Effect. Table and chair from Jardin. Project by Annick Larkin, image by Bryce Carleton.
Holidays always feel luxurious, whether you're in a simple beachside cabin or a beautiful hotel in a new city. Recreating the feelings and memories of travel at home - particularly when international travel has been difficult in recent times - is one way to find a little everyday luxury.
Rather than trying to perfectly imitate a favourite holiday destination, aim to recreate a similar mood or feelings. Colour can be a powerful trigger for memory so you could try emulating the perfect turquoise seas and white sands of the Pacific Islands with Resene Aqua and Resene Blanc coral sand, or the sun baked colours of the Australian outback with Resene Hot August and the eucalyptus shade of Resene Duck Egg Blue.
Try recreating bright city lights with notes of Resene Sunflower or Resene Thunderbird with hints of the night sky in Resene Blue Bark.
Use plants and art to add extra fuel for the memories. You could also take a photo from your travels or something bought on a holiday as a hero item for your room and build your colour palette and design around that.
Gallery glamour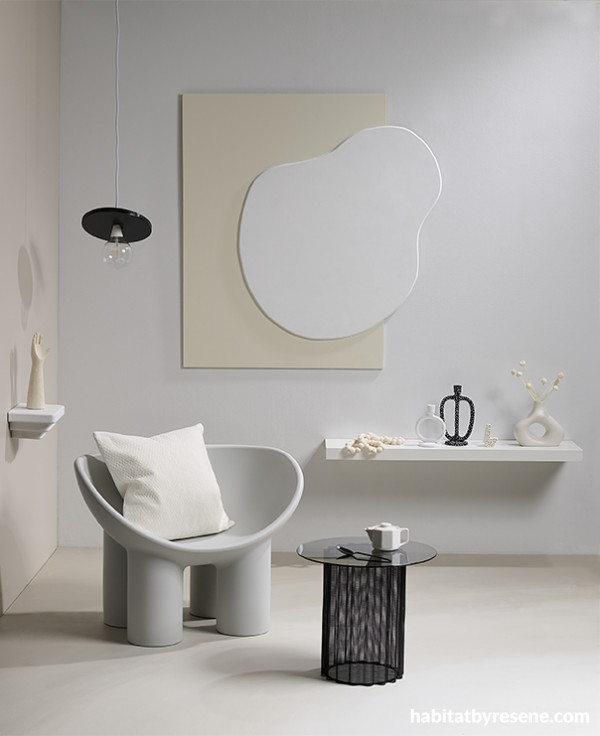 Designing a gallery-style to showcase some of your favourite things, can be one way to introduce personalised luxury at home. This back wall is in the traditional gallery-style white of Resene Snow Drift, but the space is softened with the side wall in Resene Half Cougar and an ombre floor created using Resene FX Paint Effects medium and Resene Eighth Truffle, Resene Quarter Truffle, Resene Half Truffle, Resene Truffle, Resene Double Truffle and Resene Triple Truffle. The plywood artwork has been painted in Resene Travertine (square) and Resene Eighth Black White (curve) and the plywood circular lampshade is Resene Blackjack. The arch vase and hand ornament are Resene Travertine, the pale candleholder is Resene Eighth Black White and the dark candleholder is Resene Blackjack with spots in Resene Eighth Black White. Chair from David Shaw,
small angular vase by Formantics, shelf from Urban Outfitters, black candleholder from H&M Home. Project by Kate Alexander, image by Bryce Carleton.
A look that emulates a well-curated art gallery has long been associated with luxury, and it can be done without having to recreate the slightly harsh, stark white environment.
Creating a backdrop with layered warm, creamy off-whites like Resene Half Cougar, Resene Travertine and Resene Truffle can make just as successful a backdrop as a stark white to support your carefully arranged items.
Floating shelves painted in the same shade as the background wall will almost disappear, keeping attention focused on the items you are displaying.
The flipside of a minimalist or monochrome gallery-style space, that works particularly well if you're wanting to hero one special piece, is to work with the colours within that piece.
If it's a white sculpture or ornament for example you could consider a bold block colour backdrop that contrasts with your art piece, in perhaps a burst of yellow Resene Sunflower or deep grey-blue Resene Tuna. Tone your neutral trim to a similar shade as the showcase piece. Clever use of lighting can also help focus attention on your hero piece.
If you don't have lots of objects or art you want to display gallery style you can also design a gallery space around special items of furniture, showcasing them the same way, with colours and lighting that focus attention on them.
In a well-curated gallery, where everything is deliberate and minimalist, installing floating shelves frees up more visual space that the legs of a console table or bookshelf would take up but still provides just as much room to artfully display decorations.
If you're having trouble finding items in the right colour, focus on finding shapes that you find pleasing and fit well with one another then pick up a few Resene testpots in hues that match or coordinate with your colour scheme. The beauty of paint is that it can be used on virtually any surface, as long as you put in the right preparation. Once you decide what you're painting, check with your Resene ColorShop team on the best prep to get your project underway.
Published: 02 Mar 2022
Do you have a home full of wonderful Resene paint and colour? Send us some snaps by emailing [email protected].