►
◄
latest
habitat tv
blog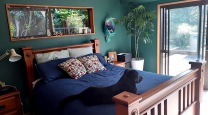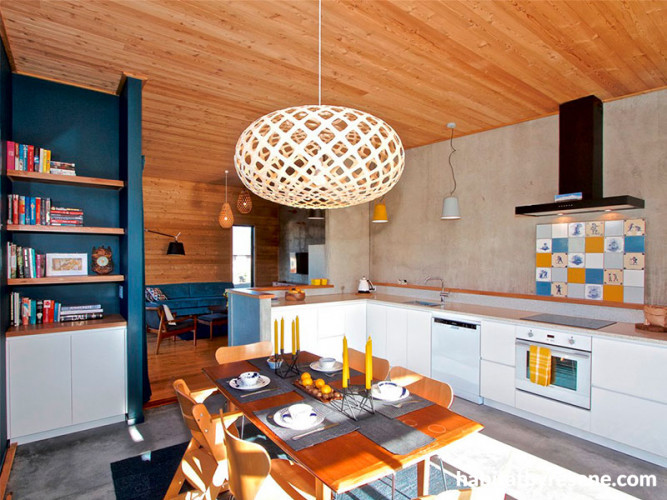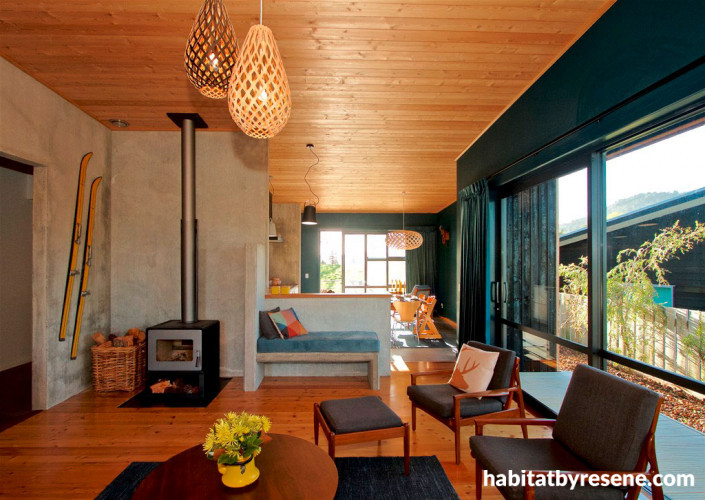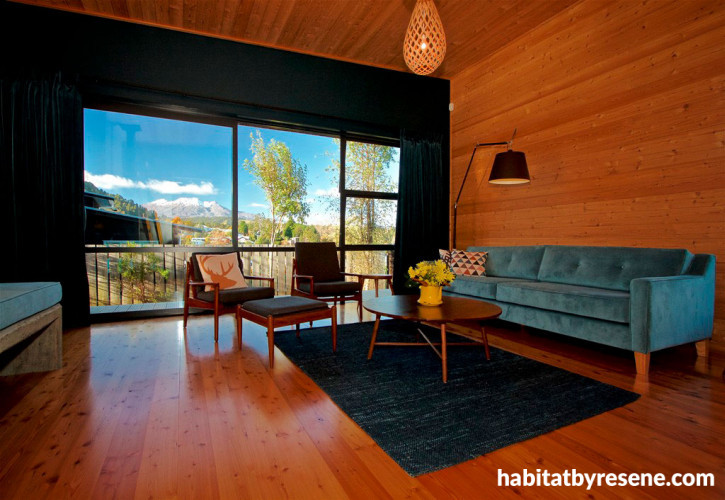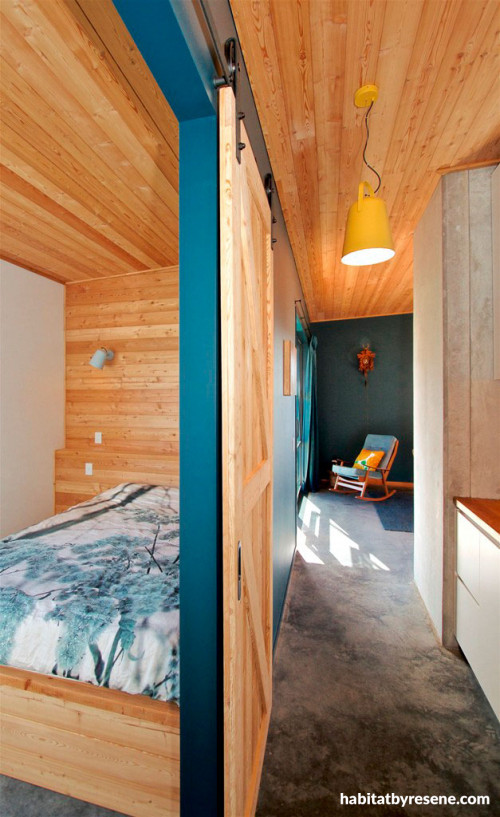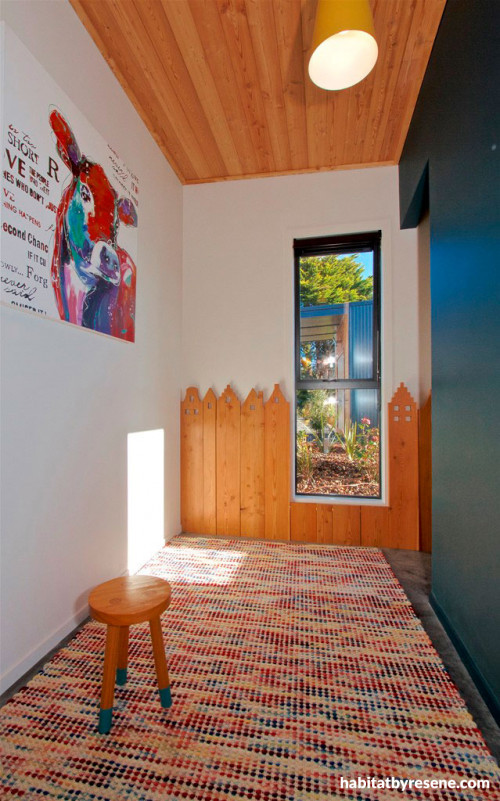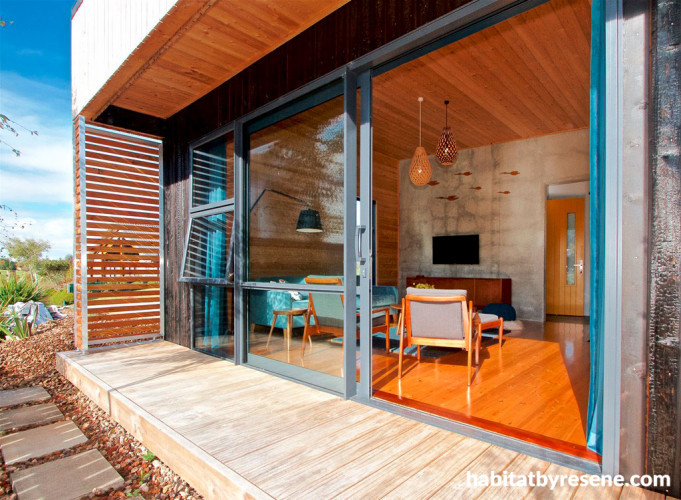 Maurice and Marije's colour-cosy holiday cabin
Tucked away in the Ohakune mountains, this holiday cabin brings together modern design and rustic aesthetics – making it a dream place to escape to any time of the year.
With cosy accents of Resene Elephant and golden timber running throughout, the cabin was designed for his own family by Maurice Regeer of MnM Design to be inviting any time of the year, from the snowy temperatures in winter to the warmer summer months.
For this, the interior is designed with a mix of different textures and colours: from dark Resene Elephant feature walls and pops of yellow, to warm timber and cool concrete floors. And together, they tie into the natural, stunning scenery that lies beyond.
Maurice and Marije tell us more.
What was the brief and how did your design and colour choices respond to that?
The brief was to design a warm cabin to come home to in winter and a cool retreat in summer that connects to the elements all year round.
The cabin is a non-stop dialogue between interior and exterior. It wants to be open and (en)closed, warm and cool at the same time. The striking yellow and black entrance, with a front door painted in Resene Galliano, draws you in and reveals a glimpse of the warm interior.
The interior is a mix of different textures and colours designed to make you feel protected and warm in winter and cool and sheltered in summer: dark and light blue with pops of yellow, concrete walls with smooth velvet fabric, warm timber with cool concrete floors.
What was your overall design philosophy?
The simple rectangular floor plan divides the cabin into private and social areas, with the concrete walls as a spine through the centre. These walls help to keep the house at a constant temperature throughout the year. In the centre of the cabin are the kitchen, pantry and dry room. Everything else folds around this.
What Resene colours and products were used, and what inspired those choices?
Our idea was to use dark blue Resene Elephant throughout the cabin to really envelope you and feel warm.
Because several different materials are used in the house, we didn't want to introduce an extra colour to the interior, so decided to not use any plain white. Instead we chose light grey Resene Triple Sea Fog to complement the concrete.
We initially left the timber walls unsealed to allow the timber to settle and dry out, then we used Resene Furniture and Decking Oil to finish it.
Did you know… that Resene Furniture and Decking Oil is is usually recommended for exterior us? It can be used inside but is slower to dry and higher odour than other interior options from Resene. Instead, try Resene Aquaclear for a lower odour and faster drying option.
On the exterior, we finished the larch cladding in Wood-X in Clear and Wood-X in Foundry, from Resene.
What part of the design are you happiest with?
The way the exterior and interior come together, even though they seem contradictory.
What was the biggest design challenge for this project?
To get a constant connection from interior and exterior was the biggest challenge. The use of Siberian larch in both helped a lot but it was challenging to make them look the same with different treatments.
Also, being architect/interior designer/project manager and client at the same time was a challenge in itself…
See more of Maurice and Marije's designs at www.mnmdesign.co.nz and on Facebook here.
Published: 05 Jul 2018
Do you have a home full of wonderful Resene paint and colour? Send us some snaps by emailing [email protected].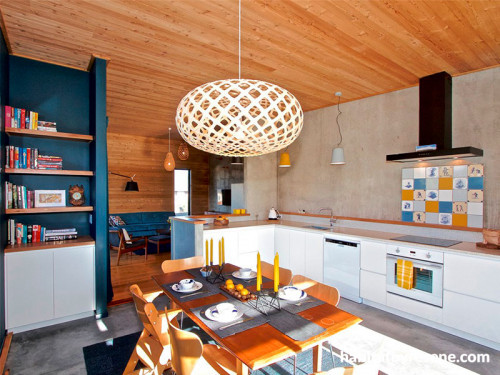 The interior of this holiday cabin is created to be perfect for all seasons. Timber sarking on the ceiling and walls, finished in Resene Furniture and Decking Oil, brings a rustic feel, while a feature wall in Resene Elephant keeps it colourful and cosy in winter.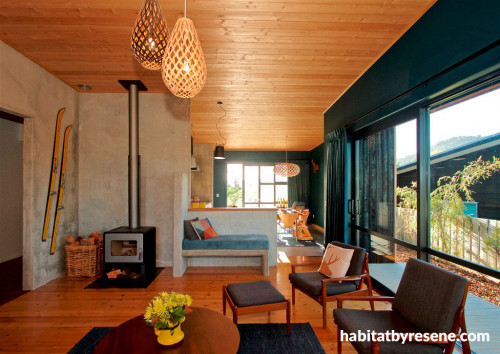 The natural elements of timber on the ceiling and floor connect to the stunning the Ohakune scenery beyond the cabin. The feature wall is painted in Resene Elephant.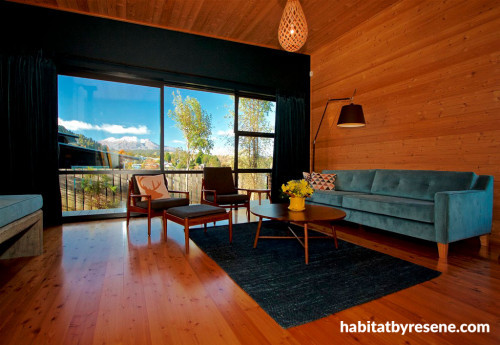 Resene Elephant acts as a frame around the large window in the living room, creating a picturesque view of the mountains. Golden timber walls and ceilings are finished in Resene Furniture and Decking Oil.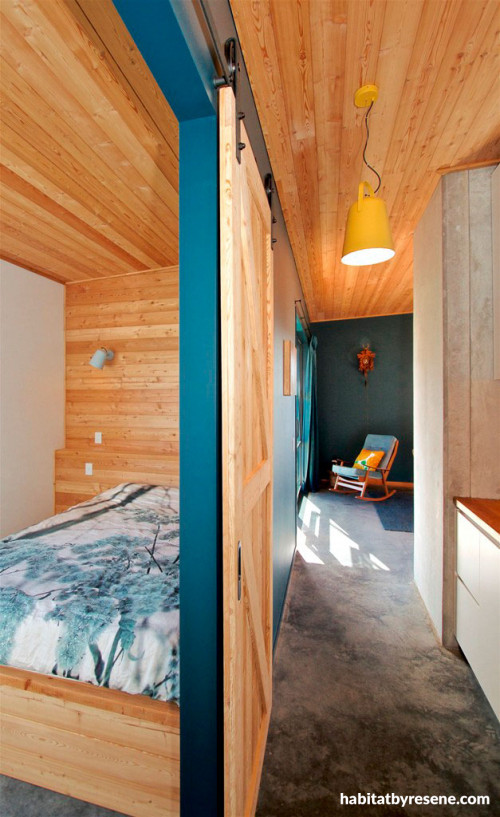 The colour scheme runs throughout the cabin, with accents of Resene Elephant and feature walls in the cosy hue appearing in various rooms. The timber is a dominant feature in the home, finished in Resene Furniture and Decking Oil.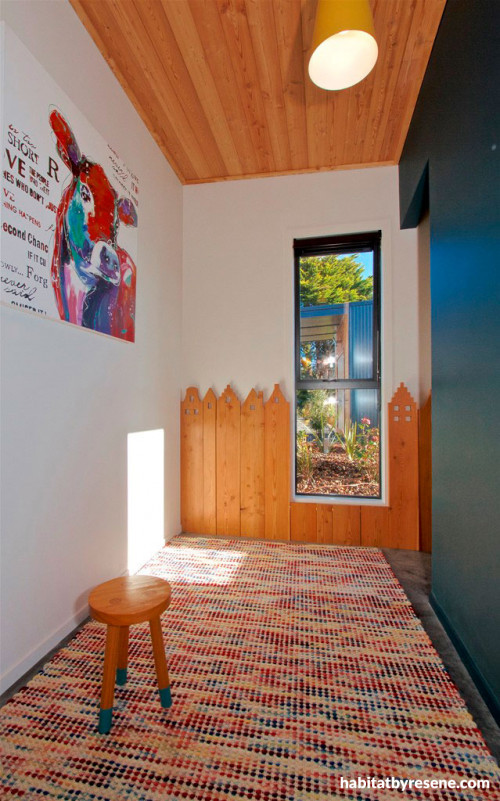 A playful area in one of the hallways, painted in Resene Triple Sea Fog (white) and Resene Elephant (dark blue).
Sliding doors open out from the lounge onto a sunny deck, framed by larch cladding finished in Wood-X in Clear and Wood-X in Foundry (black), both available from Resene.
the look
If you're stuck on what
colour to use or need colour
advice, try out the Resene
Ask a Colour Expert service.