►
◄
latest
habitat tv
blog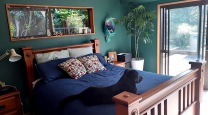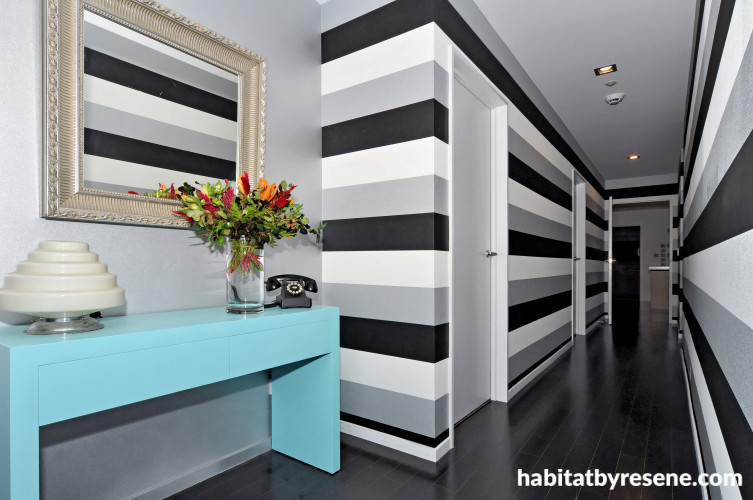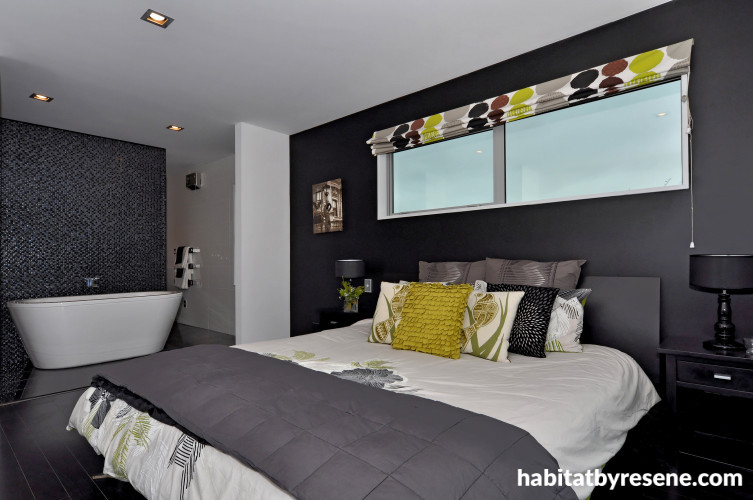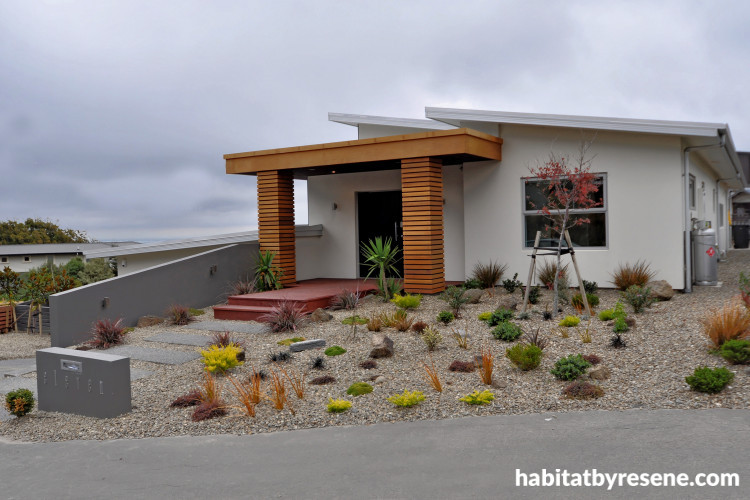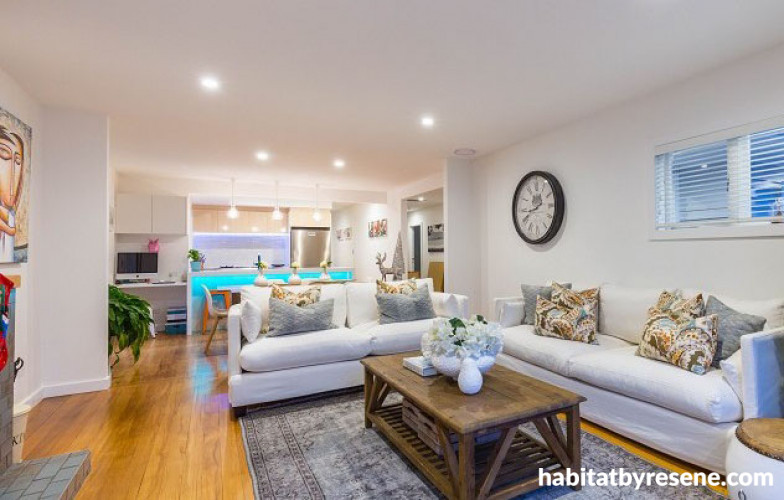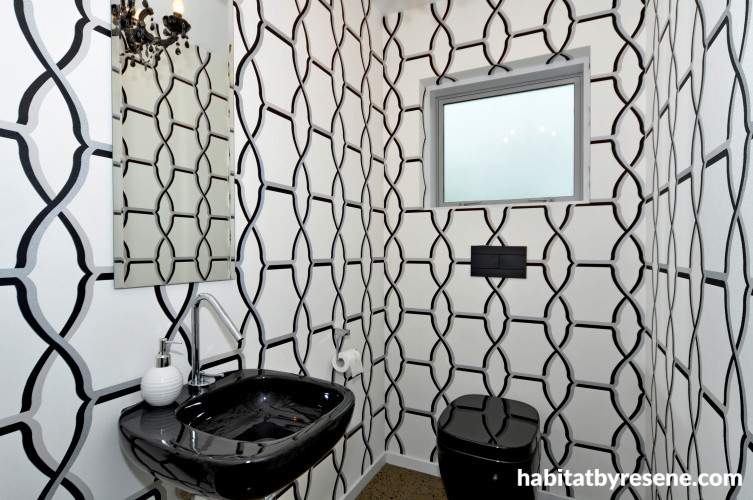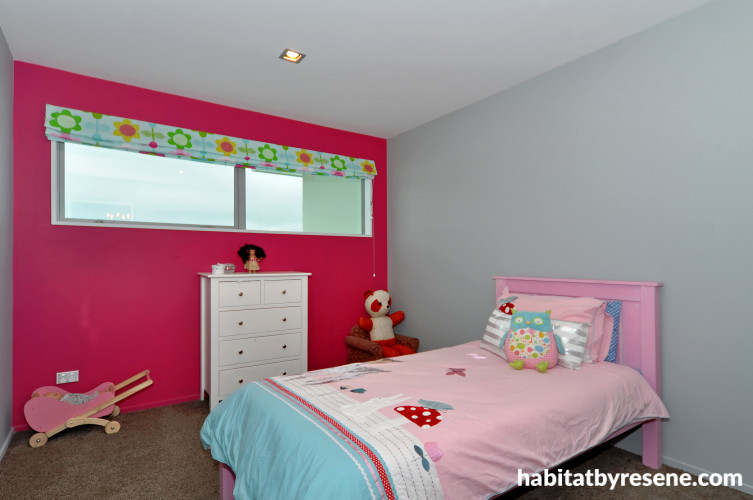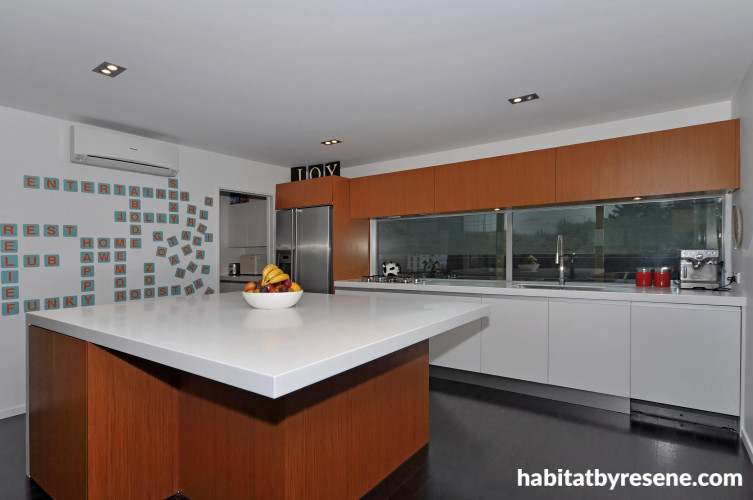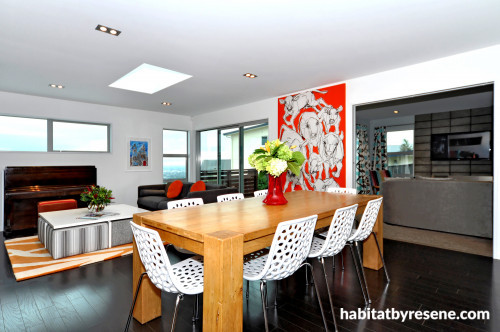 Melanie coaxes colour from chaos
Published: 16 May 2013
Do you have a home full of wonderful Resene paint and colour? Send us some snaps by emailing [email protected].
Shaken but not deterred
Something good often comes out of adversity and in the aftermath of the devastating Christchurch earthquakes, a new and arguably better city is being reborn.
For one resident, having to repair her quake-damaged house on Huntsbury Hill was an opportunity to have fun with the interiors and add an adventurous and colour twist to what had been a fairly neutral home.
Melanie Arnold had a jumpstart when it came to choosing some cool products to use – she works as an architectural representative for Resene, so made full use of the many products that are available, from the funky wallpapers and metallic paint shown above to even painting pieces of furniture like this sideboard in Resene Lustacryl tinted to Resene Onepoto.
What Resene colours and products have you used, and what inspired those choices?
When the house was first built the colour scheme was completely neutral, with the exception of the children's bedrooms. I wanted to inject some colour and pattern into the scheme and make it as funky as possible without putting off future owners. The house had to have a full makeover after the earthquake so this gave me the opportunity to inject some flair and colour where it was lacking previously.
How did you decide on the overall look of the interiors? What was your overall philosophy?
I wanted lots of colour without being too over the top. I also wanted to play with different products, which is why I have used wallpaper, metallic paints from the Resene Metallic and Special Effects range, Resene Magnetic Magic and Resene Blackboard Paint as well as predominantly Resene SpaceCote Low Sheen. The original plan was actually way more out there but as I have since decided to sell the property, I toned it down a lot.
What part of the house are you most happy with?
I love the hallway – it's totally different to the average home. The wallpaper (Room 20 Wallpaper 8803-69 from Resene) is actually a vertical stripe but I decided to have it hung horizontally as I didn't want any visible lines and thought it would look less busy that way. I also love the way the metallic paint (Resene Enamacryl Metallic Silver Aluminium) looks with the wallpaper. I had this sprayed rather than brushed on which definitely gives a better finish.
What is your advice for someone trying to achieve a similar look?
Don't be afraid of colour and texture. Neutrals are great but it is okay to mix in bright colours too.
What was the biggest decorating, renovating or building challenge for this project?
Being an earthquake repair, there were many challenges. I self-managed the repair so there were also some challenges keeping the momentum of the repairs going when I became busy at work. We were living in the granny flat downstairs while the repairs were going on upstairs and the timeframe dragged out from 10 to 17 weeks. It was pretty hard going.
Do you have a favourite colour, and if so why is it your favourite?
Resene Daredevil is my favourite – such a vibrant orange that looks really sharp when teamed with greys, blacks and white. I didn't manage to use it in this house but am planning to design a kitchen using it in my next place.
Thanks to Solid Builders Ltd, painter Pete Anderson and wallpaper hanger Stefan Moir.
pictures
This property is currently for sale. Contact Clare Beer, Gold Real Estate Group, Papanui, ph 027 278 7447.
Sophisticated in black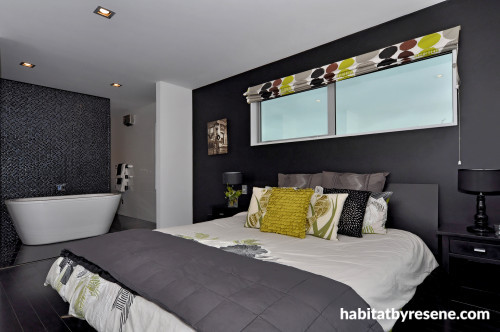 The master bedroom with its ensuite alcove becomes an even more decadent space with a feature wall in Resene SpaceCote Low Sheen tinted to Resene Nero. The other walls and the ceiling are in Resene SpaceCote Flat tinted to Resene Quarter Black White.
Contemporary character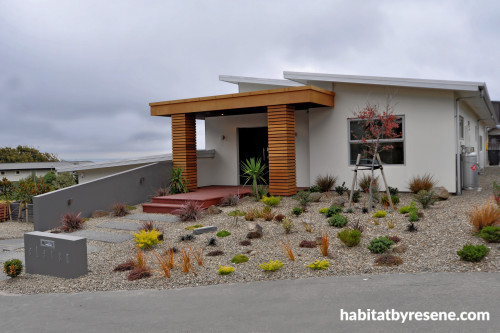 The Rockcote cladding on the exterior is finished in Resene X-200 (an acrylic waterproofing membrane) tinted to Resene Ecru White. The slatted cedar pillars are finished in Resene Furniture and Decking Oil, the side wall and letterbox is in Resene Masala and the front door is Resene Super Gloss tinted to Resene Nero.
Breath of fresh air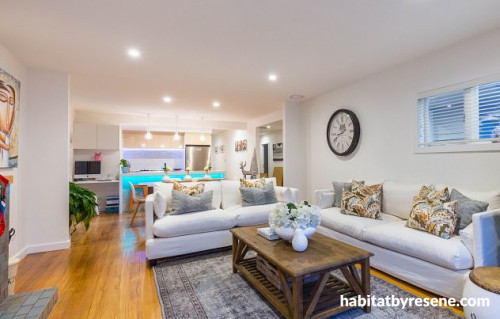 A feature wall in Resene SpaceCote Low Sheen tinted to Resene Kumutoto is a breath of fresh air in the main living room and echoes colours used in the curtains and upholstery. The ceiling is in Resene SpaceCote Flat tinted to Resene Quarter Black White.
A daring approach
The wow factor in full force in the guest bathroom. Melanie doesn't hold back with Room 20 Wallpaper 8800-62 from Resene.
Colourful and useful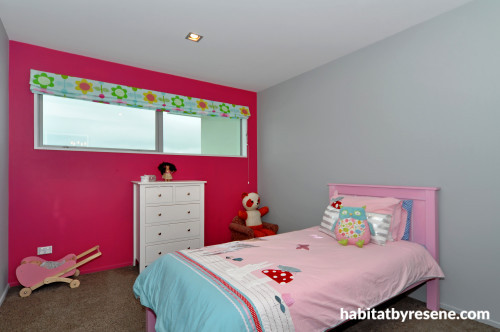 Colourful and useful – this feature wall is actually finished in Resene Blackboard Paint in Pink. Other walls are in Resene SpaceCote Low Sheen tinted to Silver Chalice.
Scrabble, anyone?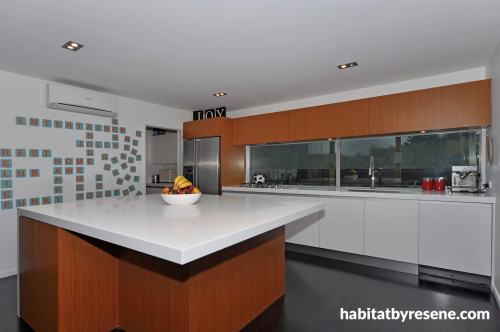 It looks normal but the far wall of the kitchen has Resene Magnetic Magic underneath Resene SpaceCote Low Sheen tinted to Resene Black White. Melanie then had a life-size scrabble set made with colours matched to Resene Kumutoto (turquoise) with Resene Daredevil letters.
Dine in style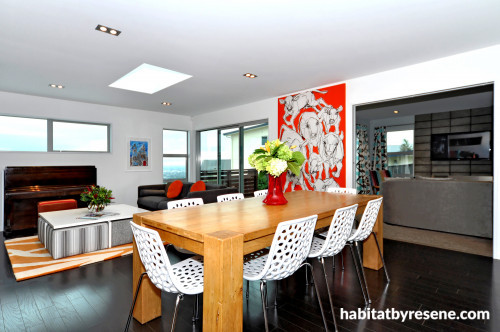 Walls in Resene SpaceCote Low Sheen tinted to Resene Black White are a quiet backdrop in the open-plan dining, living and kitchen area. The main living room is next door.
the look
If you're stuck on what
colour to use or need colour
advice, try out the Resene
Ask a Colour Expert service.