►
◄
latest
habitat tv
blog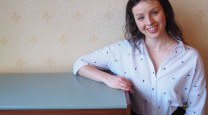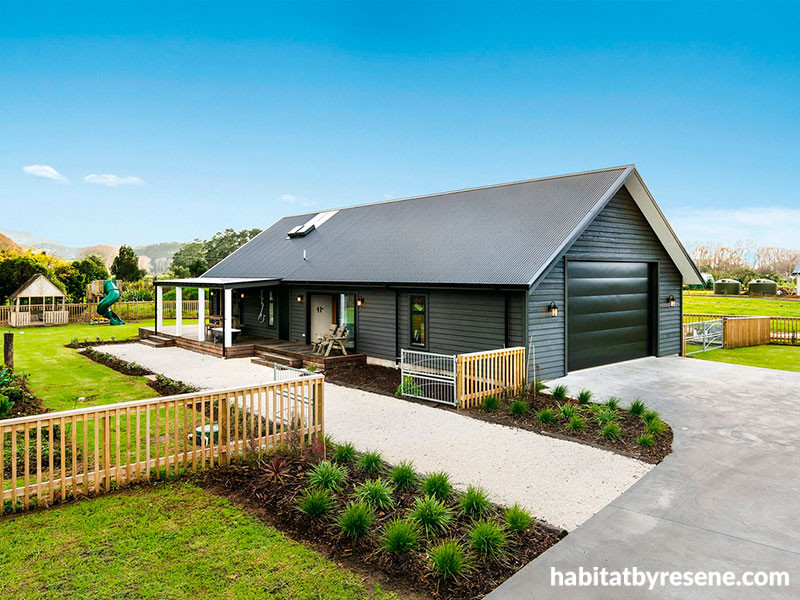 Kirstin and Matt's winning home
27 Sep 2018
When your last name is Castle and you're building a new home, there must be some extra pressure to create something impressive and awe-inspiring.
Matt and Kirstin Castle have certainly done that with their new home in Whitianga, taking out a local gold award in the Registered Master Builder's House of the Year competition.
But when they set out on the build project winning awards was far from the Castles' minds. What they were after was simply a home that met the needs of themselves and their two young sons. "We wanted this to be a home that had some of the elements of the traditional Kiwi bach and all the comforts of a modern home," Kirstin says.
They've certainly achieved that in the exterior alone, stained with Resene Woodsman Tiri subtly complemented by Marley Stratus Design Series® Typhoon® spouting and RP80® downpipes in black.
The Castles' new house sits on a large sunny flat site in Whitianga. It has open-plan living, indoor outdoor flow, a large veranda and decks, a low-maintenance native garden, a games room and spare bunks for guests.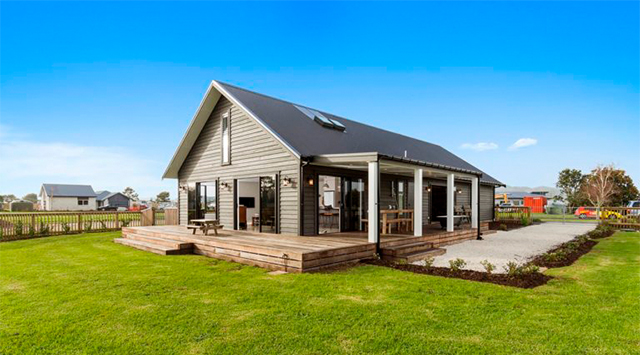 Exterior style
To capture the style of a modern bach the house was clad in bevel-back cedar weatherboards stained with Resene Woodsman Tiri. The roof is FlaxPod coloured corrugated iron and the Marley Stratus Design Series® Typhoon® spouting and RP80® downpipes are all hardwearing uPVC which won't rust, so are perfect for the coastal location.
"We got lucky with the spouting. Marley released their Stratus Design Series® in black midway through the build so we had time to change to it," says Kirstin. "It's the perfect match for our colour scheme."
The half-round Typhoon® spouting profile frames the house with a modern look, and the external brackets give some added detail, while also making it easier to clean.
To pull those on-trend dark exterior colours on the cladding and spouting into focus the Castles opted to paint the soffit and posts in off-white of Resene Half Merino. The bold contrast gives the building a crisp, uplifting finish.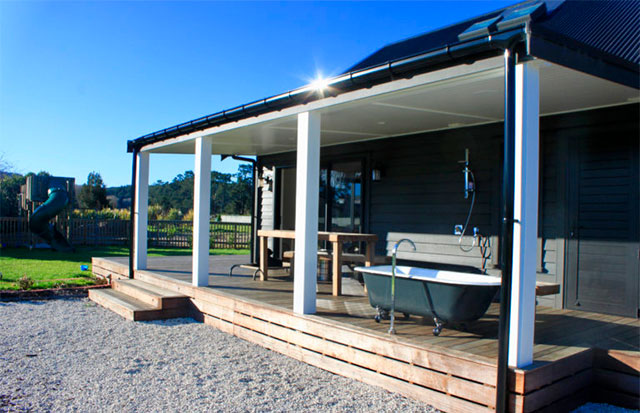 Nothing quite says beach-side luxury than a bath under the stars. The Castles have placed a reconditioned claw-foot bath on the deck outside, and this is extremely popular with the whole family, getting good use all year round.
Local living
As well as Kirstin's own local architecture business, Studio 77 [https://www.studio77.co.nz/], the Castle home made good use of other Whitianga talent. The kitchen and bathroom cabinetry were supplied by Dimax, another local firm, and the Castles didn't have to look very far to find their builders as HAMR Home [https://www.hamrhome.co.nz/ ] are just down the road. "It's great to be able to use local contractors and suppliers. You can't beat the personal service and not one local tradie let us down. They were all great."
The building award win was really the icing on the cake for the project, particularly given the involvement of Kirstin's own business. "We were quite chuffed to win actually. It's really nice to know that others also appreciate what we have done and it's a big tick for our company's design studio."
For more on Marley products, see the website or click here
Published: 27 Sep 2018