►
◄
latest
habitat tv
blog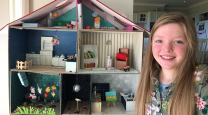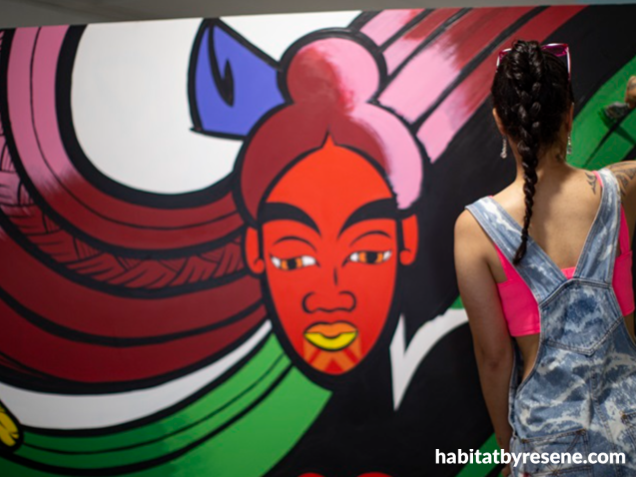 Vibrant street art festival Here and Out launches in Wellington
24 Mar 2022
Wellingtonians are invited to immerse themselves in the large scale, vibrant world of street art with Toi Pōneke's (Wellington's) upcoming exhibition Here & Out, supported by Resene.
"I feel that this exhibition brings a much needed and refreshing connection between local street artists and viewers here in Aotearoa," says Gina Kiel (Dreamgirls Collective), a street artist on display.
The event features nine internationally recognised female street artists at the top of the global game. It will run from 26 March to 22 April, and showcase their creative talents, inspired by the artists' COVID-19 experiences. The event reimagines street art, combining the physical art with digital creations to provide a new visual experience that will enrich Wellington's public arts scene.
Here & Out will also offer a series of talks, workshops, an art show and public performances. The programme includes live mural painting and a digital mural display, a waterfront walk of larger-than-life puppets, and a dance performance by Latin group Ollin Yoliztli.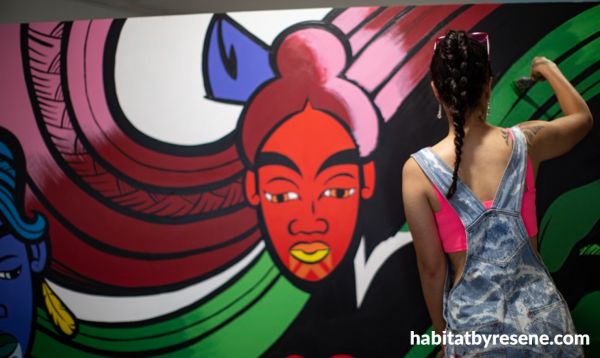 Miriama Grace-Smith working on her mural. Colours include Resene Tangerine,Resene Pursuit,Resene Smitten, Resene Niagra, Resene Black, Resene White, Resene Wax Flower and Resene Scandal.Image: Mirella Moschella
Street art has grown exponentially thanks to the many exceptional murals painted world-wide, festivals, and photographic and video documentation, as well as rapid online sharing. For street artists the confinement of lockdowns has created a desire to reconnect with the community, and new ways of understanding what is public.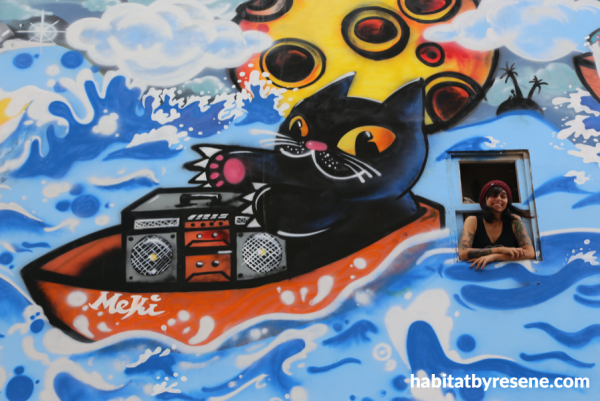 Exhibiting artist Meki with her mural. Image: Mirella Moschella
Some murals to look out for:
Caratoes (Belgium) explores ancient cultures navigating the encounter with inner darkness as a way to heal and rebirth; painting/sculpting off the demons and performing with them.

Dreamgirls Collective - Gina Kiel, Xoe Hall, and Miriama Grace-Smith (Aotearoa) are a Wellington-based female street art crew that has a characteristic vibrant, feminine, Māori influenced, and psychedelic aesthetic.

Fluro (Christchurch, Aotearoa), brings her urban lettering style inspired by graffiti, signwriting, and typography.

Gleo (Colombia) painted the biggest acrylic mural in the world (Wichita, United States, 2018). She moves around the colour spectrum finding the light in human nature with her massive murals which can be found globally.

Janine Williams (Aotearoa) is a member of The Most Dedicated Crew graffiti/Street art/ Post-Graffiti crew that started painting on the streets of West Auckland in the early nineties.
Find more on the programme by visiting https://toiponeke.nz/events/ 20220326hereandoutmangocollective
Published: 24 Mar 2022