►
◄
latest
habitat tv
blog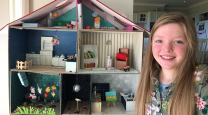 One of the oldest villas in the country gets a fresh look with bold and beautiful Resene colours
One of the country's oldest homes is looking good for another century in fresh coats of Resene paint inside and out. Kohukohu Villa in historic Hokianga, Northland was built as the office for a now long-gone kauri mill, between the 1840s and 1860s.
Today it's a landmark in the town, both for its history and its striking paint job with exterior colours in Resene Double Villa White and accents of Resene Awash, Resene Duck Egg Blue and Resene Jaguar.
Delvene and Sean Morrissey run a painting and renovation business locally and they are no shrinking violets when it comes to choosing colour - embracing statement hues like Resene Norwester, Resene Gecko, Resene Ming and Resene Noosa throughout the house.
"We love being adventurous with colour. Some people have called us brave with our selections, but we don't see it that way, it just gives me such a lift walking into a room we've transformed. And once I've got a wet paintbrush in my hand it's dangerous!" says Delvene.
Their home has a lively history and is reputed to have been, at various times, a billiards room, a reading room, a working men's club and even a police station with a jail in the basement!
The house is historically significant with a Heritage New Zealand category two listing and Delvene says they have dated it from historic photos of the first bridge at circa 1840s – 1860s, making it one of New Zealand's oldest. Originally two simple rooms, which still exist, it was extended over the early part of last century with multiple rooms and a conservatory added.
The couple moved to Kohukohu four years ago for a different pace of life. Delvene had a busy career in hospitality previously.
"We saw the house on TradeMe and decided to up sticks and move here with no idea in mind of what we would do for work, we just fell in love with the house and so moved out of our comfort zone. And we've made it work for us with a more relaxed outlook on everything we do these days."
The first job was to tackle the exterior. "The house had spent the best part of 30 or 40 years in the same boring two colours so we wanted to spruce her up and put a 'new frock on her befitting of being the belle of the ball' that we think she had the potential to be," Delvene says.
One colour that has remained consistent throughout the house is Resene Double Villa White – used outside and inside. "It is such a versatile tone and is really a pleasure to paint as the coverage is amazing. It's a beautiful warm tone and adds a touch of class to all the rooms we've used it in, and of course on the outside. Painting that colour always makes me want to go and eat French vanilla ice cream afterwards as that is what it's creaminess reminds me of," Delvene says.
The Morrisseys say the age and style of the house means it can take contrasting and bold colours and they have used paint to make the heritage features really stand out. "Homes of this era aren't meant to fit into the backgrounds of their settings, they are meant to stand out and be noticeable, and with the number of people who drive by and take pictures, we must be doing something right."
A good example is their own master bedroom painted in Resene Smoky Green from the Karen Walker Paints collection on ceilings and some panels. It's a powerful and striking combination, and still delivers a classic, timeless look.
They also saw the opportunity to share the historic house – and offer two rooms on Airbnb "so guests get to experience first-hand the transformation of our property." One room features Resene Gecko, a rich green paired with Resene Double Villa White while the other guest room has a striking ceiling in Resene Comfort Zone – very apt.
"We've treated each room as its own unique space so we haven't been limited in our choices and the range we've used is quite varied. Most of our choices have just been intuitive, we haven't consulted with anybody we just go with what we like," says Delvene.
The results speak for themselves and the historic Kohukohu villa is resplendent in its new colours.
Top tip: Enhance the natural colour of native timber flooring with Resene Colorwood and protect with Resene Qristal ClearFloor, a waterborne urethane which gives a durable satin finish.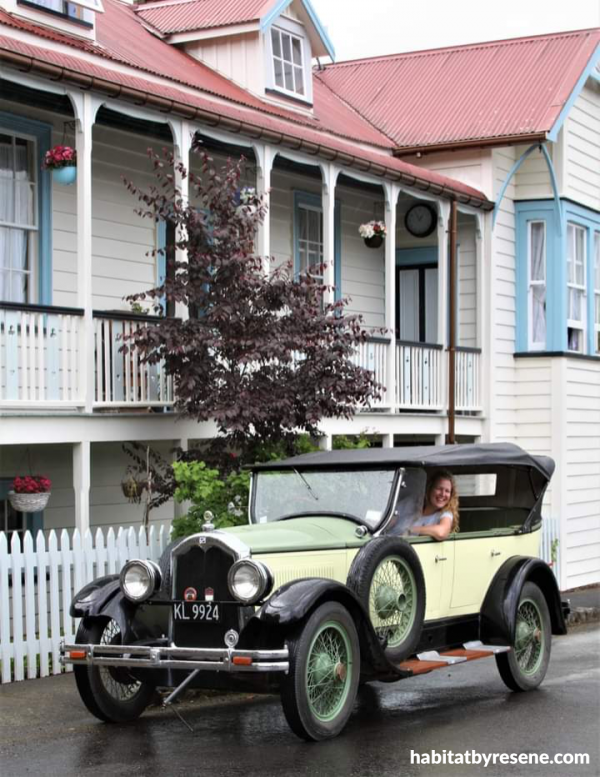 Delvene Morrissey takes a spin in Betsy, a 1920s Buick, borrowed from a guest who came to stay. The exterior of the house is painted in Resene Lumbersider in Resene Double Villa White, with accents of Resene Awash, a mid-blue on the windows, Resene Duck Egg Blue on sections of the balcony and the front fence, and Resene Jaguar, an almost black on the railing and sills. Front door in Resene Jaguar and Resene Duck Egg Blue. Window frames in Resene White enamel. "Once we had painted the exterior, we had loads of people saying that we'd uplifted our corner of the street, so that was great feedback to get." The roof awaits an update and will be painted blue this year – the colour is still being decided. "Exciting times ahead, and we have come to expect that with an old historic house, we will never be done, and there will always be fun and exciting things to do on the building, " says homeowner, Delvene.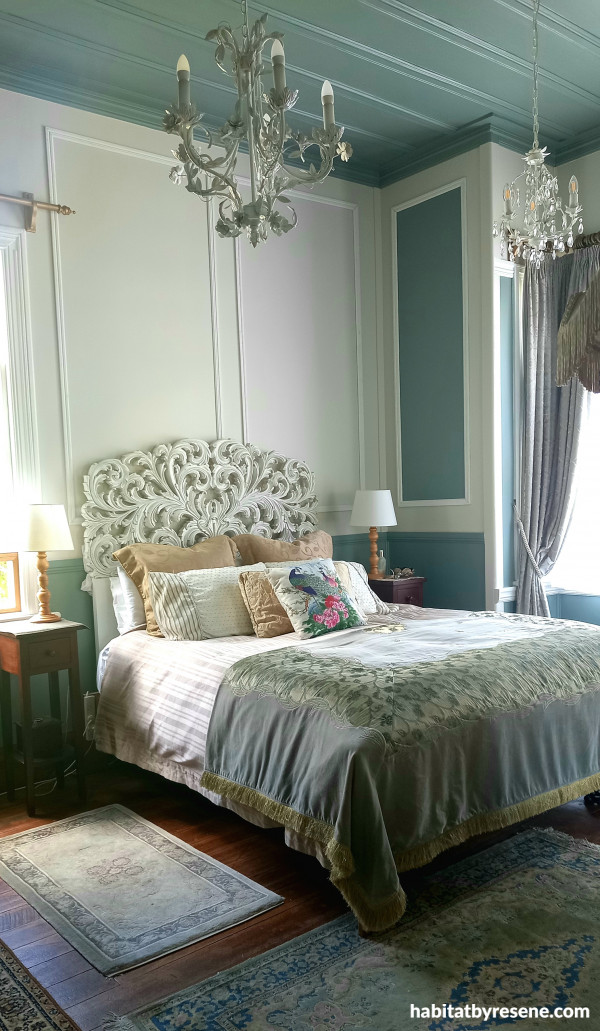 The recently completed bedroom features the ceiling and part of the walls in standout Resene Smoky Green with the remainder of the walls in Resene Double Villa White."Resene paints are so easy to use giving great coverage meaning less coats required and going further with your money spent, they have such an extensive range of colours for all surfaces so we have used nothing else and they really are our go-to paint of choice," Delvene says and as the couple are painters and decorators they know what they're talking about. The couple added the panelling themselves.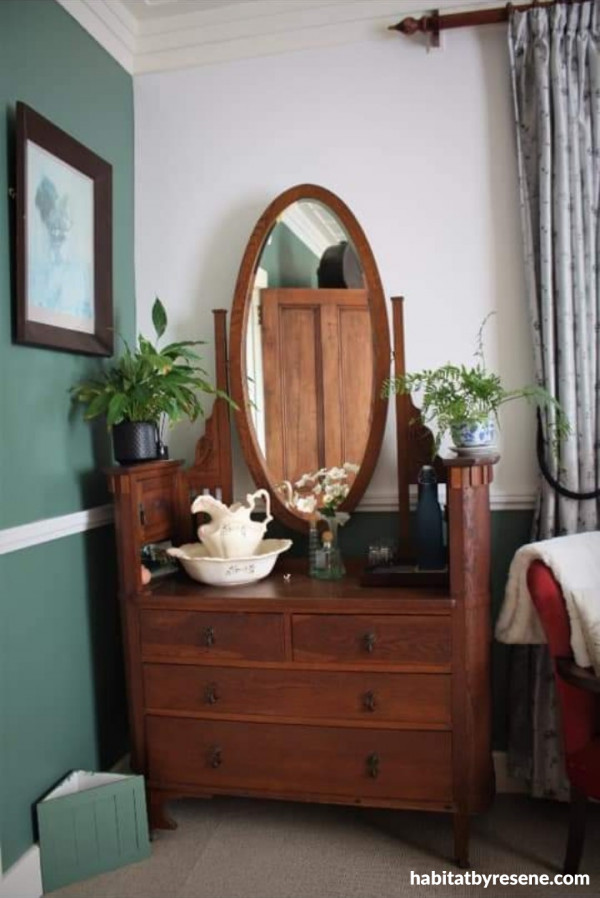 The guest room – the Kereru room – has Resene Gecko on the side wall and Resene Double Black White on ceilings and above the dado line on the front wall, with Resene Gecko below the dado line. The dado trim and skirtings are in Resene Double Villa White. "We have changed a few room colours more than once, getting bolder and more daring each time – if we paint something and we don't love it months later, we change it, and then we fall in love with it all over again. Our rooms are of a decent proportion, so we're able to be bold in our choices and don't feel like we have to stick to the blank white canvas that lots of people steer towards," Delvene says.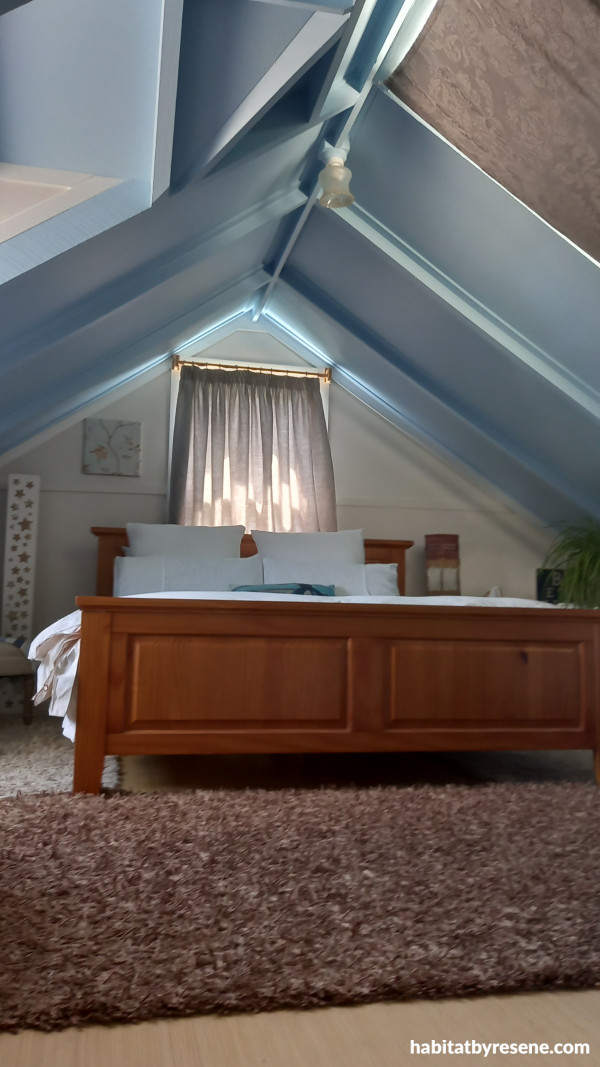 "In our upstairs loft, I think I fell in love both with the colour and the name of the ceiling paint – who wouldn't want to relax and unwind staring up at a ceiling with the paint colour of Resene Comfort Zone?" says Delvene. The ceiling is partnered with Resene Biscotti on the walls and trims in Resene Double Villa White.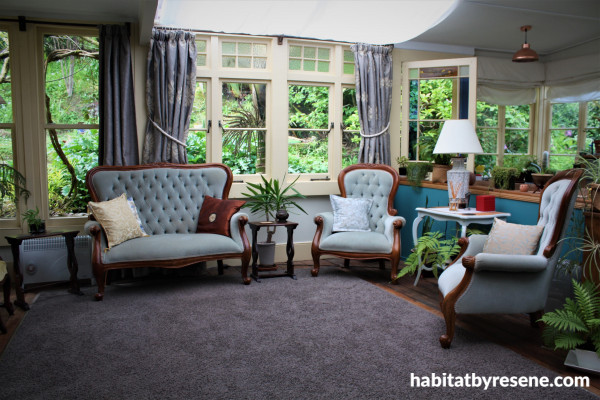 In the conservatory, now the heart of the home, Resene Ming on the side of the bench is paired with Resene Double Dutch White on windows and trims, Resene Double Villa White on the ceiling and Resene Duck Egg Blue on the side wall. When the Morrisseys bought the house just four years ago this was an unloved room, with a BBQ, church pew and drum kit as the only furniture and a non-descript colour scheme. With the additon of paint they've turned it into an elegant space with a huge skylight as a focal point. Delvene loves the room for its windows looking on to nature.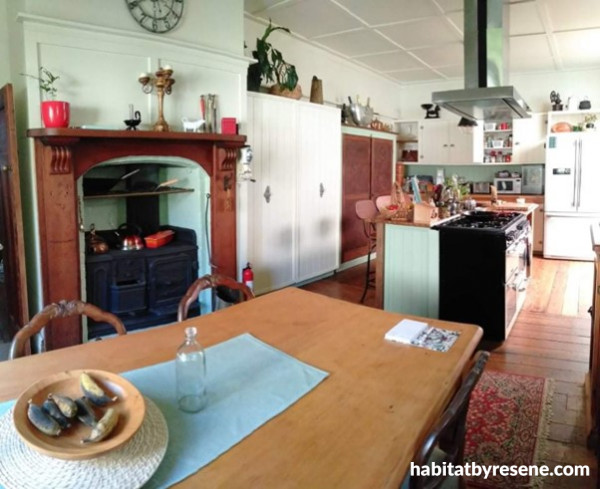 The kitchen features Resene Spring Rain on the splashback, the island detailing and in the coal range alcove, with Resene Biscotti on the lower walls and Resene Double Villa White on the ceiling, upper walls and trim. "The floor is natural floorboards that we've hand-sanded to get rid of years of dirt and grime, but we're still keen on them retaining the patina of over a hundred years of peoples footsteps and their histories and stories. We don't want to hide the house's past, we want to celebrate all of the lives it's had, but make her beautiful in that celebration as well," Delvene says.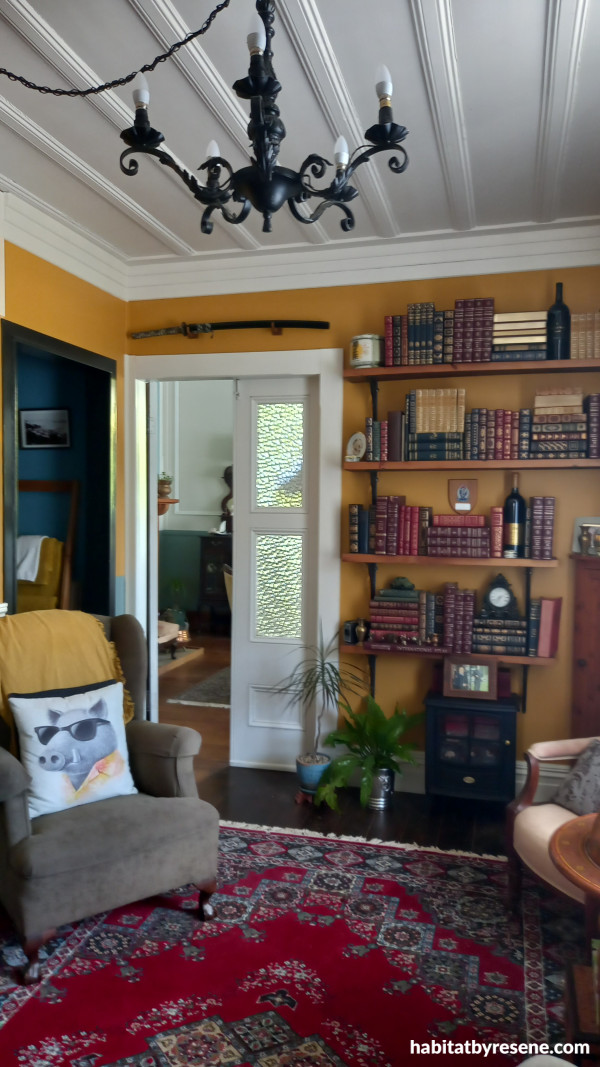 "I love having a nice bold wall or feature and then having a complementary tone for the remainder of the room, as anything that might be perceived as old fashioned in newer homes fits in perfectly with our house," says Delvene. In the library sitting room Resene Noosa makes a bold statement on the walls, with Karen Walker Smoky Green glimpsed through the frosted glass doors. The doors and trim are painted in Resene Double Villa White, with the alcove in the bold contrasting hue of Resene Norwester.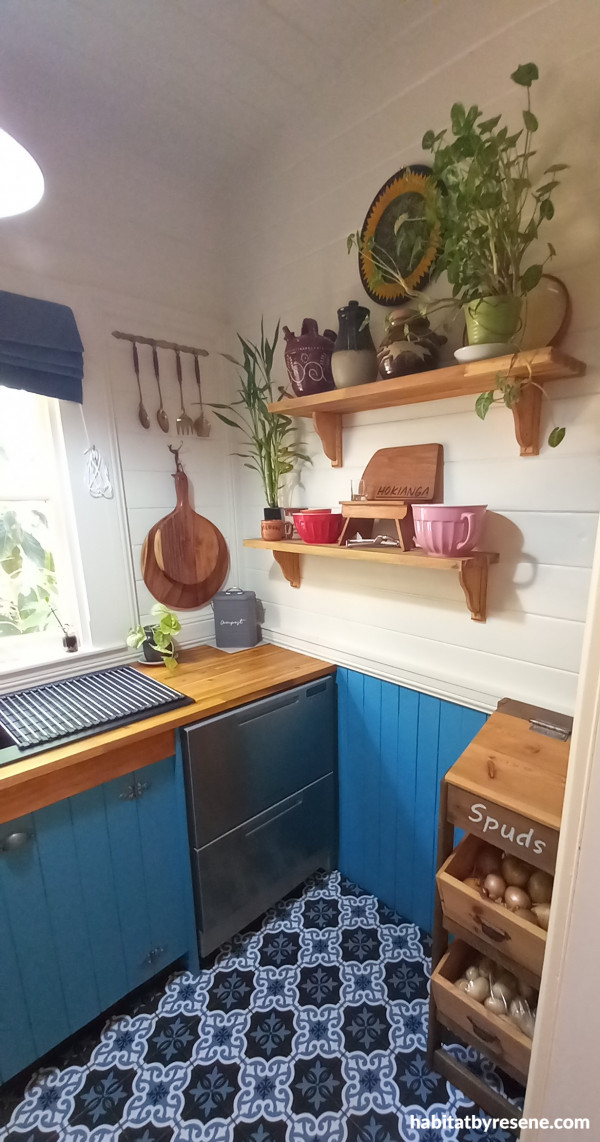 The scullery is painted in Resene Norwester, a San Francisco influenced blue, on the cupboard doors and panelling. Resene Double Villa White is above the dado line. Throughout, these experienced painters and decorators have used the format, Lumbersider."Lumbersider is such a durable paint that we've used that throughout, both interior and exterior. The age and style of the house means we have been able to be very bold and creative with our colour scheme and have a resulting huge colour palette through the home," Delvene adds. Tiles from Tile Depot.
Published: 19 Jan 2022
Do you have a home full of wonderful Resene paint and colour? Send us some snaps by emailing [email protected].
Resene Double Villa White
Resene Double Black White
Resene Double Dutch White
the look
If you're stuck on what
colour to use or need colour
advice, try out the Resene
Ask a Colour Expert service.