►
◄
latest
habitat tv
blog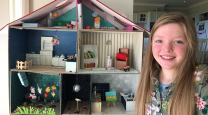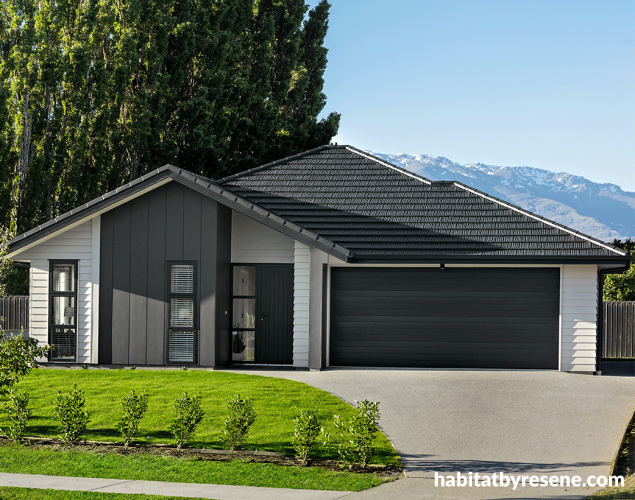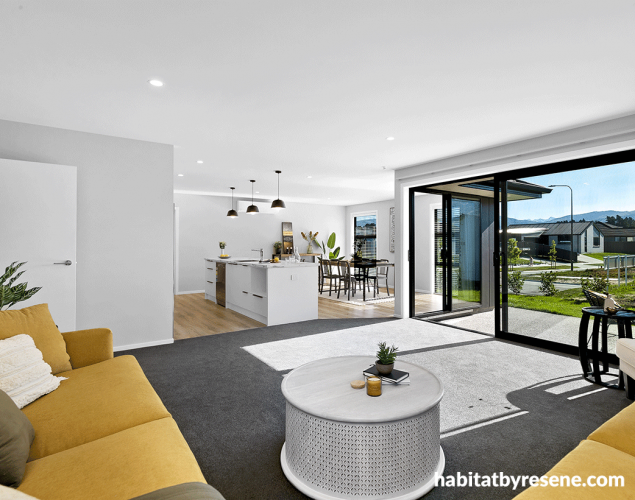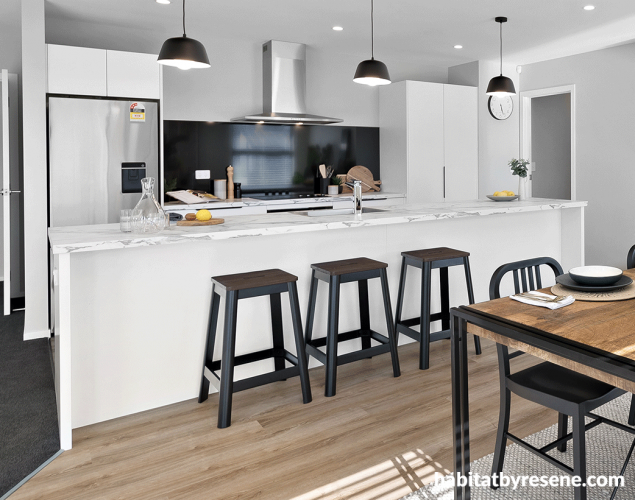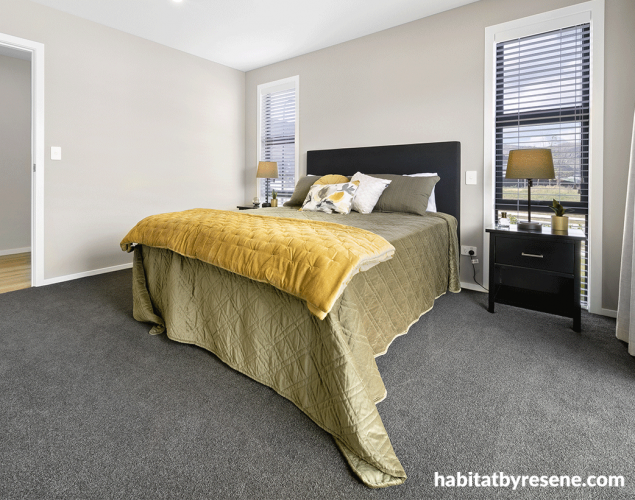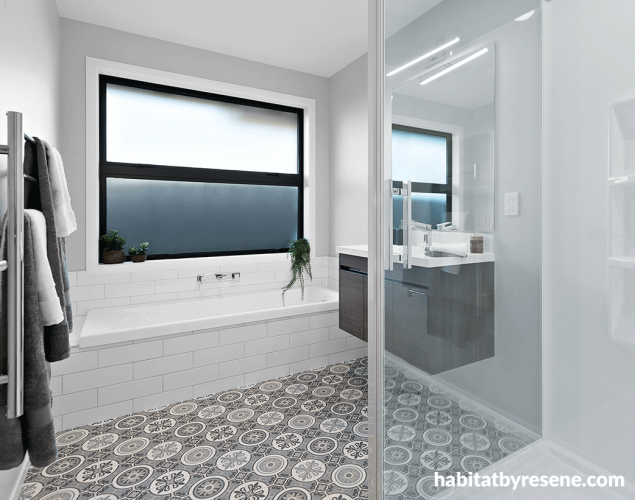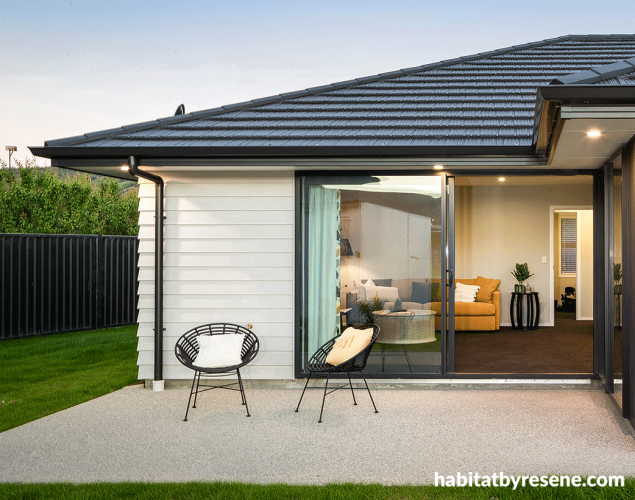 Otago's stunning scenery is the inspiration for this charming home up for grabs in the Heart Foundation Lottery home
Cromwell in Central Otago is a town rich in history and surrounded by dazzling scenery. It's because of this that the town has been chosen again as a location for the stunning fully furnished home up for grabs in the Heart Foundation Lottery.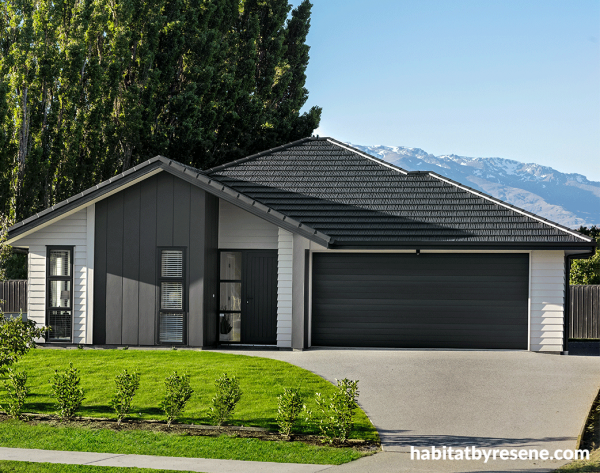 Resene Baltic Sea and Resene Cloudy on the exterior of the Jennian home are inspired by the nearby mountain range.
"The spectacular mountain range that surrounds the Central Otago town of Cromwell is a chocolate box-worthy setting for this popular town with Lake Dunstan as the sparkling buffer in between," says Liz Halpin, lottery operations manager at the Heart Foundation.
"Being so closely positioned to the ever-popular towns of Queenstown and Wanaka, this location was an ideal choice for us."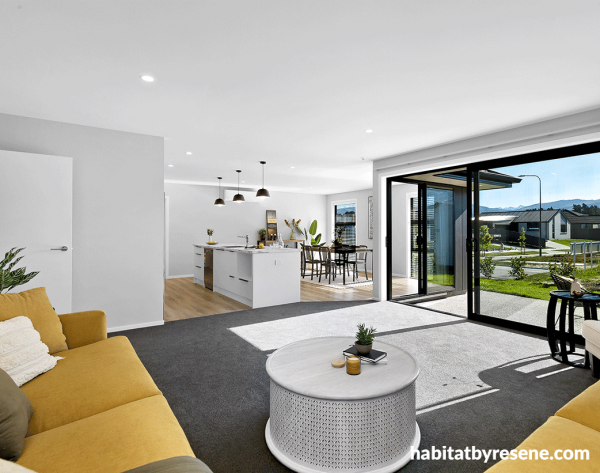 In the light-filled lounge the walls are painted in Resene Half Ash with Resene Half Alabaster on the ceiling and trims.
This first-prize, fully-furnished Jennian home has everything you would need right on its doorstep, with it being only a few minutes' walk to world-famous Otago wineries, popular eateries and an orchard produce shop and 50 minutes' drive from Queenstown.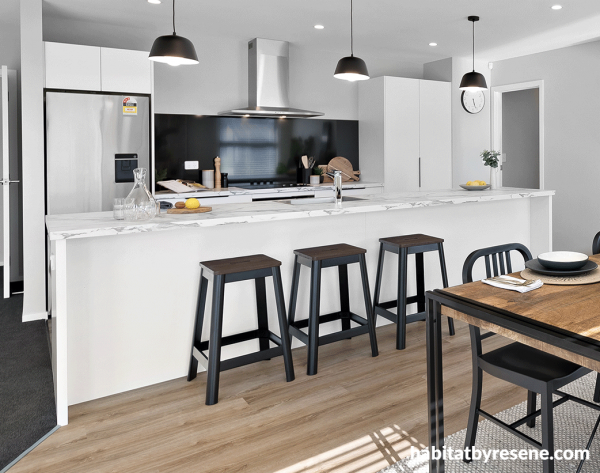 The kitchen walls and kitchen island are painted in Resene Half Ash with Resene Half Alabaster on the ceiling and trims.
Major sponsor for the Heart Foundation Lottery programme, Jennian Homes, have generously worked with the charity to build this beautiful, three-bedroom, modern dwelling. The Heart Foundation are immensely grateful to have Jennian Homes by their side as a partner and Resene as a paint sponsor, as the proceeds from each ticket purchased go towards life-saving initiatives in the fight against heart disease.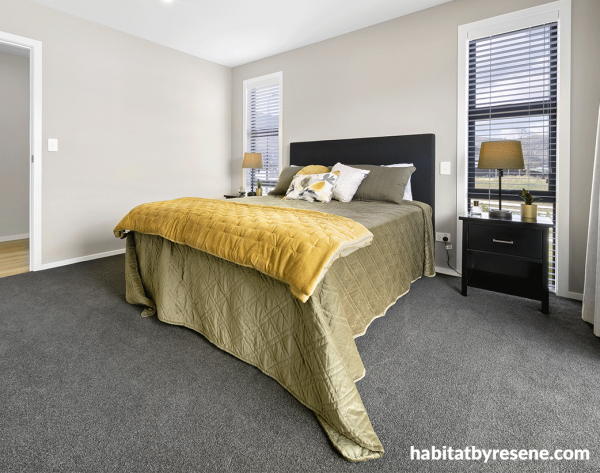 The master bedroom is painted in smoky neutral Resene Double Ash, the perfect balance for the bright bedlinen. Resene Half Alabaster features on the trims and ceiling.
The Heart Foundation were also lucky enough to work with interior design specialist, Gillian Graham.
Gillian shares her inspiration when furnishing and decorating this beautiful home.
What was your design brief?
As this home will be on display in Autumn, I took inspiration from the Central Otago landscape, the beautiful colours in the hills, and changing foliage of the area at that time of year – rich ochre yellow, warm gold, mossy green and earthy brown.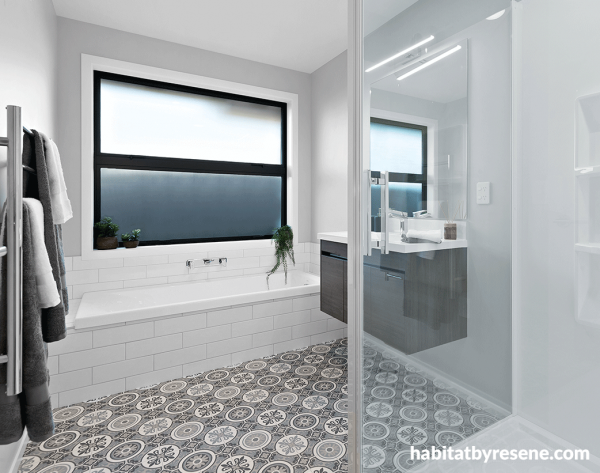 Resene Half Ash in the bathroom ties in with the Moroccan style floor tiling. The ceiling and window trims are in Resene Half Alabaster.
What colours did you choose?
For the exterior I was looking for a contrasting dark/light colour scheme, but it needed to be softer than straight black and white in this picturesque setting.
For the vertical Stria boards, I chose Resene Baltic Sea – a dark yet warm charcoal which matched the dark grey roof and garage door and charcoal window joinery beautifully.
These dark tones were set off by Resene Cloudy on the horizontal Linea board – which is a dusty beige grey, seriously subtle and dry" – much like the Central Otago landscape.
As I used colour and pattern in the textiles and soft furnishings, I was looking for a warm soft wall colour to allow the rich autumn colours to feature. I considered many colours from the Resene Whites & Neutrals range, and came up with Resene Ash, a soft smoky neutral with a green edge. It works beautifully to complement the décor and furniture.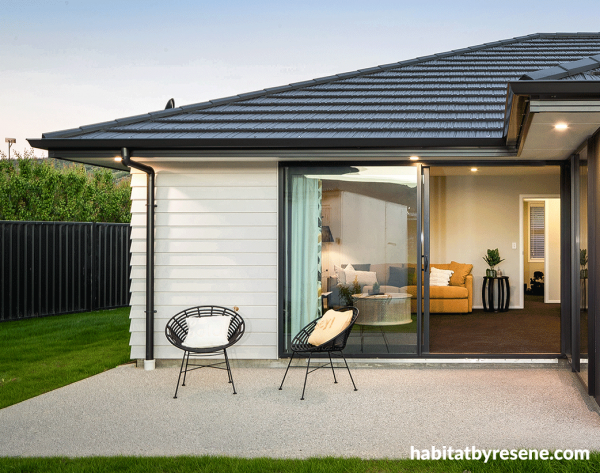 Resene Cloudy is featured on the home's exterior. The outdoor area connects with the lounge painted in Resene Half Ash creating a relaxing space perfect for enjoying the beautiful Central Otago landscape.
What was the biggest challenge for this project?
I had to be careful not to go overboard and close in the space with too much pattern and colour. The yellow lounge suite is quite bold, so restraint was needed elsewhere! Resene Double Ash and Resene Half Ash have created a lovely background to balance and tone down the stronger colours.
What was your favourite aspect of the design?
I was delighted with the colours, shapes, and patterns in the gorgeous James Dunlop curtain fabric and knew this would tie the whole scheme together. It gives a lovely warm glow to the living spaces. Hints of these colours are found in all the other rooms, bringing a cohesive feel to the home, without overwhelming each room.
The Heart Foundation Lottery offers a brand-new, fully-furnished, first-prize home six times a year. Each home is built in a popular holiday destination around New Zealand and is beautifully decorated using Resene paints and stains.
Support New Zealand's leading heart charity by buying tickets for the Heart Foundation Lottery at heartlottery.org.nz. Proceeds from each ticket go towards funding life-saving research, heart health education and prevention programmes, and can prevent Kiwis from losing their loved ones prematurely to heart disease.
To learn more about the Heart Foundation, click here.
designer Gillian Graham Colour & Design www.gillian-graham.com
images Queenstown Media
Published: 24 Mar 2022
Do you have a home full of wonderful Resene paint and colour? Send us some snaps by emailing [email protected].
the look
If you're stuck on what
colour to use or need colour
advice, try out the Resene
Ask a Colour Expert service.