►
◄
latest
habitat tv
blog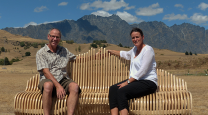 Our guide to the ultimate media room
A great media room is the sum of its parts, from the materials and colours it harbours to its curtains and, of course, its screen. It's about those considerate details. For a well-kitted space to delve into must-watch movies and the trendiest streaming services, combine these colour and décor tips. Your home theatre will also be replete with style.
Use dark colours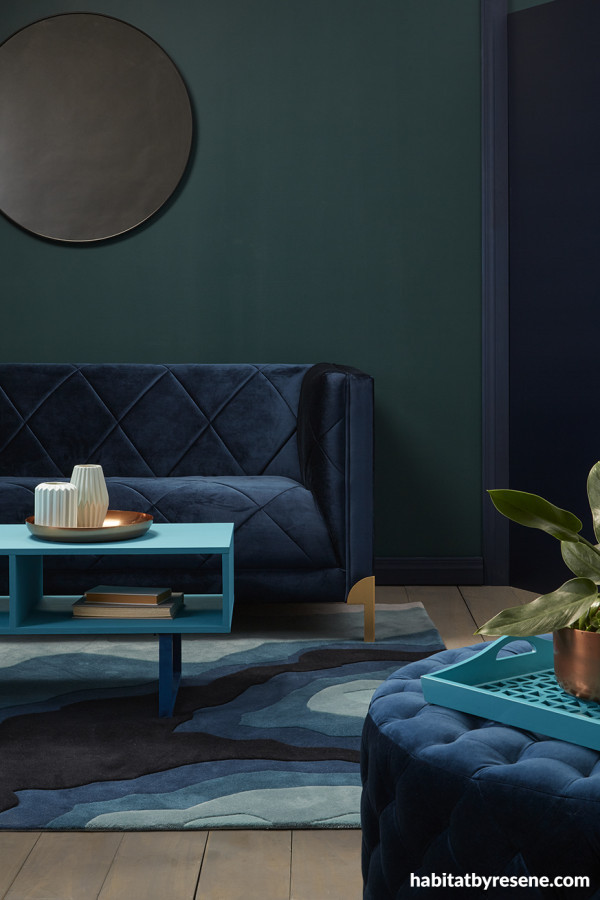 Walls in Resene Atlas, door and architraves in Resene Indian Ink, flooring in Resene Colorwood Mid Greywash and industrial coffee table in Resene She'll Be Right (top) and Resene Wishing Well (legs). Sofa and ottoman from Me & My Trend, rug from Designer Rugs, copper vessels from Freedom Furniture and entertainment unit (used as coffee table) from Kmart.
Dark colours are a wonderful choice for a room that almost demands to be cosy and cave-like. But this doesn't mean one has to rely only on blacks or charcoals. In this room, walls in deep green Resene Atlas and door frames and architraves in Resene Indian Ink, a blackened blue, create a cocooning effect while making the space feel completely luxurious. Incorporate blue velvet furnishings in hues like blue Resene Tangaroa to complement those smaller details and bring in something sumptuous.
Top tip Add soft, ambient lighting via candles, wall washing lights and a dimmer system. Remember to give careful thought to the placement of your lights so they don't reflect off your screen or create any glare. You could even install a night light by the room's entryway for a truly cinema-like experience that would allow viewers to have some visibility when they enter and exit.
Go modular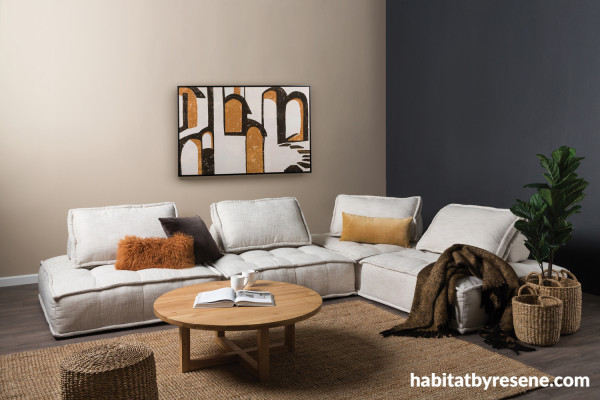 Walls in Resene Biscotti and Resene Jaguar. Furniture, rug, cushions and canvas are all from Nood.
The buildable, flexible design of modular sofas means you can either create one long couch, split your sofa in two or, if you feel like going the extra mile, make separate seats with aisles, as in a cinema. If you want to bring in some lighter hues, especially if your sofa is cream or taupe like in this room, paint walls in Resene Biscotti. The gentle biscuit beige in this look complements the natural textures of the woven planters, rug and ottoman for a snug.
Top tip When decorating, avoid bringing in pieces with glossy finishes as their reflective surfaces will create a distinct glare.
Customise your cabinetry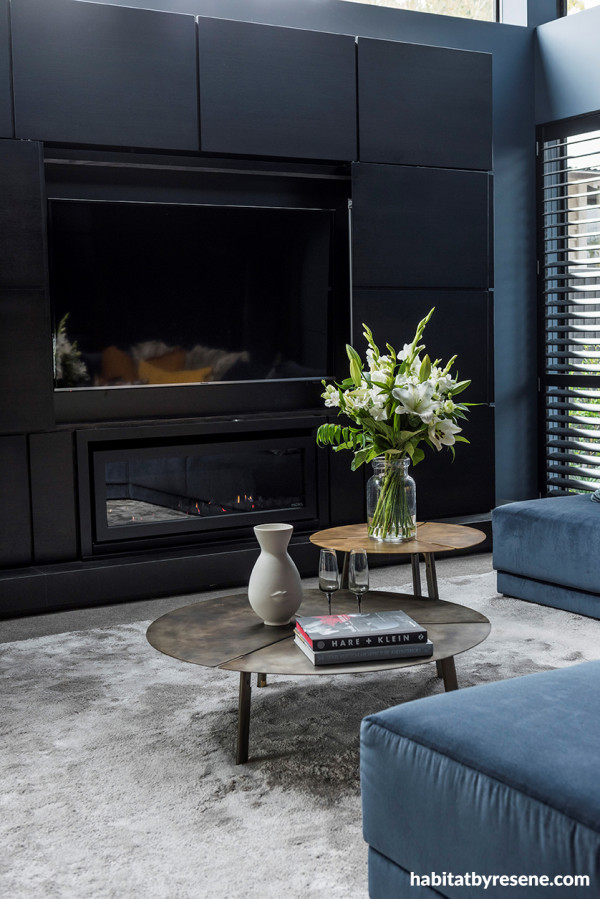 Boasting a custom built-in cabinet by O'Neil Architecture, this space features both a gas fireplace and a large television. For the walls, ceiling, skirtings, architraves and high windowsills, Resene Shadowy Blue was used to create a dark room full of mood. Electric blinds were installed to help block out sunlight.
If you want a sleek room without clutter, consider a built in custom cabinet. You can hide your screen when you want and, as in this room, transform the space into something closer to a lounge. Frame this new addition in walls painted in the same hue, like this room with walls in deep Resene Shadowy Blue – for a chic, well-rounded look.
While this room uses electric blinds, it's also worth considering blockout – otherwise known as blackout – curtains. Designed to limit the amount of light entering a room, these curtains, typically found in bedrooms and available in a wide range of colours, are an easy way to heighten your movie-viewing experience. Better yet, the often thick, well-insulated nature of the fabrics means you'll also have that extra layer of soundproofing.
Top tip To further limit your media room's transmission of sound, bring in an assortment of soft furnishings and a large woollen rug. Adding a heavy-duty underlay to your carpet and filling the room's walls with 110mm-thick insulation are also good investments if you've got the extra pennies for them.

Think about flexibility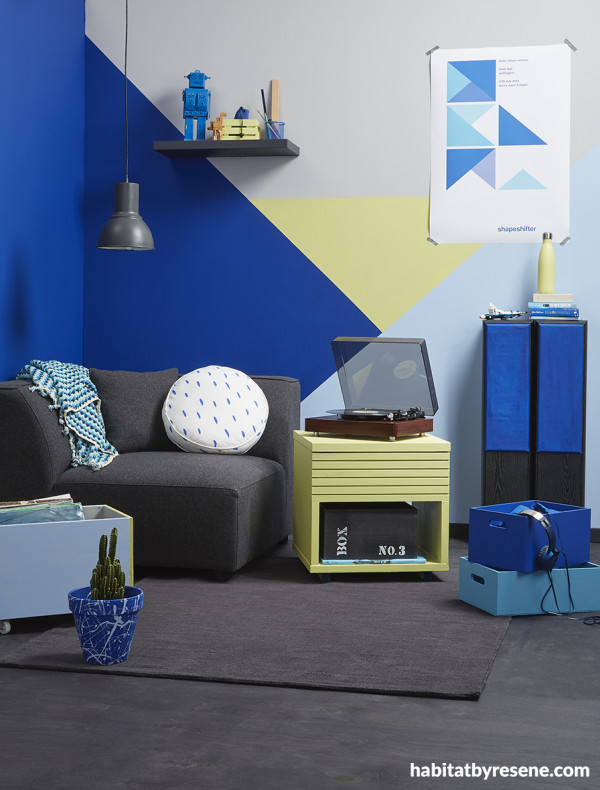 Wall in Resene Rakaia with triangles in Resene Space Cadet (large, at left), Resene Time Out (medium, at right) and Resene Spring Fever (centre). Skirting board in Resene Ebony Clay, pendant lamp in Resene Ebony Clay, shelf in Resene Ebony Clay, plywood floor stained in Resene Colorwood Woody Bay, record stand (side table) in Resene Spring Fever and speaker fronts in Resene Space Cadet. Chair from Nood and poster from endemicworld.
If you want to get the most out of your media room, give thought to having it function as a multi-disciplinary space where you can play music and your family and friends can hang out, play video games and sing karaoke – you'll really utilise those sound-containing features.
Decorating such a flexible room can seem daunting, but playing with a particular theme and having it help guide your decisions can be an easy way to achieve a cohesive look. In this room, geometric shapes in Resene Rakaia, Resene Space Cadet and Resene Time Out take centre stage and are echoed in the sharp angles of a set of speakers, the console table and a Shapeshifter poster. Finish off this look by coordinating your sofa, rug and flooring in charcoals reminiscent of Resene Ebony Clay to balance out the pops of pale yellow.

images Bryce Carleton, Stephen Goodenough, Nood
Published: 04 Nov 2020
Do you have a home full of wonderful Resene paint and colour? Send us some snaps by emailing [email protected].