►
◄
latest
habitat tv
blog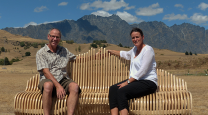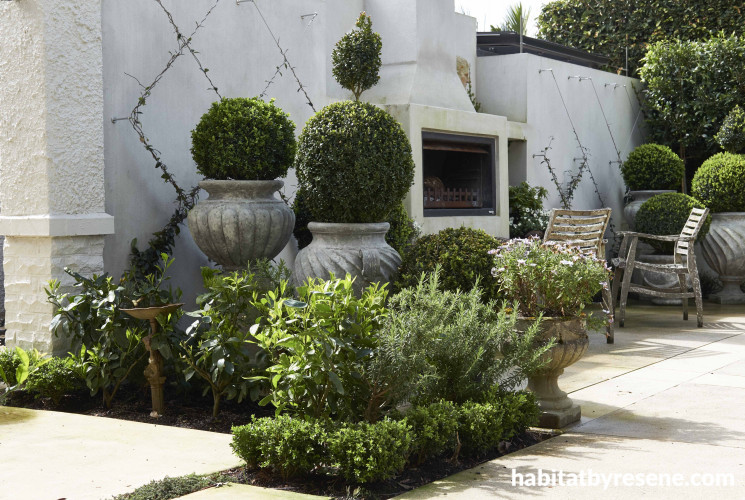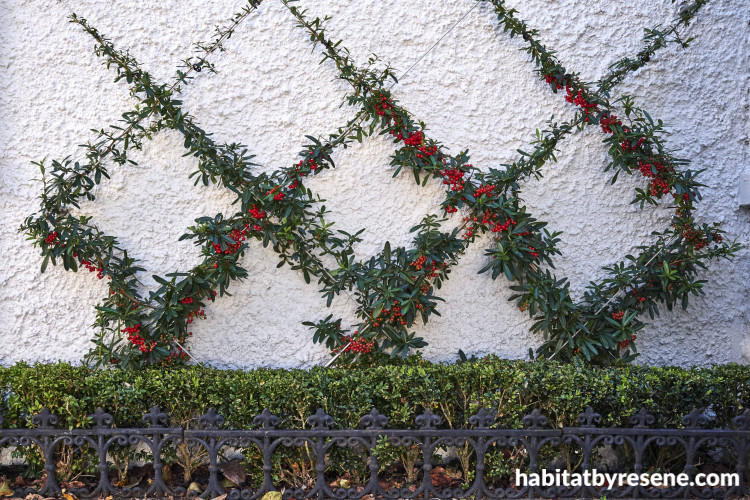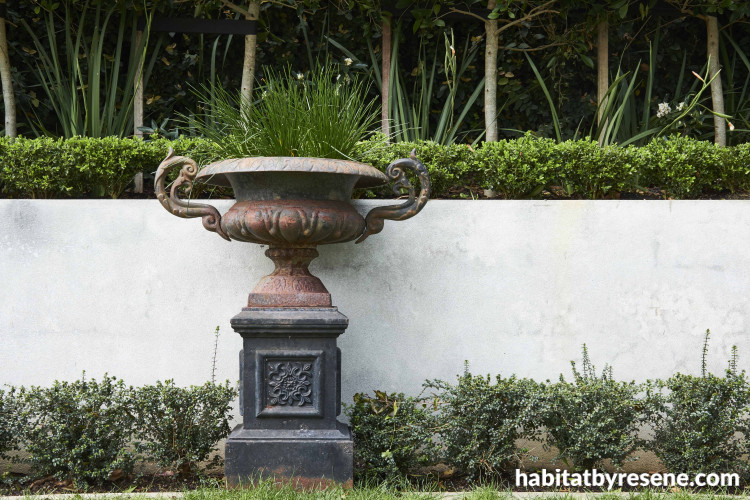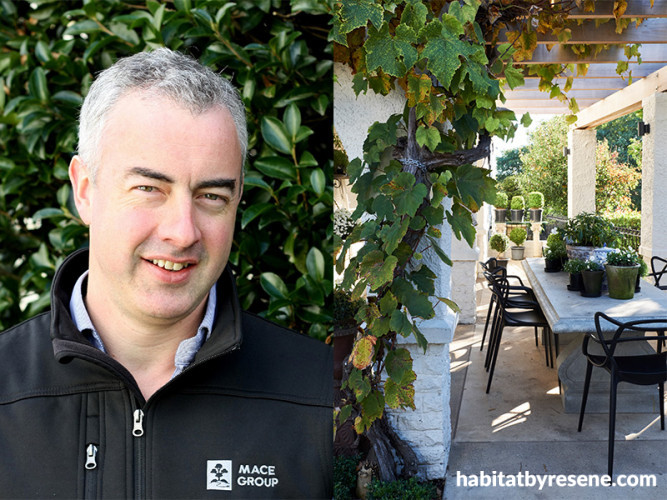 Paul's tour-worthy garden design
Garden and house tours are the perfect opportunity to release your inner voyeur, be inspired by the work our clever local designers and homeowners, and to imagine transporting the ideas to your own property.
The Auckland Garden DesignFest is a two-day charity event, on November 25 and 26, giving visitors the opportunity to see the work of some of New Zealand's top garden designers. Twenty gardens are open for the tour, with proceeds from ticket sales going to Ronald McDonald House, Garden to Table and the Rotary Club of Newmarket Charitable Trust.
One of those gardens is the work of Paul Gallagher, a landscape architect for Mace Landscapes. It's a dreamy blend of traditional style and contemporary needs with a light-dappled colonnade, a welcoming outdoor fire, stucco walls and verdant planting.
Do you have a favourite or particularly memorable project or product?
The Parnell garden we have designed and built is a good example of the type of work we do. I personally like this garden as it incorporates various outdoor living spaces within a coherent layout and includes a range of modern landscape elements and finishes. The Trendz outdoor fireplace is a wonderful asset. The textural variation of the concrete works well. The planting is structured and complementary to the built form.
And perhaps one of the less obvious additions to the garden is the colonnade to support the cedar rafter roof along the side of the house – we matched the architectural detail and finishes of the house so the colonnade blends in seamlessly. The use of Resene products for the finish was the quality finishing touch - we used Resene Limelock to seal the stucco and finished it with Resene Lumbersider tinted in Resene Quarter Tea.
Do you have a signature or favourite style?
Styles and trends depend on the individual client's brief and personality. It's the landscape architect's role to ensure they get a quality result that reflects their style and needs, and is optimised in value. The main goal for any design is to maximise the functional layout and psychological benefits to a space. These must to be tailored to the needs of the users of the space. Along with the priorities of the design you can impose the style and finishes that are required.
What home/architectural/design trends are you excited about at the moment and why?
I like to see clever use of space and assess how the latest trends can help. With increasing demand for housing space on the typical Auckland section, it means gardens will inevitably get smaller in the coming years as sections are subdivided and buildings grow skyward. This means that the use of green walls and living screens will become an increasingly attractive trend for any garden owners who can take advantage of vertical space – this option can provide texture and colour to what may have otherwise been a blank canvas.
For any garden with an outdoor living area, a trend that is gaining interest is the various options for shade cover. From shade umbrellas to shade sails to climber-clad pergolas to polycarbonate and louvered roofs – each of these options can transform the feel of a space. I'd always encourage the inclusion of an outdoor fireplace of sorts.
The tradition of having a veggie garden lives on and as people are becoming more environmentally clued-in, garden requirements are reflective of this. And finally, a really exciting trend is the growing tendency to incorporate the use of colour in the garden, whether it's subtle trim or a bold statement, Resene's paint range offers a cost-effective solution and instant effect.
Which Resene colours are you drawn to at the moment and why?
In a garden, Resene colours are used in two crucial ways – as the background canvas or as the focal point. There are many wonderful shades of dark and neutral colours for boundary fencing or walls that allow the plants and garden elements to take centre stage. Clients often prefer shades of charcoal and grey in lieu of straight black. Alternatively, a brightly painted element can bring a garden space alive. This can be a particular wall or screen, art piece or sculptural work that becomes a focal point to the garden. Colour choices are usually influenced by personality and matching existing colour palettes borne from architectural finishes or garden planting schemes.
If you were designing for yourself, what three things would top your wish list?
An outdoor fireplace, a partially covered deck and garden colour!
See here for tickets to the Auckland Garden DesignFest.
Mace Landscapes carries out the complete package for both residential and commercial landscapes Auckland-wide; from design to build and aftercare.
Published: 05 Oct 2017
Do you have a home full of wonderful Resene paint and colour? Send us some snaps by emailing [email protected].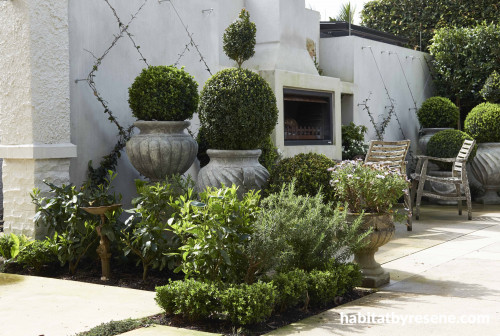 At the top of designer Paul Gallagher's personal wishlist is an outdoor fireplace - like the one he included in this garden, part of the Auckland Garden DesignFest tour. The walls and brickwork are painted in Resene Quarter Tea.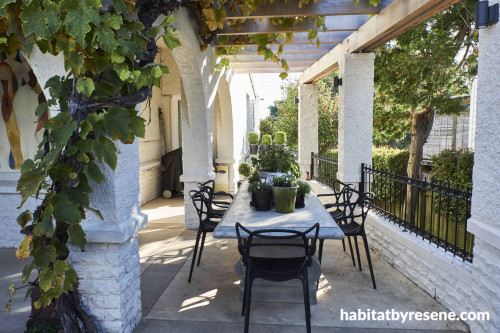 The perfect place to spend long summer evenings - under a vine-draped colonnade. The stucco walls were sealed with Resene Limelock before painting in Resene Lumbersider Quarter Tea.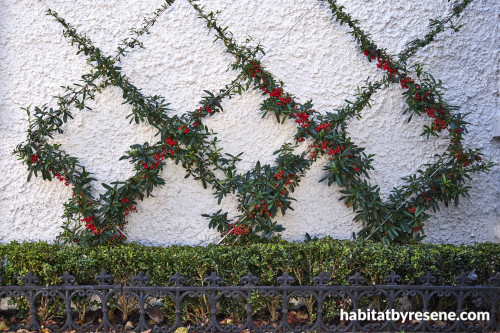 A diamond-patterned espalier softens a white stucco wall finished in Resene Lumbersider Quarter Tea.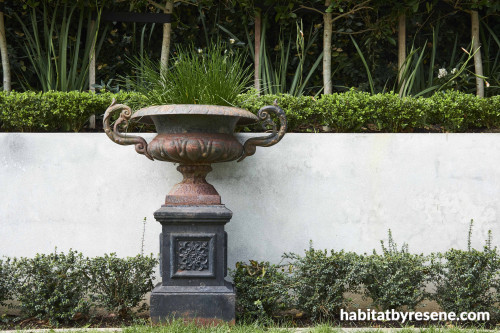 An aged urn provides a hint of European style and a focal point for the garden.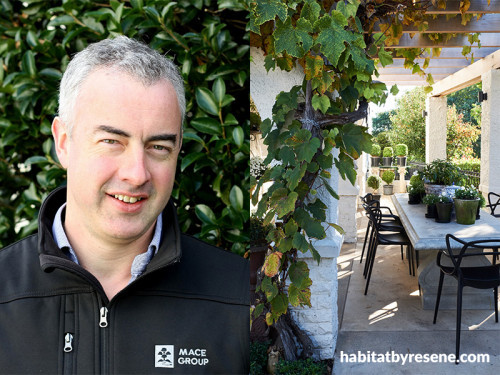 Landscape architect Paul Gallagher of Mace Landscapes, and his tour garden.
the look
If you're stuck on what
colour to use or need colour
advice, try out the Resene
Ask a Colour Expert service.
the look
If you're stuck on what
colour to use or need colour
advice, try out the Resene
Ask a Colour Expert service.