►
◄
latest
habitat tv
blog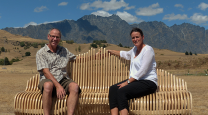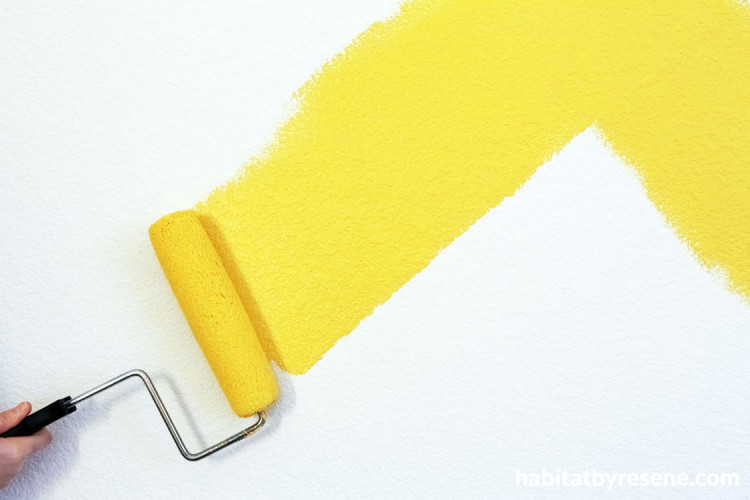 Readers share their tips
Over the years DIYers have kindly sent in lots of tips and ideas to make decorating easier. Here's a selection for your education… and amusement.
Note that these tips have not been tested by Resene.
When painting above your head with a brush, paint tends to drip down the brush onto your hand. To avoid this, put a small hole in an ice-cream container lid and place the handle of the brush through the hole. You won't get any paint on your hand as it will go onto the lid. Once you have finished the job, clean and reuse the lid. From: Nicola Patterson
If you don't want to get paint on your phone a (mobile or hands-free landline) wrap it in cling film. It will be kept clean even if you answer it with your hands covered in paint. The film does not affect the phone and it does not reduce the sound quality. From: Bob Gowers
When painting with a roller, cover your glasses' lenses with cling film. From: Noleen Burton, Wenda Eason
Empty the paint can so there is enough room for you to tap the sides of the paint can with the paintbrush. This helps to remove excess paint on your brush. From: William-John Newton
When painting ceilings, wear a plastic shower cap to stop paint dripping on your head. From: Lynda Voyle
Use a 2L plastic milk bottle for a paint and brush holder. Simply cut away the side of the container (opposite side to the handle), starting 10-15cm above the base up to just short of the neck. Pour in your paint and use by holding the milk carton handle as normal and dip brush into the paint via the cutaway side. Take the cap off so you have somewhere for the handle of the brush. Once you have finished painting you can turn the container upside down and drain through the cap hole. From: Paul Whiston
When stripping wallpaper, spray with fabric softener and a little water. The fabric softener breaks down the surface tension of the wallpaper and allows the water to soak in better. This will help the wallpaper come off more easily. From Kathleen Froggatt
Apply petroleum jelly over door handles and hinges before painting to stop the paint sticking to them. Alternatively, foil wrap door handles and other hardware before painting to keep them splatter free. From: R Brooks
If you need to stop painting for either a few minutes or even overnight but can't be bothered with the trouble of washing up your brush or roller, just wrap it in cling film or put it in a plastic supermarket bag and force out the air. This will stop the paint going hard and drying out. Keep it in a cool place out of the sun or place in the freezer overnight. From: Rosemary Smith
Before you start painting with waterborne paint wash your hands with soap. Make sure there's plenty of lather on your hands and then let them dry naturally - with the soap on. Then when you get paint on your hands, you only need to wash them and the paint will come off nice and easily. From: Barry Winter
Tie a plastic shopping bag around your roller tray and pour the paint onto it. When you've finished rollering you can just take the bag off and throw it away. No cleaning your messy roller tray and you're all ready for the next colour. From: Yvonne Smith, Karen Beach
Soften hard old paintbrushes by putting them in an old tin with vinegar and a little soap powder. Bring to the boil, then rinse thoroughly in warm water. Your paintbrushes will be ready to use again. From: Belinda Welch
Touch up very small areas of paint using a cotton bud. From: Sarah Thorpe
To remove glue from a wooden floor use a wallpaper remover that gives off steam. We had tried everything else -even a spade. After holding the steamer onto the glue for a couple of minutes, we could scrape the glue off with just a paint scraper. It saved us hours of work. Make sure you use a mask. From: Joanne Wilson
If you have a bit of spot priming to do on your roof use a pop top drink bottle to hold the paint. Just squirt a drop on the spot you wish to prime and brush the primer out. The bottle is easy to seal and can be put into your pocket and the brush slipped into a plastic bag. No need to cart a can around. From: DG Mansell
When painting stairs paint every second step and allow to dry completely before painting the remaining steps. This will allow you to keep using the stairs while you are decorating. From: Janet Stockton
Published: 04 Dec 2014
Do you have a home full of wonderful Resene paint and colour? Send us some snaps by emailing [email protected].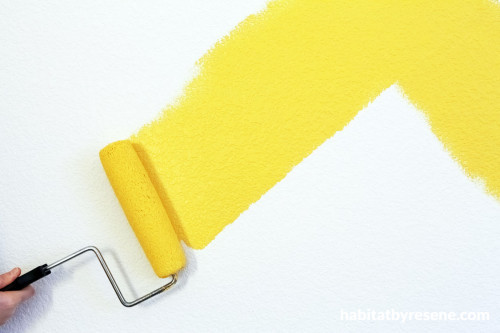 Painting is made easy with these clever DIY tips.
the look
If you're stuck on what
colour to use or need colour
advice, try out the Resene
Ask a Colour Expert service.
the look
If you're stuck on what
colour to use or need colour
advice, try out the Resene
Ask a Colour Expert service.