►
◄
latest
habitat tv
blog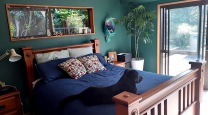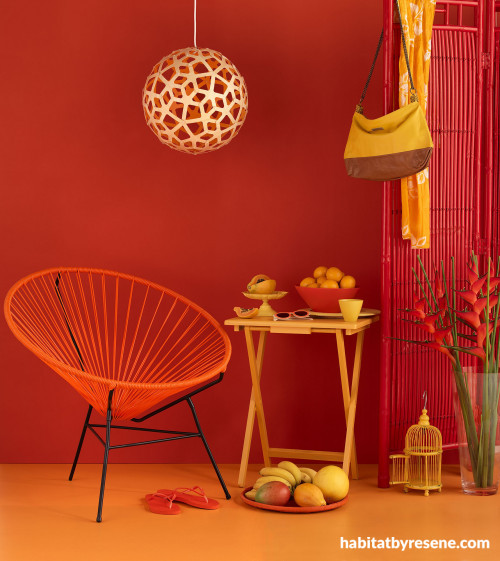 Red - the colour of passion
Hi, welcome to the new-look Habitat of the Week. I'm Sharon Newey, the editor of this and Habitat magazine, both showcasing gorgeous Resene colour. We'll still be bringing you superb houses but also inspiring ideas, themes and advice on how to use colour in your home. Starting with that most vibrant of shades, red.
It's not just a fashion thing for us – the colour red seems to be a perennial favourite at this end of the world. Maybe it's the saturated and strong quality of our light and sunshine, or our brightly flowering pohutukawa and wattle trees.
It's a colour we happily wear, paint on our walls, drive in and accessorise our houses with. In fact, Resene Pohutukawa is a hugely popular paint, blazing off front doors, kitchen cabinets and walls throughout the land. The amazing shade on our photograph above is Resene Whizz Bang, another gorgeous burnt orange/red. See www.resene.co.nz for more info.
For such a strong colour, red comes in many, many variations, from pinky magenta through to deep ox-blood.
It's a colour associated with passion, energy, healthy appetite. Light pinky red is all about romantic love but make it a saturated true red and it becomes more, well, erotic.
Tip: Having said it's a passionate colour, beware of using all red in the bedroom – it could increase your pulse rate and stop you getting a good night's sleep. The best option might be to have it as a statement wall behind the bed, so you'll see and enjoy the colour when you're in the room but it won't be overpowering.
Red also represents the passion of anger and war, and is often seen in uniforms and national flags. It's a highly visible colour, used to warn of danger, in stop signs and on fire engines but also in advertising to attract attention and stimulate your senses.
Add more black to red and it becomes very sophisticated and mellow, reminiscent of red wine, velvet curtains and oriental rugs. Add white and, of course, it becomes pink – soft and girly (excuse the stereotype).
In interiors, red has often been used as a feature wall, a backdrop of strong colour at one end of a room. This is a bit old-hat now but using it on all the walls of a room can seem too overpowering for some people.
This wonderful modern interpretation of a feature wall was created by designer Debra Lorenzo in Wellington.
She has used Resene Pohutukawa on a wall that also has a very practical purpose – as a visual anchor to a shelving unit finished in Resene Parchment and to frame the adjacent window. As part of an open-plan family area, it echoes colour used in parts of the adjacent kitchen.
Tip: A red wall around a fireplace or on a chimney breast gives a feeling of warmth, even if the fire's not lit, and a red front door or entry way lends a feeling of luxury and opulence.
Here's another similar treatment, in Resene Flame Red, in this winning entry by architect Daniel Marshall in last year's Resene Total Colour Awards. Its cheery boldness is the perfect foil for more minimalist open living spaces.
[stop]
A clever blend of both approaches – using such a strong colour on all walls or just one - is to use it for an area or room that leads off an open-plan living space, like Eddie Van Uden did here in his library snug.
The small space leads off the living room and is made even cosier with walls in, again, Resene Pohutukawa. He also used Resene Pohutukawa as a backpainted splashback in the kitchen. Which is another area, red has been used to great effect. Look at this, by kitchen architect Toni Roberts. She's used Resene Sensual Red to beautifully offset the pewter tones of the cabinety.
Red has traditionally been a colour associated with food – not just in berries and apples, but to use in areas where food is eaten. As a colour that stimulates appetite, restaurants love it. And at home, we can do the same in our dining rooms. Like this superb space in an old villa where the Resene Raspberry walls are the perfect backdrop for rich timber furniture and moody lighting.
If red walls are too much for you, use the colour on accessories or on furnishing fabrics, like this quirky stripe from Warwick from their Fanfare (the chair) and Folly (stripe) collections, both in colour Scarlet. The walls are Resene Double Felix (deep brown) and Resene Half Thorndon Cream.
Outside, red has always been popular for front doors, and as an accent colour. This winning entry by Pacific Environments, in last year's Resene Total Colour Award is a witty way of introducing a strong colour, Resene Burgundy, to highlight a stunning architectural detail.
Tip: Resene Jalapeno is a luscious red that has stayed the distance. Spicy and rich it looks great with fire oranges, like Resene Flashback, shadowy charcoals, like Resene Foundry and fresh greens, like Resene Area 51.
DO YOU HAVE a colourful home, or maybe just one room? I'd love to hear from you. Email Sharon at [email protected].
Published: 21 Jun 2012
Do you have a home full of wonderful Resene paint and colour? Send us some snaps by emailing [email protected].
Red the colour of passion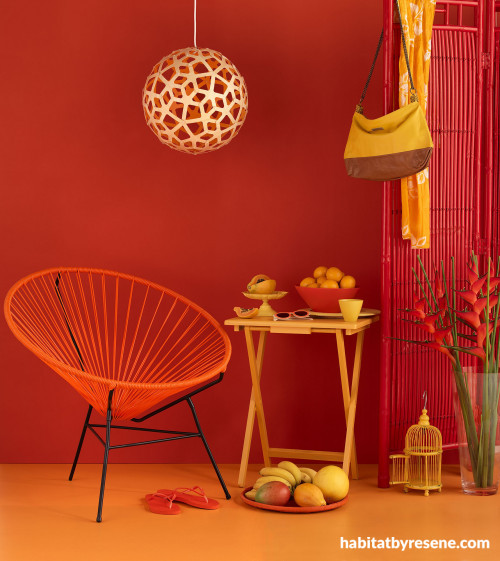 Red the colour of passion
the look
If you're stuck on what
colour to use or need colour
advice, try out the Resene
Ask a Colour Expert service.