►
◄
latest
habitat tv
blog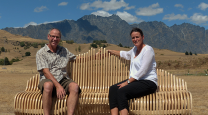 The return of rattan
For some, the love of rattan was left in the 70s. In the world of interior trends though, it's back – and in a big way. And we're seeing stylists take it up a notch by using Resene testpots to paint rattan decor and use it in their interiors, further bringing out that delicious texture.
Many remember rattan wicker furniture as having its heyday in the 70s. It's been through various iterations through the decades, but today's offerings are particularly beautiful.
Rattan light shades, ottomans and peacock chairs have become prevalent in the hottest decor stores, with the style being mostly Balinese and 70s inspired. Bringing these elements into your home immediately brings a sense of chic – but how do you make this look into your own without being too trend-driven? The answer is in adding colour to suit the mood and style of your home.
The beauty of rattan is that it doesn't matter how bold or neutral you go with colour – any colour you paint it will only enhance the incredible texture of the piece. If you're looking to make it a statement, think about where you're placing it. If it's against an already dark or rich wall colour, think about painting the rattan in a complementary shade of white.
Or, if you're wanting to simply add rattan to the overall look of your home, it would also look exquisite in a similar shade to your wall colour. The rattan's texture will create dimension and help the piece to stand out, rather than it blending in with the walls. You can then go a bit more colourful with smaller items such as vases, cushions, etc.
As with any trend, the way to stand out is to bring your own personality to it. You like a dramatic colour scheme? Paint a peacock chair in Resene Freelance. You prefer a peaceful Scandi-influence? Hang a rattan light shade painted in Resene Black White. Giving it your own spin will often turn a trendy piece into a timeless piece, which you'll enjoy for years to come.
Here's how these stylists are bringing the rattan trend into their own looks.
Published: 14 Feb 2019
Do you have a home full of wonderful Resene paint and colour? Send us some snaps by emailing [email protected].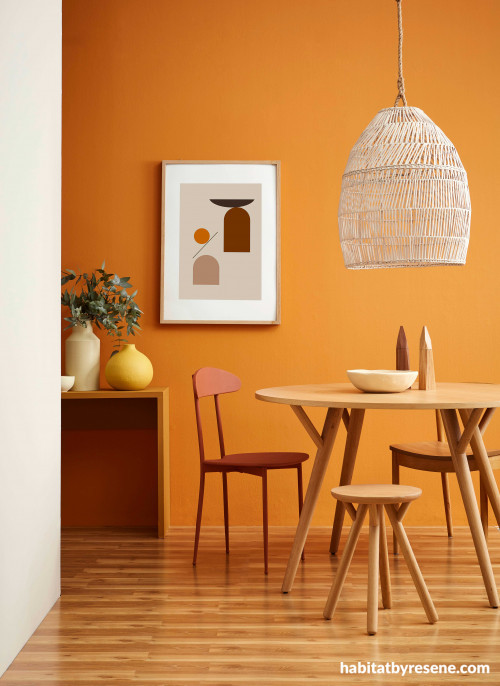 This dining room takes inspiration from the 70s, using updated colours and an oversized rattan pendant painted in Resene Spanish White. Stylist Gem Adams keeps the colour palette toasty warm with walls painted in Resene Twisted Sister (back) and Resene Half Spanish White. The floor is finished in Resene Colorwood Natural, the sideboard is painted in Resene Swiss Caramel, the chair is painted in Resene Moccasin and the short round vase is painted in Resene Thumbs Up.
Accessories: The Arco Dining Chair, Piccolo Dining Table and Piccolo stool all from Freedom Furniture.
styling Gem Adams
images Wendy Fenwick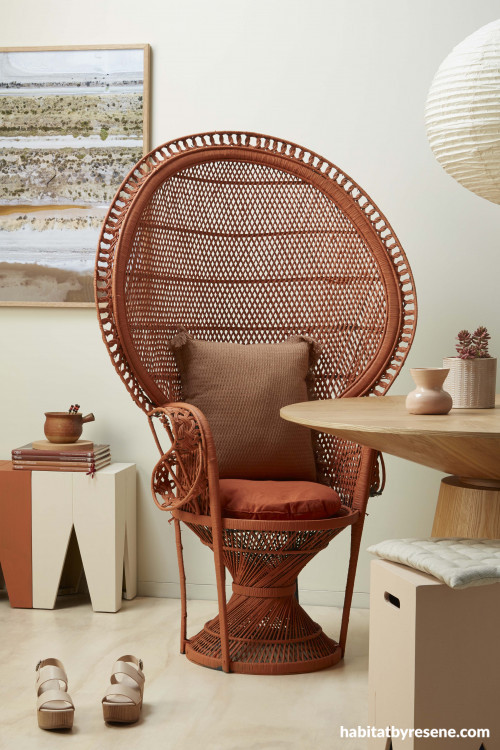 Another modern take on 70s rattan, this peacock chair is painted in Resene Sunbaked and paired with a desert-style colour scheme. Drawing you into this eye-pleasing dining room, stylist Kate Alexander has chosen warm Resene Half Spanish White for the walls with the floor finished in Resene Colorwood Whitewash. These colours really make the richly-coloured rattan chair stand out. Adding to the palette, the peg stools are painted in (from left) Resene Sunbaked, Resene Despacito and Resene Shabby Chic.
Accessories: Salt Lake 2 photographic print by Petra Leary from endemicworld. Shoes, cushion, ceramic vase from Good Thing. Lampshade from Trade Aid.
styling Kate Alexander
images Bryce Carleton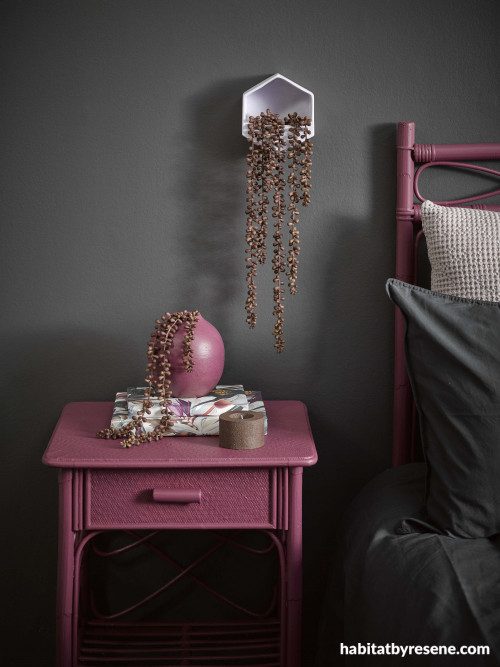 Don't be afraid to veer away from the 70s and go with a bold colour scheme. Stylist Vanessa Nouwens used Resene Virtuoso on this side table and head board, which makes the texture really pop. She's paired the jewel-toned pink with walls in Resene Quarter Bokara Grey, creating a playful yet sophisticated look that would look great in any era. With a look like this one, you can echo the texture of rattan with other decorative elements.
Accessories: Duvet Cover Set from H&M Home, Waffle Euro in Dusty, Grey Textured Throw and Cushion from Allium Interior.
styling Vanessa Nouwens?
images Melanie Jenkins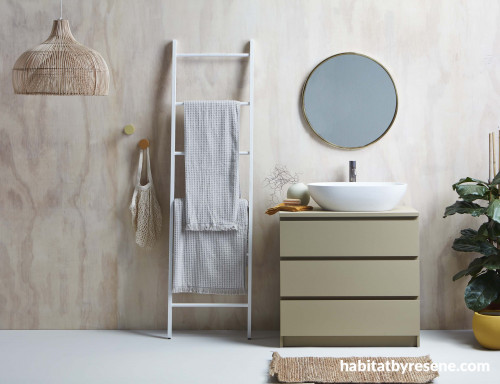 On the opposite side of the spectrum is this pared-back, Scandi look. Simply use a Resene Colorwood stain or varnish with Resene Aquaclear urethane to let the natural beauty of rattan to shine through. You can really go texture crazy when using rattan – take your cue from this bathroom styled by Gem Adams. The rattan lampshade looks stunning against the texture of these plywood walls, which are finished in Resene Colorwood Whitewash and protected with Resene Aquaclear urethane. The vanity is painted in Resene Colins Wicket, the plant pot is painted in Resene Influential, the painted hooks are in (top to bottom) Resene Rococo and Resene Swiss Caramel and the ladder is painted in Resene Rice Cake. The floor is painted in Resene Eighth Stonewashed.
Accessories: Large Brass Wall Mirror and Aura Waffle Bath Sheets in Dove from Flux Boutique, Natural Plaited Jute Mat, Mavis & Osborn Cotton Waffle Towels in Turmeric and Natural Fibre Nailbrush from Paper Plane, Netting Bag from Blackbird Goods, Buddy High Curved Spout Basin Mixer in Aged Brass, Sublime Vessel Basin and Sublime Freestanding Bath from Plumbline, Rattan Lampshade from Indie Home Collective.
styling Gem Adams
images Wendy Fenwick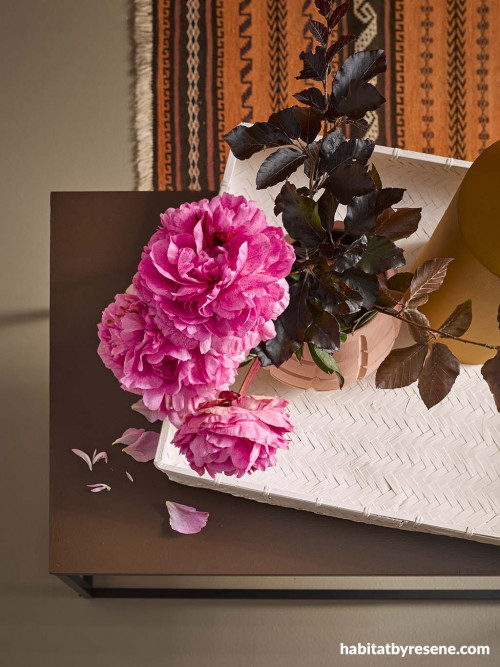 Rattan elements don't have to be a big part of your home. If you want to add a small piece of the trend, paint up a rattan basket or two, adding texture and beautiful colour to your home. This basket has been painted in Resene Despacito and is used to group flower pots, painted in Resene Just Dance and Resene Influential.
styling Claudia Kozub?
images Melanie Jenkins