►
◄
latest
habitat tv
blog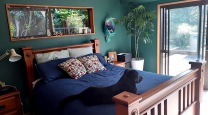 Selena and Mike give this Lake Taupo cottage a charming reno
With a light, bright interior painted in Resene Alabaster, oodles of character and views of Lake Taupo, this newly renovated cottage is a homeowner's dream – but it wasn't always the beauty that stands there today. When Selena and Mike happened upon the 1930s cottage, it had been neglected for a number of years and was desperately in need of a makeover. Despite this, Selena instantly fell in love and the couple proceeded to purchase it at auction. With Mike being a builder and Selena an interior designer, the couple took to transforming the old dame into a charming and contemporary home, using a palette of calming whites from the Resene paint range.
For the interior of the cottage, Selena used Resene Alabaster. "This is my favourite interior paint colour and one that I have used quite a few times now," says Selena. "I find it really is the perfect neutral white. It brings warmth to the room but doesn't throw other colours. And it's super versatile." Another reason to go lighter was to counteract the "really dark" interior, as well as highlight some of the original features, such as the beautiful timber floors and the fireplace surround.
Selena knew exactly the look she wanted for the exterior and, after trying out a few Resene testpots in different shades of neutrals, chose Resene Quarter Joanna for the exterior colour. "Again, the cottage exterior was really dark and it really hid a lot of the character," she says. "Resene Quarter Joanna really softened the house."
The trims were painted in Resene White, which brought out the features of the 90-year-old home's windows and French doors. "The transformation was incredible," says Selena.
Given that it's a cottage, Selena wanted to create a feeling of escapism from the rest of the world, whether you were alone or with family and friends – a place where you can relax and recharge. "You can lie in bed with a coffee and watch the boats sail past on the lake," she says. "It's quite magical."
With that in mind, she felt it important to keep the colour palette neutral and calming, while bringing warmth to the space with lots of natural textures like rattan and linen. These also added a touch of coastal living to the cottage, which she loves.
While the cottage is a place of calm, the reno itself had a few stressful moments. The couple took it on while still completing a new build, which was a bit of a juggle. On top of this, Selena badly injured her ankle on the first day of the renovation. This meant that she was unable to be onsite to oversee things as much as she would've liked. Despite this, Selena said her clear vision made sure everything else went smoothly.
"I always include a contingency into our budget for unforeseen expenses which really helps to minimise the stress," she says. "It's so important to do this especially in older homes as you never know what you might find."
And so, the house stands today with a wholly refreshed look, gorgeous and welcoming. But the beauty of the cottage isn't just about how it looks, says Selena, it's the feeling it gives you.
"It has all the modern conveniences you need but with such a rich history everywhere you look," says Selena. "It feels like a place that has many stories and a place to make amazing memories."
Published: 29 Apr 2020
Do you have a home full of wonderful Resene paint and colour? Send us some snaps by emailing [email protected].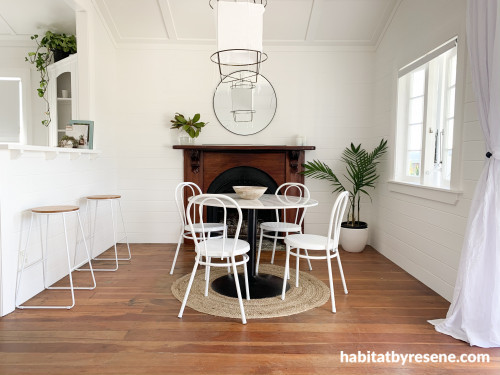 Homeowners Selena and Mike painted cool white Resene Alabaster on the walls of their Taupo home, which perfectly offsets the beautiful original timber floor. For a similar look, try Resene Colorwood Nutmeg wood stain.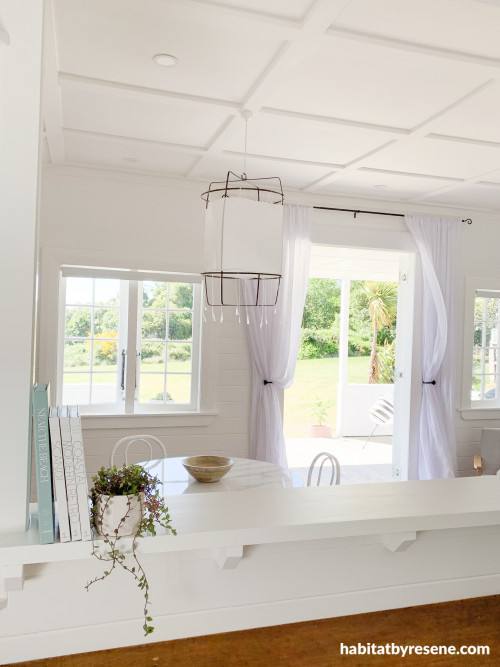 Resene Alabaster is a popular neutral for interiors and it makes the cottage look much more contemporary and brighter than before the reno. Selena, an interior designer, has also added modern accessories, such as linen curtains and a ceiling lampshade, to bring the 1930s era home into the here and now.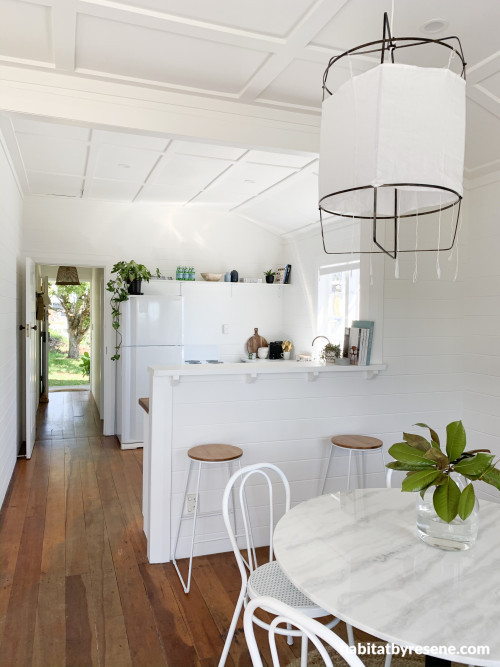 The effect of Resene Alabaster on the walls, trims and ceilings tricks the eye into thinking the cottage is much larger than it is. The batten ceilings add texture and character to break up the whiteness.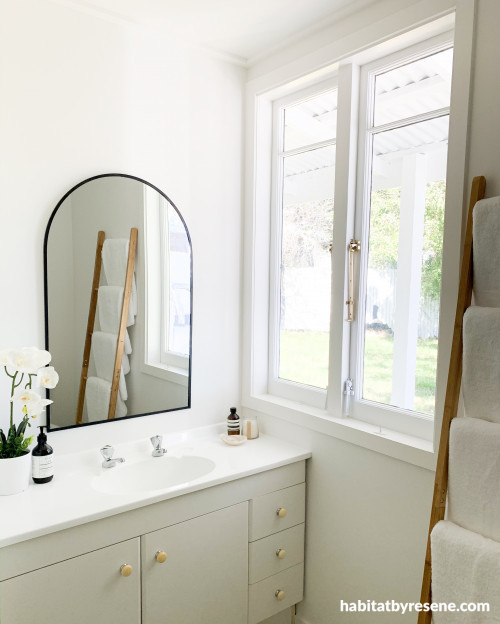 As seen in the bathroom, the reno hasn't demolished the charm of the cottage, only added to it with contemporary elements. The walls, trims and ceiling are painted in Resene Alabaster and the vanity is in Resene Quarter Joanna.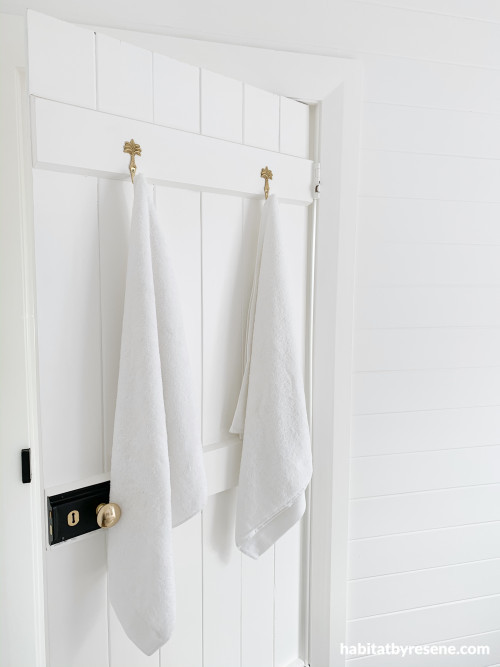 Tongue-and-groove walls look fresh and gorgeous, painted in Resene Alabaster.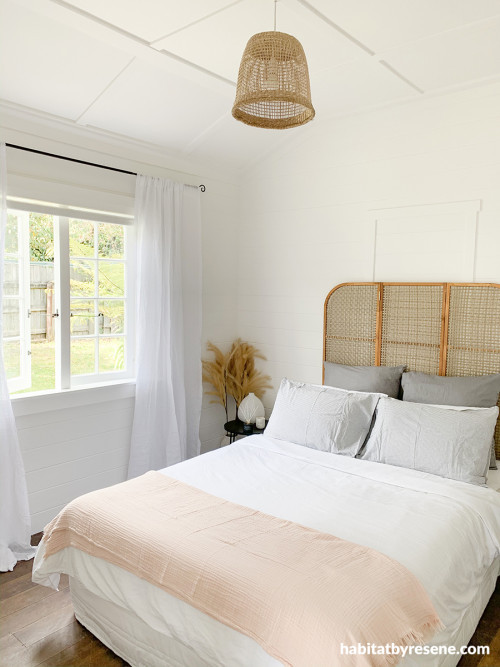 Neutral linens, rattan and nods to coastal living bring out the peaceful ambiance of this cottage by the lake, with walls in the master bedroom painted in Resene Alabaster. For a similar look, try bringing in bedding in silvery greys like Resene Stack and Resene Half Surrender and add a throw in Resene Tuft Bush.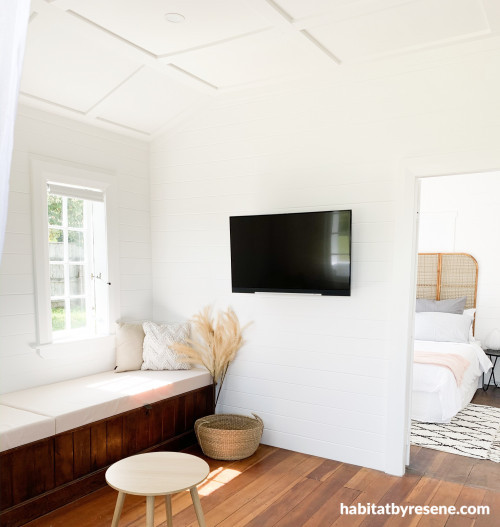 Just outside of the bedroom, sun pours into the living room with walls, trims and ceiling painted in Resene Alabaster. It's the perfect place to curl up with a book or sit down to watch TV.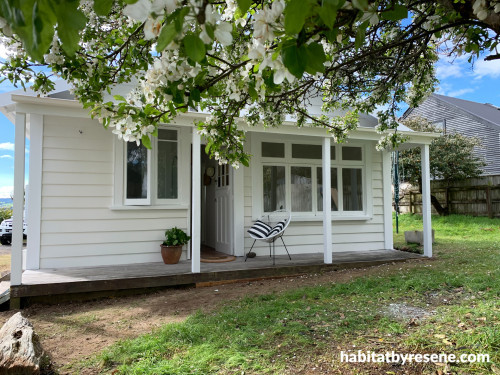 With views of Lake Taupo and oodles of character in its build, this 90-year-old cottage is a dreamy place to reside. Selena chose Resene Quarter Joanna for the exterior paint colour, with Resene White for the trims. It creates a subtle contrast and highlights the large windows and French doors.
design and images Selena McWilliam
the look
If you're stuck on what
colour to use or need colour
advice, try out the Resene
Ask a Colour Expert service.