►
◄
latest
habitat tv
blog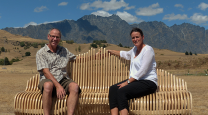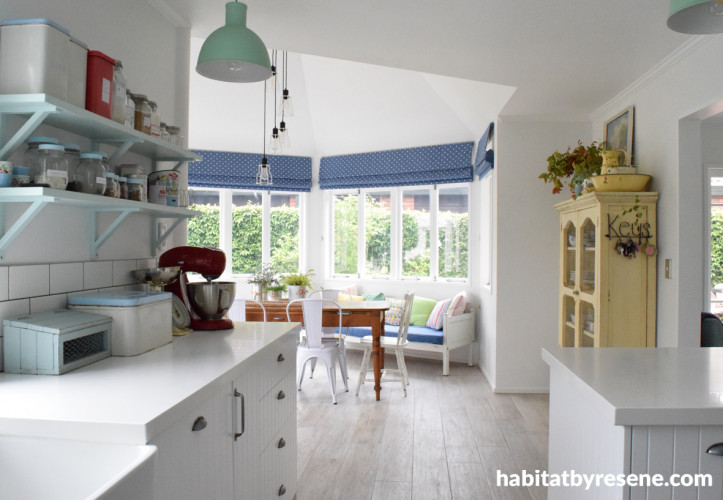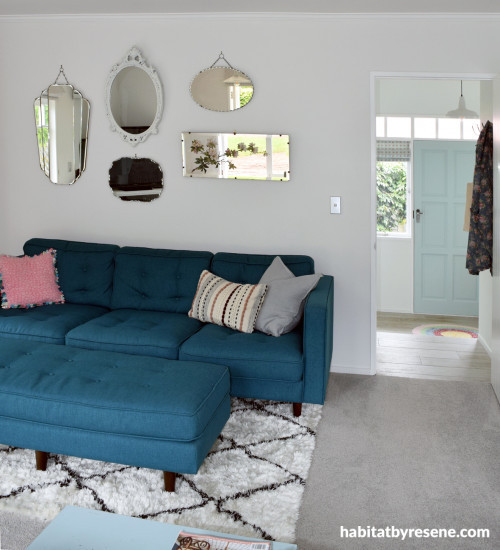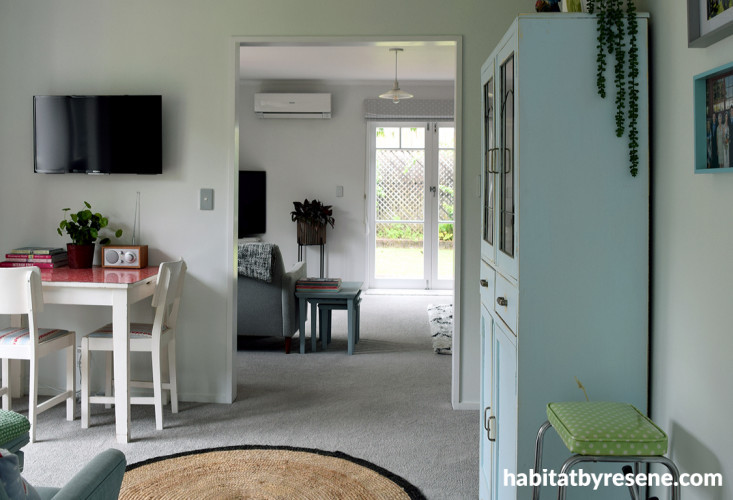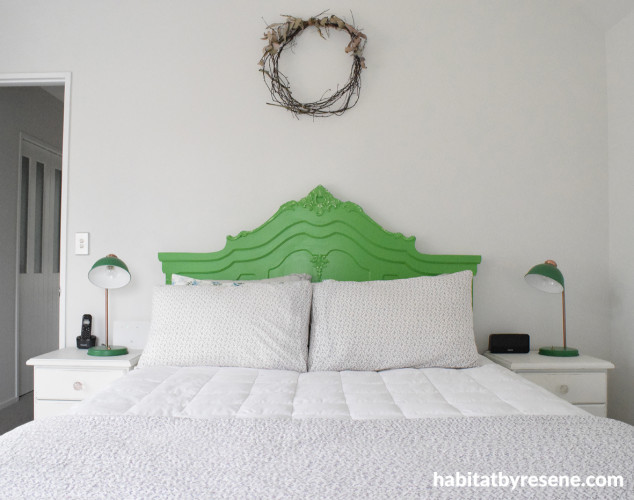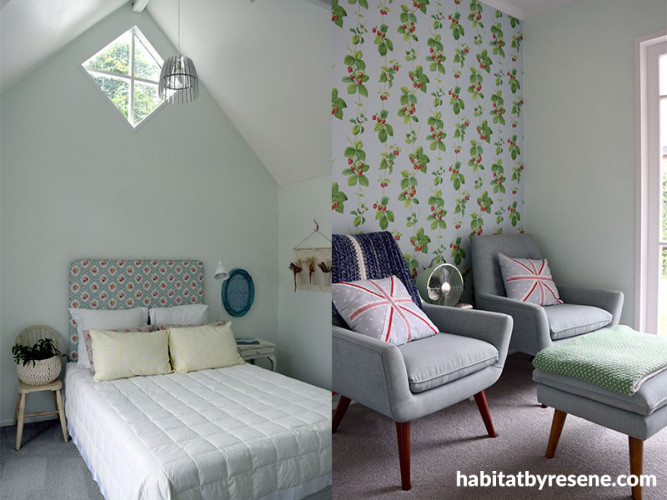 Sheryl and Kevin's bright and eclectic Tudor transformation
After their kids left home, Sheryl and Kevin Mace were ready to downsize and looking for a change. When they stumbled upon this early 90s Tudor-style house in Waikato, Sheryl knew it was the perfect fit.
Smaller than their previous home but with evidently good bones, the couple was up to the challenge of not only downsizing but also undertaking the complete renovation the house demanded. Remarkably, they were able to move in less than five months after purchasing it.
Sheryl has an obvious talent for blending old with new. Meaningful belongings from the past that her and Kevin treasure have been incorporated beautifully throughout their home's décor. "It's important to have those things out on display to enjoy, and I think it makes your interior a lot more interesting by having a mix," she says.
Sheryl also has a strong love of colour and she has coated much of her furniture and accessories with cheerful Resene brights. By keeping the walls in the living areas and master bedroom neutral in Resene Half Black White and the trim, doors, and ceilings in Resene Eighth Black White, she gave these items the visual space they needed to stand out and define the rooms. "I wanted things to be light and simple and not overly complicated," she says.
Below, Sheryl shares more about her inspiration and the couple's experience with completing this extensive transformation.
What part of the house are you most happy with?
"The kitchen and dining areas are my favourites. We opened it up by taking out a wall and filling in the doorway where you entered the kitchen from the room next door. It still isn't a huge space, but I feel we have ended up with a great workable kitchen that is light and fresh and now connects to the dining room."
What is your advice for someone trying to achieve a similar look?
Using Resene Half Black White and Resene Eighth Black White on the cabinets rather than just doing them all the same colour kept it light while providing subtle contrast. Then, if you have a couple of colours you love, you can accessorise with those to add interest. For example, my mint fridge and my red toaster and mixer are my major colours, and then have just layered on other colours to complement them.
What was the biggest decorating, renovating or building challenge for this project?
The biggest challenge, really, was painting the stairwell with its high-pitched ceilings. It was awkward as we couldn't get scaffolding in there so we had to use very high ladders. We even ended up having to tape a paintbrush to a broom handle to get right up into the piece between the ceiling and the beam!
Do you have a favourite colour, and if so why is it your favourite?
I have to say, I LOVE Resene Half Black White. It's light without being too white, but doesn't 'throw' green, blue or purple as grey. It's exposed to all different kinds of light in our house and yet it looks great in every situation. So if you are wanting a light colour, this one is at the top of my list.
How did you find working with Resene paint and colours?
I've always used Resene paint. I love the huge colour range and it's a great product. It's so easy to get testpots for checking your choices as well as painting furniture.
Images by Jessica Judge
Published: 10 Jan 2019
Do you have a home full of wonderful Resene paint and colour? Send us some snaps by emailing [email protected].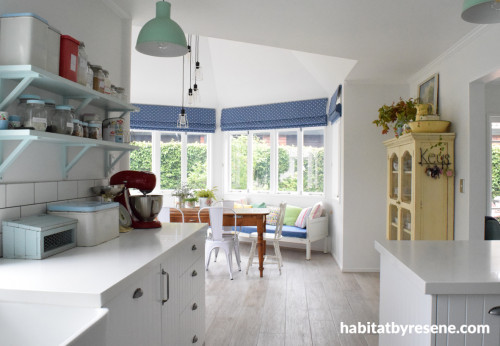 Sheryl's favourite space in the house, with walls in Resene Half Black White, trim and cabinets in Resene Eighth Black White, and shelves in Resene Sorrento.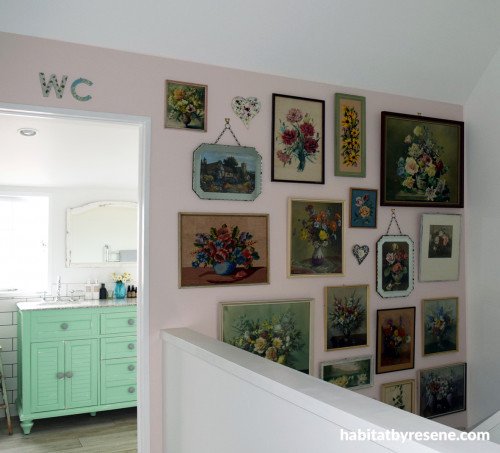 The feature wall on the stairs in Resene Sentimental is a perfect backdrop for Sheryl's collection of flower art. Not too peach and not too pink, this perfect pastel plays off the soft vintage tones of the pictures.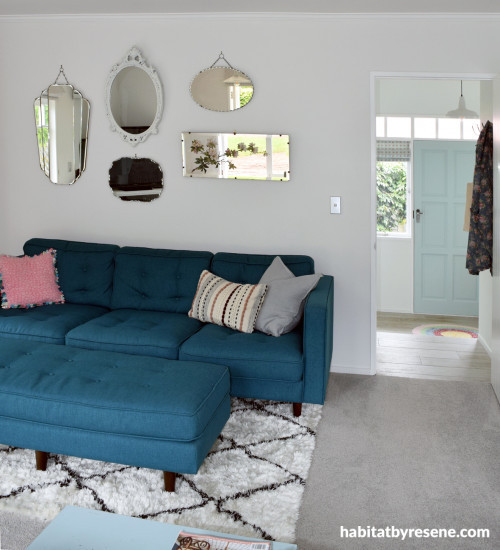 The walls of the lounge have been done in Resene Hint Of Grey. Sheryl liked it because she felt it had a little more depth, which made it work well to balance out the room's plentiful natural light.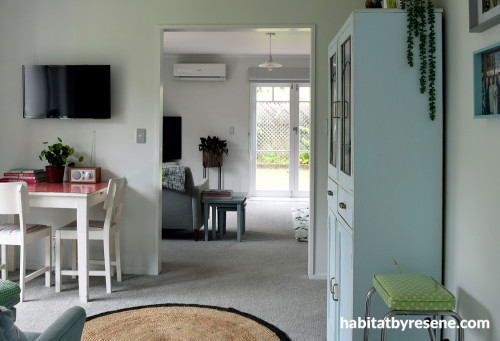 The leadlight cabinet is painted in Resene Onahau and Resene Sorrento was used for the side and nesting tables.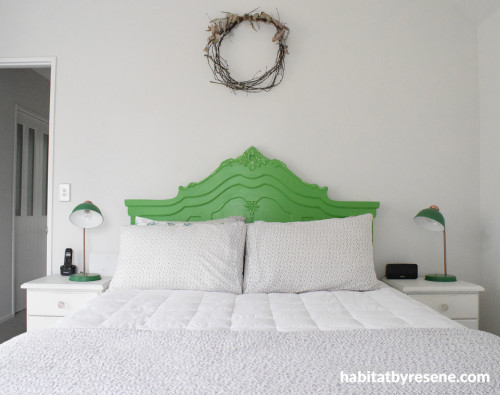 This handsome headboard became a bright focal point after being refreshed with a couple coats of Resene Feijoa.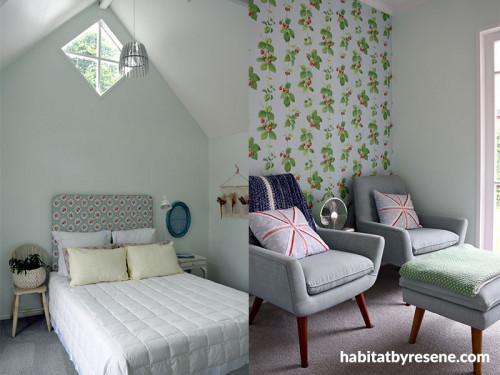 Sheryl chose subtle Resene Saltpan for the guest bedroom, snug, and entranceway, and she loves the way it changes with the daylight and works well with the other colours in the home.
Resene Eighth Black White
the look
If you're stuck on what
colour to use or need colour
advice, try out the Resene
Ask a Colour Expert service.