►
◄
latest
habitat tv
blog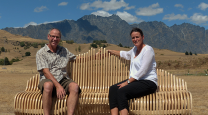 Shortland Street behind the scenes: Michael Galvin shares his thoughts on Chris Warner's colourful new townhouse PLUS check out the Warner house through the ages
On 17 May Kiwis were glued to the screen, watching in shock as Chris Warner's house went up in smoke. Shortland Street's drastic cliff-hanger saw the beautiful beige home of Ferndale's most iconic character, Chris Warner, reduced to ash – with Chris still inside. But Chris was thankfully safe and is getting his life back together, rising from the ashes and on the hunt for his dream home to share with partner Michelle. Cue a charming townhouse bedecked in vibrant Resene blue green and red, the perfect home for a new beginning. We take a look inside Chris Warner's past homes and find out what his new townhouse has in store for viewers.
Just like Chris Warner, Resene products have been on the scene of Shortland Street since the show's onset in 1992. The Warner townhouse is the newest addition to Shortland Street and is awash with calming Resene Green Meets Blue and striking Resene Red Oxide. Michael Galvin has seen it all on Shortland Street and is a fan of his character's new digs.
"I love the new Warner Townhouse. Our art department are brilliant at what they do and they've done such an amazing job on this new set," says Michael.
"It has an upstairs and a roof which is rare for Shorty Street. It will be interesting to see how much we can shoot on the upstairs mezzanine - how much room to move the camera and sound department have.
"I'm really excited to start shooting in it."
Shortland Street's production designer, Ana Miskell, says she was both daunted and excited by the prospect of making a new Warner house set. "It's a big task creating a house for Chris Warner who's been here since day dot," she says. "In terms of big sets, the Warner house is the first one that's been redone in the last two to three years.
"It was a big challenge because in terms of the story, Chris is the CEO of the hospital and his family's got money, so we needed to make a set that reflected that."
Designing the interior of an affluent couple's townhouse on a tight budget wasn't easy, but Ana's clever use of resources helped the team create an elegant home for Chris. "I sourced most of our props from TradeMe and used recycled props," says Ana, who has burnt sets for story arcs in the past. "Now with the advances in post-production we were able to burn the set with a lot more ease and less damage using flame bars and special effects.
"We were also able to recycle a lot of the set including the castors and the whole back wall. We try to keep waste to a minimum by reusing what we can."
Ana chose a lighter colour palette for the Warner townhouse, with half Resene Heathered Grey on the rear wall and surrounding walls in quarter Resene Heathered Grey. The trim adds extra brightness to the set in eighth strength Resene Heathered Grey. "I wanted to make it feel more open and lighter, with neutral tones and pops of colour," says Ana. "One of my favourite colours is Resene Green Meets Blue, which I've used previously in Chris' music room and one of the bedrooms.
"I've found that darker colours work better on the sets. In this set, Resene Green Meets Blue works really well with the actors' skin tones."
Resene Green Meets Blue, a soft grey green with a hint of blue, covers the alcove behind the kitchen in the townhouse. Ana wanted to incorporate a traditional deep red into the mix to add contrast against the bluer hues. "I've used Resene Red Oxide throughout the entire home," says Ana. "We've brought the colour in by painting the steel balustrading and front door in Resene Red Oxide.
"I wanted to make sure the tones were right and I love how the red turned out."
The exterior cladding of the townhouse is painted in Resene Fuscous Grey, a deep burnt charcoal that highlights the Resene Red Oxide door. In the courtyard, delicate hand painted bricks line the walls and are painted by scenic artist Andrew Brown. He created the effect of brick on a flat plaster wall by layering Resene Eighth Drought, Resene Drought, Resene Stonehenge and Resene Double White Pointer. "I use various techniques to try and break down the visual aspects of the real world to its bones and build it back up again, recreating it with paint," says Andrew. "My days involve a lot of problem solving and creativity to achieve the look and feel that Ana has envisioned.
"I use Resene because they have quality products and a comprehensive range of colours. Also, working with an environmentally conscious company is very important to me."
Renovations are never easy and renovating a home for the screen had extra challenges for the Shortland Street art department. The set is lit from lights attached to a grid above the house, meaning Ana and her team had to work within specific limitations; including no ceilings, no bridges and only a small amount of roof.
All this was done within an incredibly tight shooting schedule, the townhouse's walls were unpainted and the kitchen was being installed just three days before they began shooting on the set. "It was hard work getting it off the ground. We worked weekends and nights because we were shooting all day in the studio and couldn't get in there to paint," says Ana. "It was a long process, but it's so good to have this new set because they don't come along that often.
"It was great having that creative outlet and it is something I'm really proud of. It's amazing."
Warner house through the years:
The 2009 Warner house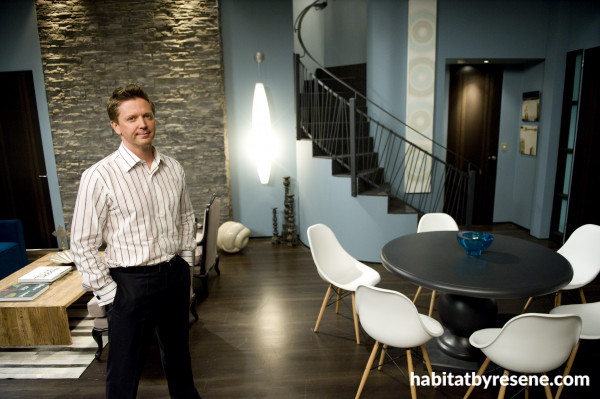 Ana took inspiration from the curving staircase of Chris' 2009 home for the new townhouse. Get the look in your own home with walls in Resene Bali Hai, trim in Resene Nero and a floor stained in Resene Colorwood Greywash.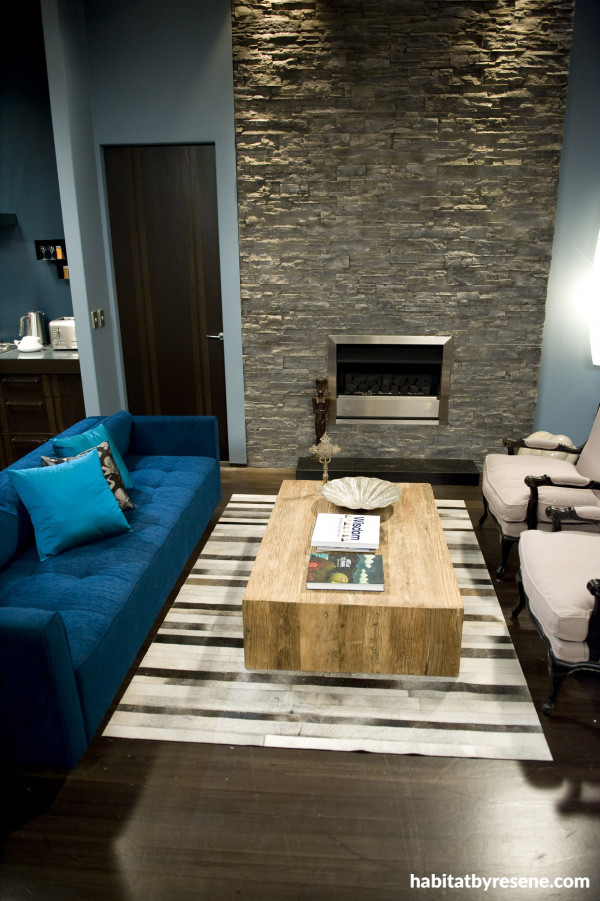 Chris' 2009 moody pad was home to some serious drama. Get this sleek look by pairing a blue velvet sofa with lighter walls in Resene Bali Hai and interior doors in dark Resene Nero. A floor in Resene Colorwood Greywash and some stone accents are the perfect way to finish off the look.
The 2015 Warner house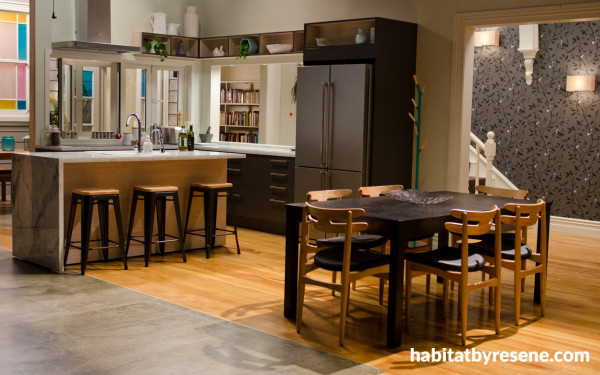 Six years after Chris' dark blue dwelling, the 2015 Warner house entered the scene, bringing with it a warm and earthy colour palette. Get the look with walls in Resene Double Tea with warm Resene Colorwood Natural wood stain on the floor.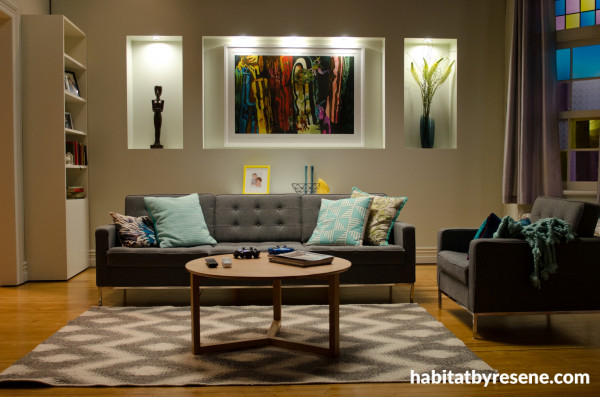 As the character of Chris matured, so did his home interior. Get the look of his refined 2015 lounge with walls in Resene Double Tea and a floor in Resene Colorwood Natural. Try a lighter colour for any wall recesses, such as Resene Green White.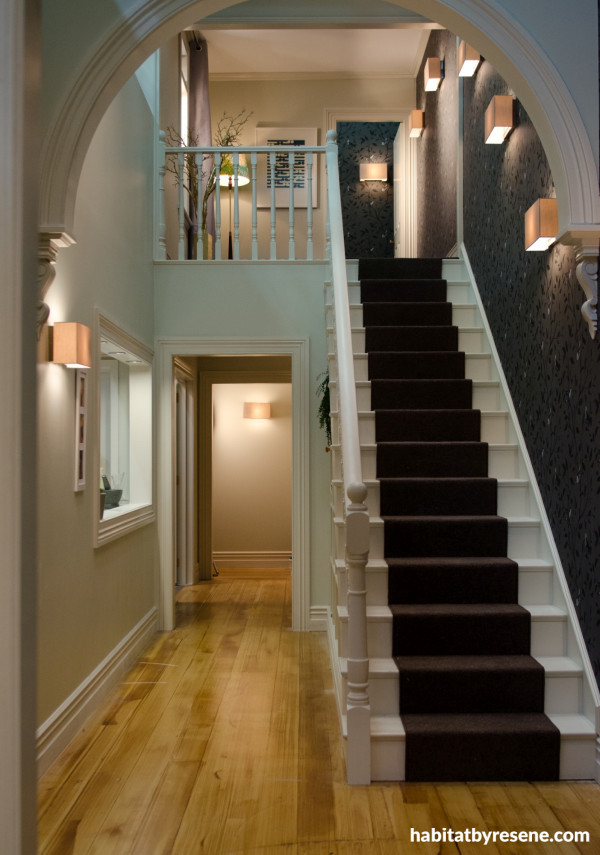 The staircase of Chris' 2015 home was given an elegant touch in crisp white. Complement trims in Resene Alabaster with walls in Resene Double Tea and a rich feature wall in Resene Wallpaper Collection MR71200.
The 2021 Warner townhouse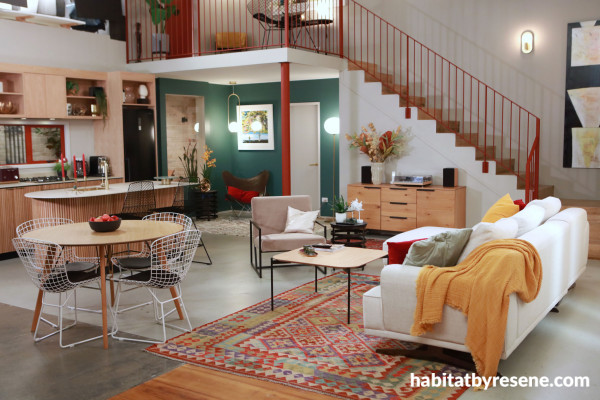 The new kid on the block, Chris and Michelle's 2021 townhouse isn't afraid to flaunt its vibrant colour palette. The rear wall is in Resene Half Heathered Grey, with surrounding walls and stair facing in a lighter Resene Quarter Heathered Grey. The trim is in eighth strength Resene Heathered Grey and the staircase adds a pop of colour in Resene Red Oxide.

In the lounge, Ana embraced her love of colourful rugs and added splashes of red to complement the Resene Red Oxide door and staircase railings. The wall is in Resene Quarter Heathered Grey with trim in eighth strength Resene Heathered Grey.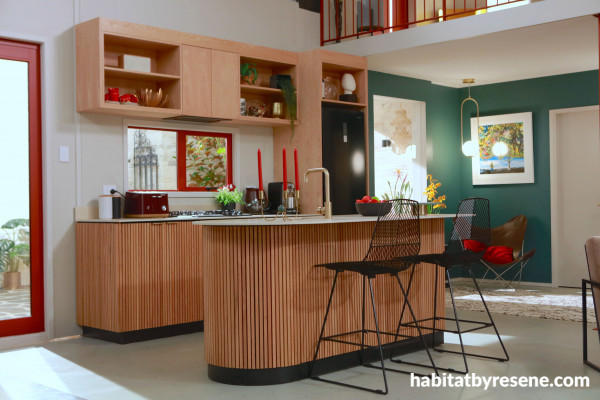 The kitchen island from The Cabinet Place https://www.thecabinetplace.co.nz/ is on castors and can be easily moved to allow room for camera equipment within the set. The walls are in Resene Quarter Heathered Grey and trim in eighth strength Resene Heathered Grey. The doors into the courtyard continue the flow of red and are painted in Resene Red Oxide.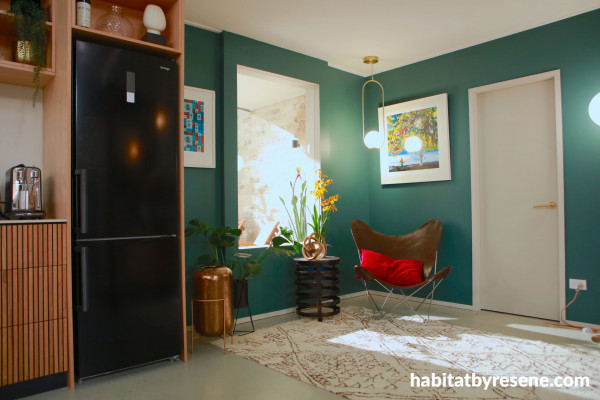 Ana's favourite colour, Resene Green Meets Blue, colours the alcove behind the kitchen. A ceiling and trim in eighth strength Resene Heathered Grey and pops of red and yellow décor make the blue green hue shine.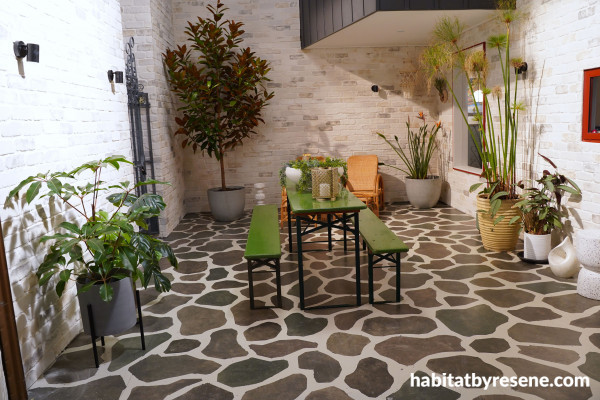 In the courtyard, scenic painter Andrew painted the plaster wall to look like brickwork with Resene Eighth Drought, Resene Drought, Resene Stonehenge and Resene Double White Pointer. He also created a flagstone paving effect using a range of dark Resene greys with a satin Resene Aquaclear finish.
Published: 24 Jun 2021
Do you have a home full of wonderful Resene paint and colour? Send us some snaps by emailing [email protected].
Resene Double White Pointer
the look
If you're stuck on what
colour to use or need colour
advice, try out the Resene
Ask a Colour Expert service.