►
◄
latest
habitat tv
blog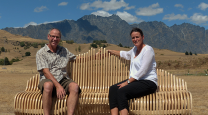 Soothe your stress with these relaxing colour palettes
There's something to be said for stepping inside your home and feeling relaxed and soothed from the moment you open the door. With our increasingly busy and stressful lives, more than ever, we're craving a sanctuary where we can unwind, relax and feel safe in.
The Swedes and Danes are way ahead of us. They've been living by the concepts of 'lagom' and 'hygge' for some time. Hygge, which is pronounced 'hoo-gah', can really only be described as a mood of cosiness and comfort. It celebrates wellness, contentment and encourages the enjoyment of the simple things in life.
Lagom is not a dissimilar concept. While hygge is about relishing a single moment of snug, calm bliss, lagom is more a way of living. When translated, it has a similar meaning to 'not too little, not too much'. It's all about balance and sustainability.
Zen philosophy, or Zen principles, embrace minimalist design (à la Marie Kondo). Hailing from the east, it focuses on natural materials and patterns of light and space to create a relaxing, contemplative and visually balanced home.
Folding these concepts into your own life starts with your home environment. After all, how can you be encouraged to unwind and relax if your interior screams clutter and noise?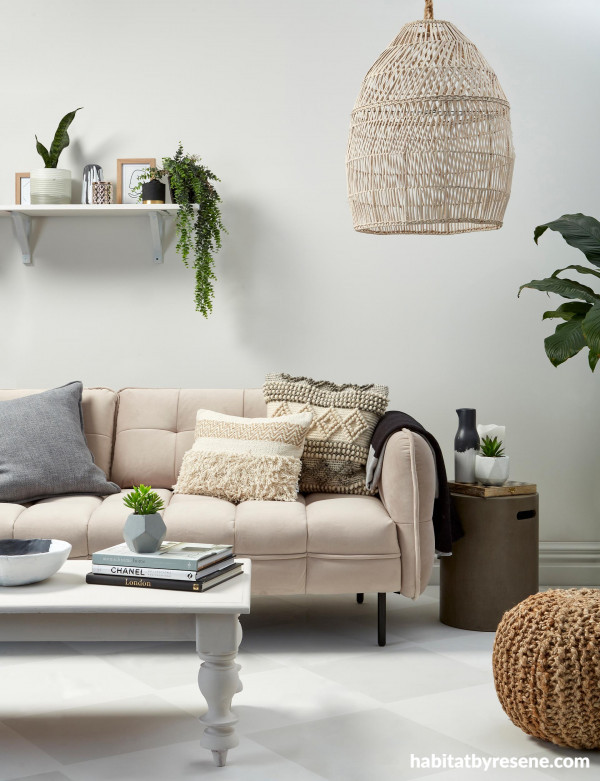 Many people find white a restful colour to be surrounded by. But depending on your lighting, stark white may end up feeling jarring. Resene Black White – as the name suggests – has some black pigment mixed into it, which makes it a much softer option than a true white. Wall, shelf and skirting in Resene Black White, chequerboard painted floor in Resene Black White and Resene Triple Black White, coffee table in Resene Westar, jug vase in Resene Gumboot (top) and Resene Black White (bottom), large bowl in Resene Gumboot and Resene Saltpan, geometric pot plants in Resene Saltpan and Resene Quarter Chicago, ombre pot plant in Resene Celeste (top), Resene Terrain (middle) and Resene Cobblestone (bottom) and woven pendant lamp in Resene Despacito. Sofa, cushions and throw from Me & My Trend, jute pouf from Mocka.
Whether it's the restful hues of soft, dusty blues or the balancing vibes of nature-inspired greens, colour plays a large role in creating a mood and inspiring wellness. "Each colour has an energy and an emotional aspect to it," says Tracie Rodwell-Dunne, former interior designer and now owner and principal of Courses 4 Creatives.
With this in mind, here are few restful colour schemes that will help you to transform any space into a Zen-like retreat.
Soft blues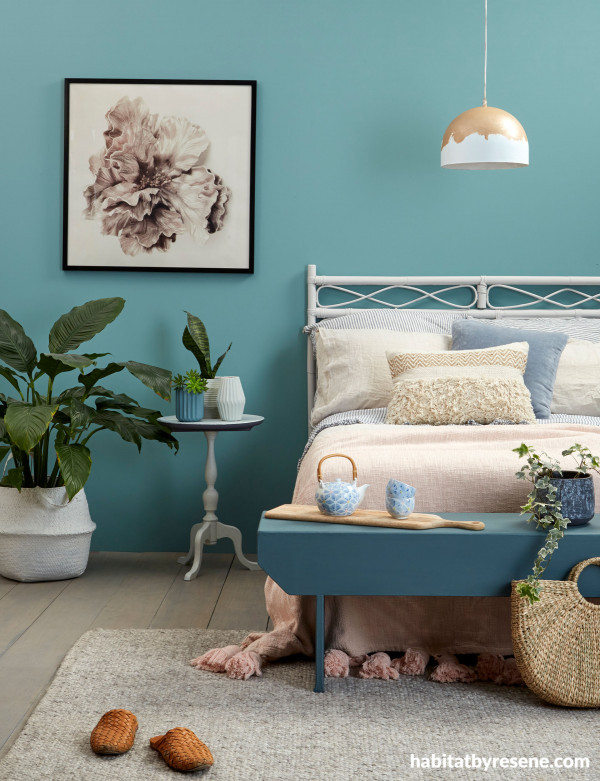 A Nordic blue green, Resene Juniper is a shade that falls firmly in the category of hues that evoke a sense of serenity. Used on this bedroom's walls, it pairs perfectly with the timber floor finished in Resene Colorwood Mid Greywash, a headboard in Resene Dover White, a bench in Resene Balderdash and a pendant lamp in Resene Double Sea Fog with a 'gold leaf effect' created using Resene Rose Gold metallic paint. The bedside table and woven basket (housing the large plant) are painted Resene Double Sea Fog, the vases are painted Resene Balderdash (left) and Resene Double Sea Fog (right) and the small ombre plant pot is in Resene Celeste (top), Resene Terrain (middle) and Resene Cobblestone (bottom). Cushions and rug from Me & My Trend, throw from Kip & Co, Woven Basket Tote and framed print from Kmart.
Generally speaking, colours that are most commonly considered 'restful' are ones that are neither too dark nor too light – those that sit somewhere in the middle ground are ideal. Interior designer Sylvia Sandford picks out soft, dusty blues as the go-to serene hues.
"Their beauty has a subtlety in what may be called a 'veil of grey'," she says. "Resene Dusted Blue, Resene Duck Egg Blue and Resene Inside Back are all great options, and they work well with colours close to them on the colour wheel. Those shades and tints can be lighter or darker and used in varying proportions to support the key colour, but it's best to avoid anything with too much contrast."

Contrast, while important when choosing a colour scheme, can be jarring and inject too much energy into soothing, relaxing spaces. As Sylvia suggests, pick your core colours and then find contrasting shades in the same tonal family to create a subtle contrast.
In a palette of airy, earthy blues, the soft, dense brown of Resene Dragon and the frosted celadon green of Resene Secrets create the perfect tonal contrast. Accent these hues with a fresh white, such as Resene Alabaster, for a clean, crisp finish.
Healthy greens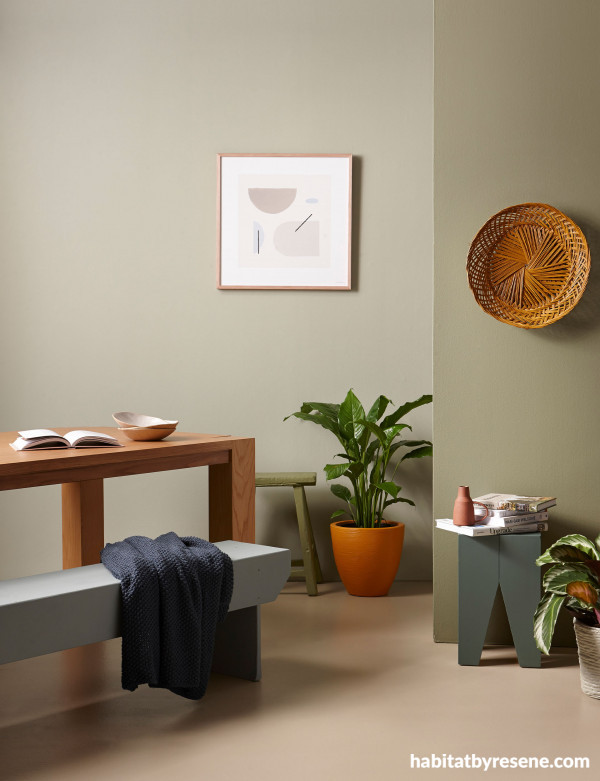 The space has a contemporary vibe, yet the colours and textures add just enough of an earthy edge to keep us grounded and reminded of nature. When it comes to earthy greens, take a two-tone approach for added interest. Start with Resene Bud on the back wall and Resene Siam on the side wall and add deeper vegetative greens, like Resene Paddock and Resene Jurassic, to enrich the tonal appeal of the room. Burnt terracotta is a natural accent partner to greens, seen here on the large plant pot, which is painted in Resene Mai Tai, and the wall art basket in Resene Rusty Nail. It's further picked up within the timber tones of the table. A floor in Resene Cargo, a light olive blend that's neither green nor brown, makes for a neutral base that doesn't compete for attention. Dining table from Freedom Furniture, artwork from Endemic World.
Green has the strongest connection to feelings of wellness thanks to its innate association to nature, life and concepts of renewal. It's a colour that encourages thoughts of peace and rejuvenation – a must in an interior that strives to be a Zen-like retreat.
Earthier greens such as Resene Cabbage Pont, Resene Paddock and Resene Green Spring speak to similar feelings we experience when we're in a natural environment; freedom, peace and wellness. They work particularly well in living areas to create a Zen-like vibe.

In fact, it's important to be inspired by the nature that surrounds your house when choosing greens for your home. Similarly to the principles of 'Zen', other Eastern philosophies, such Feng Shui – which originated in China – look to strike a balance with nature in the home to encourage wellness.
Sylvia suggests, "the atmosphere in a room is influenced by what's around you. Walls, windows, doors and openings, how they are decorated and what is beyond – vistas, views, gardens and street scenes – can all provide a sense of nurture if planned thoughtfully."
Because of its connection to nature, green pairs well with natural textures and fibres, so introducing accessories in rattan, bamboo, wicker, cotton, wool and linen will not only look great, they'll also help the space feel great. In your lounge, a wall painted in Resene Waiouru will be enhanced with a sofa in the shade of Resene Half Nomad with linen cushions in Resene Ottoman and Resene Sweet Corn. If you're bringing green into your kitchen, accessorise with earthy ceramics in the colours of Resene Twisted Sister, Resene Footloose and Resene Moroccan Spice. And, of course, don't forget your indoor plants.
Earthy browns and greys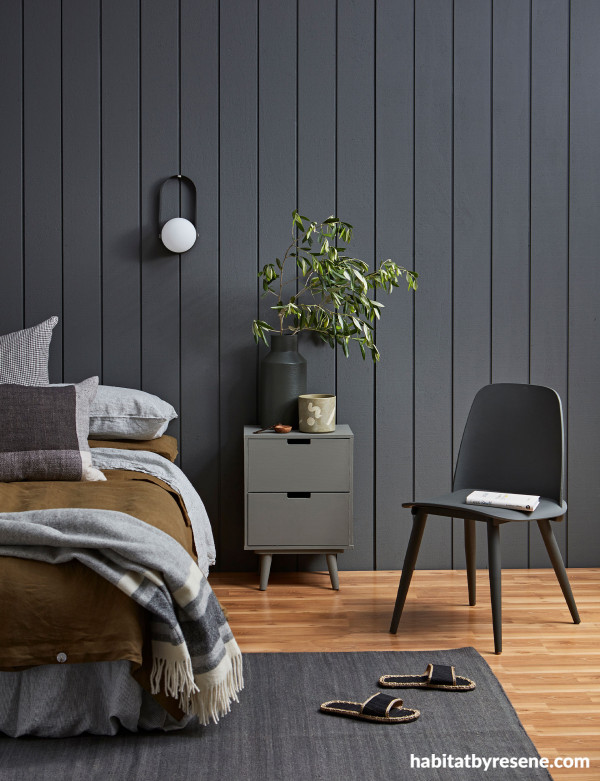 Tongue-and-groove timber walls in Resene Armadillo, timber flooring stained in Resene Colorwood Natural, a chair in Resene Zeus, a bedside table in Resene Triple Tapa and a vase in Resene Karaka. For a bit of art therapy, paint a pot in Resene Go Ben and add your own freehand designs in Resene Cargo and Resene Beachcomber. Bedding and rug from Citta, lamp from Paper Plane Store.
Tonal decorating is a great strategy for creating a relaxing room. This approach works especially well in the bedroom, where rest and relaxation are the primary focus. Dark colours create a comforting atmosphere in the bedroom, however go too dark and you'll fall into the trap of creating a room that's more cavernous than cocoon-like. For this reason, dark, nutty browns are the perfect choice.
A tonal look in the dark coffee brown of Resene Sambuca along with the soothing green-toned brown of Resene Earthen and the smoky neutral of Resene Napa will do the trick.

Because these earthy browns are relatively dark, look to introduce contrast through texture. A tongue-and-groove feature wall, for example, will catch light and produce shadow for visual interest against a dark background, such as Resene Armadillo. Softness should also be brought in to play with the warm attitude of earthy browns. On the bed, look for linens in natural colours such as Resene Cobblestone, Resene Raptor and Resene Triple Tapa.
Pinks and teas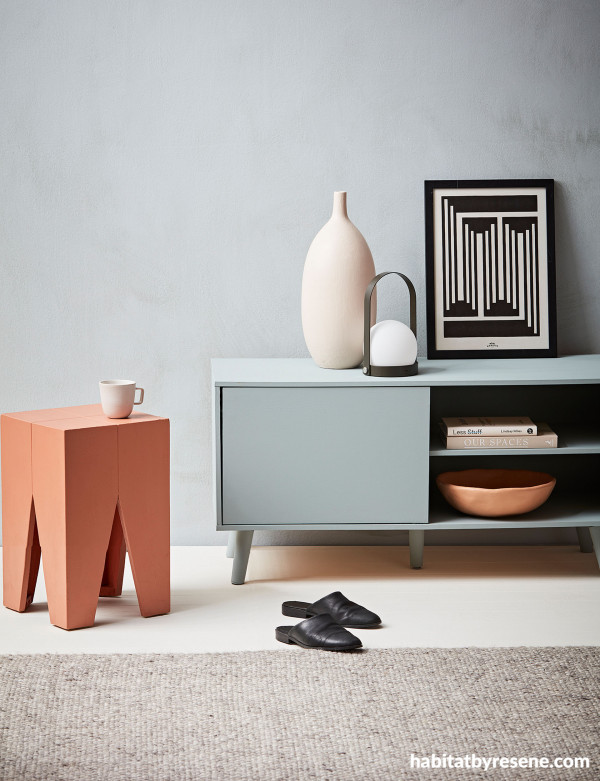 Try grey blues, steeped whites, and sunset pinks together with accents in black for a contemporary wellness-adjacent look. Wall in Resene Duck Egg Blue with Resene FX Paint Effects tinted in Resene Rolling Stone, grooved floor in Resene Half Villa White, sideboard in Resene Inside Back, peg stool in Resene Sante Fe. Artwork from Father Rabbit, lamp from Paper Plane Store.
There's a reason why we feel embraced and welcomed by the nurturing hues of soft, dirty pinks, such as Resene Soulful, and mauve-inspired browns, like Resene Artisan – they have a tender, centring effect when used in a room.

When applied in excess, however, they can begin to feel muddy and dirty. Introducing a restful, but refreshing, light blue hue, such as Resene Meditation, will bring the colour scheme back to a modern, restful and totally Zen vibe. Do this via accessories such as vases, cushions and lamp shades.
Speaking of lamp shades, you'll want to have plenty of different light sources throughout your room to help create the feeling of tranquillity you're after. "Harsh downlighting needs to be avoided and replaced by a variety of light levels," recommends Sylvia. Try adding dimmer switches, sconces, layered curtains – both sheers and solids – until you build up the right atmosphere. And don't forget to hunt down some candles you love for when you really want to chill out.
styling Gem Adams, Annick Larkin
images Bryce Carleton, Wendy Fenwick, Melanie Jenkins
Published: 08 Jun 2020
Do you have a home full of wonderful Resene paint and colour? Send us some snaps by emailing [email protected].