►
◄
latest
habitat tv
blog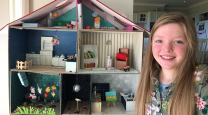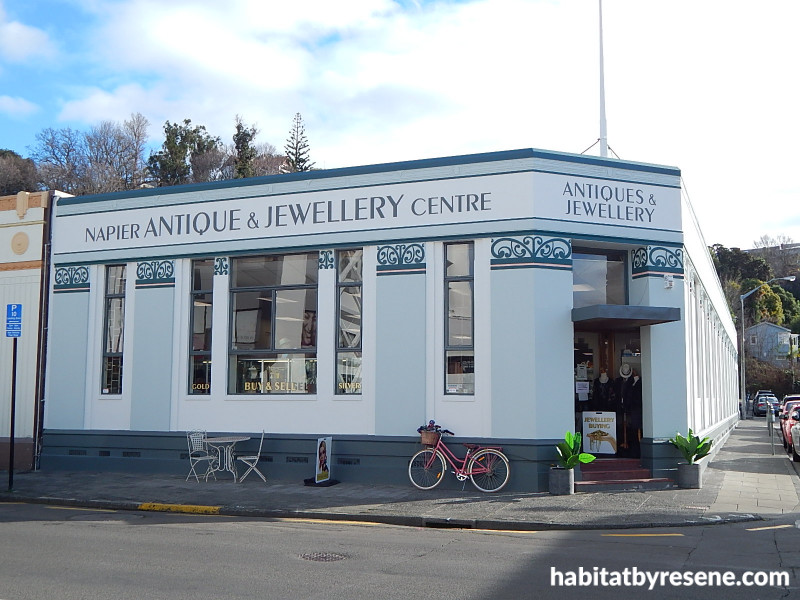 A Napier landmark gets an authentically coloured uplift
19 Apr 2022
It was 27 years ago when sisters Keri Mason and Raewyn Dailey were looking for a building to purchase to start up a new business and a large Art Deco heritage beauty came on the market. On the corner of Tennyson Street and Cathedral Lane sits one of only four buildings in Napier bearing Māori-inspired decorations that reference beautiful kowhaiwhai motifs. It was previously the office of Ross and Glendining Ltd, proprietors of Roslyn Worsted and Woollen Mills, but Keri and Raewyn recognised it as the perfect site for what would become the Napier Antique & Jewellery Centre.
"Through the years, the building needed repainting," says Keri. "The colours changed every time, but they always had an Art Deco influence and were approved by the Art Deco Trust. About three years ago, we noticed there was some paint lifting – revealing a black bituminous coating commonly used for waterproofing in the 1960s and 70s. So, we decided to start planning for a refurbishment."
The sisters say they initially had no idea what was needed to bring their building back to tiptop shape, so they decided to ring their local Resene ColorShop for advice. The shop manager came to check out the building for himself and came up with some suggestions.
The first step was to hire paint stripping experts to get a sense of what was required. There were three options to go about the job: sandblasting, soda blasting or hydroblasting. After completing a 1m2 sample strip of each method, sandblasting was quickly ruled out for being too severe. Keri and Raewyn ended up contracting a Wellington-based hydroblasting company followed by a plasterer to get the façade back to a clean slate and smooth out the surface. Then, they met up with a Resene colour consultant to come up with some options and organise a new colour scheme that would both suit the building and satisfy the Art Deco Trust.
The sisters were inspired by the soft colours of Miami Beach buildings, as many feature exotic flora and fauna motifs similar to those on the Napier Antique & Jewellery Centre. They also looked to the Art Deco colours of Resene to select their hues.
When Napier was rebuilt after the 1931 earthquake, the cement used in the stucco was tinted with oxides, including pink, green, blue and a variety of biscuit and ochre shades. Although this resulted in a remarkably colourful townscape at a time when most inner-city buildings were grey cement, plaster or brick and paint colours were limited, those buildings would be rather sombre compared with the huge range of paint colours that we're now used to seeing. So, while Napier today is more colourful than it was in the 1930s, it still retains the softness and warmth that it had in the 1930s.
In May 2021, Fieldhouse Decorators completed the repaint – thanks to support from the Robert McGregor Heritage Fund, an initiative of the Art Deco Trust and Napier City Council. The handsome property now features a backdrop of Resene Sea Fog and Resene Tiara, a base in Resene Cape Cod and details in Resene Shilo. Originally, Resene Cape Cod was also chosen for the koru details, but it was decided that a brighter, more organic green was needed. Keri and Raewyn returned to their Resene colour consultant who suggested a new hue, Resene Tiber – which ended up being a hit with the sisters and the Art Deco Trust.
Because their plasterer used Rockcote INTEGRA Lightweight Concrete Façade System from Resene Construction Systems, Keri and Raewyn chose the recommended Resene X-200 acrylic weathertight membrane to topcoat their new cladding. So not only is the colour scheme of the Napier Antique & Jewellery Centre looking uplifted and refreshed, but the owners will be able to sleep soundly knowing that the façade will be well protected from the weather.
Their hard work also culminated in a Resene Total Colour Heritage Colour Maestro Award. "In true Art Deco style, this palette emphasises the beauty of the building's design period with authentic colour choices," said the judges. "Details are ever so carefully highlighted with painted colour contrasts. The depth and tonality of the colours are balanced beautifully drawing admiring attention to this corner site. It's a joy to see it detailed so well."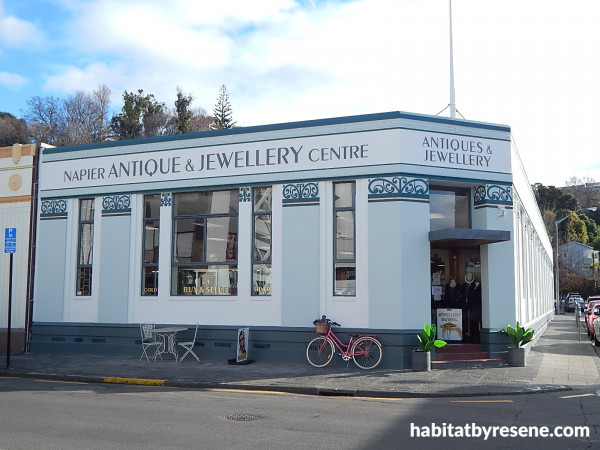 Napier Antique & Jewellery Centre sits proudly in its refreshed plastering and updated colour scheme on the corner of Tennyson Street and Cathedral Lane. Following hydroblasting, it was reclad in a Resene Construction Systems Rockcote INTEGRA Lightweight Concrete Façade System and painted in Resene X-200 acrylic weathertight membrane coating. Main walls in Resene Sea Fog and Resene Tiara, base in Resene Cape Cod and koru details in Resene Tiber underscored with lines in Resene Shilo.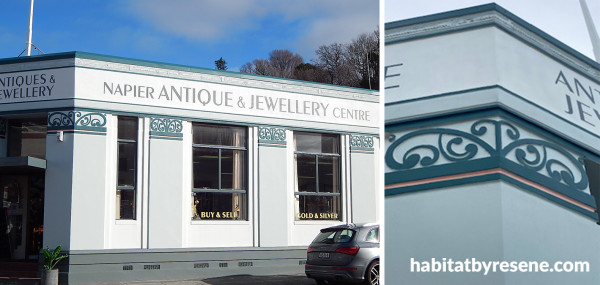 Although the koru were originally going to be repainted in the same hue as the base of the building, Resene Cape Cod, the Art Deco Trust requested a brighter, more organic green be used for the accents. After reconsulting Resene Tiber was chosen, supported with base highlights in Resene Shilo, to really pop from the main background colours of Resene Sea Fog and Resene Tiara.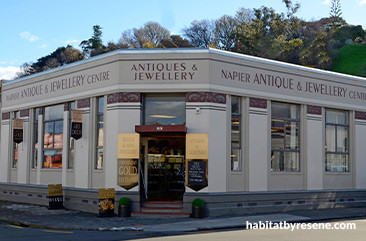 The previous colour palette for the façade featured earthier beige and taupe hues accented with deep red and grey.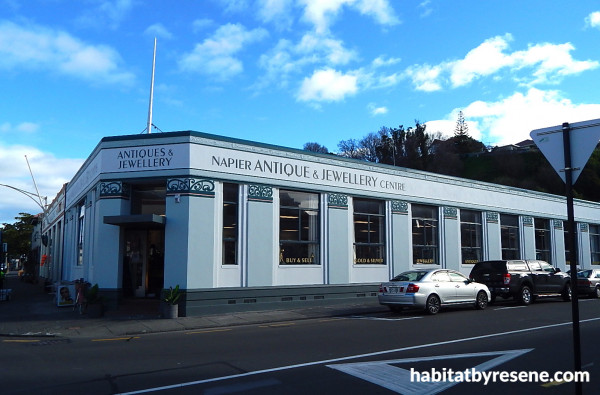 Since many of the adjacent buildings are primarily neutral in colour, the Napier Antique & Jewellery Centre looks particularly eye-catching in its new heritage-approved palette of Resene Sea Fog, Resene Tiara, Resene Cape Cod, Resene Tiber and Resene Shilo.
Published: 19 Apr 2022