►
◄
latest
habitat tv
blog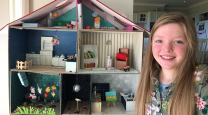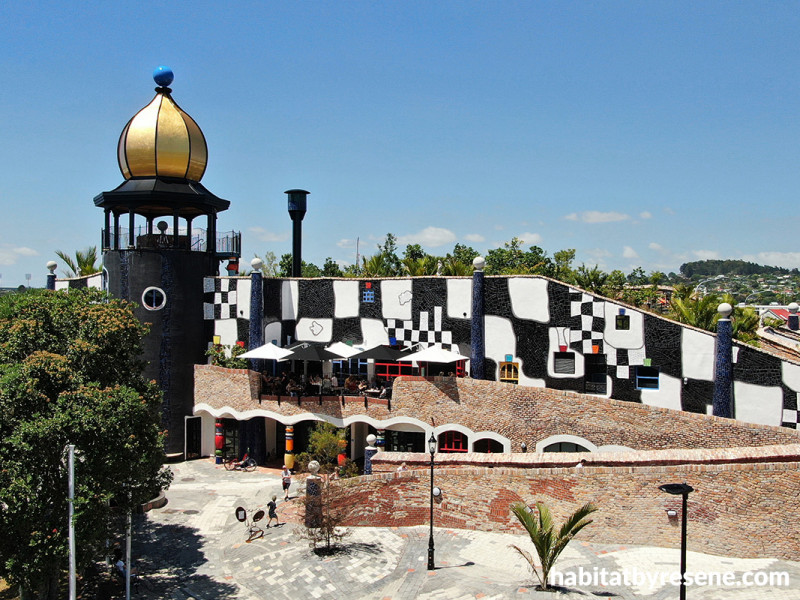 Graphic and colourful Hundertwasser Art Centre opens in Whangarei
22 Feb 2022
Twenty nine years after the late Austrian artist Friedensreich Hundertwasser first sketched his original design for the building, Whangārei's iconic and highly anticipated Hundertwasser Art Centre has officially opened. The new artfully shaped and coloured cultural tourism destination, which took a little over three years to build, includes a gallery of 80 Hundertwasser artworks as well as New Zealand's first public gallery for contemporary Māori art, the Wairau Māori Art Gallery, and splashes of Resene colour. In addition to the two galleries, the Hundertwasser Art Centre contains an activity centre, gift shop and restaurant. Visitors will be able to access the afforested rooftop, the largest in the southern hemisphere, and an eight-metre-high gold cupola.
Hundertwasser Art Centre chief executive Kathleen Drumm said the new attraction, which has been awarded a Silver Tourism Award by Qualmark, provides Whangārei and the Te Tai Tokerau region with a world class cultural tourism destination.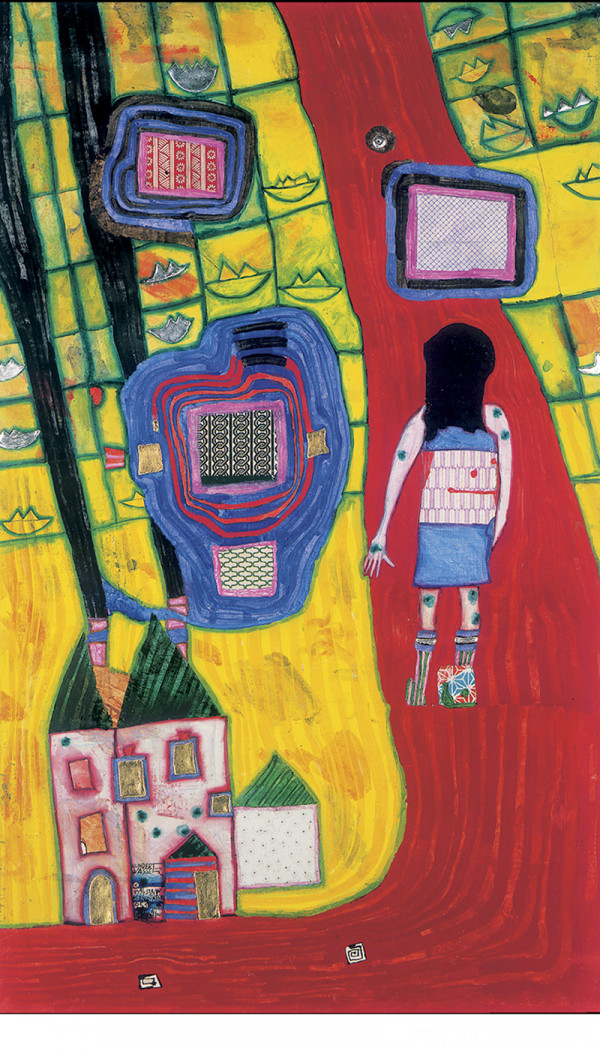 953, Strange Encounters, Friedensreich Hundertwasser, 1994. © Namida AG, Glarus, Switzerland.
"When people experience the level of detail and quality of craft that has gone into the building, I believe they will recognise that what has been created here is totally unique and quite remarkable. It is a destination that will bring immediate and continued economic benefit to the city and to the wider region," Kathleen says. "We are not only delivering a beautiful building and a memorable experience for visitors but driving economic and social growth for the region as well as providing New Zealand with a new national tourism asset, which can be marketed abroad when our borders reopen.
"I'm privileged to be leading this new visitor experience which utterly delivers on its promise. It is entirely handmade by expert architects, builders, artisans and craftspeople. It is at once magnificent and very human; it's spaces are warm and inviting, with recycled timber floors and beautiful artworks – topped off by a forest of plants and trees on the roof."
Hundertwasser lived for 24 years in the Bay of Islands and was a New Zealand citizen committed to the preservation of our natural surroundings. The Hundertwasser Art Centre with Wairau Māori Art Gallery was created in collaboration with the Hundertwasser Non Profit Foundation in Vienna, which manages the artist's estate and legacy. Foundation head Joram Harel said the Hundertwasser Art Centre with Wairau Māori Art Gallery champions the notion of life being in harmony with the laws of nature.
"The tree tenants in the facades and the forest on the roof symbolize a gesture for a peace treaty with nature. Visitors of the Hundertwasser Art Centre will encounter and experience a celebration of art, beauty and individual creativity in harmony with nature," Jorem says.
726 A, Conservation Week, Friedensreich Hundertwasser, 1974. ©Namida AG, Glarus, Switzerland.
Wairau Māori Art Gallery Charitable Trust Chair Elizabeth Ellis says the Wairau Māori Art Gallery has been created to profile the best of Māori art and provide New Zealand with its first public Māori art gallery solely dedicated to profiling Māori artists and curators.
"The Wairau Maori Art Gallery will elevate Maori art, artists and curators as a pillar of our national identity through exhibitions of the finest in contemporary indigenous art. It's fitting that the Hundertwasser Art Centre has this component, as Hundertwasser was himself a fan of Maori art and wanted to bring greater visibility to its unique qualities," adds Kathleen.
Off the walls and into the community
The Urban Art Foundation (UAF) brings New Zealand art out of the galleries and onto contemporary, easily accessible digital media, not only as a source of enjoyment and education but also to benefit those who may otherwise not be able to see art due to their location or financial situation.
Over the past four years, the UAF has worked in conjunction with artists, art and education experts, government and commercial gallery curators, private collectors and outdoor media company oOh!media to present 42 exhibitions, appearing in shopping malls, on street signs, the Wellington Railway Station and Wellington International Airport. Thanks in part to sponsorship from Resene, the UAF is will be showing a collection of images of Hundertwasser's works to celebrate the art centre's opening from 21 February.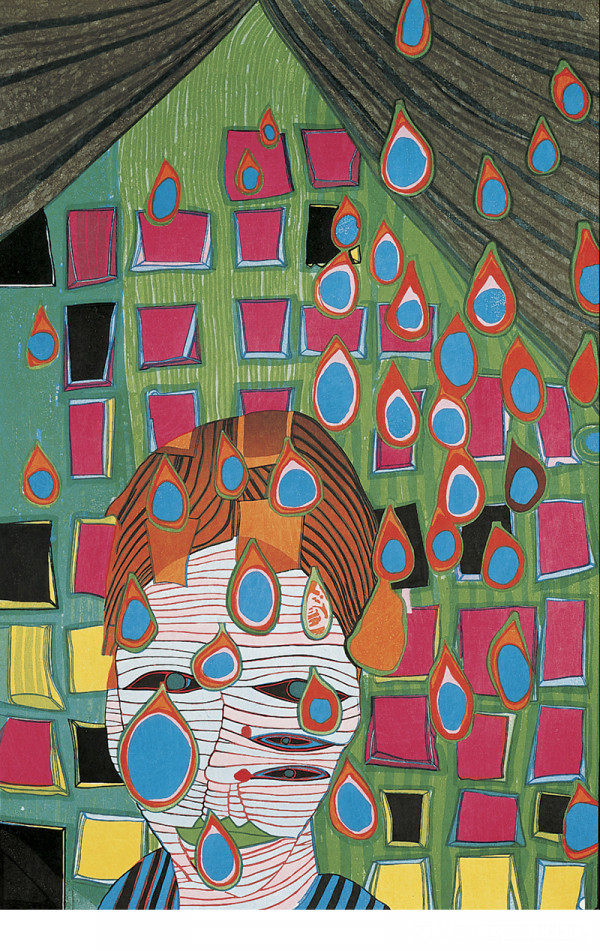 662a, The Last Tears, Friedensreich Hundertwasser, 1979. ©Namida AG, Glarus, Switzerland.
UAF founder and creative director Andrew Hagen says, "the opening of any new gallery in New Zealand is of great importance. Making art accessible to the public is our kaupapa, and our logo 'ki te marama', means 'into the light'.
"Working on this particular exhibition, I often found myself just staring at the screen in wonderment, pondering over how the perspective comes into play in Hundertwasser's work. Add to that the amazing, contrasting colour combinations and textures.
"I also find the work quite magical. Hundertwasser was an opponent of straight lines in building design, this is exemplified in the construction of the beautiful new gallery at Whangarei Marina and I still find it hard to believe that the Hundertwasserhaus in Vienna (constructed 1983-1985) exists. One day I really hope to visit it in person," says Andrew. "The Urban Art exhibition will appear courtesy of oOh!media on their network of digital street signs in most major cities across New Zealand for the next six weeks. Look out for them at your local mall, too."
The colours of Hundertwasser
As an important member of the international avant-garde in Paris in the 1950s, Hundertwasser is one of the 20th century's most celebrated European artists and developed his unique and colourful visual language during his wide travels. Many artworks were created during his time visiting and living in New Zealand, and its fun to imagine the ways in which his surroundings impacted his works. While many different colours are evident through in his collection, his palettes are typically bold, daring and filled with dynamic energy.
"He wanted to paint what was described as the joyful remnants of his dreams – and his paintings are full of colour and beauty," explains Kathleen.
"Hundertwasser gave himself the name 'Dunkelbunt' meaning 'darkly coloured' and glowing in pure, deep luminosity. He liked the glistening colours that emerge on a rainy day. He was a master of the simultaneous use of different colour materials within one painting. For his famous koru flag, he chose a green that perfectly matched the colour of the New Zealand native bush."
Kathleen adds that Hundertwasser enjoyed collecting and pressing meadow flowers, which was a great motivation for him to paint. "When he discovered that the colours would fade over time, he began to paint the flowers to preserve their vibrancy."
For those interested in using similar hues in their own work, the BlackWhite editorial team has curated Resene colour palettes to coordinate with select Hundertwasser artworks to inspire similarly courageous use of bold hues.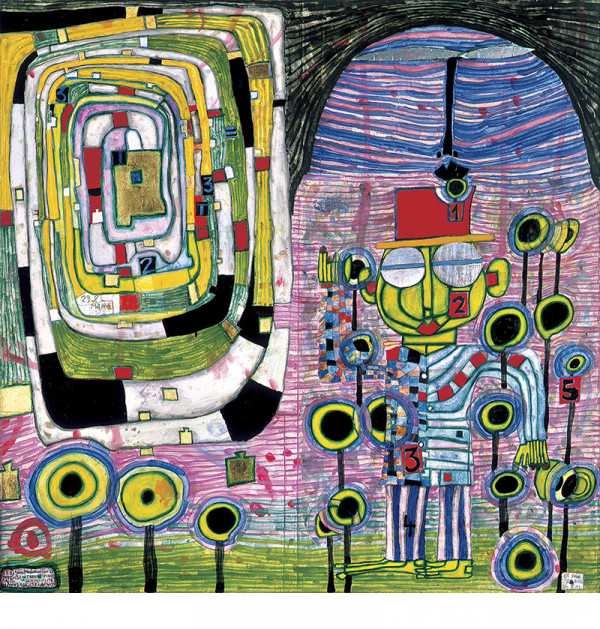 888, Disguised Tree, Friedensreich Hundertwasser, 1987. ©Namida AG, Glarus, Switzerland.

Order free Resene A4 drawdown paint swatches: Resene All Black, Resene Black White, Resene Ipanema, Resene Vermont, Resene Azure, Resene Havoc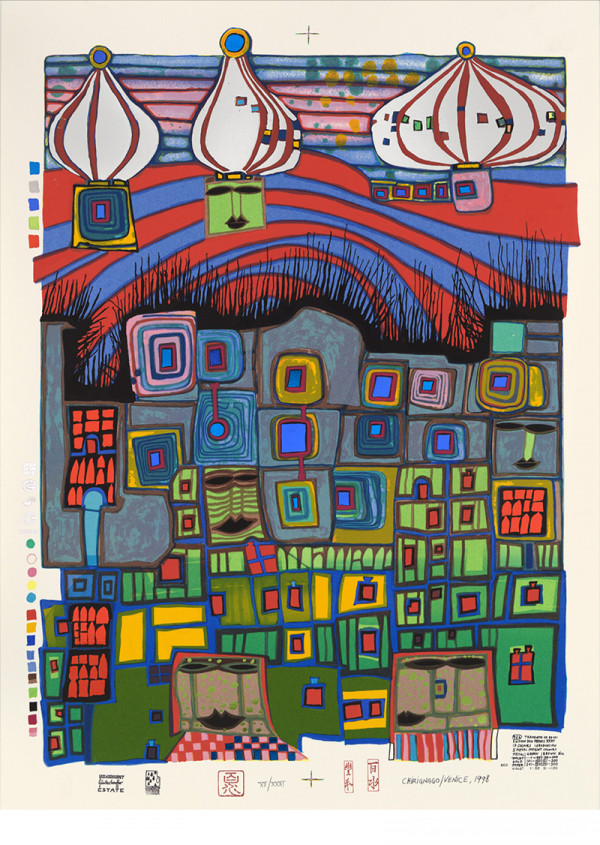 974, Fragmented Sunset, Friedensreich Hundertwasser, 1998. ©Namida AG, Glarus, Switzerland.

Order free Resene A4 drawdown paint swatches:Resene Daredevil, Resene Float, Resene Gothic, Resene Anise, Resene Bilbao, Resene Spotlight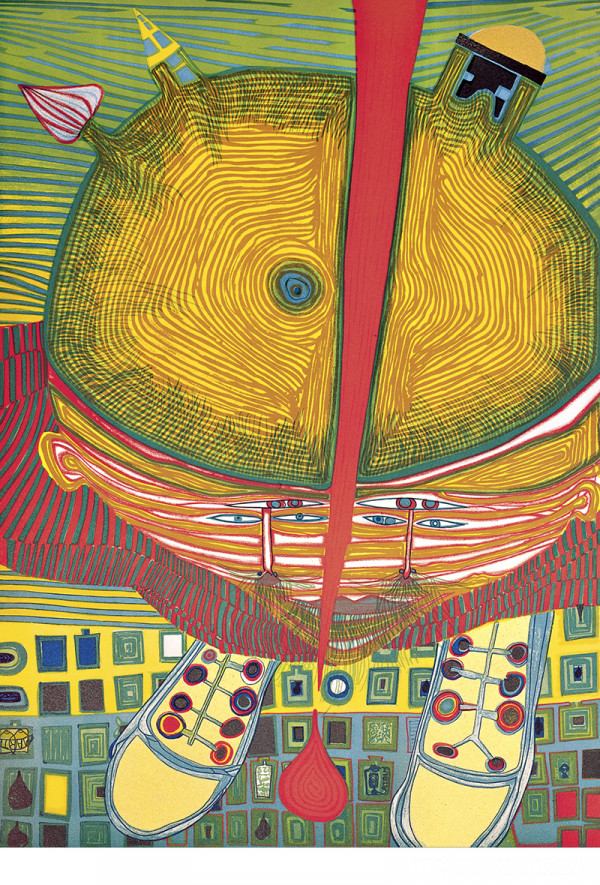 653, The Boy With Green Hair, Friedensreich Hundertwasser, 1968. Namida AG, Glarus, Switzerland.

Order free Resene A4 drawdown paint swatches:Resene Del Toro, Resene Turbo, Resene Sweet Corn, Resene Citron, Resene Stromboli, Resene Botticelli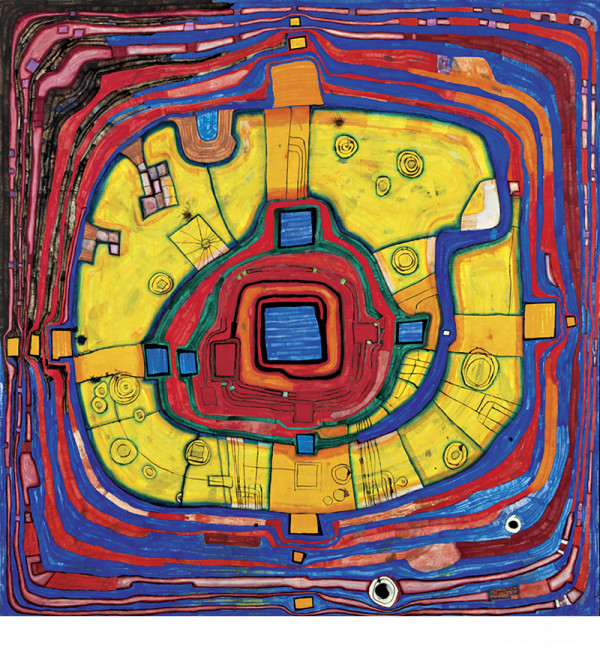 931,The Small Way, Friedensreich Hundertwasser, 1991. Namida AG, Glarus, Switzerland.

Order Resene A4 drawdown paint swatches:Resene Carpe Diem, Resene Energy Yellow, Resene Jalapeno, Resene Hopbush, Resene Havelock Blue, Resene Half Resolution Blue
For more on the Hundertwasser Art Centre and Wairau Māori Art Gallery, visit www.hundertwasserartcentre.co.nz.
Published: 22 Feb 2022