►
◄
latest
habitat tv
blog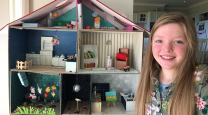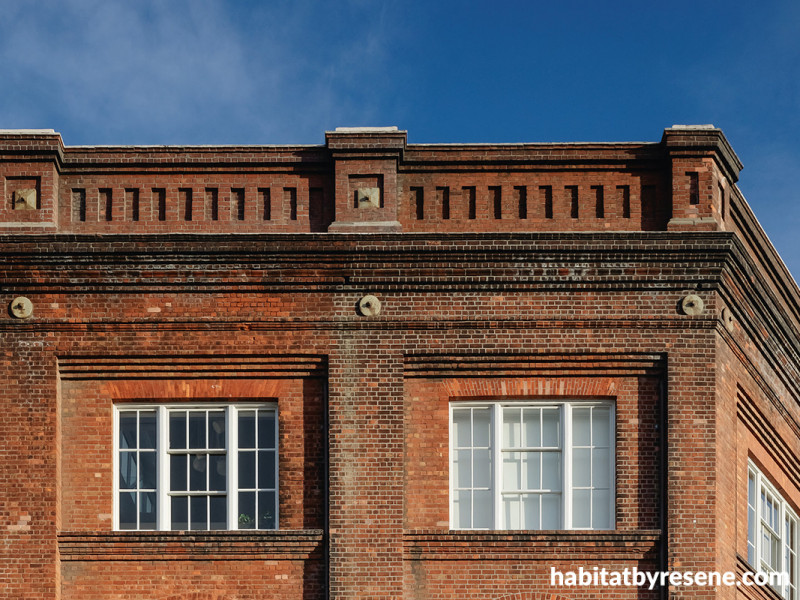 Soak in Wellington's architectural gems with this handy new walking guide
21 Mar 2022
You can't beat Wellington on a good day, they say – and what better pandemic-friendly way to spend one than taking a guided walking tour focused on highlighting the capital city's architectural gems?
Locals and visitors alike will be pleased to see writer John Walsh and photographer Patrick Reynolds have collaborated once again to create Wellington Architecture: A Walking Guide. This third instalment in their series joins the terrific Auckland and Christchurch versions, and with 120 buildings featured across 296 pages, it's the biggest guide yet.
Available from 14 April 2022 from Massey University Press, Wellington Architecture: A Walking Guide dives into the fascinating stories about some of the city's most iconic buildings and the people who designed them. The buildings are grouped into five self-guided walking routes, complete with maps and itineraries, with numerous cultural and urban highlights to be enjoyed along the way.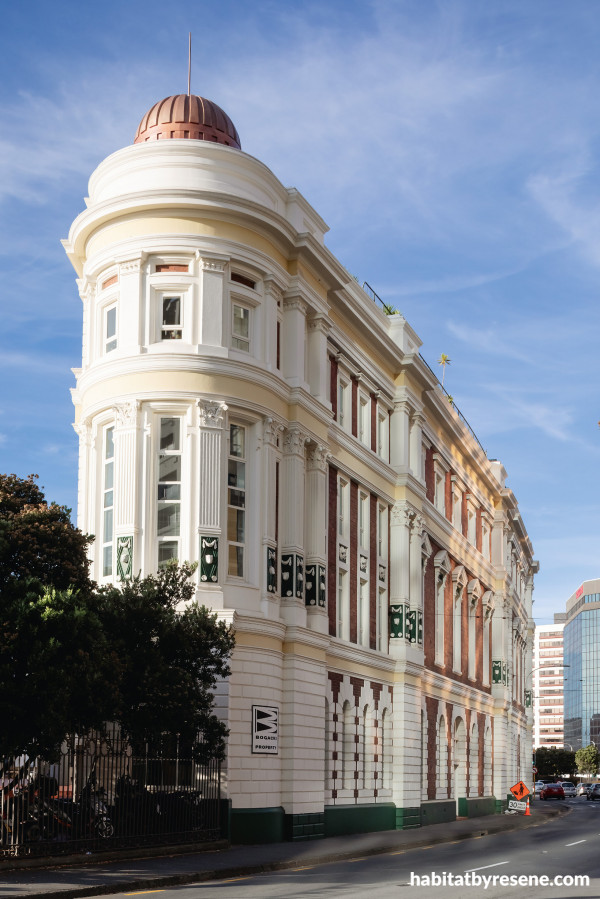 Shed 7 (Wellington Harbour Board Wharf Offices and Woolstore)
"Wellington has some of New Zealand's most characterful streets – Oriental Parade, Cuba Street, Lambton Quay, The Terrace, Aro Street – and it's a great place to walk around," says John. "It has a strong architectural legacy, and its citizens should expect that to be preserved and continued."
John shares more on this exciting new book release.
When did you start on the Wellington guide?
"I really started at the beginning of 2021, although I had been thinking about it for a while, and making lists of buildings I thought should be included. I have the advantage of having grown up in Wellington, so I could draw on that knowledge. But I did re-acquaint myself with the city, and tried to pay more attention to the buildings that perhaps aren't the most well-known or obvious."
How did you select the 120 buildings in the book?
"There were several criteria – significance and architectural merit, of course, but also whether a building is an interesting example of a particular style of architecture, or the work of a notable architect. Location came into it. All the buildings, except John Scott's Futuna Chapel in Karori – a special Modernist case – are in the inner city. And they are all buildings that can be viewed from the footpath. The book is organised around five walking routes, which take in Wellington's most important streets."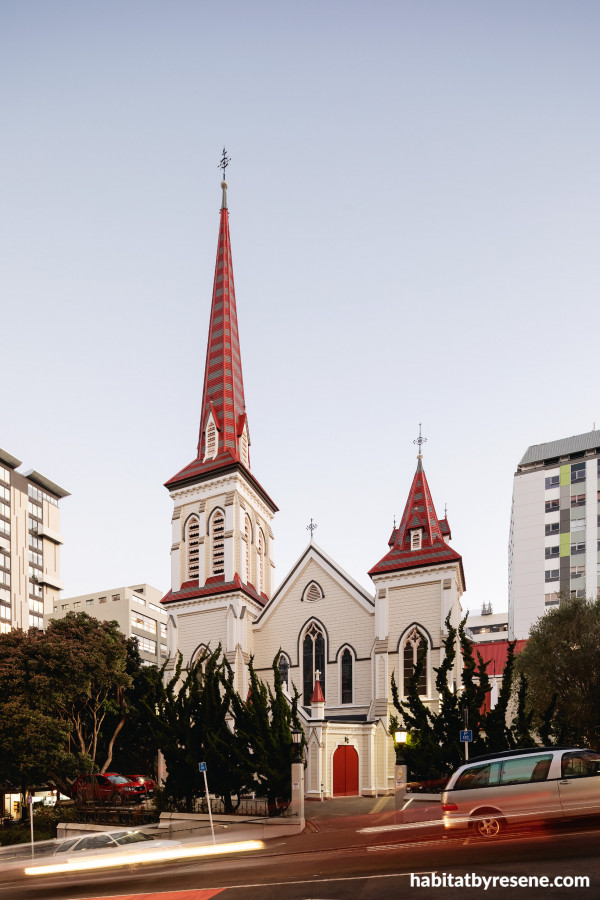 St John's Church
Who is the book for?
"Anyone, whether a visitor or a local, who has an interest in architecture, or wants to find out a bit more about the history of Wellington through its buildings. The idea is that if you have a couple of hours to spare, you can follow one of the routes – they're all about three kilometres, and either on the flat or heading downhill – and along the way experience a century or more of the architectural styles that have been realised in Wellington and find out about some of the main architects who have practised in the city."
What do you hope Wellingtonians will take from this book?
"I'm sure Wellingtonians are well aware of this, but the centre of their city is a wonderfully urbane place. The city has had its challenges — fires and earthquakes, reckless developers and short-sighted councils, purblind traffic engineers and, yes, some mediocre architects — but, aided by its topography, it remains a diverse and diverting environment. Wellington has a strong architectural legacy, and it's citizens."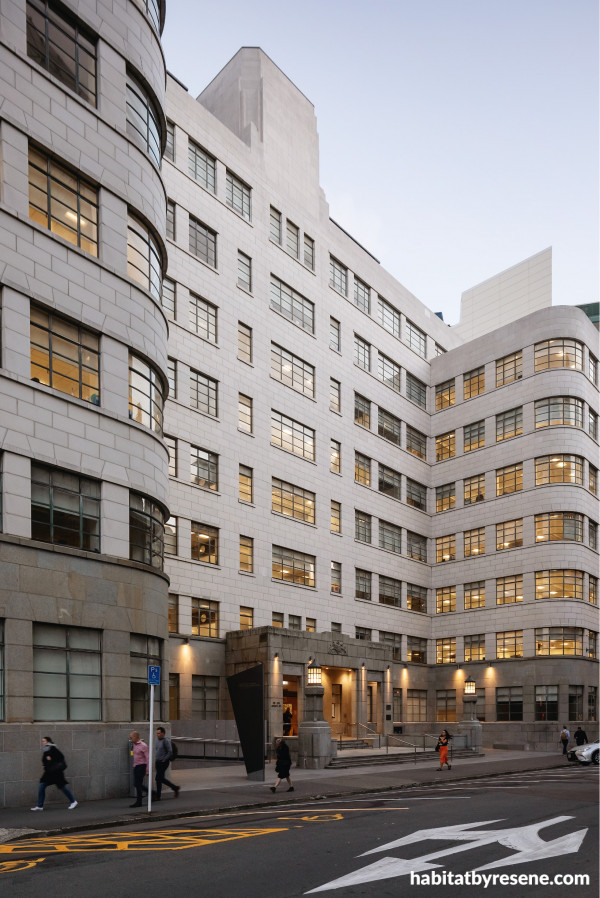 Departmental Building
Any favourite buildings and architects?
"I developed a new respect for the high-quality commercial buildings, often the headquarters of insurance and finance companies, that were constructed between the wars – buildings such as the AMP Building on Customhouse Street. I really like the Hall of Memories behind the Carillon, St Mary of the Angels church (for sentimental reasons), and Freyberg Pool and the small 1920s and '30s apartment buildings and the 1960s Clifton Towers on Oriental Parade. Also the boat sheds at Clyde Quay Marina – barely architecture, and designed by Harbour Board engineers, but a very pleasant urban composition. As for architects, Thomas Turnbull was a very able late nineteenth century architect, Frederick de Jersey Clere was busy in the early twentieth century, Edward Anscombe designed lovely Art Deco/Moderne apartment buildings, as did Edwin Llewellyn, William Gray Young was a natural-born architect with a long career, and more recently Stuart Gardyne and architecture+ have made strong contributions to the civic landscape."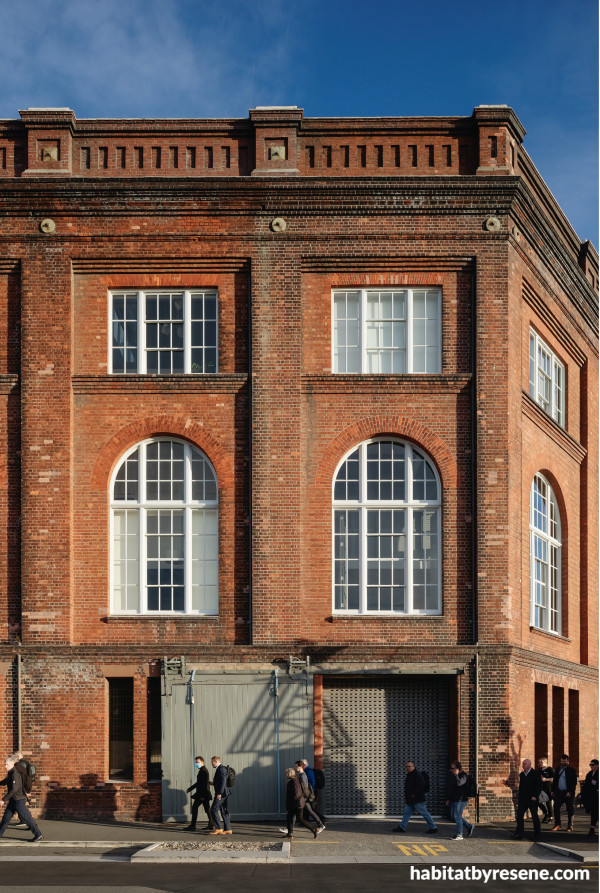 Wellington Harbour Board Shed 21
Wellington locals and visitors are invited to attend the official launch at Unity Books on 7 April 2022 at 6pm, but be sure to reserve your space early as the event is limited to 60 people.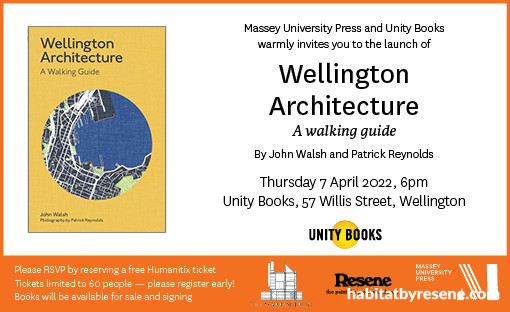 Pre-order your copy now on the Massey University Press website or your favourite local bookshop.
images Patrick Reynolds
Published: 21 Mar 2022